Published on Sunday, June 30th, 2013
Since our son Elliot arrived last November, I have been trying to figure out how we can bring him along to our interior lake trips in the spring. Earlier this year, we have already attempted a couple of trips to the West Coast of Vancouver Island. Although manageable, it was rather stressful and we quickly learned to plan ahead so we can avoid any surprises.
Planning a trip to a lake is much more challenging, since the boat and its accessories are now included in the equation. In my pre-baby life, I envisioned that you'd be all set to go on a trip once the baby is tossed into the vehicle with a few diapers and bottles. Such Utopia would exist, if naps, spit-ups, tantrums don't come with the baby. We have realized, if we want to go somewhere, we need to plan ahead of time, way ahead of time.
Last week, we decided to venture to the Thompson-Nicola region for the first time as a family. Our destination was Red Lake, located just Northeast of Kamloops. To get there from Kamloops, the drive is 40 minutes along a well maintained gravel road. Knowing that there would be no services of any kind once we leave Kamloops for the lake, I made sure that we were fully prepared. Enough food, water and clothing were packed, fishing and boating gear were double checked, and the car was serviced.
I invited Dean and Nat and their kids along to the trip. Dean is the assistant manager at the Fraser Valley Trout Hatchery. Nat was also a staff at the hatchery until their little ones arrived in this world a few years ago. Both are familiar with the fishery because they are responsible for stocking it, and it was a good opportunity for all the kids to enjoy the outdoors together. Unlike most lake fisheries where only one species is stocked, Red Lake is stocked with both rainbow trout and brook char. Having both in the same fishery makes it more exciting, as you never know what you may catch and your options are not as limited if one species does not cooperate.
We stayed at two lovely lakefront cabins, which are perfect for families. With a fully equipped kitchen, bathroom and two bedrooms, this place made our lives a lot easier so we could spend more time by the water. Both satellite TV and wifi internet were also available, so it was perfect for the wired city folks like me who like to stay connected.
The pristine surroundings are what we were there for beside the fishing. Watching the morning mist rolling across the flat lake from the patio, listening to the song birds, roasting a marshmallow over the fire while wetting a line or scooping up insects off the floating dock, it is impossible to get tired of these simple yet pleasurable activities.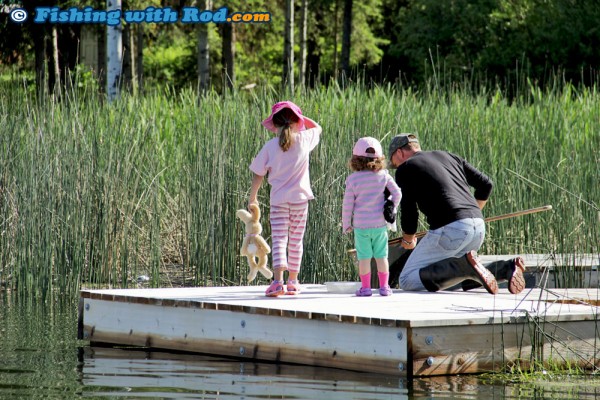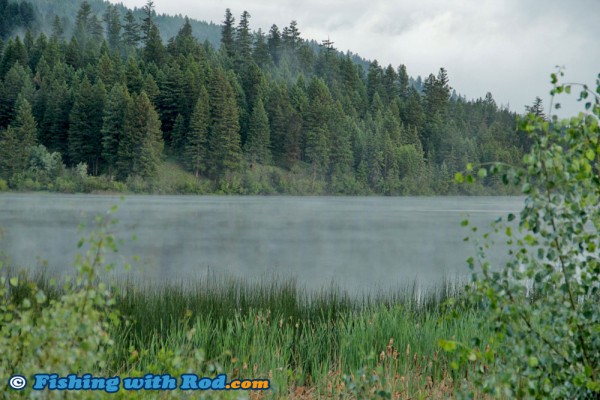 The fishing was, frankly, not too productive. Prior to our trip, we had been told that fishing was fantastic as expected in May and early June. We knew fishing would taper off as we approach the end of June, but were still optimistic. There was a slightly algae bloom, so the fish were just not cooperating. Beside Dean's Pennask rainbow trout which put up an acrobatic fight on the first day, the chironomid fishing was just not happening. Instead, I decided that it would be just as entertaining by casting a small Gibbs Croc spoon off the floating dock. I was able to connect with several brook trout, ranging between 1 and 2lb. The odd lunkers could be seen thrashing around on the surface nearby, but those were spared to be caught on another day.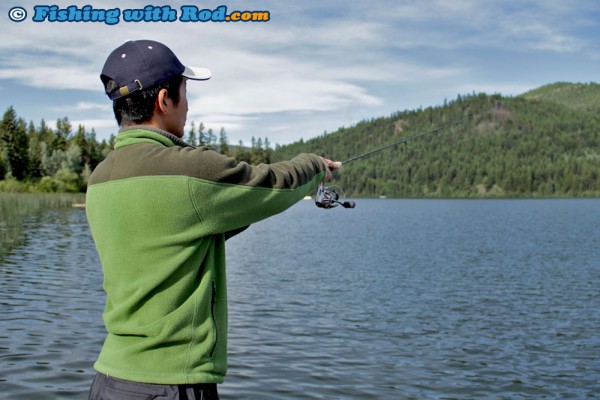 Despite of the lack of fish, the trip was very rewarding. Being able to see the kids interacting with each other outside, getting familiar with nature was worth all the effort we put into preparing for this trip. Gone are the days when we could sit in the boat for eight hour straight, but this was just as satisfying.
After three days in the beautiful countryside, it was time to go home, but little did we know that our adventure, or should I say misadventure, was about to begin. Dean, Nat and their kids left the cabins ten minutes before us. We began our bumpy ride to Kamloops at around 1:00pm, so we could be home by 6:00pm. Fifteen minutes into the drive, I took a quick glance at my dashboard and was shocked to find the temperature at its highest. I instantly stopped the car and white smoke began shooting out from under the hood. Not knowing what happened, our priority was to get everyone out of the car as fast as possible.
Once the smoke cleared, we looked on with disbelief. I've always been aware of the slight chance of being stranded in the middle of no where during our travels, but I just never thought it would actually happen. Standing by the gravel road helplessly with no cellular phone connection, Nina and I looked at each other with ideas running through our heads. The good news was that we had just passed the neighbourhood of Tranquille, so the likelihood of people driving by was rather big. Ten minutes went by and the first car approached us. The two gentlemen were heading up to Red Lake so we asked them to stop at the first house on their way to phone a tow truck for us. Once they left, we realized that there was no way to find out whether a tow truck would actually come or not. We didn't want to be sitting blindly, but we also didn't want to ask every car to phone for a tow truck.
Another ten minutes and few cars went by, we decided that more needed to be done. I wanted to walk to the nearest house, but didn't want to leave Nina and the baby alone. Finally another pick-up truck stopped and a young guy was concerned and eager to help us. Dusty lives not too far from where we were, and he offered to drive us to his home if needed. I suggested that we should drive to the nearest house to find out if a tow truck was coming or not. We did just that and found out it was already on its way. Since Dusty was on his way to Kamloops, he offered to give Nina and Elliot a ride when the tow truck arrived. Finally at 3:00pm, we began the long slow journey into town. We are very grateful for what he did, because without his assistance I'm not sure how we could have gotten down to Kamloops together.
At 4:00pm, the car was towed to the nearest mechanic, who determined that the upper coolant hose had cracked. We thought a replacement and refill would have done the trick so we could be on our way home before dark. Five minutes before the shop was closing at 5:00pm, the mechanic returned with the bad news. Coolant had gotten into the oil during the spill, so the head gasket had cracked and the repair was now expected to be very lengthy and expensive. The cost of repair was way beyond the value of the vehicle, which has served us well in the past 16 years. It was time to let it go. At this point, with most of our stuff piled up outside the garage, I scrambled to find a motel room to stay at, as well as a rental car so we could get to where we needed to go. Because of the approaching long weekend, most rooms were already booked, no rental cars were available. Finally I was able to find a room and called a cab so we could be out of that stressful situation for the night.
That night, I pleaded for help on Facebook to see who can come to our rescue. Renting a car to get home was not exactly the best solution, because my boat would be left behind. I needed to either find someone in town who I could leave the boat with, or find someone who could come up from Vancouver to bring all of us and everything home at the same time. Finally, our friend Jake came to the rescue. He left his home in Coquitlam at 4:30am so he could reach us at 8:00am. We first transferred all our belongings from my car to his so I could watch my beloved car being towed away with $60 in my hand. Finally at 11:00am, we left Kamloops and began the long drive home. With a few food and diaper changing stops, we reached our doorstep at 5:00pm with a big sigh of relief. Without Jake's help, we would probably still be in Kamloops. He joked that one day when he gets stuck in Prince George during his hunting trip, I can repay him by driving up to get him.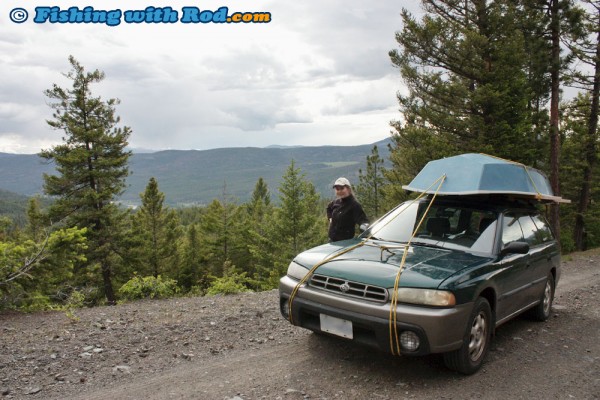 Our trips rarely turn sour. I don't define bad fishing trips by the lack of fish being caught. This particular trip is going to be one of the more memorable ones. The days spent at the lake were so full of joy, followed by probably the most stressful 24 hours in our life. Now that we have rested up, we can already chuckled a bit about the experience and always have a good story to tell. Several lessons were learned from this. The car, although regularly maintained, could probably have been let go earlier. The cracked hose was probably the result of a flying rock, but it likely wouldn't have happened if it was newer. A back-up plan and more preparation for those "what if" moments should always be done when venturing off-road. Social media tends to get a bad reputation, but in this case it became our life saver. With one message sent out to all the friends, it solved the problem a lot faster than what a phone or even email could accomplish ten years ago. We're also overwhelmed by the assistance we received when we were stranded. The fishing community is always tight and It's fantastic to see that fishermen will come to each other's rescue when needed.
So this week we will begin looking for a new vehicle so we can get out there to bring you more videos!