Cultus Lake, Chilliwack
By Rodney Hsu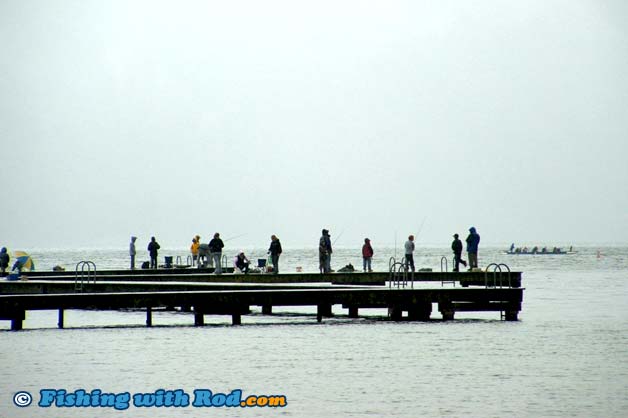 It is more popularly known as a summer holiday destination where Lower Mainlanders camp, sunbathe and water ski, but fishing can in fact be quite productive at Cultus Lake. With over half a dozen resident fish species, Cultus Lake has a pretty diverse fishery. Although it is a fairly large lake, you do not necessarily need a boat to catch plenty of fish. Fishing can be done from the shoreline, especially on public docks.
How to Get There?
Cultus Lake drains into Chilliwack River. It is south of the Vedder River Crossing. To get there, exit either at No. 3 Road or Vedder Mountain Road from Highway One. From Vedder Mountain Road, turn onto Columbia Valley Highway, which is the main road that runs along the eastern shoreline of Cultus Lake. Public parking is available at the northern end of the lake, where anglers have access to several public docks. The eastern shoreline is bounded by Cultus Lake Provincial Park, where several camp grounds and day use areas are available. Boat launches are also available at these locations.
Fishing Season
Fishing can be done almost year round as long as it is not too cold during the winter months. The most abundant species in Cultus Lake include northern pikeminnow, largescale sucker and peamouth chub, which can be caught when the weather is warm. Fishing for cutthroat trout and bull trout is better in spring and fall when the weather is cooler.
Fishing Techniques
If you are fishing from shore, a light spinning setup is simple yet effective. Small spoons and spinners can easily entice northern pikeminnow, cutthroat trout and possibly the odd bull trout when being retrieved at different depth.
If you prefer catching peamouth chub, largescale sucker and common sculpin, then a baited hook is a better alternative. These fish mostly reside on the lake bottom, so be sure to use enough weight to anchor your bait on the bottom. Dew worms are the most productive bait available. Dough balls also work well at times. In shallower parts of the lake where debris tend to litter the bottom, a float setup maybe more advantageous. The float serves two purposes, to keep the bait away from snags and act as a bite indicator.
Beside cutthroat and bull trout, these species are not usually targeted by experienced anglers but their abundance and willingness to bite make them suitable species for kids who enjoy fishing.
If you find bait and lure fishing not challenging enough, then try flyfishing from a boat. All of the above mentioned species would fall for a fly, you simply have to find the right patterns to entice them. For predatory species such as northern pikeminnow, cutthroat trout and bull trout, leech and minnow patterns are preferred. During spring, salmon fry and sticklebacks emerge in the shallow waters so it is a great time to cast and retrieve small minnow patterns that resemble these fish. For bull trout, sometimes larger patterns are required as they have a bigger appetite.
For smaller and slower species, small nymph patterns that resemble their invertebrate diet work better. Suspend the fly with a strike indicator to allow them more time to grab it. Keep the length between the strike indicator and the fly similar to the water depth so your fly is placed just above the lake bottom.
Important Notes
Before your first fishing trip to Cultus Lake, please make sure you know the following information:
You must have a valid British Columbia freshwater fishing license.
Cultus Lake is located in Region 2 in the British Columbia freshwater fishing regulations.
Cultus Lake is heavily used by other recreational users. Please respect other users, local residents and wildlife around the lake by keeping the noise level down and picking up your own garbage. If fishing from shore, please be aware of your surroundings before casting so you do not hook other park users.