Published on Saturday, October 15th, 2011
Today marked the sixth day to the Chilliwack River in the past two weeks, which is probably the most I've fished in a long time. It seems like a lot, but when the fishing is this good, one better take advantage of it because it's only going to last for a few more weeks.
After our trip on Tuesday, we didn't expect to come again because I thought the river was going to keep rising. The weather forecast took a different turn and suddenly the river has dropped to optimal level once again. Seeing some reports of great catches yesterday, I was confident that we would see some fish today. Originally Nina was going to be behind the camera today so we could put together a float fishing video feature, but she picked up a cold and decided to stay home. Instead, I asked if my dad would like to go one more time before his annual visit to Vancouver ends next week. He of course was glad to tag along. To date, he had yet to land a hatchery marked coho salmon from the Chilliwack River. After numerous attempts since 2004, something always went wrong. The timing was wrong, the bite was off, the fish popped off, or like last Tuesday, it was a wild fish.
Shane, who also has had bad luck on Vedder coho, decided to join us as well. We arrived at the meeting spot just after 6:00am since we had a long walk to the chosen spot. I suggested that we should go back to where my dad and I caught some fish on Tuesday. The run seemed pretty nice on Tuesday when the water was higher, but upon our arrival, I was a bit skeptical. With water level slightly lower, the run seemed to be a bit too fast for my liking. Personally, I really like to fish in slow moving flow where coho salmon can hold. It also makes float watching much more easily. It was too late to change the plan as we were so close to first light, so our only option was to give this run a chance.
Once it was bright enough, we started with floating some pink salmon roe. The first thirty minutes or so was very quiet. I could see some anglers in nearby runs where water was slower landing some coho salmon. My only hope is that as the day went on, perhaps fish would move from slower to faster parts of the river. The bite usually comes on a bit later, so I was not too worried.
After working through the run and figuring out exactly how deep all the spots are, I finally saw a couple of silver backs finning a bit further out from where we had been drifting. Excited, I rebaited and sent the float out to the lane. The first few drifts produced nothing, but there was finally a good take at the end of a drift. I gave it a good strike and the hard kicks on the rod suggested a coho salmon was at the end of the line. My dad quickly came over to see. The fish was guided into the shallow pretty fast. Perhaps almost too fast, because suddenly the hook popped out right in front of us.
That was not exactly a good sign. It was actually the second bad sign of the day. The first one was the big skunk crossing the road in front of me just when I pulled the car out from my driveway at 5:00am.
Seeing a fish being hooked always motivates everyone. It made us focus more on our floats. My dad was the next one to hook up. This fish must have grabbed his bait while he was retrieving it because I didn't even see a hook-set. It was a massive coho salmon, one of the biggest one that he has ever hooked for sure. The fish did a few acrobatic rolls in front of us. Like the first fish, it also came into the shallow water very fast. Before I had a chance to instruct what he should do to guide the fish in, the hook also suddenly popped out. My dad let out a disappointing moan, the one that all of us have made when we feel that dreadful pop.
With two fish involuntarily released back to the river, we were getting a bit frustrated. My float disappeared once again soon after. This time, a much smaller fish could be felt. It was a coho jack, which came to my hand pretty fast. A hatchery marked fish it was. Dad suggested that we should keep it. I said that maybe today I would encounter four adult coho salmon. He said fat chance, so onto the beach this fish went as a consolation prize.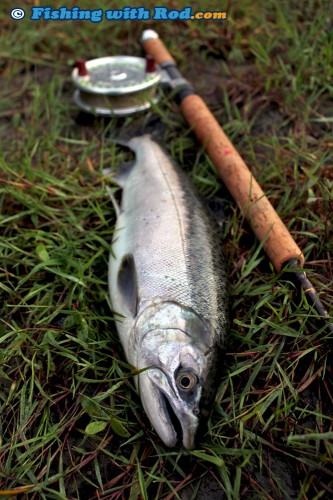 A few minutes after the kill, I could hear a loud hook-set at the top of the run. It was Shane, who held his drift rod high to keep the line tight. Splashes could be seen right in front of him, which indicated that it was another coho salmon. Both my dad and I quickly went upstream to lend him a hand. It turned out to be a wild coho salmon so it swam away freely after a photo or two.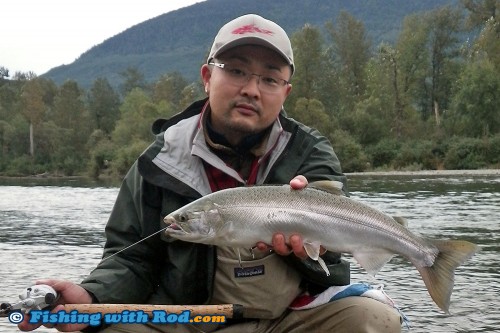 After several bites in a row, it became quiet again. Shane started to wander off as he dislikes fishing at the same spot all the time. My dad and I remained at the same run, hoping for more fish to move in. Eventually I went up to the top of the run where Shane hooked his first fish. After a couple of drift, the float shot underneath the surface. It went down so fast, so it was unlikely a snag. I set the hook and my entire float rig flew back to me because it was already so close to the bank. I quickly put some new bait on, cast it out to the same drift. Once again, the float was pulled down. This time, I could feel something after the hook-set but it quickly fell off. I rebaited once again, cast it slightly further out. When the float reached the same area, it disappeared again. This time, instead of setting the hook fast, I decided to wait for another second and softly pulled the rod back. There was fair amount of motionless resistance at first, followed by a few head shakes. A fish it was! A few seconds later, a silver body broke out on the surface. Like the other fish, it also darted toward the shallows right away. I rewinded as fast as I could to gain line control. Within a minute, I turned the fish to its side and could see the absence of the adipose fin. While I happily pushed the fish up the bank by its tail, my dad had come up. Both of us were pretty excited and relieved after going home with an empty cooler in the last several trips.
With one adult and one jack coho on the beach, I now had more confidence. The first skein of fresh roe had been used up. I decided to take out some older roe. Well, old is bit of an understatement. This skein of roe has been aging in the fridge since two weeks ago during our first trip to the Vedder. It was cured so nicely so I didn't want to refreeze it. The result was much harder piece of egg colony, decorated with molds in different colours. Last year, we caught some beautiful coho in the Lower Fraser River with roe in similar conditions, so I didn't see why this wouldn't work. What better way to test than by putting it on the hook of an unsuspecting angler? I looped a big piece onto my dad's hook.
By this point Shane had returned to our run after seeing my bigger catch from further down. Both of us worked the top of the run while my dad worked the tailout where he lost his first fish. While we were chatting away, my dad called out loudly. I turned around and could see him fighting a good fish. Both of us dropped our rods and went down to assist. I reminded him to guide the fish into the little shallow bay further downstream. Nervously, he walked down with a coho buck that seemingly had given up. I cautioned him that it would probably make another dash when its abdomen touched the shallow bottom. Luckily, it didn't. Instead, it rolled in the shallow water a few times. I reached down and grabbed onto the tail firmly before checking for the adipose fin. It was absent so I quickly scooped it up onto the beach. His first hatchery coho salmon was now landed. My dad cheered as he had just won the lottery. It was a male coho salmon, roughly around 6lb like the one I had killed.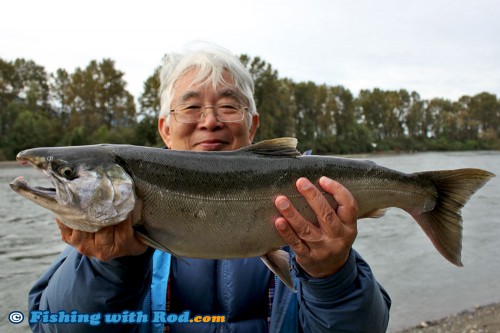 Recounting what happened, my dad said that fish had already took the float down once prior to being hooked. He recast the remaining bait to the same spot and the float went down again, which surprised him. When I opened up this fish's stomach, dozens of cured eggs spewed out of it. I guess it was hungry.
After some deserving rest, I put some more of that moldy roe onto his hook again and we returned to fish the head of the run while he worked his hot spot at the tailout. Amazingly, our conversation was once again interrupted by commotion further downstream. I turned around and could not believe what I was seeing. My dad's rod was bent to its fullest while another silver coho leaped completely out of the water further downstream from him. This time, the fish had taken him downstream into the faster water like what happened on Tuesday. I told him to point his rod upstream and sideway instead of straight up, because the fish would magically follow back upstream to him. Unlike Tuesday, when he had quite a bit of difficulty, this fish cooperated and was back up to where he was in no time. Once the fish was under control, we started working on landing the fish in the shallow bay. Like a replay of the previous fish, it didn't show much of a struggle and turned to its side once my dad pulled it into the shallow water. I reached down and was delighted to see another fish without an adipose fin. "Is it a wild? Is it a wild?", he asked anxiously. I held it up and walked up the bank to him, which answered his question.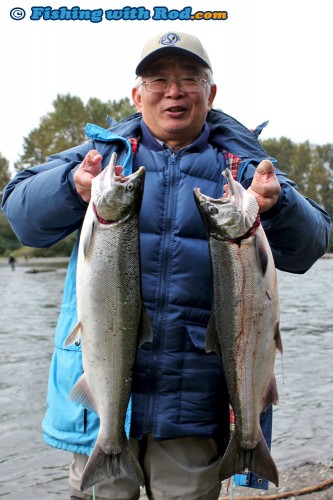 With three adult and one jack coho salmon on the beach, this was now turning into one of the more memorable trips. All good thing comes to an end of course, the bite died off at around 10:30am. Before that happened, I managed to bring in another hatchery marked coho jack.
We worked our roe through the run until 11:30am without much success. Shane gave his spoon a try in the last 30 minutes or so and managed to find one more wild coho salmon. His hatchery coho salmon remained illusive.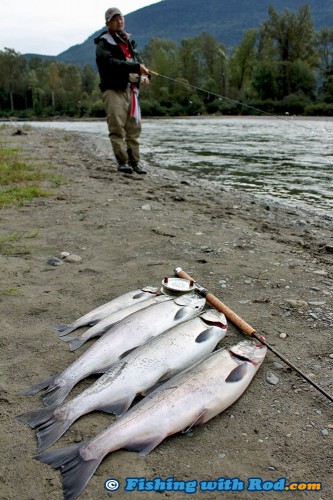 In total, we were able to produce nine hook-ups, which wasn't too bad for a morning session. I'm not sure if these fish were simply moving through, or actually holding at one spot. My guess is that they were just moving through because the bites were not too consistent. From our conversations with other anglers later on, it sounds like other parts of the river were producing better as some were going home with their limits of fish. That's ok, we were more than satisfied with our results.
Until this day, the pursuit of coho salmon by float fishing on the Chilliwack River has been a frustrating one for my dad. At the age of 75, his mobility is no longer good so every trip is limited to a couple of spots, which means some luck is needed when finding these sneaky silvers. A day like today completes this pursuit and wraps up his 2011's visit to Vancouver nicely.