Published on Saturday, February 25th, 2012
I was hoping to tangle with a steelhead on my birthday this past Wednesday, but the river did not want to cooperate. Heavy rain deteriorated river condition so we had to wait until Thursday when condition was more favourable. I gave Chris a phone call in the morning for the usual early report before venturing out for the afternoon excursion. The morning crowd seemed pretty thick but it quickly thinned off as expected after we arrived at 12:30pm.  We saw a few fish landed and lost, a good indication there was a pretty good push so I was quite optimistic.
After trying for two hours, there finally was some action. We waited for two anglers finishing a stretch that produced for me two weeks ago. One of them already had a fish on the beach while the other worked his way through. Once they were done, we moved in to give it a go. It took me three casts for the float to disappear. Actually, the float didn't really disappear, the fish grabbed the pink worm just as I started retrieving it. The sudden tug felt almost better than the sight of a float dive.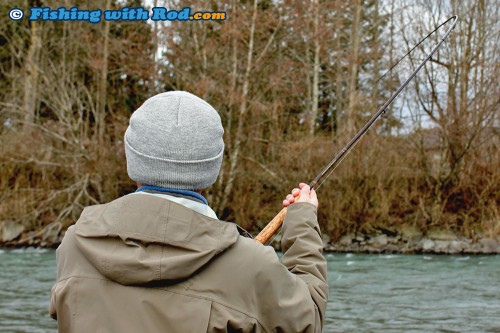 It was a hatchery marked fish, not a mis-clipped this time. The fish was estimated to be over 10lb, but not much bigger. It was short, but broad. The tail was quite thick so my hand couldn't get a good grip of it. Although it was a retainable fish, I noticed it was not that silver. The body had a bit of coppery shine to it and the pink cheeks were starting to show. I kept it in the water while deciding for a few seconds whether I wanted to retain it or not.  Nina took a few photographs. I decided not to keep it and was about to hold it up for one good shot of the fish, but it slipped away from my hands easily and swam away quickly.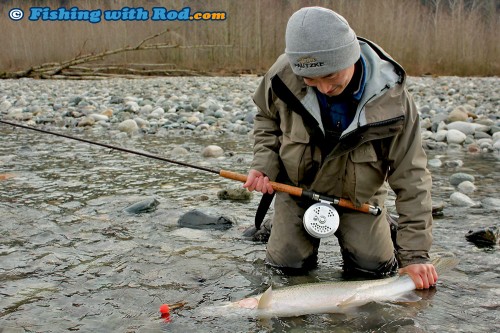 The float went down for the second time half an hour later, almost at the same spot, but this time it came up empty. The rest of the afternoon produced nothing for us, but it was once again very nice to be fishing without many anglers in sight. Being able to land my first fish of the year and a late birthday present was a rewarding bonus.