Published on Wednesday, February 4th, 2015
A few months ago, I was asked by Rod to host one of his upcoming video features, which entailed targeting winter steelhead in Port Alberni with Murphy Sportfishing. I had fished the Stamp and Sproat areas from shore many times before, so I thought it would be nothing new.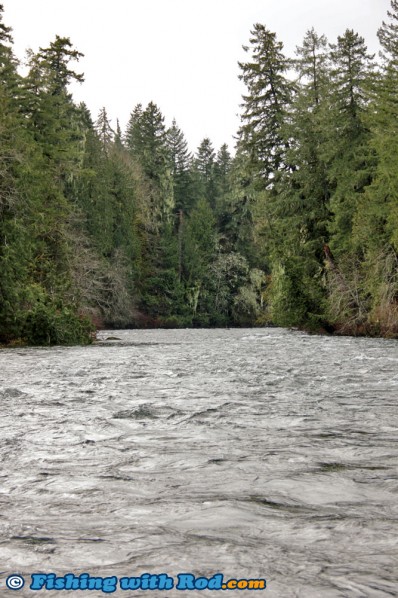 When we arrived at the West Coast River Lodge, however, my expectations for the trip changed. We were warmly greeted by our hosts Sean and Marnie, and both Rodney and I were extremely impressed by their hospitality, and the coziness of the lodge. The next morning we had an awesome breakfast awaiting us at 6:30am.
Shortly after, our guide Kevin, came to pick us up from the river bank behind the lodge in his 18ft jet boat. This I thought was very cool!
The first place we wanted to try fishing was the Sproat, one of the larger tributaries of the Stamp River. I was a little nervous at the beginning since I had to use a low profile baitcasting reel, which was much smaller than my conventional round baitcasting reel. The new set-up, however, later proved that would not hinder my casting, but instead it improved the fishing experience. The smaller reel made it easier for me to lock down when setting the hook on a fish – Thank you Rodney!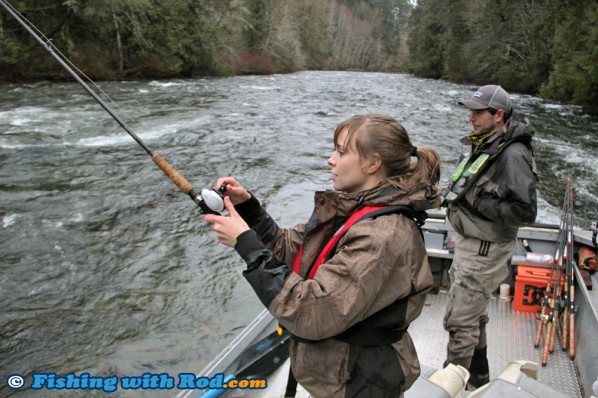 Kevin was confident with the spots that he wanted to show us, and only a few casts in we hooked up with a beautiful fresh winter fish. After several rolls near the surface the fish started to move below us. Bringing it back up was a little challenging especially against the fast current. Right when Kevin and I thought it was ready to be netted, the fish moved above the jet boat and popped off as soon as it went around a rock. I was still content, since I said to Rod at the beginning of the trip we would get at least three fish. 1 down, 2 to go!
Kevin was knowledgeable and encouraging the whole way through, which kept me persistent throughout the day. When we were jumping from spot to spot, he would point out where the fish would sit, and tell us why. This for me was one of my favourite parts of this filming experience. I know that fish like to hold in those slots, but I always struggled to fish them. When I was on the boat, however, they were so much easier to access, and I loved to see these areas of the river from a different point of view.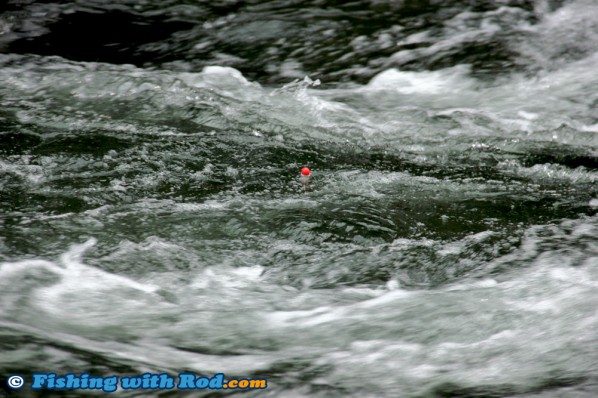 The next couple of hours of our trip was spent covering every slot, run, and pocket, until we approached the well known "Watty's Pool." Not only was this waterfall a barrier to our boat, it can be for the fish as well. So we decided to toss our lines in. After running bait, and gear through several times with no luck, we decided to work our way down river again. As we were leaving, Kevin saw a pod of steel scattering as we drove past. They were too smart, and camera shy I guess.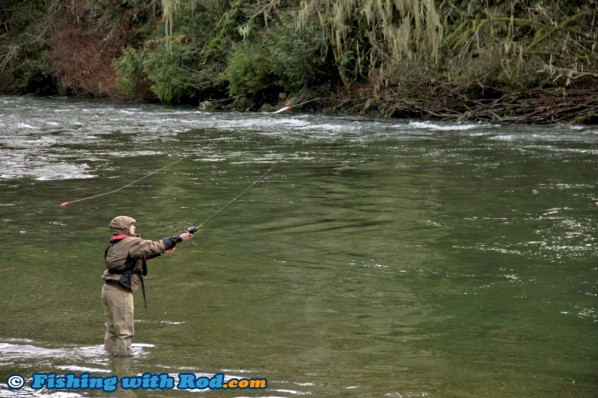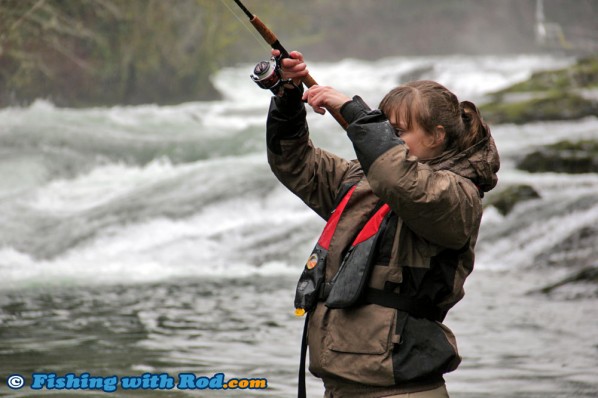 Just before we approached our next fishing spot, Kevin mentioned to Rod and I that this pocket was his go to spot on the river. I ran several casts in close, and then slowly worked my way out. Further was tricky since there were many branches looming over the edge of the river.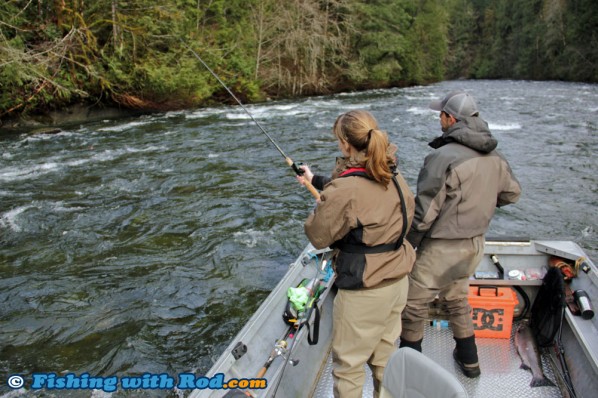 All it took was that one perfect cast through, and down went the float! Of course I missed it. Kevin and Rod agreed that I didn't spook it, and suggested to run a pink worm through. First cast and fish on! This fish was feisty, and would not let us bring her in easily. After several minutes we managed to bring her aboard – a slightly blushed hatchery winter.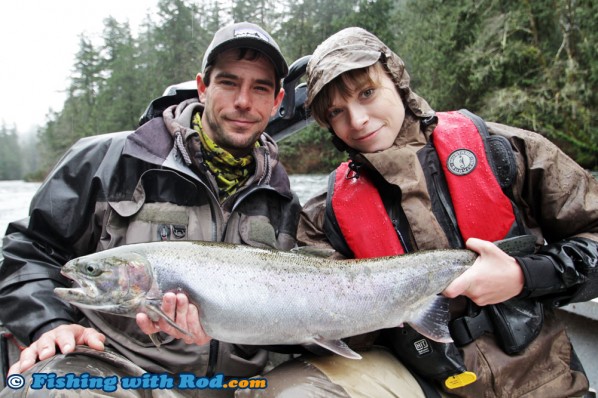 Nearing the end of our trip we were able to shake hands with a decent sized rainbow. As we were coming into the lower end of the river, Kevin told us that fish usually sit on these flat rocks. He was right. There was a grey ghost peacefully sitting there, but was not tempted by our offerings. I still thought it was pretty cool, and find it exciting to witness how the fish react.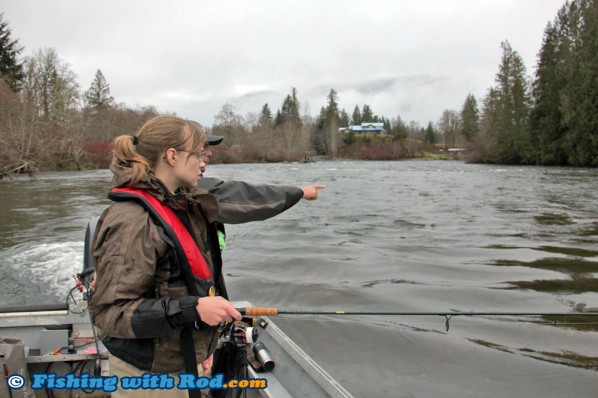 After this trip with Murphy Sportfishing I can definitely say I am a more confident angler, and will take the tips Kevin gave me and apply them to my fishing practices. Thank you Murphy's for showing me a new angle of a river I love.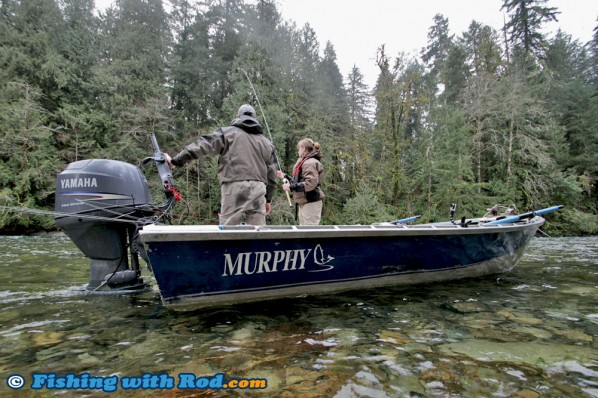 Murphy Sportfishing offers guided winter steelhead fishing trips from a jet boat from December to April. Owners Dave and Marilyn have a team of experienced local guides who are familiar with the Stamp-Sproat-Somass system. Each boat can accommodate two anglers. Combine two days of fishing with the overnight lodge accommodation for a weekend get-away. Because the boat gives you more fishing time, trips like this are not just for experienced anglers, but also ideal for those who wish to learn the basics of steelheading.