Published on Wednesday, March 26th, 2014
If you live and fish in British Columbia, you most likely do not consider Vancouver as a destination saltwater fishery. We often look forward to travelling to other coastal communities in this province to catch salmon, but most do not realize that year-round saltwater fishing opportunities are found right at our doorsteps. With the production increase of local hatchery chinook salmon, rebound of Georgia Strait coho salmon stocks and this year's exceptionally large forecasted return of sockeye salmon, fishing in Burrard Inlet and Howe Sound is making a comeback.
Two years ago, Nina and I had a taste of this when we hopped into Bon Chovy Fishing Charters' boat and experienced the winter fishery just outside of Vancouver. We were lucky enough to catch some beautiful chinook salmon and crabs. This year, charter co-owner and operator Jason Assonitis invited me back to check out prawning opportunities which are available in their full-day charters.
To make the trip more interesting, I asked Scotty Fishing Products' promotion coordinator Alexandra Dardengo and project manager Jeff Lewis to tag along so they can demonstrate their new line puller. Based on Vancouver Island, Scotty Fishing Products manufactures a variety of boating and fishing related products such as downriggers and rod holders. Rick Clark, Gibbs-Delta Tackle's new pro staff also joined us as our tackle consultant and second camera man.
The weather could not have worked out better for our trip. After a rather unpredictable winter, my expectation was pretty low. A week prior to our trip, the weatherman forecasted sunshine, which turned into 70% chance of shower on the day before the trip, so this fair-weather fisherman was rather delighted to see the slightly overcast but dry sky on our way out from Granville Island.
Our first pit stop was not too far from English Bay where we dropped our crab traps for the day before heading toward Howe Sound. Along the route, a small pod of Pacific white-sided dolphin playfully swam near our boat.
Our second quick stop was at a spot where our guide Jason had dropped a prawn trap overnight. We first retrieved the set trap by using Scotty's line puller, which can simply be installed on the mount for the downrigger. Because the traps were set at the depth of more than 200 feet, pulling them up by hand would have been rather time and energy consuming. The electric puller did all the manual work, while we just had to pick up the slack line.
The first trap reached the surface with dozens of spot prawns inside it. I've bought these many times at the local fishing docks, but never seen live ones being harvested. The second trap on the line also had a few dozen prawns in it. This was an exciting start of our trip!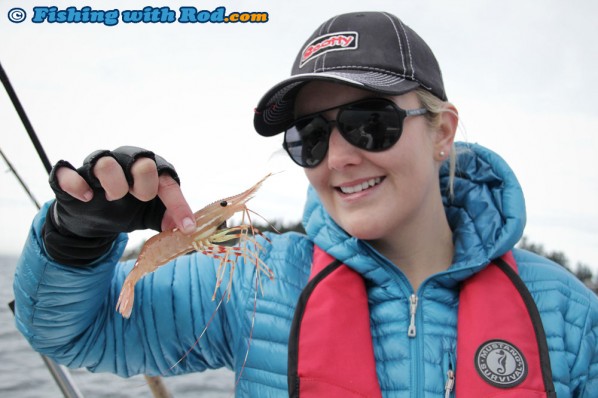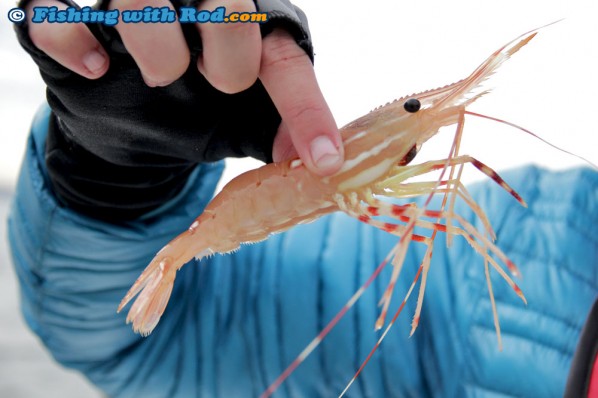 Once the prawns were poured into our tubs, the traps were set again before we headed to our fishing ground. Although the sun was starting to make an appearance, there was a fairly strong Northerly outflow from Squamish so water was getting a bit choppy. We navigated our way around several islands and arrived at a protected spot where the wind was tolerable.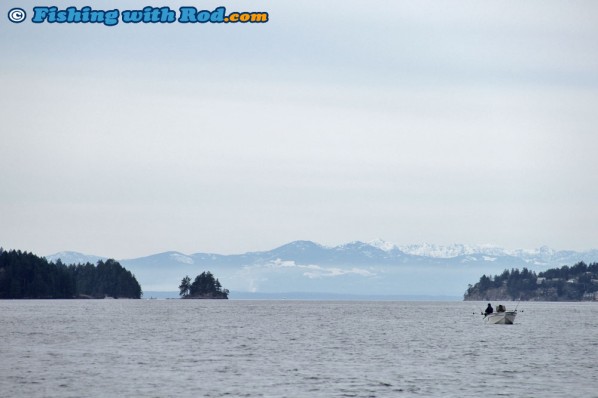 The choice of weapon was of course Gibbs-Delta Tackle's flashers and spoons. Its Guide Series flashers have been heavily tested by and named after pro staffs like Bon Chovy and STS Guiding, so anglers can fish with confidence when using them in local BC waters.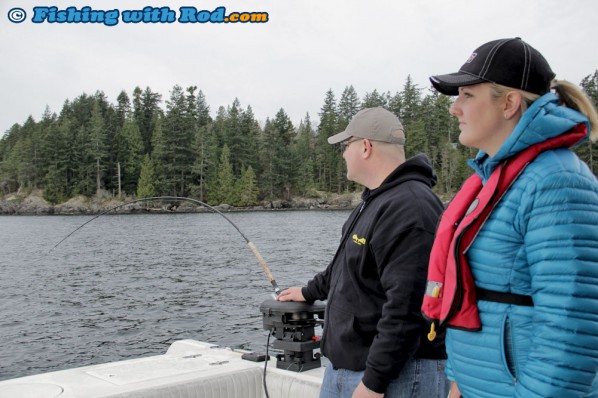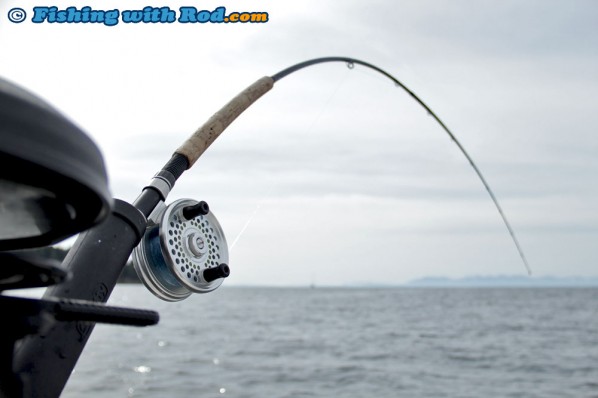 Once the gear was dropped to the trolling depth at 140ft near the bottom, the waiting game began. These feeders are mainly found near the bottom for two reasons, feeding on bait balls and avoiding surface predators. I proceeded to set up a camera on a mount which our Scotty guests brought so every hook-up could be caught on film. Soon after the record button was pressed, the first bite came on the rod which Rick predicted earlier. Alex grabbed the rod as Jason screamed "Bite!"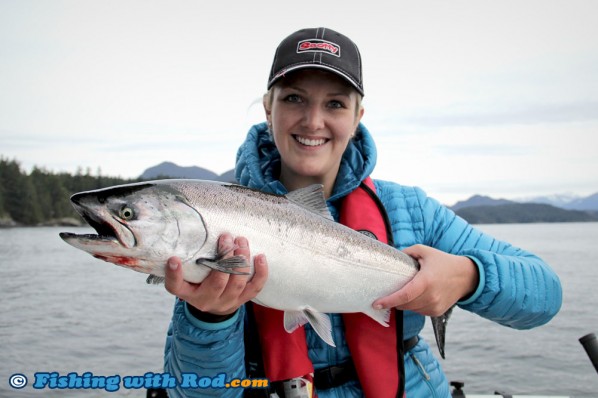 The fight was pretty lively, but the fish turned out to be undersized. The minimum size of chinook salmon which can be retained is 62cm. Encountering smaller fish in the winter is not unusual, because many fish are feeders and still at least one year before maturing. Prior to releasing this fish, Jason took a DNA sample. Fisheries and Oceans Canada has requested these samples to determine what stocks these fish are from. By having more accurate data, managers can make better decisions when it comes to protecting vulnerable stocks.
Alex's fish was actually the largest fish of the day. Despite of trying numerous spots for six hours, all of the chinook salmon hooked were undersized. Jason was eager to fish one spot where it produced on the day before, but the wind and strong outgoing tide made it impossible to troll through the area. Although the 10+ lb fish was elusive on this day, everyone was entertained by the five fish we brought in, including the double header which created some exciting chaos.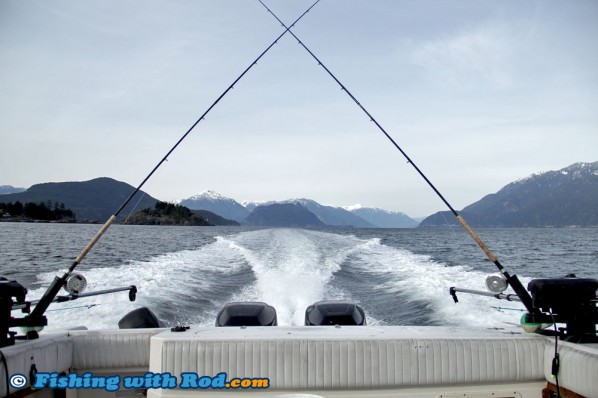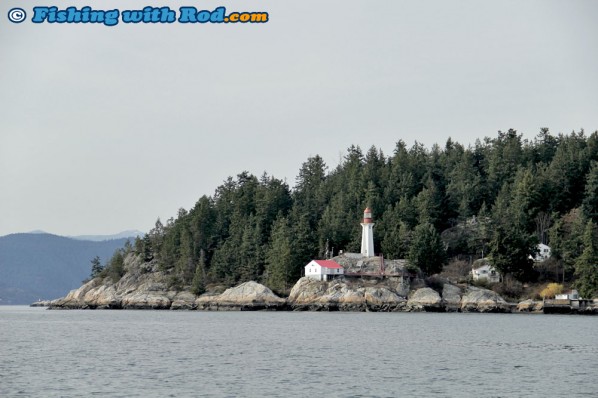 By 4:00pm, we had soaked up enough sun so the salmon rods were packed up. We headed back to our prawn traps. The retrieve was successful once again, every trap except one had more prawns for us to bring home. Of course, the prawning experience was only complete after each of us ate one raw.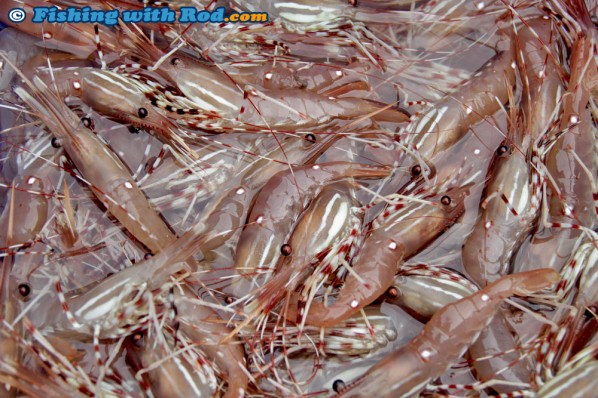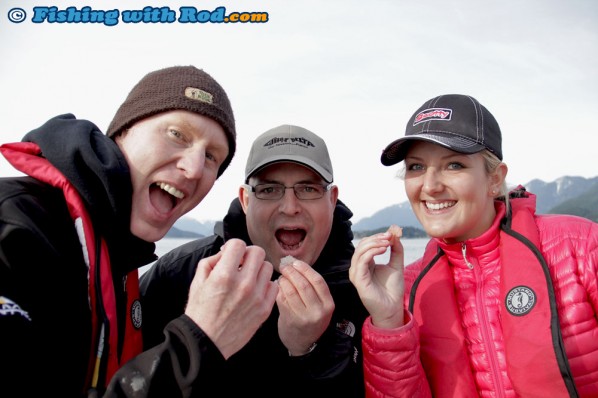 The crab traps were also pretty full when they were pulled up, but finding keepers was a little more challenging. Beside the daily quota of four each licences angler can keep, all dungeness crabs need to have their carapace width measured at 165mm or more and only males can be kept.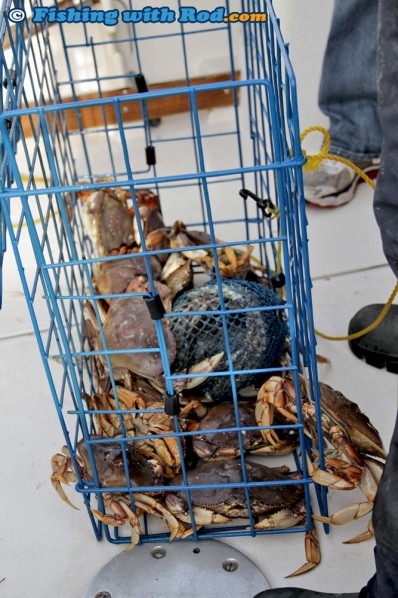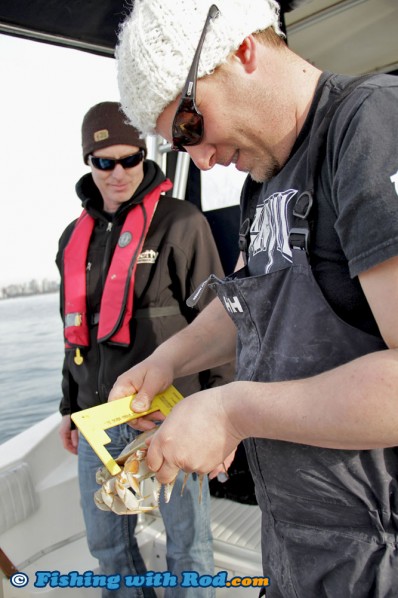 The first trap had over 15 in it, but none met the legal width! The second trap was a bit more productive, giving us five keepers. When the third trap reached the surface, Jason said, "That's more like it!" because just about every single crab met the legal requirement. In total, we were able to retain 13 for the crab feast.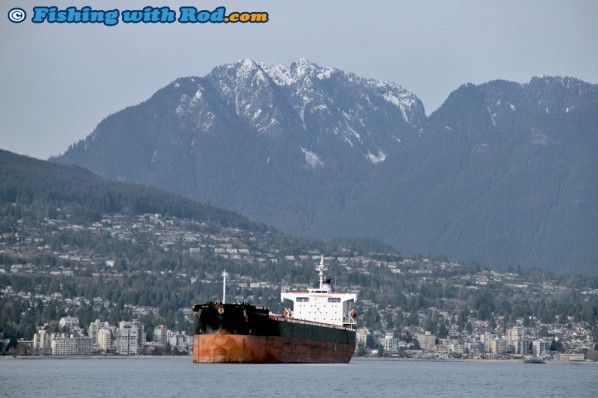 When we pulled up to our dock at Granville Island at 6:00pm, the sun was still beaming down and all of us had our jackets off. After a rather harsh winter for Vancouverites' standard, this early balmy spring weather was quite a treat! we unloaded the boat and had a look at our catches of the day while Jason took care of them.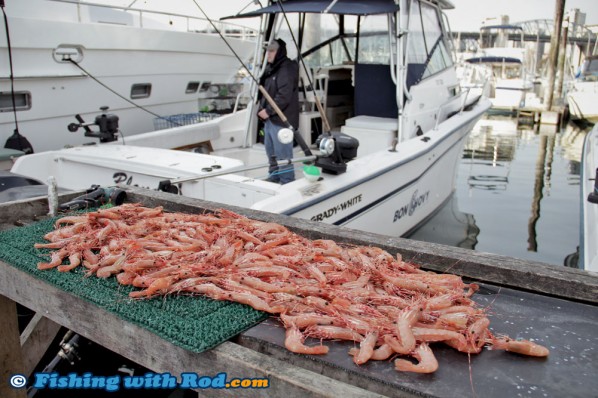 Although most in Vancouver think the spot prawn season only starts in late spring when they become available at your local markets, spot prawns are actually available throughout the year for those who wish to catch them. The winter months are the best due to the absence of commercial traps, so Bon Chovy Fishing Charters offers this option for their full-day charter trips between December and April. Vancouver is not Tofino or Haida Gwaii, but this is a fishing trip ideal for both local residents and visitors who have a day to spare for fishing in this beautiful city.