Published on Thursday, September 16th, 2010
At last, the Fraser River has almost restored its peaceful setting after several weeks of sockeye fever. This year's record run was certainly good news, but it made the river rather chaotic. At the Fraser River mouth, one does not have to look too hard to find boats zipping in and out of the harbour, thousands of salmon jumping at each tide change, seals and sea lions hunting, fishermen attempting to catch fish from shore, and of course exciting salmon viewers being impressed by one of nature's wonders.

Now that the run is almost over, I have been able to venture out for a couple of hours each day with my flyfishing rod, hoping to catch whatever is lurking around. My main target species have been trout and char, but beside one beautiful cutthroat trout that was lost by my feet a few weeks ago, fishing has been slow. There should be no excuses, because the water clarity of the Fraser River has been fantastic, fish can easily spot my presentation. My only theory is that fish have been stuffed with all the discarded sockeye salmon parts from commercial fishermen, so they are not as keen to hunt down something that actually moves.

Yesterday I was finally able to connect with a nice northern pikeminnow. This fish engulfed a size one fly, which I simply jigged along edge of the reed beds as the tide current carried it downstream. This week's tide is ideal for this type of fishing, because the afternoon outgoing tide is a small, gradual drop. I really enjoy fishing under this condition, because there is plenty of time for the fly to reach the fish without being disrupted by the strong current.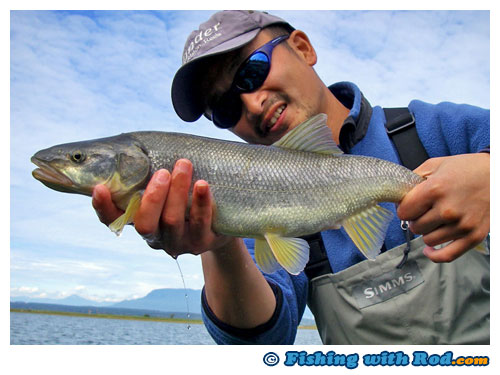 Today I returned and found some rises on the surface. Unless the bigger cutthroat trout that I saw last week, these were slightly smaller so I was not very certain what they were. Could they be steelhead smolts? Perhaps smaller anadromous cutthroat trout? I tied on a small nymph pattern, hoping one of them would attack it as I skipped it just below the surface. Sure enough, I felt a gentle tug after the first cast but was too slow to react. On my second cast, I placed the fly slightly further out and connected with a cutthroat trout immediately! Unfortunately, the fish unhooked itself while I was busy untangling my fly line.

I continued casting the small nymph after the disappointing loss. This time, I placed my line almost parallel to the reed line, so I could drag it along the edge of it. I suddenly felt one tug after another. Not knowing that it may be, I lifted the rod and found a peamouth chub at the other end of the line. Although it was just a small minnow, I was pretty ecstatic because it was my first peamouth chub on the fly. This has been something that I wanted to do this summer, so I was more than satisfied. Once I sent it back to the river, I proceeded to catch three more with the same technique before the bite suddenly died off.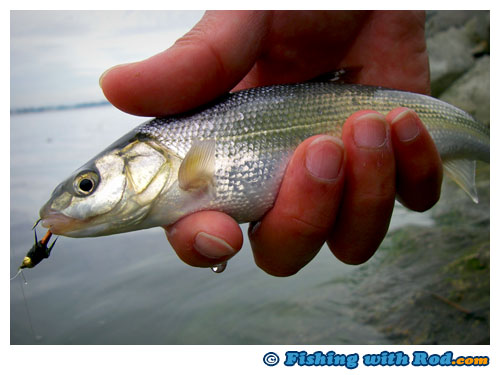 Fly fishing, willing biters, calm sunny days, this is what early fall fishing on the Fraser River is all about.