Published on Friday, February 19th, 2010
Like just about everyone else on this planet, we have been caught up with the Olympics hype by either gluing ourselves to the television set or walking around Downtown Vancouver. Today we decided to take a break from it by doing some fishing in the valley with Nick Basok from Chilliwack Dart and Tackle. While finishing some filming last week with Nick, he mentioned that cutthroat trout fishing has been good lately and generously offered to take us out as usual. I accepted the invitation with no hesitation since these opportunities do not come often.
Coastal cutthroat trout is one of several popular target species throughout the winter months in the Lower Mainland. While it is quite accessible, it is one fishery that we have not really explored that much.
We were pretty excited about the forecasted 15C sunny weather. Fishing and basking under the warm sun in mid February, what more could one ask for? To our surprise, the northeasterly outflow was strong enough to shake the car around when we arrived in Chilliwack. Nick assured us that it would not be an issue when we met up, or would it?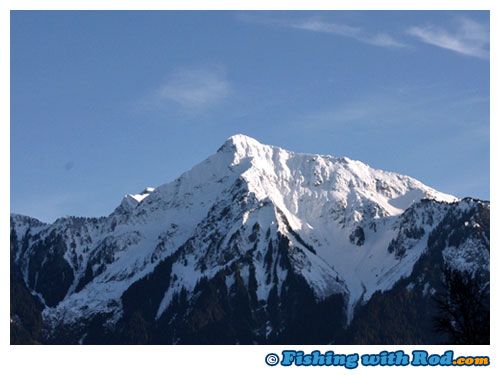 Snow capped Mount Cheam looked stunning under the sun.
Our chosen spot was somewhere between Hope and Chilliwack along the Fraser River, which is where most anglers target these so-called ghosts. The wind was not easing up, but thankfully we had our waders and wading jackets to stay shielded. Nick steered the boat into a semi-sheltered spot where our lines could actually stay straight.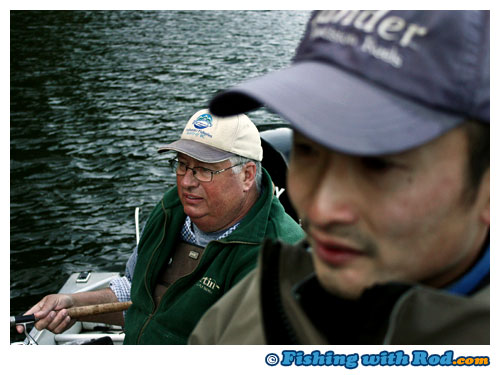 The anticipation.
Today's tactics were to use a variety of techniques. We started out flyfishing with small nymph patterns. Soon after starting, I realized that my float line setup was not getting my fly to the depth at where the fish were supposed to be. Meanwhile, Nick was not having trouble catching fish as usual. After missing a tug on his first cast, it took another ten minutes before his first hook-up. It was a small but fresh looking feeding cutthroat trout. The bites were not frequent, but consistent. In the first hour, Nick managed to connect with half a dozen fish while I managed one with my spinning setup after abandoning the fly.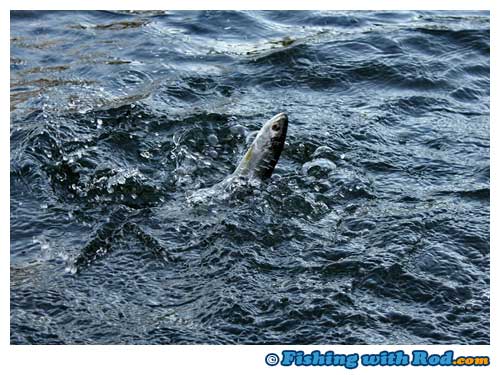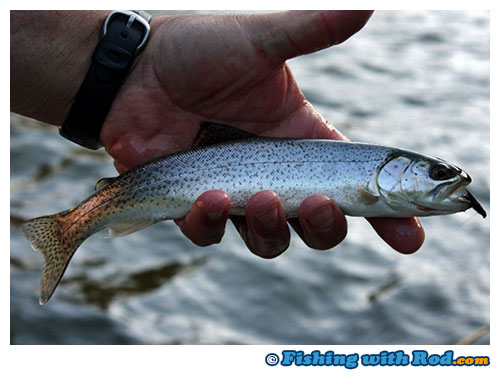 Small but pretty.
We took a brief break by a tiny creek at around 1:00pm. Nick explained that the cutthroat trout fishing is typically slow in the morning and has a tendency to improve in the afternoon, perhaps due to the difference in temperature. That was encouraging.
During our break, we spotted a couple of rises so it only made sense to move into where those fish emerged. The change in location was a good one, because we found a hungry load of fish. I decided to take a break from fishing after the dismal performance in the morning and let Nina do a few casts while I manned the camera. Almost immediately, both Nick and Nina could not keep fish off their lines. Nick continued catching them on the fly while Nina was feeling tugs on her 1/8oz spoon on every single cast. In just a short while, there were many double headers. Although the catches were dominated by overwintering feeders between 10 and 14 inches long, a few larger prespawning fish in the 16 and 18 inch range were encountered too.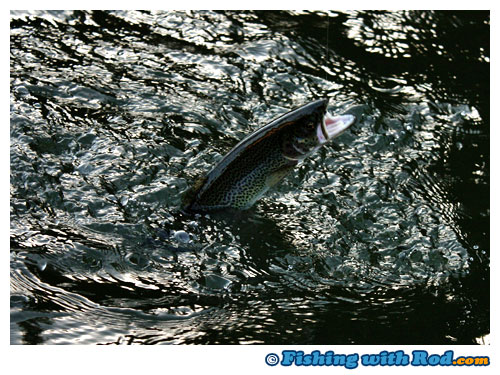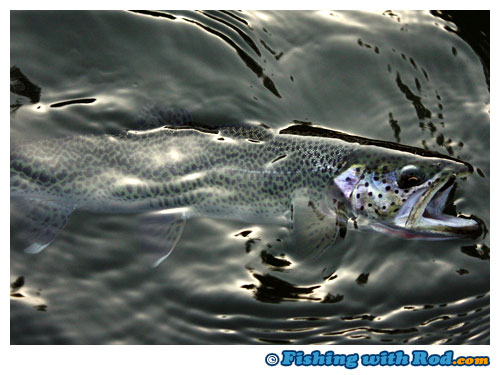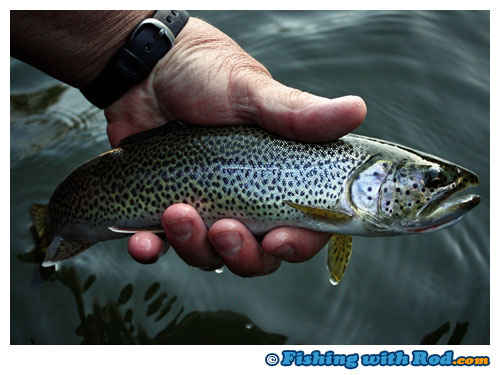 A spotty spawner.
Seeing all the action, I could not resist to make a few casts again. Nick handed me his fly rod so I could make a few casts while he switched to a bait rod. It took awhile to get used to the new setup, but I was finally feeling the rod dance again.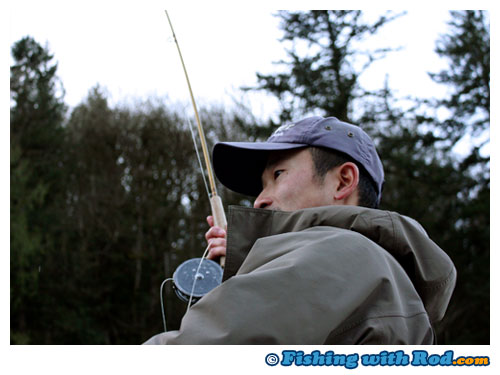 Fish on at last!
Among the few dozen cutthroat trout that we managed to connect, there were also several rainbow trout and mountain whitefish. The diversity in species and size range is definitely what attracts anglers into this fishery. There's always something new to see and learn.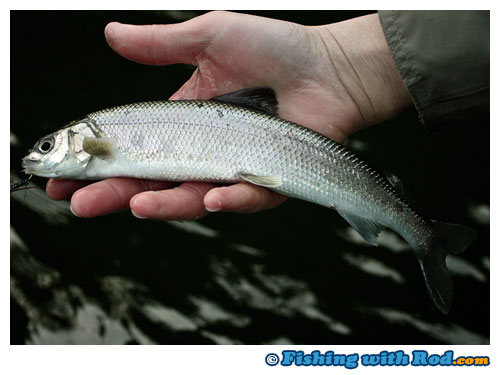 A scaly species in the salmonid family.
The wind died down as we entered the shadow of the nearby mountains. It was time to call it a day because our hands were cold and wet from handling so many fish for once. We arrived home just in time to see the end of hockey game between Canada and Switzerland. It could not have been much better than that!