Published on Saturday, May 14th, 2016
Earlier this week, we stopped in Kelowna for three days to film an upcoming video feature as well as enjoying some of the unique fisheries this region offers. I rarely get a chance to visit Okanagan, so I always make the most out of it whenever I do. The region has so much to offer beside fishing in the spring months. Mountain biking, golfing, wine tours and general sightseeing are just some great options on the list. When it comes to fishing, Okanagan has a large variety of fish species which anglers can target. Being here for three days is simply not enough to cover them all so we had to be selective on what we really wanted to catch.
Our home for the trip was Tee House Bed and Breakfast, which is a beautiful house located in a peaceful neighbourhood behind Shannon Lake Golf Course. Owners/hosts Arthur And Lynda started running their B&B last year, accommodating visitors who are looking for a more private setting during their stay.
Since we were only a few minutes drive from Shannon Lake, it only made sense to stop by and check it out during the first evening. Shannon Lake is one of several urban fisheries in Kelowna. Freshwater Fisheries Society of BC releases rainbow trout at catchable size into this lake seasonally. The lake also has a high abundance of largemouth bass. New this year, is the floating dock that has been installed in the kids fishing area. This opens up many more opportunities for families who are looking for a safe place to fish. The walk is only a short walk from the parking lot, so you can in fact carry a float tube or pontoon boat in if you wish to access the entire lake.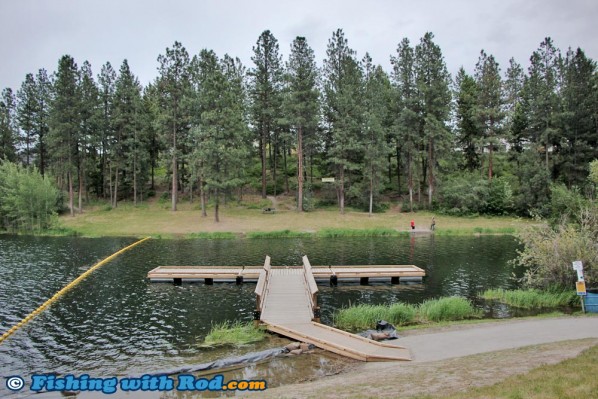 We fished the spots just outside the kids fishing area briefly, and were rewarded with several small largemouth bass. Majority of these bass are only a few inches long, but locals told us that fish up to several pounds do exist in the lake. The kids fishing area is bounded by a net so it is full of rainbow trout, and some were enjoying catching them while we fished nearby.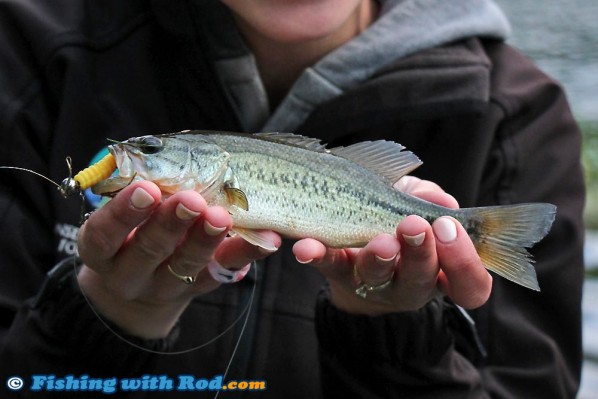 On our second day of the trip, we met up with Rod Hennig from Rodney's Reel Outdoors at Wood Lake, which is just North of Kelowna. For once, Fishing with Rod is fishing with Rod! Rod is a Gibbs-Delta field staff and he is very familiar with the lake fisheries in Okanagan. The objective of the day is to complete an episode on Wood Lake's kokanee fishery by trolling.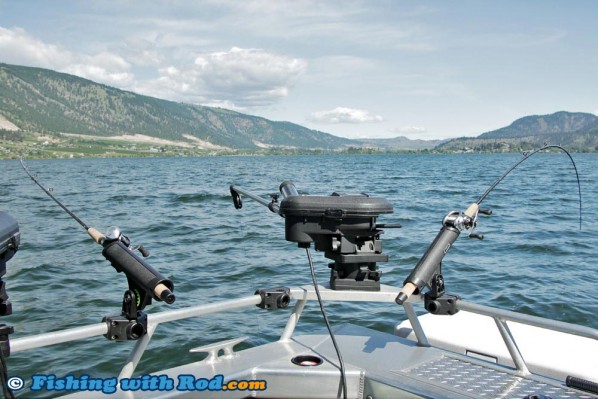 We started the day at 10:00am. Kokanee fishing is not really time dependent, which is great for those who do not want to get up early, like me. Although the lake is very deep, I was surprised to find out that these fish can in fact be caught very close to the surface by trolling without a downrigger. In the first two hours of the trip, we did just that, picking up most of the fish with a simple surface setup. Rod uses either Gibbs Gypsy or FST spoons as mini flashers. Trailing 1.5 foot behind them is a Yamashita hootchie tipped with a piece of shrimp on the hook. The rods he used were Shimano Talora Kokanee rods, which have a slow action so they are incredibly whippy and sensitive.
In the afternoon, more fish were marked in slightly deeper water. The surface action died off but we were able to rig the rods to the downriggers and trolled them at 20ft below the surface.  By the end of the day, we were able to connect with two dozen fish. Most in fact fell off the hook before they reached the boat, which is not unusual for kokanee fishing, but we were able to bag our limit for the day. The shoot was a success, and you can expect to see this episode in June.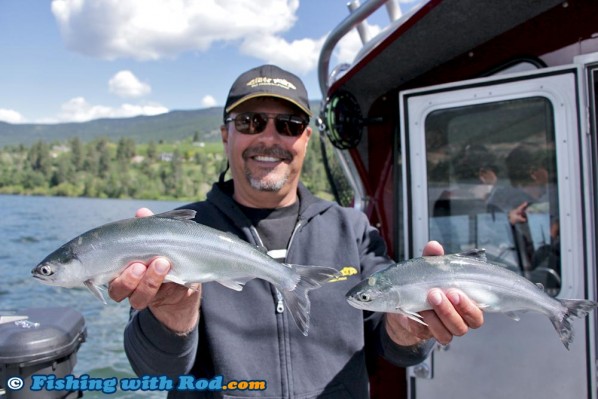 On our way back to Kelowna after fishing we stopped by Trout Waters Fly and Tackle. Nick and Savas have been running this excellent store for over a decade. Several years ago, the store moved to a new location and it is now much bigger with a wide selection of products to choose from. This is the fishing store to be at if you are visiting the area. Nick gave us a tour of the store, showing us the new seminar/social room and tying station. Not only are they here to provide good service, they also play an important role on educating anglers so the quality of our freshwater fisheries in the Okanagan region can be maintained.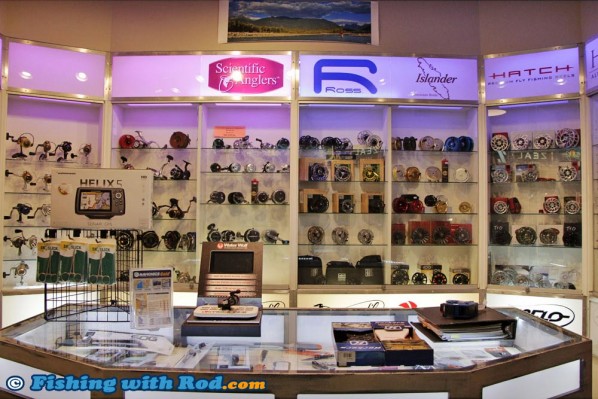 On our final day of the trip, we drove South to Okanagan Falls and launched the boat into Skaha Lake. Several years ago, local angler Jesse Martin showed me the smallmouth bass fishery in this lake so I wanted to give it another go. The South end of the lake has a series of private docks along the Eastern shoreline, so it only made sense to target fish that hid underneath these docks.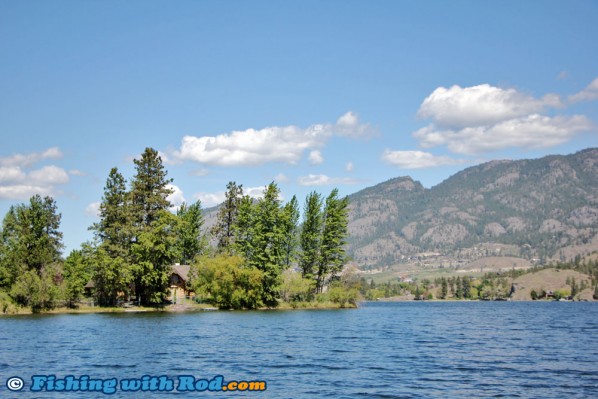 We worked along the shoreline, casting and retrieving a small 1/16oz Gibbs Croc spoon for these aggressive biters. It did not take long until we found some fish! This type of fishing requires casting precision. If the lure lands just under the dock, then more likely than not you will hook a fish.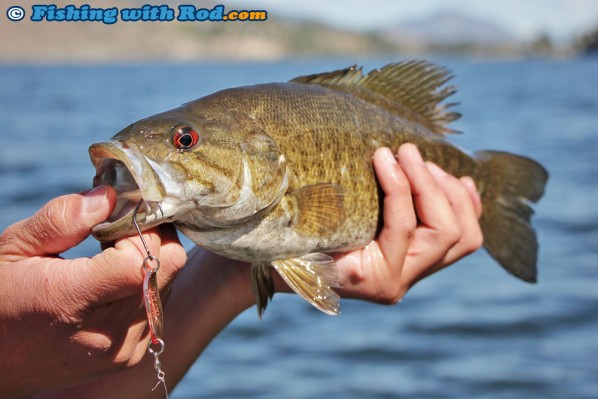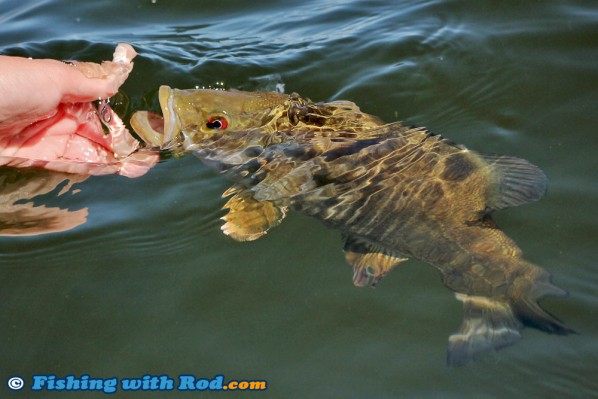 Among the smallmouth bass, I also encountered a surprise catch, a yellow perch.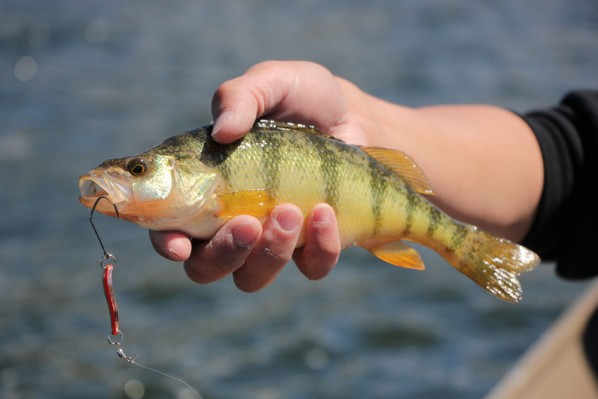 When the Northerly wind picked up in the afternoon, we decided to find another sheltered spot on the West side of the lake. This area lacks docks, but the shoreline is lined with drop-offs down to 15ft of water. Instead of casting spoons, we switched to a tubebait so we could cover the depth properly. Again, there was not a shortage of biters. In the end most of the fish we caught were in the 0.5 to 1lb range, but a couple of fish were quite a bit bigger than average.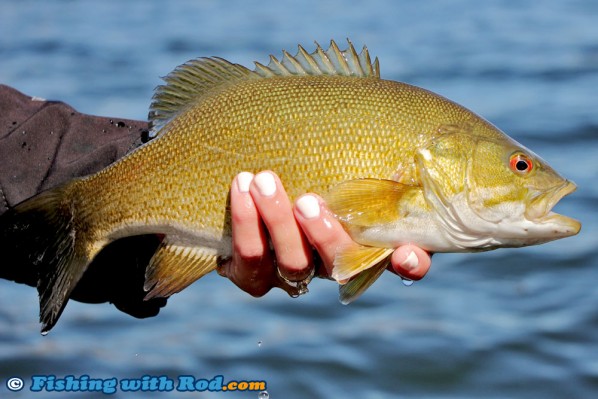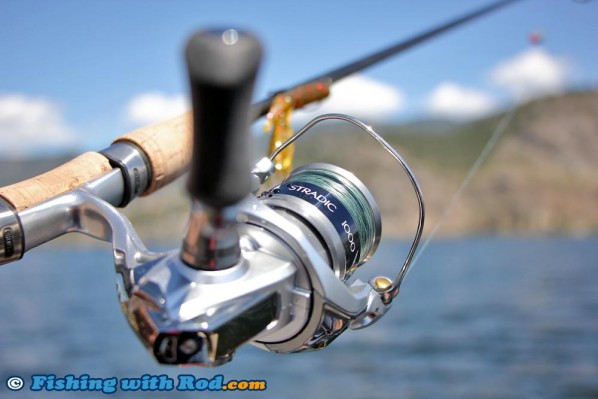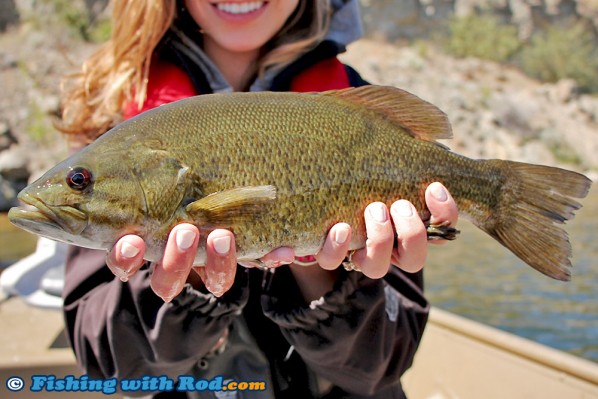 If you are looking for an area to visit this summer with the family, the Okanagan region might be a good option for you. While trout fishing is still available, there are numerous other kid-friendly species for the younger family members to target.