Published on Thursday, April 30th, 2009
I brought my camera down to Middle Arm to take some sunset photos after this lovely spring day. Freshet has been happening on the Fraser River for almost two weeks now. With the water as brown as coffee, it was not really worth to bring the rod down, especially a flyfishing rod.
Upon arrival, I found the water to be glass calm. I love it when it is so calm in the evening. Any surface activity would be visible, even on the other side of the channel. After taking a couple photographs, I caught a splash at the corner of my eyes. It sure looked big! Sturgeon perhaps? I walked toward the area and another fish showed itself. A sturgeon it was not, but it was either a bull trout or cutthroat trout, a rather big one too! I stood and repeatedly scanned the surface from left to right. Another fish rose, which was followed by another dozen. I've seen trout feeding on the surface many times, but these sightings always make the heart pumping harder. There was no point to show my excitement, because the fishing rod was at home! All I could do was to stand back, watch and enjoy the feeding frenzy.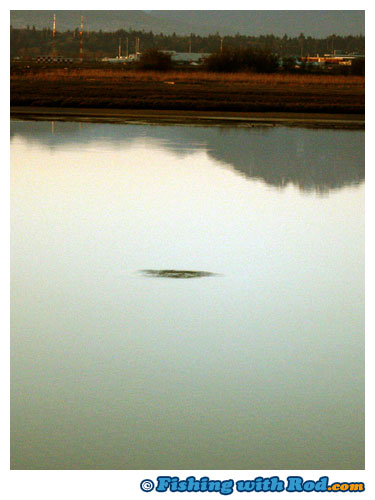 Oh yes, those sunset photographs…