Published on Saturday, May 30th, 2009
It has been gusty along the coast for several days now. The wind finally eased up slightly and changed its direction today. This does not necessarily mean that the beach fishing is better. Whenever it is windy, seaweed tends to be washed up the coast so it would be tiresome to drag them up on every retrieve. Beside, garfish seem to still dominate the sea and sea trout fishing is only good late in the evenings. I was looking for a change of scenery and contemplated where to fish this weekend. We decided to slow the pace down slightly, by scouting out some smaller water bodies this evening.
Unlike Canada, the eastern part of Denmark lacks lakes and rivers so most of the fishing is done along the coast. Large lakes and rivers are typically managed by fishing organizations and a day fee is required. Although freshwater fishing opportunities are pretty limited, there are still places where you can enjoy it for free.
Little swamps and ponds can be found across this island, they are footprints of the last glaciation. Trout are absent in these tiny puddles, but they have an incredibly rich diversity of life. Small coarse fish such as roach and rudd make up the bottom of the food chain while large predators such as northern pike and perch keep the populations in check. Other fish found in them include tench, bream and a variety of carp species.
They are species that do not excite most anglers, but I really enjoy seeing new species that I have enver encountered before. While in high school, I briefly watched a few match fishing shows from UK and had wanted to catch these species. Several springs ago, I finally had a chance to do so, but did not have the right equipment for them. During my stay in Denmark this time, I have brought along some of the light tackle that I usually use for peamouth chub back home.
After studying the map, we decided to check out a swamp near Nina's hometown, which is about 20 minutes of driving from Copenhagen. The swamp is tucked away in the middle of a large field, making it a pretty peaceful setting for fishing even though we are not too far away from the city.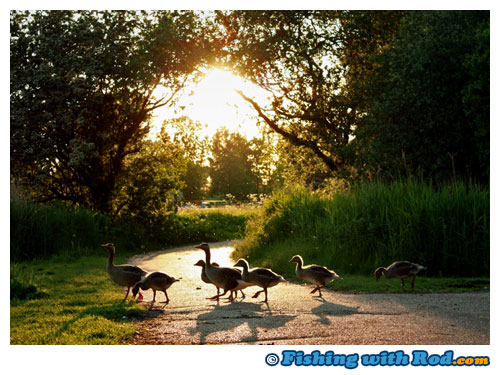 The busiest traffic crossing in the area.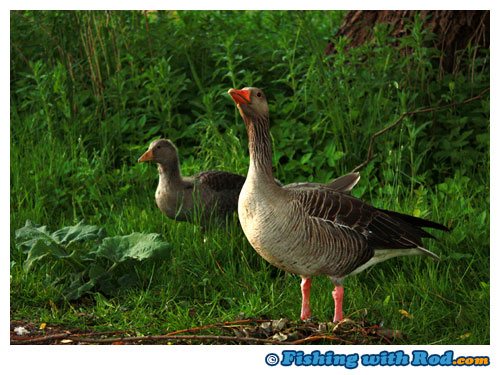 A protective parent.
I decided to set Nina up with a float rig. The thin float only takes two tiny split shots to balance, perfect for detecting bites from small coarse fish. The long spinning rod and thin line allows her to cast the light setup without much difficulty. Knowing that there could be pike or perch around, I chose to bring along my spincasting setup with my 1/8oz green spinners that have always been so good to me on just about all predatory species that I target.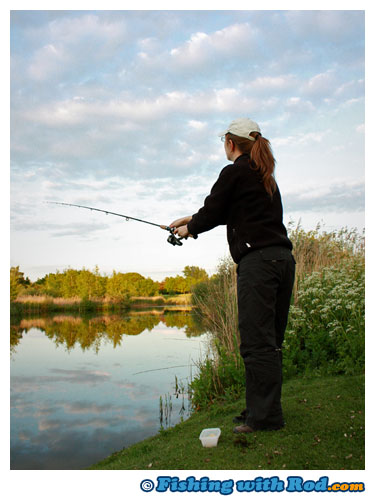 Bait, whip and wait.
Several seconds after Nina's float settled on the water, it dipped a few times. This is one appealing feature of the coarse fishery, the waiting game is always short! The fish are almost always abundant and never too selective.
She missed the first several bites by yanking the rod too hard. The float flew straight out of the water everytime. I guess that we had been fishing for garfish so much lately, it is easy to forget how soft the mouth of these fish is. With a bite of adjustment in technique, the first fish made its way to the bank.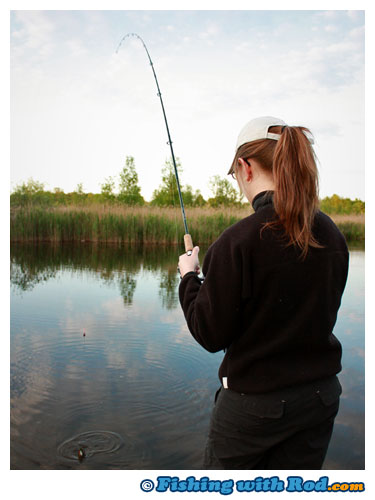 She lifted it up by the line and tried to see what it was. It took awhile but we figured out that it was a rudd, which looks quite similar to a roach.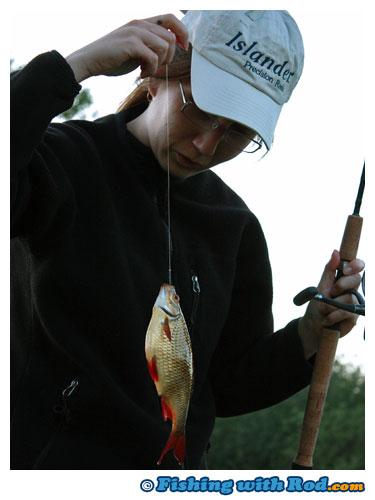 After letting it go, Nina rebaited and chucked the rig out. The float once again disappeared before she had a chance tightening up the slack line. It seemed to be a smaller fish as it came in quite swiftly. It was a roach, which was much more slender than a rudd. Two species in two casts, this was turning into a pretty good start.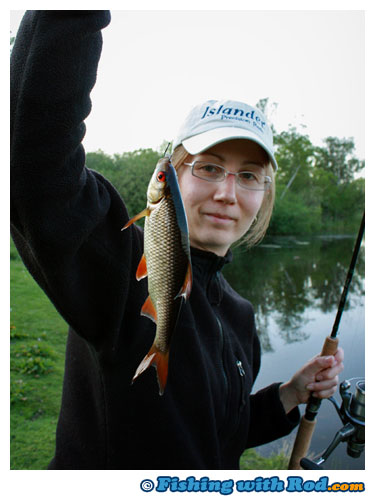 Nina repeated this process for the rest of the evening. I decided that it was time to throw the spinner out after taking enough photographs. The swamp seems to be pretty shallow and weedy, so I had no high expectations. The first few casts ended with some weed on the line during the retrieve. Once I had determined how deep it was, I made some adjustment to my retrieve and that solved the problem instantly. The grassy bank on the other side actually looked very appealing. If a pike or perch was in this swamp, it would be over there. At least that was my theory. I made a few long casts and the spinner landed right by the weed patch. Still expecting nothing, I watched Nina's float and chatted as I retrieved it. Suddenly I felt a solid tug. It was definitely not a piece of weed, but I hesitated to pull because my mind was still on the float.
Hoping that it would go for it again, I aimed for the same spot. I felt another tug after a few turns on the reel. This time, I set the hook hard. The light spinning rod was bent to the cork and I could felt some shaking at the end of the line. What could it be? I carefully guided the fish into the shallow as I only had a size 4 single barbless hook on the lure. The fish appeared on the surface of the copper-coloured water. It was a small pike! The fish was only perhaps 20 inches long, but I was very thrilled regardless. Nina grabbed the camera and prepared to snap a shot while I celebrated. The fish thrashed on the surface and suddenly freed itself. It sat on the bottom and jetted into the deep after several seconds. I was still pretty caught up with the excitement so was not too disappointed by the loss.
Two casts later, I felt another solid tug just as I started retrieving the spinner. The rod was once again being put to work. It felt just as heavy as the previous fish, but it fought differently. A good sized perch appeared on the surface after 30 seconds. Nina once again brought out the camera, but this fish was also camera shy. It dashed away after shaking the hook off without much effort. This catch and release method is working a bit too efficiently.
I proceeded to hook two more perch, but both also failed to make it to shore. I checked the hook for problems, but it seemed to be find so I guess that the angler was not so fine.
When I finally had a fish posing in front of the camera, it was much smaller than the ones that I had lost earlier. Aren't the ones that get away always bigger? Nevertheless, it was a pretty fish. The green body, black bands, red fins are all classic characteristics of the European perch.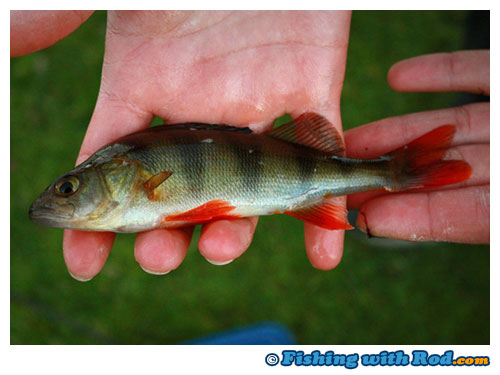 Brightly red fins.
A tiny northern pike followed soon after. This seemed to be a world of minis. Despite of its unspectacular size, this specimen was in very good condition.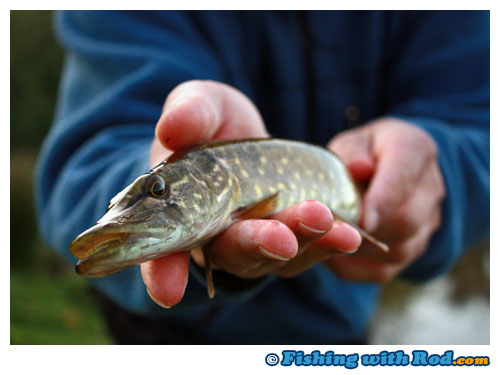 Baby toothy fish.
I finished the evening with one more perch on my line. It was a slightly bigger specimen than the previous fish.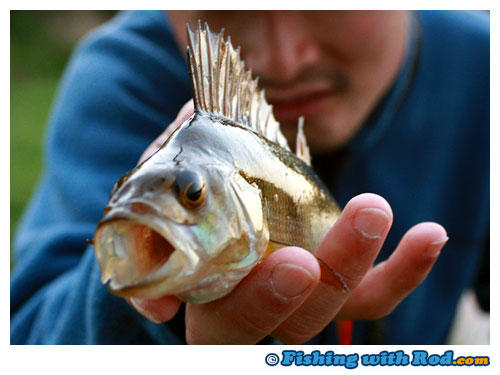 Meet spiky!
Unlike yellow perch in North America, European perch can grow up to several pounds in weight. Perhaps due to the swamp size, they are unable to grow much bigger? That is most likely not the case, because we did see some biggies rolling on the surface just before dark. For a scouting trip, it was certainly a rather successful one based on the number of species caught. Perhaps this swamp still has other hidden secrets, which we shall find out when we return in the near future.