Published on May 25th, 2009 by Rodney
After experiencing a different fishery in the Baltic Sea for two weeks, it was time to try something new. I mean, catching one garfish after another was great, but it was beginning to seem quite repetitive. I decided to check out the freshwater scene last Sunday. I recall fishing in one of the streams a few springs ago and seeing large northern pike exploding on the surface for food. At that time, I could only look on helplessly because I did not have the right gear. This time I brought some large poppers with me so I could tempt one or two of these toothy fish.
The nights are getting much shorter in Denmark. I had planned the outing for early in the morning, but sunrise was at 4:44am. Not being a morning person, I struggled to wake up at 3:45am and found the sky already quite bright. The drive was 30 minutes long and by the time I arrived, the sun was just rising in the horizon. It was a good thing that the river is quite shaded from trees, so I still had fair amount of time to bring a pike to the surface.
I quickly made my way to the river and found a couple of large fish rolling immediately. I was not sure what species they were. Perhaps they were sea trout, but judging by the time of the year, they were most likely large pikes. I began casting my popper and working my way systematically down the river. To make a long story short, my early morning effort was not rewarded. I ended the trip at 10:00am. The highlight of the morning was perhaps a herd of cattles that kept following me around by the river. Most river access in Denmark involves crossing a farming field.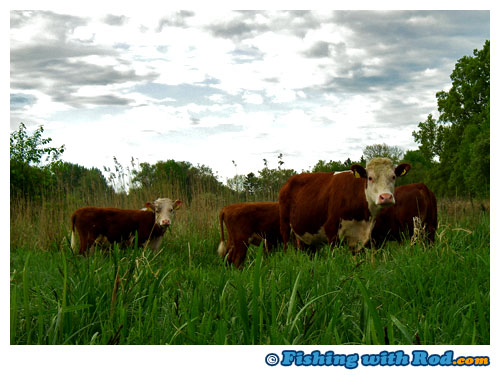 What are they up to?
Deflated and tired, I returned home and was prepared to rest for the remainder of the day. I logged onto the net and found an email from Henning in the inbox. Funny enough, the email included an invitation to a pike fishing trip that evening. I was quite exhausted, but did not hesitate to accept that invitation. Henning and I had in fact not met. We corresponded by email because he also documents his fishing trips in a blog. Over the years, the internet has aided me to share my fishing experience with others in both Canada and Denmark. Many anglers often fear the damages that the internet may do to fishing, but I have found it to be more beneficial than damaging by creating a tighter network among anglers.
Henning and I agreed to meet at 6:00pm near the lake where we intend to fish. The lake is "private", like most freshwater systems in Denmark. Fishing is only granted for those who belong to the fishing club that manages it. Members, such as Henning, have the privelege to keep their boats at the club dock and use them whenever desired. For non-members, they can pay around CAD$20 to use one of the club boats and fish the lake for one day. It is a slightly more expensive system than what is available in British Columbia, but it is still within reasonable cost.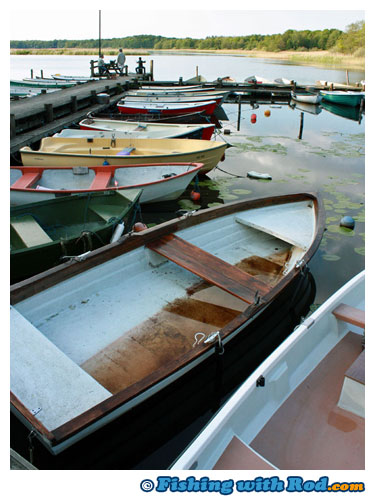 The sun was still shining brightly at 6:00pm. It was rather calm, which is really unusual in this windy nation. We made our way out in Henning's boat. Poppers rigged, it was time to nail some pike.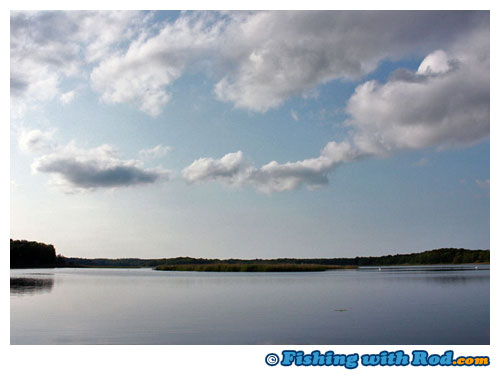 We rowed past an island at one point and it was just covered with blackheaded gulls. Henning said that these birds return each summer to feed and breed. They were very active and noisy. At times a bird would be interested in our poppers on the water surface but quickly turn away after realizing what they were.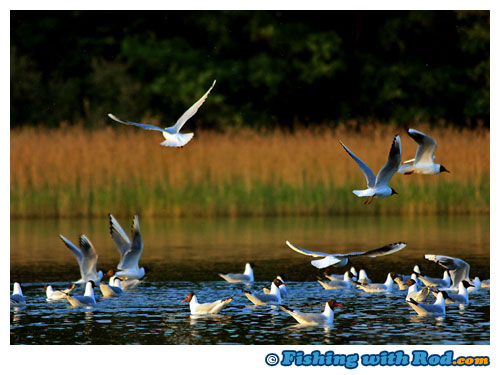 The first three sections of the lake that we tried did not produce any risers except a couple of possible movements just below the surface. After a couple of hours, we reached a shallow bay where small fish were feeding on the surface. Perhaps there were bigger ones lurking beneath? They were indeed! Soon after we began casting, henning had the first chaser right behind the popper but he failed to connect.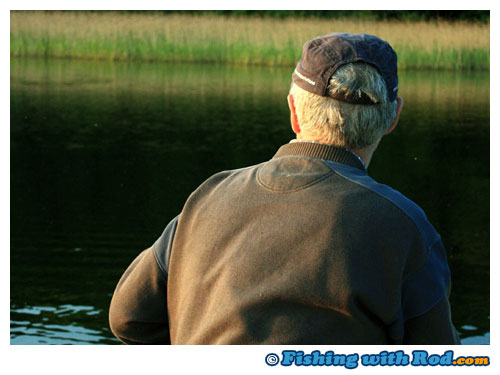 I suddenly became rather excited. Being able to see a sign of fish always raises the confidence. I aimed for a patch of weed not far from his bite. While still chatting with Henning about his miss, a large fish suddenly thrashed over my popper. I yanked the rod but also missed the fish! Now the excitement really started just when the sun set behind the hill.
We casted to the same spots repeatedly, but these fish seemed to have learned quickly. They never came back for another gulp. Henning rowed the boat out of the bay slightly so we could drift back in and give it one more try. I decided to switch the popper to a large spoon. Perhaps a sub-surface lure could tempt the same fish. I aimed for the area where Henning originally missed a fish. It only took a few casts before we had another sighting. While retrieving the spoon back to the boat, I watched it in the water as usual. In a split second, I could see a large pike emerging behind it. Both Henning and I screamed, I guess he had seen it too. I felt a slightly bump, but it never commited to a bite.
Hope began to diminish as the sun disappeared. We slowly rowed toward the dock and made a few more stops for some casts, but it seemed like all the fish had gone to bed. We ended the trip at 10:00pm and there was still enough daylight for us to make our way out of the forest.
Although no fish were connected, it was another new, different and exciting fishery for me, with another fantastic fishing company. For several years now, I have been seeking for these toothy predators. When I first decided to target northern pike, my presumption was that they would be much easier to catch than salmonids. After many attempts, it has become quite apparent that it is more challenging than I had expected.