Published on March 10th, 2013 by Rodney
After exactly four months and three days since I last fished (three days before the baby arrived), I decided to come out of hibernation and visit one of my favourite fisheries. Kawkawa Lake opens on March 1st each year for its kokanee fishery. Originally I had intended to go on opening day so I could bring my father along during his visit, but unfortunately the weather did not cooperate. A week after opening, the weather was finally giving us a break so I wasted no time to get the boat ready after Nick provided an encouraging report.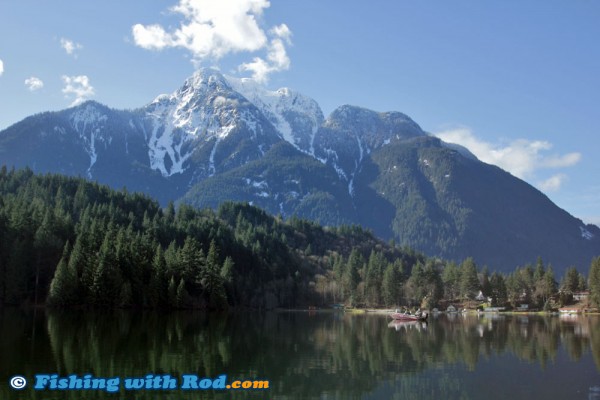 We arrived at the lake at 9:30am and it was flat calm. With the sun beaming down and the view of the big snowy mountain in the background, this was starting out very nicely. By 10:00am I had the boat loaded up while Nick and Fred from Chilliwack Dart and Tackle were already anchored and anticipating for the first bite. Just as I cruised past them, Nick reeled in the first kokanee of the day.
There were the odd risers on the surface, but most fish were swimming right on the bottom at 45ft as they always do when it is calm and sunny. We were fishing with krill and a variety of other bait. While bait fishing seems easy, there are lots of uncertainties when fishing at 45ft of depth. The fish could be anywhere. If the bait is suspended a few feet away from the school, then chances are you will be staring at a motionless rod all day.
As soon as I dropped anchors, the sounder showed a big school of fish directly below me. The beeps kept on coming and I thought that it was broken because I've never seen it that active before. Immediately the rod tip started moving and I managed to miss all three chances in the first ten minutes.
I decided to anchor 100 feet away from Nick. Seeing that we were anchoring at the same depth, I didn't think the fishing results would be very different. Once again I was completely wrong. While I couldn't trigger another bite, Nick managed to haul in one fish after another on each drop.
"Come on closer!", he yelled. I hesitated and re-anchored at 50 feet away from him.
"Closer! No fish there!"
I pulled up anchors once again after another 30 minutes of no fish. Meanwhile, Nick and Fred had already reached their limit of four fish each in the cooler.
I re-anchored at 5 feet away from Nick and I reached the conclusion that spots do not always make a difference. While I was still trying to trick a fish to bite, Nick continued to pull them up from the deep like a commercial long-liner!
Finally, after 15 minutes of fiddling around, I detected a soft bite on the rod tip. Perhaps I am simply too rusty after many fishless months, I don't seem to remember kokanee bites to be that light. I missed the first hit, but it managed to hook itself after I left the rod alone for a few more minutes. The first fish was finally in the boat, a fat silver kokanee measured at 13 inches long.
Just as I was getting excited about the non-stop action, the bites stopped for everyone! "Time to move.", Nick announced, "We are going to target cutthroat trout now."
I decided to stick to the same spot and hope the school would return for another feeding frenzy. The southwesterly breeze picked up gradually as I waited. A trout must have sympathized my poor performance and ran itself into the line. Other than that, it was pretty uneventful for a couple of hours.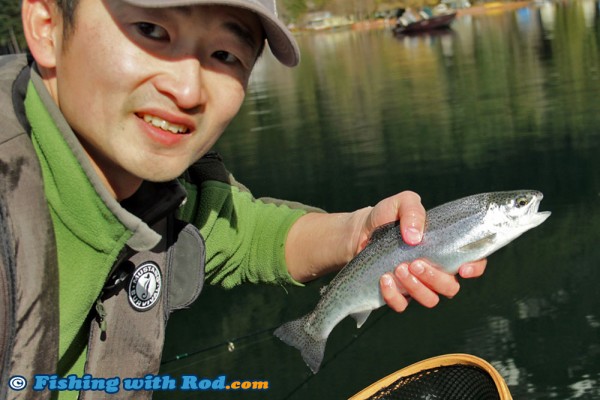 Eventually there were some surface activities. While the sun was still out, the chop on the water provided a good cover for fish. I pulled out the float rod and adjusted the depth to around 5 feet. It took no time for the little orange dot to disappear. Finally I was in the zone. The bites could not be stopped. Each cast was followed by a bite a minute after. I managed to bring in both kokanee and landlocked coho salmon in a variety of sizes.
The last hour of the trip definitely saved the day, because I was sure that no fish other than the lonely one was coming home. In the end I brought four healthy looking kokanee back and enjoyed them very much by lightly seasoning and baking them in the oven. This is why fishing can be so exciting, every trip is an unique experience with plenty of lessons to learn.
Watch the video feature "Spring Kokanee"
Tags: Kawkawa Lake, kokanee