Published on Friday, January 9th, 2009
Tuesday's trip had frozen rocks, leaky waders and a lack of fish slowing my pace down. Dealing with frozen guides, slippery shoreline and numb fingers cut the number of casts by half.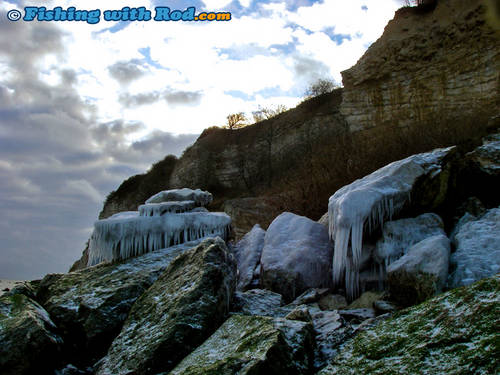 Just when this winter's sea trout hunt seemed to be over, the daytime temperature boosted up to 5°C today. With the sun shining and wind blowing moderately from the west, it could just be a banner day for sea trout on the Danish Coast. I decided to visit the Stevns region and tempt my sea trout luck once again.
I decided to explore a new spot near the chalk pit of Holtug (Holtug Kridbrud). The coastline of Stevns is made of both limestone and chalk around 65 million years ago. Chalk makes up the bottom part of the cliff while limestone makes up the top section. Because the soft chalk is slowly being washed away by waves while the hard limestone remains standing, cliff collapses often occur, especially after a heavy rainfall. Old mining pits for chalk and limestone can be found along the coastline, which are used as recreational sites today.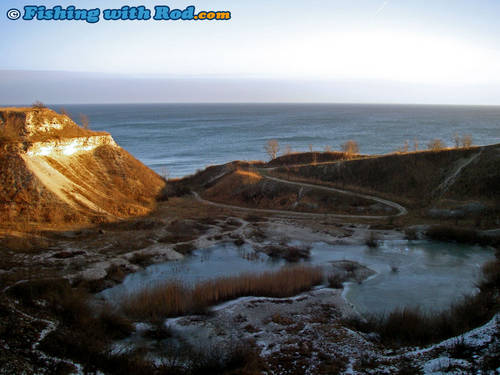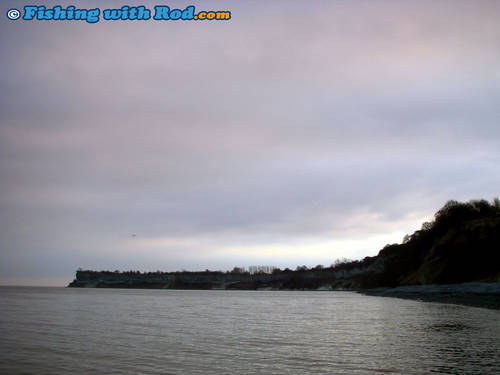 I arrived on the beach at 10:30am. Early start does not seem to be necessary, so far all the fish that I encountered have been in the afternoon. Several anglers were already working hard on the beach. Soon after I started fishing, one of them had a fish on. It was a small one, but a keeper. A few minutes later, the same angler hooked up again. The catch appeared to be much larger, as it took well over 5 minutes to bring to the net. A fat silver fish it was, looked to be over 4lb. Perhaps it was the location, because he and his friend were quite stationary during their entire trip. Nevertheless, the sea is big, the fish can be anywhere, so I thought.
I decided to take a walk and seek for other reefs. Perhaps they would hold some undisturbed fish if no one had fished them. Sometimes exploration pays off, sometimes it does not. In this case, I could not find waters that appear to be desirable for fish to hide in. I made my way back to the starting point after trekking for an hour, hoping to find a bite before I ran out of time. Daylight only lasts until 4:00pm on these winter days.
Somehow water gradually became murkier, which was not that unusual considering how much stirring takes place by the waves when it is windy. I worked across the beach systematically by taking a few steps after each cast. At one point, while staring at the lure as it approached me, I spotted a rather large sea trout darting out from the murky water but darted away as soon as it saw me. Instead of swimming away, it turned around and headed for the lure for a couple more seconds before disappearing. I estimated it to be 4 or 5lb. Maybe the retrieve was once again too fast? Even though there wasn't a hook-up, the sighting certainly boosted up my confidence.
More anglers arrived in the afternoon. I counted ten, which was the most I've seen during my beach outings in Denmark. One angler decided to start working at a spot just 100ft away from me. I watched with disbelief as he hooked up on his first cast. It was a small keeper. Several casts later, he was once again into another fish. This time it was slightly bigger. Three more fish were landed nearby in the next hour or so. The bite appeared to be on, just not on my line!
The bites were quite localized, all coming from the same reef. Thankfully, several anglers packed up around 3:00pm, leaving an opening for me to sneak in. Within a few casts, I felt a tug but it did not stick. I continued reeling and expected it to return. A fish was on the line a few seconds later.
Understanding sea trout is indeed a frustrating process. It is almost impossible to entice a bite most of the time, but they can be tricked to take a lure or fly again and again on the same cast when feeding is vigorous. The second challenge is to make the hook stick when there is a bite. Although they are aggressive feeders, they seem to bite lightly. Bill and I had this discussion a couple of weeks ago. We both agreed that the bites should be defined as pecks. Most of the time it feels like a bump on the reef. Combining this element of surprise and cold winter days results in poor hook-sets if one's not paying attention. It is certainly true in my case, as I had lost four sea trout in a row since Christmas.
This fish made a few rolls on the surface and came in rather quickly. It was not very big, around the same size as the other keepers that I saw earlier. It must be from the same school. I brought it into the shallows and had a good look at it without wetting my hands. While deciding whether I should keep it or not, it dislodged the hook on its own and swam away quickly.
The second hook-up came just several feet from shore soon after that. Like many other close hook-ups, the fish freed itself after a second and sent the lure flying back to my face. I immediately made another cast and hooked another fish just seconds after I started retrieving. A school of feeders was obviously milling around in front of me.
Once again, it made a few surface rolls before giving itself up in the shallows. It was a 17 incher at its prime shape. I decided to keep this fish for supper. Sea trout at this size is perfect as a meal for two people. At last, the losing streak ended and a long sigh of relief could be let out.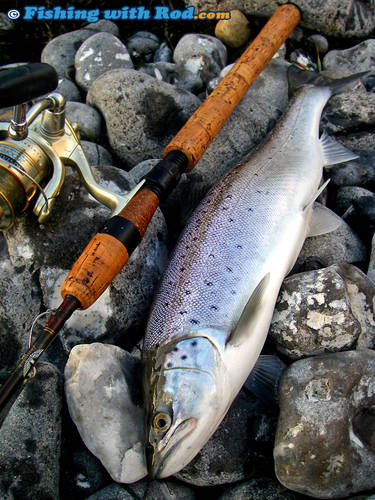 I quickly resumed fishing because darkness was creeping in. I decided to take a walk back to the spot where I sighted the large follower. It only took a few more casts before another fish was hooked. This time I managed to keep it on long enough before it leaped and spit out the hook. It was time to end the outing.
Although the landing ratio was nothing to brag about, today's outing could be defined as a successful one in my journal considering that I do not even see a fish on most winter trips. Now that fish finding has been improved, it is time to work on the hook sticking.
It is dinner time!