Stamp River Fishing Report
By Dave and Marilyn Murphy, murphy Sportfishing | Last updated: December 1st, 2014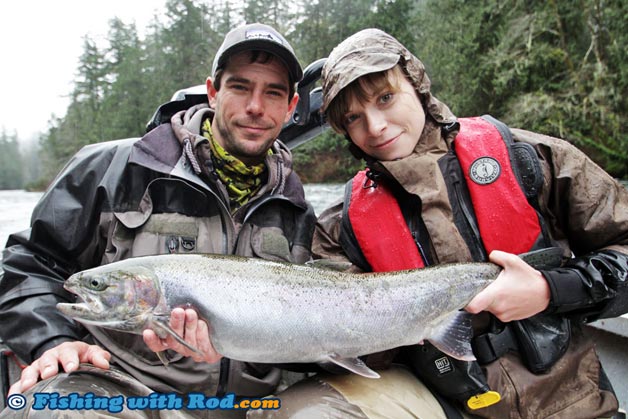 Four days without rain has brought the Stamp River into good fishing conditions. It is still very high with fishable clarity throughout the system.
Fresh winter steelhead were encountered in the lower river this weekend! They are a little early but then again so is winter. It is amazing how they know.
Most of the fish in the lower system are still fall steelhead. The upper river continues to be the most productive.
Steelhead will be caught on the Stamp River everyday from now until mid April. Steelhead fishing is a BC tradition that has deep roots and I can't think of a better place to enjoy such a pastime.
We offer accommodation, all meals in our guided packages as well as the best guides around. We supply all the equipment and everything you need for a successful day.
We look forward to see you soon! Please call anytime for the latest conditions and reports.
David and Marilyn Murphy (brother and sister team)
Website: murphysportfishing.com
Phone: 250-723-8022
Email: murphy@island.net
About the Stamp River Winter Steelhead Fishery
The Stamp River on Vancouver Island is a historic river known for its legendary winter steelhead fishing. Early settlers wrote about these beautiful fish and we are fortunate to still enjoy fishing for them today.
One thing that is very unique and is deeply embedded into the culture of West Coasters is steelhead fishing.  Here in the Southern part of BC our steelhead season starts as winter arrives. Cold high water keep these fish hunkered down in the deepest parts of the river, conserving as much energy as possible, only showing themselves when they are attached to the end of our lines. 
On every angler's bucket list, the Stamp River has become the number one winter steelhead destination in BC.
As a general rule, Stamp River fish start entering the river around the first week of December and continue until late March. The peak of the run can vary from the 20th of December to the middle of February. The season is made of a series of peaks over three months, as more and more fish enter the system. They spread out and generally live where or near where they will ultimately spawn, all of which spawn in late spring. Usually weather events move in fresh fish all season long.
The Stamp River can be divided into three sections: Upper (above Stamp Falls), middle (above the bucket) and lower (below the bucket). Starting September 15th bait may be used in the lower river, which is the bucket down. Bait may not be used above the bucket, which includes the middle and the upper part as described above.
If you haven't fished for steelhead, come out and we will teach you the ins and outs that will set you up for a lifetime of enjoyable days on the river. For those of you who come every year, we look forward to some good times catching winter steelhead.
Our guides are year round professional anglers who will coach you through every intricacy of the fishery in a way that translates into results. You will be fishing from a jet boat or a drift boat depending on the current water and fishing conditions.
Every boat is equipped with a heater. Combine this with some warm clothes and a fishing licence and your adventure is underway! Only an hour of driving from Nanaimo's ferry terminal or international airport makes this location easily accessible and since there is no remote fly-ins involved, you can stay as little or as long as you like! Trip options range from day trips, to packages which include accommodations, Breakfast and Lunch.
So close yet surrounded by nature.