Vancouver BC Saltwater Fishing Report
By Jason Assonitis, Bon Chovy Fishing Charters | Last updated: August 25th, 2013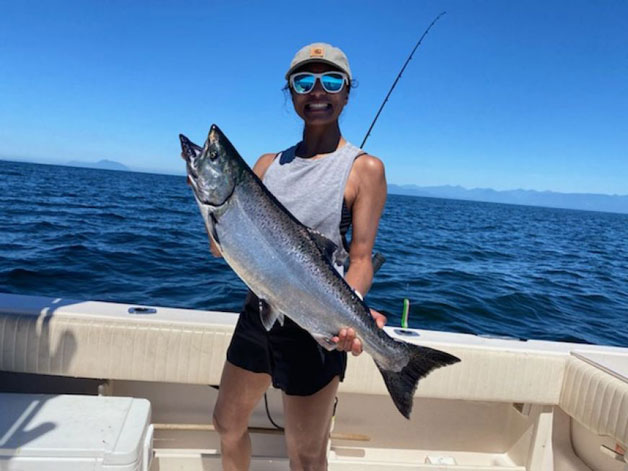 We have seen some very good pulses of sockeye salmon making their way toward and into the Fraser River. There have been some really good periods of activity off the North Arm Jetty, Iona, T 10 and Sandheads. Keep your eyes on the sounder as well as keep your eyes peeled for jumpers to locate the schools. Sockeye can be finicky biters at times and a direction change can quite often result in more action. Pay attention to which directions you are getting your hits and try and establish a pattern. Test sets up in Johnstone Strait continue to be promising so we should see this great sockeye fishing continue for 2 to 3 more weeks. If you are looking to get out sockeye fishing, we have a few slots available over the next few weeks!
Productive depths have varied from 30 to 90 feet on the downrigger. We have been mixing things up running UV Moon Jelly, STS, Bon Chovy and T 10 Flashers. It is interesting how certain days and certain flashers perform better than others. We have really done well on the UV Moon Jelly over the last few days.
Chinook salmon fishing has started to perk up as well and we have had some beautiful chinook in the 22 to 27 pound range back to the dock over the last couple of days. Most of the chinook have been hooked while fishing for sockeye using pink hootchies. We have sadly neglected chinook fishing this August with all the sockeye around. We will likely start putting a little more time in for chinook as the next 6 weeks are prime for the biggest salmon of the year.
Sturgeon fishing has been very consistent on the Lower Fraser River with fish in the 5 to 7 foot range landed on a daily basis. With all the sockeye salmon in the Fraser River the sturgeon are gorging on salmon. Salmon roe and salmon parts have been the bait of choice. Our guide Luke has also strapped his downriggers on the jet boat for the sockeye season. He has had a couple amazing days fishing for sockeye in the ocean and sturgeon in the river. If you want an ultimate day trip, you have to try this combination trip - Trolling for salmon in the ocean and sturgeon fishing in the river! The trip needs to be 8 to 10 hours in length and is limited to 3 guests per trip.
Our Gibbs Delta Pro Shop is open daily and we have all the right gear for our local fishery! Shop hours are from 11am to 6:30pm. Please give us a call if you are looking for gear outside shop hours and we can quite often accommodate you.
We look forward to see you!
Jason Assonitis
Bon Chovy Fishing Charters
604-763-5460