Vancouver BC Fishing Report
By Rodney Hsu, Fishing with Rod | Last updated: March 20th, 2017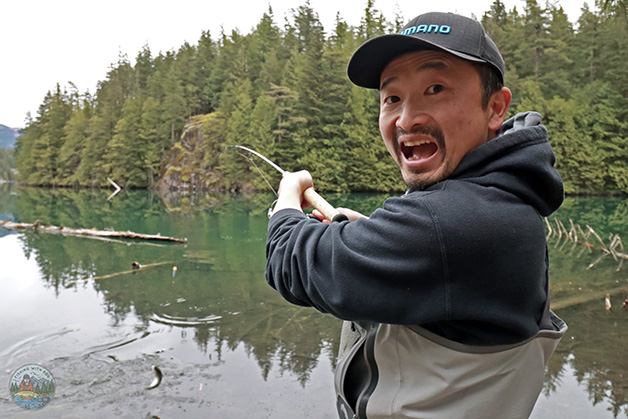 Spring has officially started, daylight saving has kicked in, but the wintery weather is still sticking around. We are getting rain, as well as pretty low overnight temperatures, which has resulted in a couple of things - Dirty rivers, and lakes that are not completely iced off. This means limited fishing opportunities are available right now in the Lower Mainland and Fraser Valley. The catchable rainbow trout stockings which were supposed to begin a week ago have been delayed due to undesirable lake conditions. The tentative start time is this week according to the Fraser Valley Trout Hatchery. Fraser River white sturgeon fishing has been pretty good for most guides. Fish in the 3 to 5 feet range have been caught regularly.
Upcoming Events and Promotional News
Here are some of the latest news and upcoming events in the Lower Mainland and Fraser Valley!
Capilano River
Capilano River is low, clear and quiet during this time of the year. The winter steelhead fishery has been poor for this system in recent years. You might catch the odd ones. ALL steelhead (both hatchery and wild fish) have to be released with care.
Stave River
Stave River has two species in it during this time of the year - Coastal cutthroat trout and mountain whitefish. Water conditions are usually very good, due to the dam. Fishing can be good at times. Some salmon fry are now emerging so if you are fly fishing, minnow patterns should do the trick. For whitefish, a small nymph fished under an indicator or float close to the river bed works well.
Squamish River
Squamish River offers fishing opportunities for bull trout, as well as rainbow trout during this time of the year. Vehicle access to the upper portion of the river is still difficult due to snow, so I would venture up to the area with lots of preparations. The river is in reasonably good shape as low temperature and snow is keeping it clear. Winter steelhead fishing is slow as expected, this system has had a low return in recent years and most of the fish do not arrive until late winter. Bull trout can now be caught by fly fishing with large patterns close to the bottom. These fish tend to gather in schools so if you bump into one fish, most likely there are more around! Catch and release applies to all species for the Squamish River and a bait ban is in effect year round.
Chilliwack River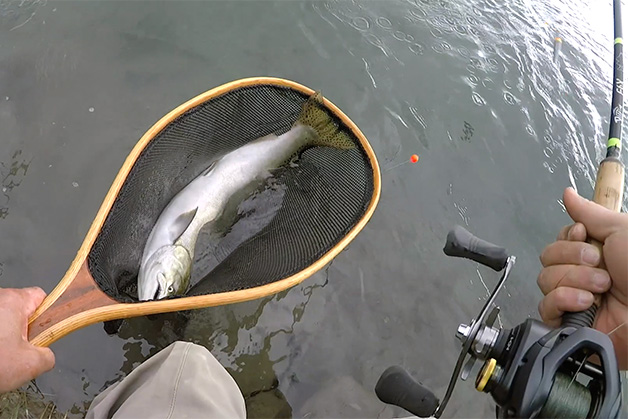 Chilliwack River has been higher and dirtier than usual in the past few days and most likely will continue to be for a bit longer due to rain and milder temperature. Steelhead fishing should continue once water conditions return to normal, until late April.
For hands-on information, be sure to visit Fred's Custom Tackle where you can also pick up a map of the Chilliwack/Vedder River. Fred has reopened a NEW Chilliwack location at 45150 Luckakuck Way. Fred is having a fall sales event from November 15th to December 1st.
Tidal Fraser River
Tidal Fraser River usually starts to come alive around this time of the year as schools of juvenile salmon migrate down the river with the outgoing tide. It is now when bull trout and cutthroat trout can be found feasting along the shoreline where these juvenile salmon are travelling. Fly fishing with minnow patterns work well, spincasting with a variety of spoons and spinners also work excellent, as long as water clarity is reasonably good.
Herring fishing in Steveston has been very good as expected for this time of the year, but it has been busy. High tide has been best.
Please note that in spring 2016, Fisheries and Oceans Canada has issued a night time fishing closure for all finfish species in the Tidal Fraser River. To fish the Tidal Fraser River (downstream from the railway bridge in Mission), you are required to have a valid saltwater fishing licence.
If you would like more information on fishing in the Tidal Fraser River, please stop by Berry's Bait and Tackle in Richmond. Mike, Len and Michele have a team of knowledgable staffs who regularly fish this area and they can help you out.
Non-tidal Fraser River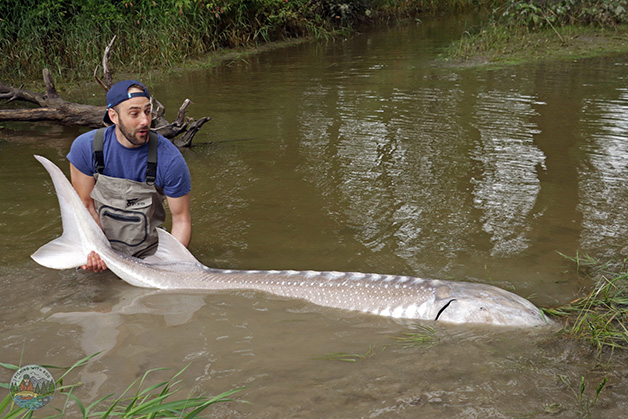 Non-tidal Fraser River's water clarity has been good, visibility is sitting at around 1 to 2 feet. Coastal cutthroat trout fishing in backwaters has been productive. The lack of food in the system is keeping the fish hungry so they are very willing to bite. Casting and retrieving spoons and spinners can work very well. You can also float fish for them with single eggs. Salmon fry are starting to come out and in the next several weeks surface feeding actions should occur. In this case, fly fishing with minnow/fry patterns should be very good.
Sturgeon fishing has been good. Lots of guides are reporting fish in the 3 to 5 feet range, with the occasional large specimens up to 8 or 9 feet being caught. Eulachon and Lamprey are the top two choices of bait for this time of the year.
Lower Mainland Lakes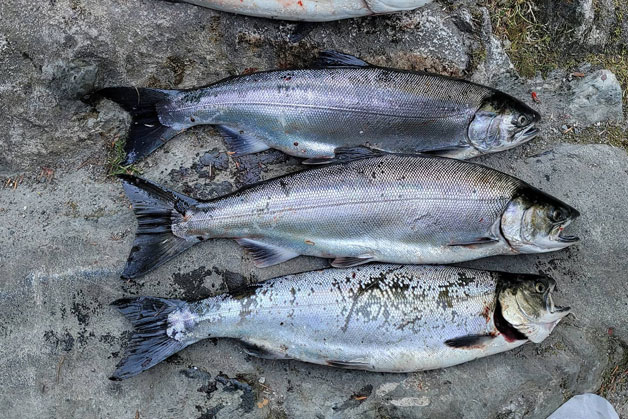 Most of the lakes still have some ice on them across the Fraser Valley and Sea to Sky Corridor, but ice fishing should not be done as the ice is not thick enough for it. Urban lakes are mostly ice-free, and fish are being caught. These rainbow trout being caught right now are leftovers from last year's stockings. Due to the lack of food in the lakes, they are hungry so are very willing to bite. The catchable rainbow trout stockings usually start during the first week of spring break, but conditions are delaying this for a couple more weeks. The tentative start time is this week, if conditions are favourable.
Cultus Lake is not frozen and cutthroat trout fishing can be good right now. While fish can be caught from shore by either spincasting or flyfishing, most of the fish are seen further out in the middle feeding on salmon fry, so a boat is recommended.
Hicks Lake and other lakes in the area are frozen, access is difficult as the gate to the park is closed.
Kawkawa Lake is open for fishing but half of the lake is still frozen. The main boat launch has a big pile of snow which blocks any access to the lake.
These articles may assist you:
Please remember that for lake fishing, if you are fishing from shore, you are only allowed to use ONE rod. If you are fishing alone in a boat, then you are permited to use two rods. Only one hook is allowed on your rod. Please note that single barbless hooks are required to be used at some lakes. You should note the daily quota of trout for the lake where you are fishing. Catch and release is required in some lakes, please check regulations.
Before heading out, please read the freshwater regulations in Region 2 first. For more regular updates, make sure you follow our Facebook page. If you witness violations, please contact the nearest conservation office or phone 1-877-952-RAPP (7277). Conservation officers can not attend all calls, but they do their best to catch those who do not choose to play by the rules.
Good luck and please conserve your catches!
Rodney Hsu
Webmaster, Fishing with Rod Production