Vancouver BC Fishing Report
By Rodney Hsu, Fishing with Rod | Last updated: December 12th, 2013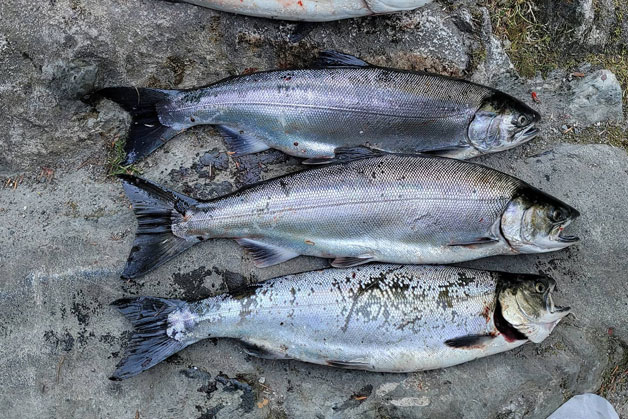 There isn't a whole lot of fishing to report lately as you can imagine. The cold condition is not exactly ideal fishing condition. Parts of the Lower Fraser River are covered with a layer of ice. Some have also reported catching trout by digging a hole through the ice at our urban lakes. This should change pretty soon, as we are expecting milder weather but also rain. Winter steelhead fishing should be picking up in the Fraser Valley. Cutthroat trout and bull trout fishing should also be happening. We'll have a more detailed report to file once the winter fishing season gets going. In the meantime, I hope everyone is enjoying the Christmas shopping!
Please make sure you go to our Facebook page and click on "like". I am constantly adding updates such as latest fishing reports, new videos, articles and contests on it.
Upcoming Events and Promotional News
Here are some of the latest news and upcoming events in the Lower Mainland and Fraser Valley!
Capilano River
Capilano River is low and clear. Salmon fishing is done for the year. Anglers can look forward to target the odd winter steelhead in the upcoming months, and the spring coho salmon fishing which starts in April.
Please note that ALL steelhead (both hatchery marked and wild) have to be released with care in the Capilano River. Be sure to identify your fish correctly in the water. This is a vulnerable stock and your action will decide its future.
Chilliwack River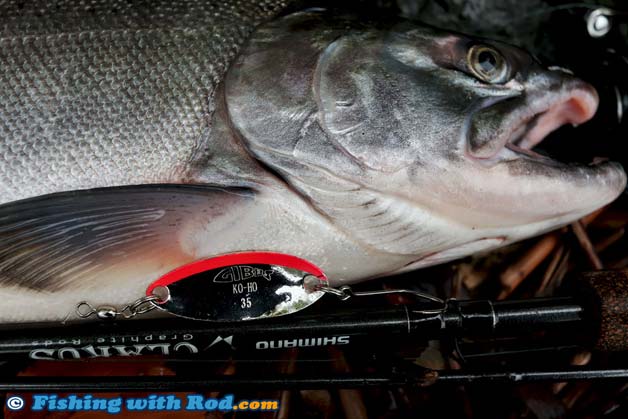 Chilliwack River level is good. The fall salmon fishing season has ended. The odd winter steelhead have already been reported. If you are unfamiliar with the winter steelhead fishery, please read this article.
Fred's Custom Tackle is your go-to store for the Chilliwack River fishery. Currently there are two locations, the original one by the Vedder Crossing in Chilliwack while a second new store in Abbotsford. Be sure to sign up for their annual winter steelhead fishing derby.
If you need accommodation or guide suggestions around Chilliwack, please take a look at the listing on Tourism Chilliwack's website.
Stave River
Stave River fall salmon fishery has ended with perhaps the odd coho and chum salmon in the system. Anglers can now look forward to targeting cutthroat trout in the next few months. Please note that shore access by foot is still very difficult due to limited parking in the area during the dam upgrade. This construction upgrade is expected to take place for another six years. Your best option to access this river is by a boat from the Fraser River.
For information on salmon and trout fishing in the Stave River and tributaries on the north side of the Fraser River (Kanaka Creek, Nicomen Slough, Norrish Creek, Harrison River), visit Hatch Match'r Fly and Tackle in Maple Ridge. Owner Randy Morgan is also an eager flyfishing instructor so don't hesitate to ask him questions.
Harrison River
Harrison River's fall salmon fishing season has come to an end. In the next few months, you can expect to catch cutthroat and bull trout in this system. White sturgeon are still be caught and released in the lower section of the river.
Chehalis River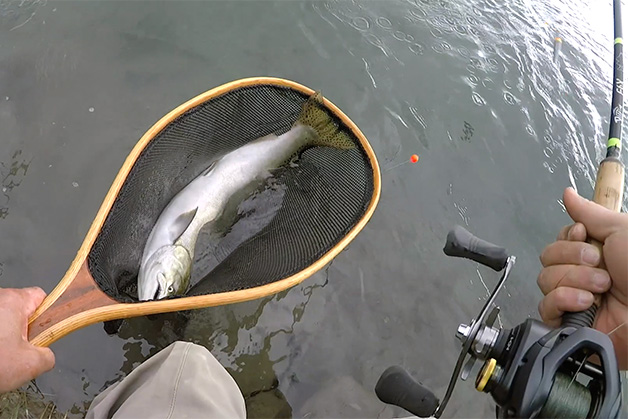 The river is low and clear, and anglers are still catching some coho and chum salmon. Majority of the fish are now coloured and in spawning mode, but you might still be lucky enough to encounter the odd chrome fish.
Nicomen Slough
Some salmon are still making their way into the Nicomen Slough from the Fraser River during high tide, but overall fishing is now slow.
Squamish River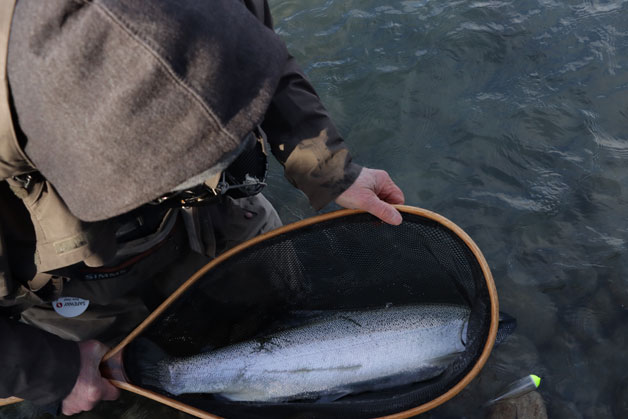 Squamish River condition remains good due to lower freezing level. Fishing for both chum salmon and coho salmon is tapering off but you may still find the odd chrome coho salmon. You should note that no retention is allowed for chum salmon this season and retention of hatchery-marked coho salmon is only open in certain part of the river. A bait ban is also in effect year round. Please read the regulations carefully before heading out. In the next several months, you can expect to target trout and char in this system, which will be feeding on salmon eggs and flesh from salmon carcasses.
Tidal Fraser River
Water clarity of the Tidal Fraser River is very good. Fishing is generally slow during this time of the year. You will now find the odd bull trout. These predators can easily be caught by either casting spoons and spinners, or fly fishing with minnow patterns, if the water is clear. The following two articles are useful if you want to target these two species.
Dean Werk from Great River Fishing Adventures would like to remind all sturgeon anglers to be aware of tug boats and barges when anchoring on the Fraser River.
Pacific herring are also starting to show up in Steveston. These can be caught by using herring jigs.
To fish the Tidal Fraser River (downstream from the railway bridge in Mission), you are required to have a valid saltwater fishing licence.
For more information on this fishery and the latest updates on saltwater fishing around Steveston and the Tidal Fraser River, stop by the following stores in Richmond.
Non-tidal Fraser River
Anglers are still encounter some coho salmon and many chum salmon when bar fishing on the Fraser River between Chilliwack and Hope.
Book your guided white sturgeon fishing trip for next summer. We recommend the following companies in the Fraser Valley.
Lower Mainland Lakes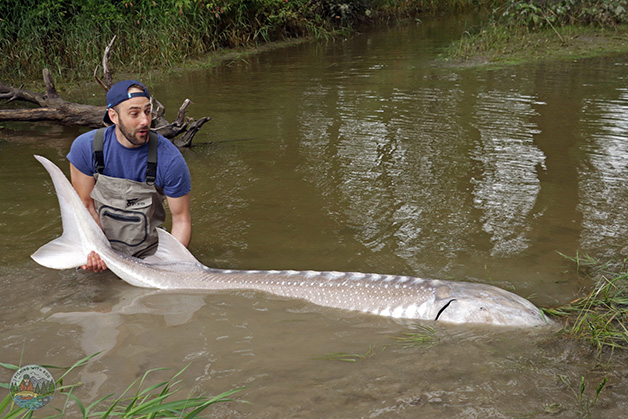 The Region 2's trout stocking database is usually updated once rainbow trout are stocked by the Fraser Valley Trout Hatchery. Stockings for 2013 have been completed and fishing is not expected to be that productive in the next few months. With that said, there should still be fish in the lake if you decide to brave the weather element and do a bit of winter trout fishing.
GoFishBC Releases 95 Millionth Fish!
Please note that the daily quota of trout has been changed this year for most Fishing in the City lakes, please check the regulations to see if it has changed for the lake where you plan to visit.
These articles may assist you:
Please remember that for lake fishing, if you are fishing from shore, you are only allowed to use ONE rod. If you are fishing alone in a boat, then you are permited to use two rods. Only one single hook is allowed on your rod. Please note that barbless hooks are required to be used at some lakes. You should note the daily quota of trout for the lake where you are fishing. Catch and release is required in some lakes, please check regulations).
If you witness violations, please contact the nearest conservation office or phone 1-877-952-RAPP (7277). Conservation officers can not attend all calls, but they do their best to catch those who do not choose to play by the rules.
Before heading out, please read the freshwater regulations in Region 2 first. For more regular updates, make sure you follow our Facebook page.
Good luck and please conserve your catches!
Rodney Hsu
Webmaster, Fishing with Rod Production