Vancouver BC Fishing Report
By Rodney Hsu, Fishing with Rod | Last updated: October 24th, 2016
The video above is our latest episode, featuring Stamp and Somass River's fall salmon fisheries with Murphy Sportfishing in Port Alberni on Vancouver Island. This 25 minute video feature will hopefully show you what our fall fishery is really all about, just a really happy experience.
We are nearing the end of October but the fall salmon fishing season in the Lower Mainland and Fraser Valley is just peaking at the moment! Anglers have been reporting excellent coho salmon fishing in the Lower Fraser River last week, as well as seeing plenty of chum salmon moving in with the tide. Chilliwack River has been fishable most of the time and coho salmon fishing has been very productive throughout the system. Stave River's chum salmon fishery is definitely peaking now and some anglers are also getting into plenty of coho salmon if you know where to look. Capilano River is still seeing some fish, but overall that fishery is tapering off. Chehalis River has also been great for coho salmon lately due to the high water level. Squamish River system has fish in it, but water clarity continues to be an issue until we have a few days of cold and dry weather. White sturgeon fishing is also very good right now in the Fraser River due to the amount of food available for these fish. Local lakes are producing but colder weather is keeping the fish less active.
Upcoming Events and Promotional News
Here are some of the latest news and upcoming events in the Lower Mainland and Fraser Valley!
Capilano River
Above is our last video tutorial, featuring Gill Steele from Highwater Tackle in North Vancouver talking about the Capilano River salmon fishery and the basic setups which you need for it.
Capilano River level has been good due to the amount of rain which we've received. Because of the higher river level, plenty of fish have been moving into the system. You should be able to find lots of coho salmon, as well as some chinook salmon whenever you are going. There is a bait ban in effect until the end of October so you need to entice them by casting and retrieving spoons and spinners, jigging with marabou jigs, float fishing with wool or fly fishing. Please remember that ALL steelhead (wild and hatchery clipped) have to be released with care.
Stave River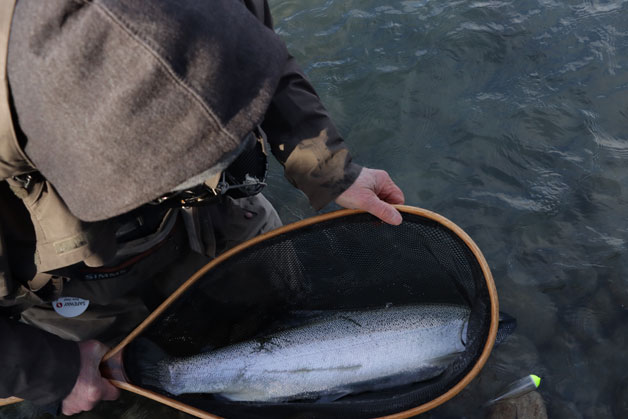 Stave River has no shortage of chum salmon right now. Float fishing with a jig tipped with a piece of shrimp can work extremely well. These fish will always bite so keep your float depth short and avoid foul hooking them. While majority of the fish are coloured, you will get chrome ones from time to time especially during an incoming tide. Anglers have also been reporting a good amount of coho salmon in the system. The toilet bowl close to the dam has been producing early in the morning for both spin and fly fishermen. Coho salmon tend to shy away by the presence of chum salmon so it is best to explore and find spots which do not have too many chum salmon.
Squamish River
The chum salmon fishery in the Lower Squamish River is starting to pick up but overall this fishery has not been what it used to be due to the lower returns and poor river conditions. Water clarity has not been great and we really need a few nights of cold and dry weather to change that. Cheakamus River's condition is better and you should be able to catch both chum and coho salmon in it. Please remember this is a catch and release fishery with the exception of limited hatchery coho salmon retention opportunities and a short chum salmon retention season, please check the regulations for complete details. If you are fishing the upper river, between Ashlu Creek and Elaho River, you should be able to target bull trout and rainbow trout by using a trout bead. These fish should be feeding on salmon eggs right now.
Harrison River
Harrison River is seeing chum salmon throughout the system. You should have no problem catching them. This system is wide and lack shore access so it is best to access it by a boat. Float fishing with a jig is the best method. You'll also find schools of coho salmon at slower parts of the river. Harrison River can be an excellent fishery for fly fishermen who wish to target coho salmon.
Retention of chinook salmon is closed for Harrison River due to low return. See fishery notice
Chilliwack River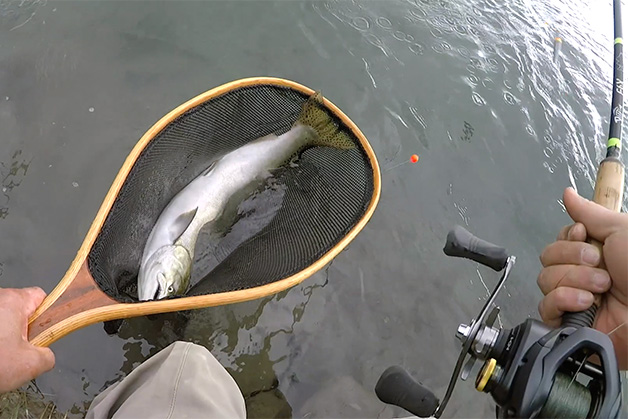 Chilliwack River has been very productive, the river has also been very fishable despite of the heavy rain at times. Coho salmon can be caught throughout the system. There seems to be a much higher percentage of wild coho salmon which is great to see for future recruitments. In the lower river, anglers have been focusing on fishing the newly dug out ponds between Peach Road and the canal. Coho salmon can be found in these ponds and first light can be excellent. The go-to method is casting and retrieving a spoon or spinner, or jigging with a marabou jig. In mid and upper river, anglers have been doing very well by float fishing with roe. The river level is a bit higher than preferred, so finding small and slow pockets of water is key. This fishery should be good for at least a couple more weeks.
I've started an update page for this fall fishery as usual, check it out!
For hands-on information, be sure to visit Fred's Custom Tackle where you can also pick up a map of the Chilliwack/Vedder River. Fred has reopened a NEW Chilliwack location at 45150 Luckakuck Way.
Pitt River
Pitt River's no salmon fishing closure has been lifted, but non-retention still applies. See fishery notice
Tidal Fraser River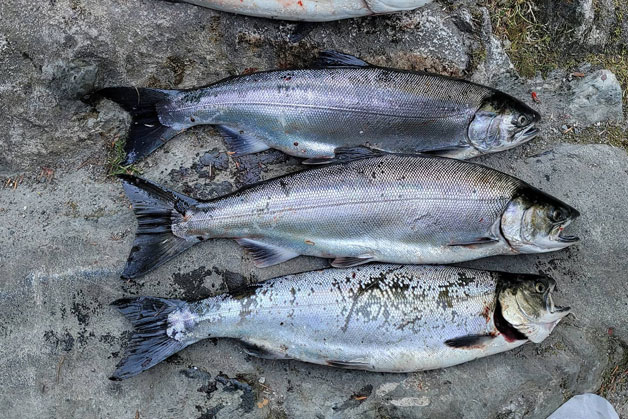 Tidal Fraser River is now open for hatchery coho salmon retention. Please pay attention to the specific regulations by reading this fishery notice. Fishing has been excellent last week as big schools of coho salmon were found travelling through the system. Some anglers were into as many as 10 or 20 fish per tide. Bottom fishing with roe has been the preferred method due to poor water clarity. Visibility is sitting at around one foot right now. Spincasting with lure will get you into some fish but definitely not as effective unless water clears up a bit. We are also seeing a much higher return of chum salmon this year. The in-season estimate for this year's Lower Fraser River chum salmon return is around 1.5 million fish.
Please note that in spring 2016, Fisheries and Oceans Canada has issued a night time fishing closure for all finfish species in the Tidal Fraser River. To fish the Tidal Fraser River (downstream from the railway bridge in Mission), you are required to have a valid saltwater fishing licence.
If you would like more information on fishing in the Tidal Fraser River, please stop by Berry's Bait and Tackle in Richmond. Mike, Len and Michele have a team of knowledgable staffs who regularly fish this area and they can help you out.
Non-tidal Fraser River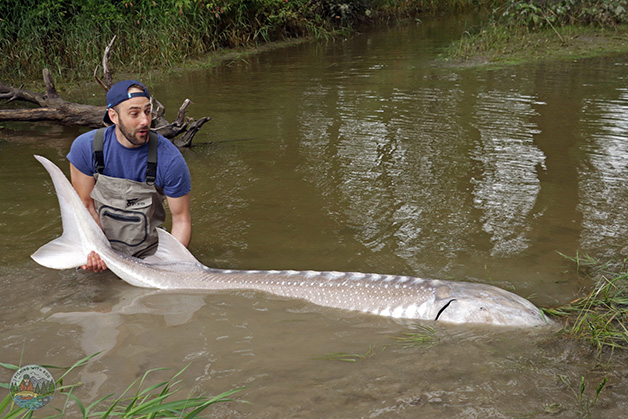 Sturgeon fishing has been excellent due to the abundance of food in the river. These fish are now feeding on salmon roe and spawned out carcasses.
Bar fishing has been excellent for a variety of species including chinook salmon, coho salmon, chum salmon and the odd steelhead. Many local anglers agree that October is the best method for bar fishing due to the fact that you can get into so many different species.
Lower Mainland Lakes
Fraser Valley Trout Hatchery has stocked the five urban lakes in Metro Vancouver on September 29th - Rice, Lafarge, Green Timbers, Como Lake and Sanctuary Pond. These rainbow trout are at catchable size so you can go down there now and fish for them. Float fishing with bait is the best method for catching these fish. More stockings are expected to take place soon.
With the weather cooling down, fishing at all of the lakes is excellent.
Hicks Lake is an excellent lake to try out throughout the whole year. The weather is getting cold, so most of the fish are now moving into deeper water so it is best fishing from a boat. Anchor and try fishing with bait near the bottom. Bait that works include single salmon eggs, deli shrimp and dew worms.
These articles may assist you:
Please remember that for lake fishing, if you are fishing from shore, you are only allowed to use ONE rod. If you are fishing alone in a boat, then you are permited to use two rods. Only one hook is allowed on your rod. Please note that single barbless hooks are required to be used at some lakes. You should note the daily quota of trout for the lake where you are fishing. Catch and release is required in some lakes, please check regulations.
Before heading out, please read the freshwater regulations in Region 2 first. For more regular updates, make sure you follow our Facebook page. If you witness violations, please contact the nearest conservation office or phone 1-877-952-RAPP (7277). Conservation officers can not attend all calls, but they do their best to catch those who do not choose to play by the rules.
Good luck and please conserve your catches!
Rodney Hsu
Webmaster, Fishing with Rod Production