Vancouver BC Fishing Report
By Rodney Hsu, Fishing with Rod | Last updated: May 26th, 2017
This week's new video features a recent trip to Douglas Lake Ranch's Salmon Lake for some early spring rainbow trout fishing. We faced quite a few weather challenges during our visit. Enjoy the video!
Consistent, sunny weather is finally here! With the stable weather pattern, lake fishing is really heating up now. All of the urban lakes are stocked and producing well right now. Sturgeon fishing in the Fraser River is excellent.
Upcoming Events and Promotional News
Here are some of the latest news and upcoming events in the Lower Mainland and Fraser Valley!
Capilano River
Capilano River is still quiet. You may encounter the odd early season coho salmon in the system right now, but the peak of the season is usually around the end of June. Because we have been getting quite a bit of rain, water level has been reasonably high so that means fish are more likely to move in. There are also winter steelhead in the system but they are getting ready to spawn. ALL steelhead (both hatchery and wild fish) have to be released with care.
Stave River
Stave River produces cutthroat trout, whitefish and pikeminnow this time of the year. You will find yourself catching more pikeminnow than the other two species, whether you're using a fly, lure or bait. River condition is good. It can be a bit high as Fraser River's backing up into it due to freshet.
Squamish River
Squamish River is starting to experience freshet. Cheakamus River is still fishable. Bull trout and rainbow trout are two species that you are likely to encounter. Bait ban is in effect year round, catch and release applies to all species.
April - mid-May, 2017: Major works at 22km (Mud Creek) of the Squamish River FSR scheduled. Exact closure dates TBD based on weather conditions; however, a complete closure of the site is planned and there will be no access around/beyond 22km for the duration of the project. Updates...
Chilliwack River
Chilliwack River is open for fly fishing downstream from the Vedder Crossing until May 31st. The entire system is closed in June, and will reopen on July 1st for chinook salmon fishing.
For hands-on information, be sure to visit Fred's Custom Tackle where you can also pick up a map of the Chilliwack/Vedder River. Fred has reopened a NEW Chilliwack location at 45150 Luckakuck Way. Fred is having a fall sales event from November 15th to December 1st.
Tidal Fraser River
Tidal Fraser River is very dirty due to freshet. This means fishing with lures or flies is almost impossible as there's no visibility for it. This time of the year, bull trout are in fact quite abundant throughout the Tidal Fraser River between New Westminster and Richmond. Because of poor water clarity, the best method of catching these fish is by fishing with roe. Please keep in mind that it is a catch and release fishery so please release all bull trout, and wild cutthroat trout with care. Carrying a catch and release net with you makes landing fish much easier so you can keep the fish in the water at all time while unhooking it.
Please note that in spring 2016, Fisheries and Oceans Canada has issued a night time fishing closure for all finfish species in the Tidal Fraser River. To fish the Tidal Fraser River (downstream from the railway bridge in Mission), you are required to have a valid saltwater fishing licence.
If you would like more information on fishing in the Tidal Fraser River, please stop by Berry's Bait and Tackle in Richmond. Mike, Len and Michele have a team of knowledgable staffs who regularly fish this area and they can help you out.
Non-tidal Fraser River
Non-tidal Fraser River's water clarity is very poor as freshet has arrived. Sturgeon fishing has been good and will only improve in the next several weeks. The presence of eulachon, as well as rising water temperature, will make these sturgeon more active. Fish up to 8 or 9 feet are being caught, but the norm is between 3 and 5 feet long. Eulachon, lamprey are popular bait that are being used right now.
Lower Mainland Lakes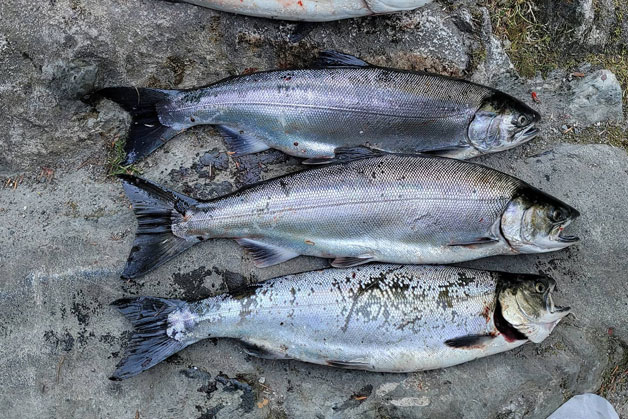 Fishing is good in all Lower Mainland and Fraser Valley lakes. All urban lakes have been stocked at least once. If you do not want to travel too far, you should try Lafarge, Como, Green Timbers, Rice, Sasamat, Buntzen, Mill Lake.
These articles may assist you: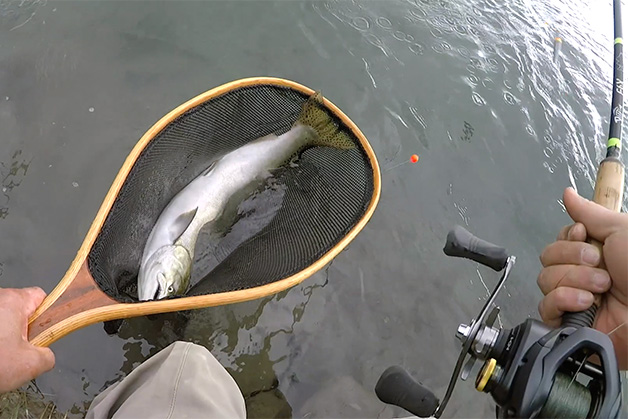 Hicks Lake and Deer Lake at Sasquatch Provincial Park are producing well. Both have been stocked once. Hicks is producing a variety of species including rainbow trout, cutthroat trout and kokanee. Deer has plenty of cutthroat trout but they are all small, as well as newly stocked rainbow trout. Both lakes are excellent for kids.
Kawkawa Lake kokanee fishing is still slow. It will pick up again around late May.
Squamish's Alice Lake, Browning Lake, Brohm Lake are all excellent options if you are travelling up the Sea-to-Sky Corridor. These lakes have not been stocked yet but they should have fish from previous years.
Alta Lake in Whistler is excellent for cutthroat trout and rainbow trout fishing. Catch and release only.
Cultus Lake can be excellent for cutthroat trout fishing. You will also encounter the odd bull trout and kokanee. Some northern pikeminnow and other minnow species are starting to emerge in shallower parts of the lake as the water gets warmer.
Chilliwack Lake is very productive for bull trout fishing right now but you will need a motored boat to target these fish. Most fish are in 100ft+ of water where they can either be caught by trolling spoons or bottom fishing with bait.
Deer Lake in Burnaby is producing the odd bass but it is still not warm enough yet for consistent action.
Mill Lake has been stocked with rainbow trout so trout fishing has been consistent, while the odd bass can be caught. Please remember that only electric motors can be used if you are taking your boat there.
Whonnock Lake is now warm enough for crappie fishing, there are also some rainbow trout in the lake.
Please remember that for lake fishing, if you are fishing from shore, you are only allowed to use ONE rod. If you are fishing alone in a boat, then you are permited to use two rods. Only one hook is allowed on your rod. Please note that single barbless hooks are required to be used at some lakes. You should note the daily quota of trout for the lake where you are fishing. Catch and release is required in some lakes, please check regulations.
Before heading out, please read the freshwater regulations in Region 2 first. For more regular updates, make sure you follow our Facebook page. If you witness violations, please contact the nearest conservation office or phone 1-877-952-RAPP (7277). Conservation officers can not attend all calls, but they do their best to catch those who do not choose to play by the rules.
Good luck and please conserve your catches!
Rodney Hsu
Webmaster, Fishing with Rod Production