Vancouver BC Fishing Report
By Rodney Hsu, Fishing with Rod | Last updated: October 21st, 2014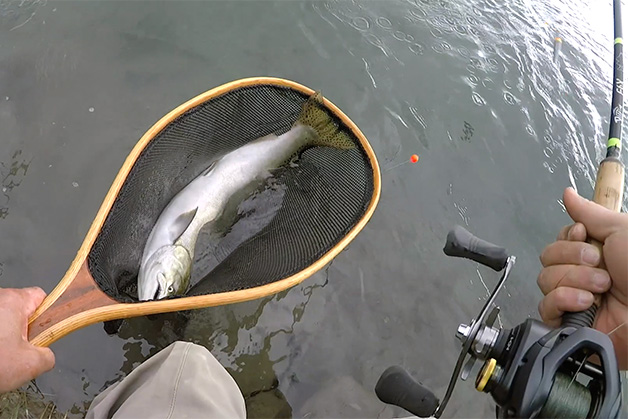 Coho salmon fishing in the Lower Fraser River tributaries will be peaking in the next couple of weeks. Fishing has been excellent when the right spots are found. The trick is to guess where the fish are travelling through the river. Fishing near dawn and dusk is still key, but you should be able to find biting fish throughout the day now as rivers are high enough for fish to be constantly moving. Chum salmon are also abundant in most rivers. Chinook salmon fishing is tapering off but the odd chrome fish can still be found. Sturgeon fishing is still very good. If you are bored with sturgeon and salmon fishing, then cutthroat trout fishing can also be excellent right now as they feed on eggs behind staging salmon. Fraser Valley Trout Hatchery is stocking lakes again with catchable rainbow trout so this can be a good alternative if river condition is poor. Please note that a high streamflow advisory has been issued for Metro Vancouver on October 21st as a powerful rainstorm is passing through. River condition can be dangerous at times so please be careful when you head out.
Please check out our latest video feature below! We targeted white sturgeon with Lang's Fishing Adventures in late August.
Please make sure you go to our Facebook page and click on "like". I am constantly adding updates such as latest fishing reports, new videos, articles and contests on it.
Upcoming Events and Promotional News
Here are some of the latest news and upcoming events in the Lower Mainland and Fraser Valley!
Capilano River
Capilano River still has plenty of chinook and coho salmon in the system. Most have been in the system for a long period of time already so are difficult to entice. Majority of the chinook salmon are quite coloured now while some silver coho salmon can still be found. You may also encounter the odd chum salmon. New fish will enter the river whenever the river level rises. Please note that bait ban is in effect until the end of October.
You should be aware that the dam can increase its discharge rapidly on rainy days so please be careful where you are standing. Watch the river level if you wade out to a particular spot as it may rise quickly without being noticed.
Please note that ALL steelhead (both hatchery marked and wild) have to be released with care in the Capilano River. Be sure to identify your fish correctly in the water. This is a vulnerable stock and your action will decide its future.
Chilliwack River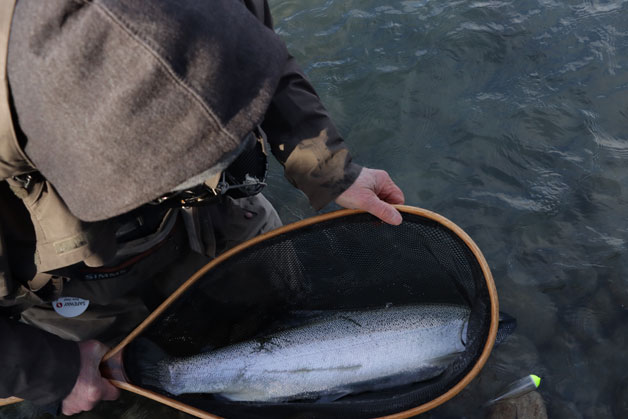 Chilliwack River's coho salmon fishing has been excellent in the past week. Float fishing with roe has been the ticket. The river level jumped slightly several times, which triggered the fish to move upstream so good fishing have been found throughout the system. While first and last lights have been good periods for getting bites as usual, you can now find biting fish throughout the day due to the favourable river condition. The odd sockeye salmon, which need to be released, have also been reported. This past week we encountered two of these endangered Cultus Lake sockeye salmon. Heavy rainfall is expected this week, which may result in poor river condition. You can check the condition updates by going to this page.
Fred's Custom Tackle is your go-to store for the Chilliwack River fishery. Currently there are two locations, the original one by the Vedder Crossing in Chilliwack while a second new store in Abbotsford.
If you need accommodation or guide suggestions around Chilliwack, please take a look at the listing on Tourism Chilliwack's website.
Squamish River
Chum and coho salmon can now be found in the Squamish River system, but river condition is still pretty poor. Water clarity is poor due to rainfall and mild temperature. Please note that bait ban is in effect year round and retention of fish is limited to just one hatchery marked coho salmon in certain area, so please read the regulations.
Stave River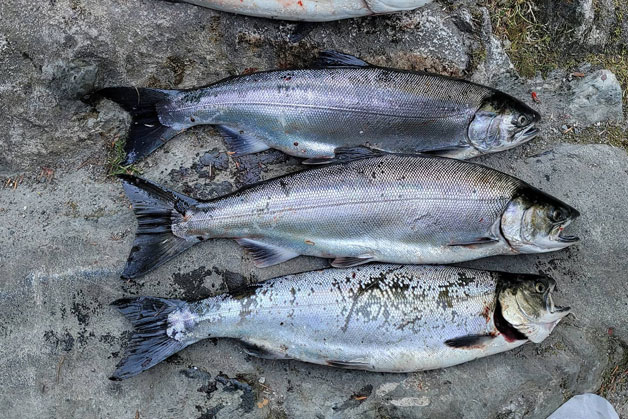 Stave River is now dominated by chum salmon as expected. Float fishing with a piece of wool or jig can be very effective for chum salmon. Adjust your float depth so your presentation is suspending above the fish, this avoids foul hooking any fish or snagging onto the bottom. Coho salmon can also be found in the system but they are not as abundant as chum salmon.
Please note that BC Hydro is currently upgrading the dam so the day use area is closed and parking is limited in the area.
Tidal Fraser River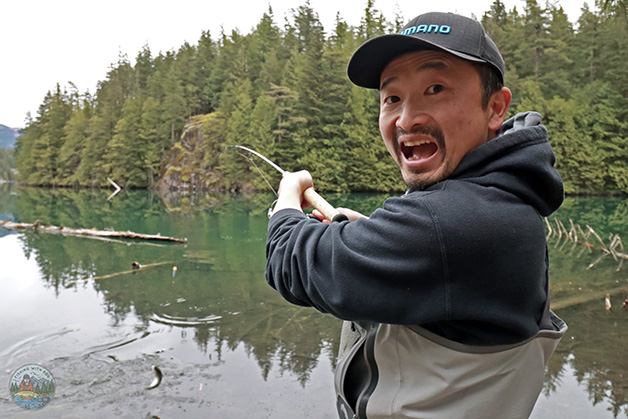 Water visibility of the Tidal Fraser River is very poor, at less than 1 foot. Hatchery-marked coho salmon fishing opened on September 29th and fishing has been good in the past week as expected. Please see this fishery notice for more information. For more information, please read this page. Because water clarity is poor, bar fishing with roe is your best option. Spoon casting is not very effective if fish cannot see your presentation.
Sturgeon fishing remains very good and fishing pressure is very low as most boats are focusing their effort further upstream in the non-tidal section. Fish in the 3 to 6 feet range are the most common during this time of the year. Rotting dead sockeye salmon parts are the best bait to use right now.
To fish the Tidal Fraser River (downstream from the railway bridge in Mission), you are required to have a valid saltwater fishing licence.
For more information on this fishery and the latest updates on saltwater fishing around Steveston and the Tidal Fraser River, stop by the Berry's Bait & Tackle in Richmond.
Non-tidal Fraser River
Bar fishing for chinook salmon, coho salmon, steelhead and chum salmon can can be very good during this time of the year but water clarity has not been great, so fishing is a bit challenging.
Hatchery-marked coho salmon fishing opens on October 1st from Mission to Hope, October 6th from Hope to Sawmill Creek. Please see this fishery notice for more information. These can also be caught by bar fishing. A small amount of roe tipped on the hook below the spin-n-glow can be very productive. If you are fishing at the mouth of a slough, try casting and retrieving a spinner.
Sturgeon fishing remains good as expected. Lamprey and eulachon are the best bait for this time of the year, but some are also reporting good results by using salmon roe. If you are out fishing on a boat, then you should be aware of debris that are coming downstream. We recommend the following companies in the Fraser Valley.
For more detailed reports on sturgeon fishing in the Fraser Valley, check out either Vic Carrao's report or Dean Werk's report.
Lower Mainland Lakes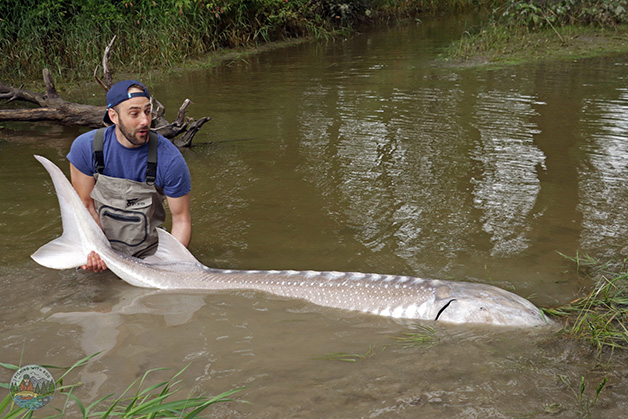 The Region 2's trout stocking database is usually updated once rainbow trout are stocked by the Fraser Valley Trout Hatchery. Fall stockings resumed on October 2nd. Lafarge, Como, Rice, Green Timbers, Mill Lakes and Hastings Pond have been stocked. More stockings will take place this week.
Please note that the daily quota of trout has been changed this year for most Fishing in the City lakes, please check the regulations to see if it has changed for the lake where you plan to visit.
These articles may assist you:
Please remember that for lake fishing, if you are fishing from shore, you are only allowed to use ONE rod. If you are fishing alone in a boat, then you are permited to use two rods. Only one single hook is allowed on your rod. Please note that barbless hooks are required to be used at some lakes. You should note the daily quota of trout for the lake where you are fishing. Catch and release is required in some lakes, please check regulations).
If you witness violations, please contact the nearest conservation office or phone 1-877-952-RAPP (7277). Conservation officers can not attend all calls, but they do their best to catch those who do not choose to play by the rules.
Before heading out, please read the freshwater regulations in Region 2 first. For more regular updates, make sure you follow our Facebook page.
Good luck and please conserve your catches!
Rodney Hsu
Webmaster, Fishing with Rod Production