Vancouver BC Fishing Report
By Rodney Hsu, Fishing with Rod | Last updated: February 13th, 2017
Here is an update video on what we have been up to and what we will be doing in the next couple of months. We have also set up a PO Box for those who want to mail us stuff for donations etc.
The weather is finally warming up again. Fraser Valley and Sea to Sky Corridor still have quite a bit of snow on the ground. The melt has been slow which has kept the rivers in shape. Even milder and wetter weather is expected for the rest of this week so river conditions may degrade. Winter steelhead fishing has been somewhat productive for the Chilliwack/Vedder River. Sturgeon fishing resumes on the Fraser River as surface ice slushes have been washed away. Coastal cutthroat trout fishing is picking up in sloughs as salmon fry are now emerging.
Upcoming Events and Promotional News
Here are some of the latest news and upcoming events in the Lower Mainland and Fraser Valley!
Capilano River
Capilano River is low, clear and quiet during this time of the year. The winter steelhead fishery has been poor for this system in recent years. You might catch the odd ones. ALL steelhead (both hatchery and wild fish) have to be released with care.
Stave River
Stave River is very quiet during this time of the year, so if you want some solitude, this is the place to be. There is a good population of whitefish, as well as coastal cutthroat trout in the system. These fish move around quite frequently so it is best to do some leg work and find them. Single eggs fished under a float work well. If you are fly fishing, trout beads fished close to the bottom can be effective. Once the weather warms up slightly, salmon fry patterns and nymphs will work better.
Squamish River
Squamish River offers fishing opportunities for bull trout, as well as rainbow trout during this time of the year. Vehicle access to the upper section of the river as well as tributaries like Cheakamus River can be tough right now due to the amount of snow this area received over the weekend. If you decide to go, you must be extra prepared as assistance is not nearby if your vehicle becomes stuck. The river is low and clear, so fish are more easily spooked. Bull trout have a tendency to school up during this time of the year so if you find one, more will be around. Trout beads, spoons, spinners, jigs, leech pattern flies will all work well for bull trout. These fish can be 1lb small, but also 8lb large. It is a catch and release fishery, and a bait ban is in effect year round.
Chilliwack River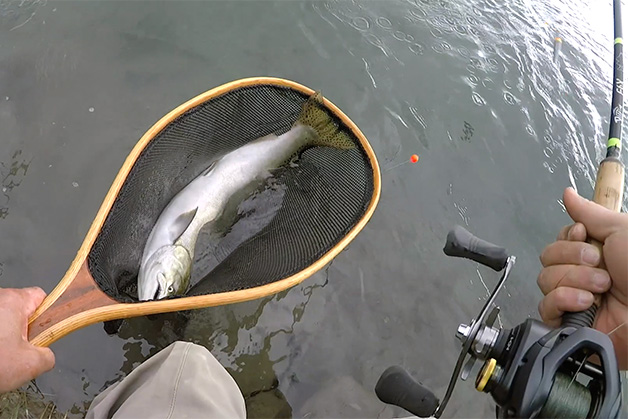 Chilliwack River has risen and is now dirty due to the rainfall we are experiencing this week. Once the river drops again and comes back to shape, we should see some good steelhead fishing as there are still over two months of the season left. Doing the foot work is definitely the key to success. Covering more water is more important than trying out too many different offerings at the same spot. Steelhead are generally quite aggressive and will grab whatever is in front of them on the first or second drift. Pink worm, shrimp, egg sacs, jigs have all produced fish.
Wally Hall Junior Memorial Fishing Derby is happening right now until March 15th. Tickets are $20 each and can be bought at Fred's Custom Tackle. All proceeds are donated to habitat restoration projects on the Chilliwack/Vedder River. Currently, the largest fish weighed in is 15.103lb by Scott Kindered! More information...
For hands-on information, be sure to visit Fred's Custom Tackle where you can also pick up a map of the Chilliwack/Vedder River. Fred has reopened a NEW Chilliwack location at 45150 Luckakuck Way. Fred is having a fall sales event from November 15th to December 1st.
Tidal Fraser River
Tidal Fraser River is very quiet during this time of the year. You can catch the odd winter bull trout by casting and retrieving a spoon or spinner. Outgoing tide just after peak is usually best. Water clarity should improve as this cold weather means less discharge is feeding into the system from various tributaries.
Herring fishing in Steveston has been very good as expected for this time of the year, but it has been busy. High tide has been best.
Please note that in spring 2016, Fisheries and Oceans Canada has issued a night time fishing closure for all finfish species in the Tidal Fraser River. To fish the Tidal Fraser River (downstream from the railway bridge in Mission), you are required to have a valid saltwater fishing licence.
If you would like more information on fishing in the Tidal Fraser River, please stop by Berry's Bait and Tackle in Richmond. Mike, Len and Michele have a team of knowledgable staffs who regularly fish this area and they can help you out.
Non-tidal Fraser River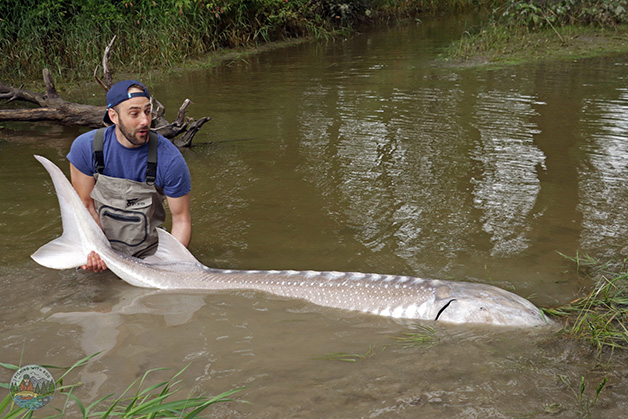 Non-tidal Fraser River is covered i slush and ice right now, so fishing is pretty much impossible until the weather gets mild again.
Check out the above video which features GoFishBC's Jessica Yarwood talking about proper sturgeon catch and release. This fishery currently has a guideline which requires anglers to handle these fish with care.
Lower Mainland Lakes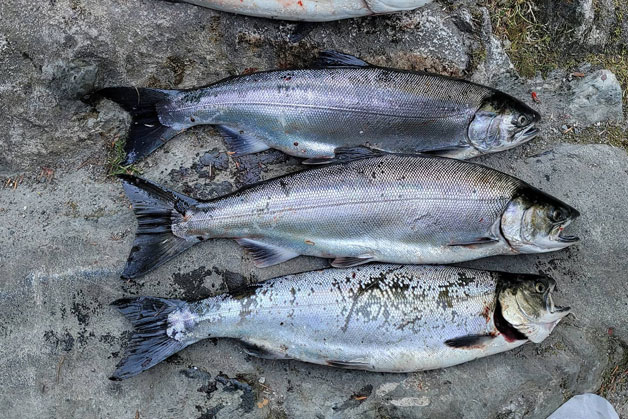 Most of the lakes are frozen across the Fraser Valley and Sea to Sky Corridor. Ice fishing can be done at some of them, but you must check the thickness of the ice for safety reasons before accessing.
Cultus Lake is not frozen and cutthroat trout fishing can be good right now. While fish can be caught from shore by either spincasting or flyfishing, most of the fish are seen further out in the middle feeding on salmon fry, so a boat is recommended.
Hicks Lake is frozen, access is difficult as the gate to the park is closed.
These articles may assist you:
Please remember that for lake fishing, if you are fishing from shore, you are only allowed to use ONE rod. If you are fishing alone in a boat, then you are permited to use two rods. Only one hook is allowed on your rod. Please note that single barbless hooks are required to be used at some lakes. You should note the daily quota of trout for the lake where you are fishing. Catch and release is required in some lakes, please check regulations.
Before heading out, please read the freshwater regulations in Region 2 first. For more regular updates, make sure you follow our Facebook page. If you witness violations, please contact the nearest conservation office or phone 1-877-952-RAPP (7277). Conservation officers can not attend all calls, but they do their best to catch those who do not choose to play by the rules.
Good luck and please conserve your catches!
Rodney Hsu
Webmaster, Fishing with Rod Production