Vancouver BC Fishing Report
By Rodney Hsu, Fishing with Rod | Last updated: August 31st, 2015
Our latest video above features a recent trip to the Strait of Juan de Fuca with Gibbs Delta Tackle's Robert Alcock, who has his family holiday at Pedder Bay each August. We fished the waters just outside of Sooke Harbour and had plenty of success on chinook salmon during our brief outing from 11:00am to 4:30pm.
The tidal and non-tidal portions of the Fraser River have reopened for chinook salmon fishing. At this time, it is only open for retention of chinook salmon. Sockeye salmon cannot be targeted and should be avoided. Retention of pink salmon will be announced soon, so please check back on our website next week for new fishery notices. Bar fishing for chinook salmon has been excellent on the weekend since the opening, indicating a good abundance of fish swimming through the Lower Fraser River right now. Those who have been trolling outside of the Fraser River mouth are still seeing plenty of chinook salmon, which is good news for the Fraser River fishery. Pink salmon are now in good numbers in the Chilliwack/Vedder River system, water coloured up after Saturday night's rain and expected to remain so as heavy rain is still in the forecast. Squamish River's pink salmon run continues but slowly tapering off, but please note that retention of pink salmon closes starting on September 8th. With the cooler weather, trout fishing is going to be more productive at lakes around the Lower Mainland in the coming weeks.
Please make sure you go to our Facebook page and click on "like". I am constantly adding updates such as latest fishing reports, new videos, articles and contests on it.
Upcoming Events and Promotional News
Here are some of the latest news and upcoming events in the Lower Mainland and Fraser Valley!
Current Fishing Closures in the Lower Mainland
Please note, starting on July 22nd until September 30th, streams in management units 2-2 to 2-12 and 2-16 to 2-19 are closed for fishing. This closure excludes the Capilano River (downstream of HWY 1 Bridge), Chilliwack-Vedder River, non-tidal Fraser River, Harrison River, Lillooet River, non-tidal Pitt River, non-tidal Squamish River, Elaho River, Cheakamus River. Please see this news release for more information.
August 20th Update: Mamquam River fishing closure begins on August 22nd until further notice.
August 28th Update: The tidal and non-tidal portions of the Fraser River reopens for salmon fishing starting on August 29th. This reopening is only for chinook salmon at this time. Pink salmon retention remains closed until the department determines that the sockeye/pink ratio is below 1%. The concern is still on protecting the low abundance of sockeye salmon, so selective fishing methods continue to be requested.
Useful links:
Capilano River
Capilano River is still very low as expected due to the lack of rain. Coho salmon are not making their way into the system as a result. Don't expect the fishing to be good beside catching the odd resident trout.
A better option is to fish the river mouth, where a tidal fishing licence is required, because fish are schooling with the tide. Early morning is best for this fishery. Fishing in the estuary has been good overall for both beach and boat anglers. A mix bag of coho and pink salmon have been caught. More and more fish will accumulate in this area until the first big rainfall this fall. If you've never done beach fishing for salmon before, please check out this article.
You should note that as of July 22nd until the end of September, Capilano River is closed to fishing upstream from the Highway One bridge.
Please note that ALL steelhead (both hatchery marked and wild) have to be released with care in the Capilano River. Be sure to identify your fish correctly in the water. This is a vulnerable stock and your action will decide its future.
Seymour River
Seymour River is closed for fishing starting on July 22nd until the end of September. The tidal portion, downstream from the railway bridge, remains open. Pink salmon have been reported at the mouth of the river this year, so casting and retrieving a lure during an incoming tide can be good at times if you are near the area. The odd coho salmon can also be expected.
Squamish River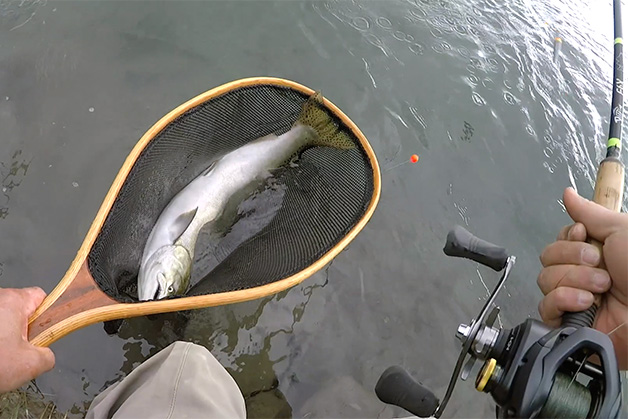 Pink salmon fishing and retention opened on July 6th for the lower part of Squamish River and Cheakamus River. Mamquam River is now closed for all fishing due to the low level and high water temperature, so please inform other anglers who may not be aware of this. Fishing has been good lately, water clarity is still an issue at times. Try large, colourful flies or jigs which stand out in the murky water. Fish often travel close to shore where water is also clearer so be sure not to wade out and advise other anglers not to. Pink salmon can easily be caught by freely drifting a jig under a float. If you have never done it before, check out this video tutorial.
In addition to this opening, Howe Sound's pink salmon fishery is also open. Please see this fishery notice for details. Fishing has been productive but it is starting to wind down. If you are fishing around Furry Creek from shore, please respect local residents who live by the beaches. Please do not litter, keep your noise down early in the morning. By being considerate, we can ensure access remains open for future fisheries.
Chilliwack River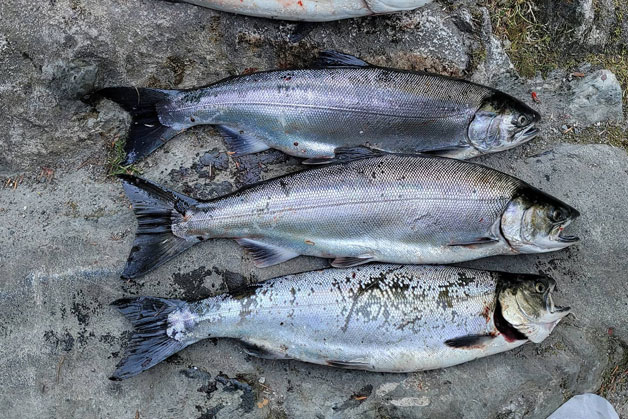 Chilliwack River is very low and clear. Some pink salmon have been reported in the system, it seems like fish are coming in earlier than previous years. Although the river is very low, fish can still move upstream at night. First and last lights are the best times to be fishing. The Sumas from the end of the Vedder Canal to the Fraser River is now open for fishing too. The water down here is mostly accessed by boat and is excellent for spincasting for both pink and coho salmon.
Fred's Custom Tackle is your go-to store for the Chilliwack River fishery. If you need accommodation or guide suggestions around Chilliwack, please take a look at the listing on Tourism Chilliwack's website.
Chehalis River
Chehalis River is closed for fishing starting on July 22nd until the end of September.
Stave River
Stave River is closed for fishing starting on July 22nd until the end of September.
Tidal Fraser River
Tidal Fraser River reopens for salmon fishing on August 29th. Please see this fishery notice for more information. The opening is for chinook salmon at this time.
water clarity is excellent right now. When pink salmon fishing opens in early September, it should be a very good season as these fish will be able to see better. Pink salmon have been reported coming into the river with the incoming tide now, but salmon fishing is currently closed from August 15th until further notice after the brief two weeks of opening as Fisheries and Oceans Canada determines the abundance of sockeye salmon is simply too low and any by-catch impacts need to be eliminated from the recreational fishery.
Northern pikeminnow and peamouth chub are active in the river. This fishery is ideal for families because there are plenty of fish, which means plenty of bites to keep the kids occupied. Small pieces of bait such as dough balls, worm, shrimp kept close to the bottom will produce good results. The river is quite high so be cautious on where you choose to fish. The floating docks in Richmond are the safest place to do this if you are bringing kids. You can also cast and retrieve lures for northern pikeminnow. Here is a video feature we did on it several years ago.
To fish the Tidal Fraser River (downstream from the railway bridge in Mission), you are required to have a valid saltwater fishing licence.
For more information on this fishery and the latest updates on saltwater fishing around Steveston and the Tidal Fraser River, stop by the Berry's Bait & Tackle in Richmond.
Non-tidal Fraser River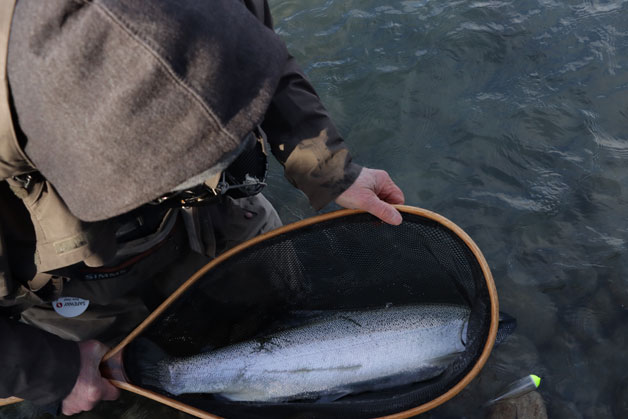 Salmon fishing reopens for the non-tidal portion of the Fraser River on August 29th. The opening is for chinook salmon at this time. Please see this fishery notice for more information. Pink salmon fishing opportunities will be announced soon.
Bar fishing for chinook salmon should be excellent right now.
Sturgeon fishing has been very productive. Eulachon and lamprey are working well as expected, but as salmon move into the system, their feed will change to roe in the next few months. You should note that night time fishing is now not permitted as stated in the regulation changes. We recommend the following guiding companies for your sturgeon fishing trips.
For more detailed reports on sturgeon fishing in the Fraser Valley, check out either Vic Carrao's report or Dean Werk's report.
Lower Mainland Lakes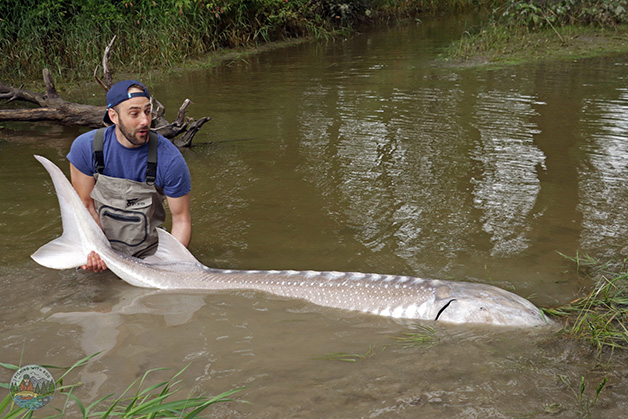 The Region 2's trout stocking database is usually updated once rainbow trout are stocked by the Fraser Valley Trout Hatchery. Urban lakes will not be stocked again until October. Warm weather means the urban lake fishery has not been productive with the exception of fishing in late evenings.
Check out this new video tutorial on drop shotting for trout.
Jones Lake is very low and fishing has been good for rainbow and cutthroat trout as well as kokanee. While a boat gets you to many more spots, shore fishing has been productive too. Anglers are casting and resting their bait on the bottom from shore. The gravel road on the way to the lake can be rough so be sure you drive up with an appropriate vehicle.
Cultus Lake's northern pikeminnow and largescale sucker are very active right now. Shore fishing can be a little challenging due to the boat traffic as well as swimmers on weekends. Late evening when the lake is quiet is the best time to fish. Try float fishing with Pautzke Bait's single salmon eggs on a size 4 hook under a float.
Mill Lake has a variety of species which anglers can target. These include stocked trout, largemouth bass, pumpkinseed. Both bass and sunfish are warm water species so they are easier to catch than trout right now.
At Sasquatch Park near Harrison Hot Springs, Hicks Lake and Deer Lake are not as productive now due to the warm weather. Evenings are your best bet when fish become active in shallower water.
Squamish area lakes are also good options. Browning Lake and Edith Lake are doing reasonably well compared to urban lakes. Other lakes to try out include Alice and Brohm where a mixed of smaller fish and previously stocked fish are available. Evenings are best.
Alta Lakein Whistler is a good catch and release fishery for rainbow trout and big cutthroat trout. Fishing is slower now that the weather is so hot.
Ross Lake is very low right now, around 5 to 6 feet lower than this time last year. It can be good during this time of the year for rainbow and bull trout. Check out this video feature from last September.
These articles may assist you:
Please remember that for lake fishing, if you are fishing from shore, you are only allowed to use ONE rod. If you are fishing alone in a boat, then you are permited to use two rods. Only one hook is allowed on your rod. Please note that single barbless hooks are required to be used at some lakes. You should note the daily quota of trout for the lake where you are fishing. Catch and release is required in some lakes, please check regulations.
Before heading out, please read the freshwater regulations in Region 2 first. For more regular updates, make sure you follow our Facebook page. If you witness violations, please contact the nearest conservation office or phone 1-877-952-RAPP (7277). Conservation officers can not attend all calls, but they do their best to catch those who do not choose to play by the rules.
Good luck and please conserve your catches!
Rodney Hsu
Webmaster, Fishing with Rod Production