Vancouver BC Fishing Report
By Rodney Hsu, Fishing with Rod | Last updated: March 20th, 2015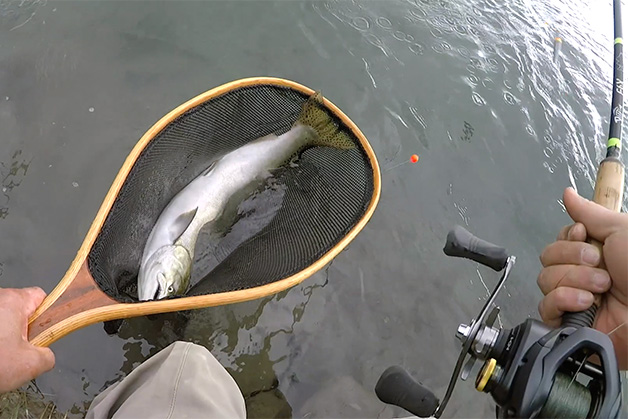 The weather has been inconsistent lately with rain mixed in with sunny days. That shouldn't deter you from fishing because plenty of opportunities are readily available now around Vancouver. Fraser Valley Trout Hatchery recently stocked all the Fishing in the City lakes. Fraser River is a little silty but it is prime time to be targeting anadromous trout and char by using bait. Winter steelhead fishing continues to be excellent in the Fraser Valley, but fishing condition depends on how much rain we are receiving. Overall it has been fishable on most days.
Our latest video feature below explores ice fishing opportunities in this province with Freshwater Fisheries Society of BC's Jessica Yarwood. Our target species are rainbow trout and brook trout. This 20 minute episode shows you how to get started in this family-friendly fishing activity during the winter months!
Please make sure you go to our Facebook page and click on "like". I am constantly adding updates such as latest fishing reports, new videos, articles and contests on it.
Upcoming Events and Promotional News
Here are some of the latest news and upcoming events in the Lower Mainland and Fraser Valley!
Fishing Gear For Sale!
I have several rods and reels for sale. If interested, please email info@fishingwithrod.com.
Fenwick HMXS 85XL-2, 8'6" long, rated 4 - 10lb, lure weight 3/16 - 1/2oz. Used but in good condition. Selling for $50.
Trophy XL TCS5105MLC 10'6" rated 8-17lb. A good startup centerpin/mooching rod. Brand new. Selling for $80.
Islander silver LX 3.2 fly fishing reel. Used, in good working condition. Selling for $300.
Islander slate LX 3.2 fly fishing reel. Brand new. Selling for $500.
Two Islander MR3 mooching reels (colour slate and blue). Slightly used, spooled with 25lb test Maxima Ultragreen, ready for the season. Selling for $500 each or $900 for both.
Islander gold LX 3.6 fly fishing reel, spooled with 8wt Rio Versitip line. Pretty much brand new with no wear and tear, it has been taken out for one casting session. Together with the line retail price is $700+. Selling for $650.
Capilano River
While you have some opportunities of encountering the odd steelhead between now and April, fishing is generally pretty slow in the winter months for the Capilano River. The good news is that angling pressure will be minimal in the next few months, so if you enjoy fishing alone with the possibility of catching a nice fish, then this is perfect for you. Capilano River sees an early return of coho salmon compared to other systems. The first wave of coho salmon usually emerges in April, but there are always the odd rumours about first coho salmon being caught during this time of the year.
Please note that ALL steelhead (both hatchery marked and wild) have to be released with care in the Capilano River. Be sure to identify your fish correctly in the water. This is a vulnerable stock and your action will decide its future.
Seymour River
Due to the large rock slide which occurred last year, anglers are advised to stay away from this system due to safety reasons. Seymour Salmonid Society, Metro Vancouver, Ministry of Environment and Fisheries and Oceans Canada have all been working together to determine if current returning steelhead can make their way past the new barrier. The hatchery usually collects 10 fish for its spawning program and radio tag up to 50 fish, so far they have only collected 3 fish so it is likely further management measures such as fishing closure will be implemented to protect the run. I will have information available as soon as it is published.
Chilliwack River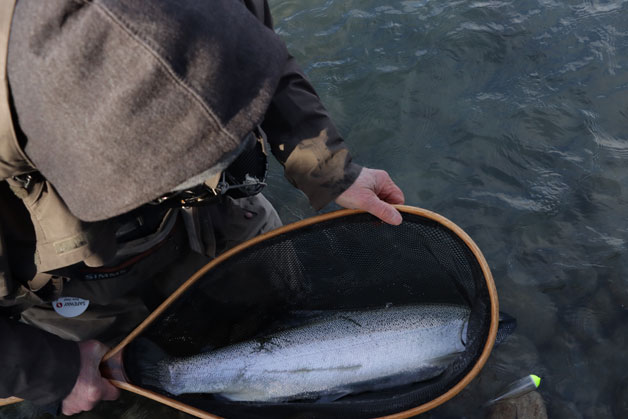 Chilliwack River level has been very good and fishable on most days despite of the rainy days we've had in recent weeks. Fishing for winter steelhead has been quite consistent as anglers experienced a good push of fresh fish in the past ten days. With the water level sitting at above 2.0m at the Vedder Crossing, fish are constantly on the move so you will not find one particular good spot for catching these winter chromers. To successfully catch them, you need to cover many different spots. Steelhead are willing biters more often than not, so you should be able to catch them as long as you can put your bait/lure/fly in front of a fish. Standard bait like roe, egg sacs, shrimp have all been working well, but you should try float fishing a little spoon like a Gibbs Gypsy because some of these adult steelhead are in fact feeding on juvenile salmonids in the river now. You are more likely to find fish in the upper section of the river but you're also more likely to encounter a mix of fresh and old fish at the same time. To target fresher fish, concentrate your effort on the lower section of the river below the Vedder Crossing.
Fred's Custom Tackle is your go-to store for the Chilliwack River fishery. Currently there are two locations, the original one by the Vedder Crossing in Chilliwack while a second new store in Abbotsford. Wally Hall Junior Memorial Steelhead Fishing Derby begins on December 1st! Get your derby ticket now at Fred's Custom Tackle. The first two steelhead were weighed in at the store on December 15th.
If you need accommodation or guide suggestions around Chilliwack, please take a look at the listing on Tourism Chilliwack's website.
Squamish River
This is the time of the year when fishing for trout and char becomes productive in the Squamish River. Now that chum salmon fry are starting to emerge from redds, small lures and flies which imitate minnows will work well. Stonefly and other nymph patterns can also be great if others don't work. River condition has been good on most days. Winter steelhead fishing is also happening now. While there aren't that many fish returning to this system compared to the Fraser Valley, you should be able to find the odd fish if you are specifically targeting them. Please remember that a bait ban is in effect for the entire Squamish River system.
Stave River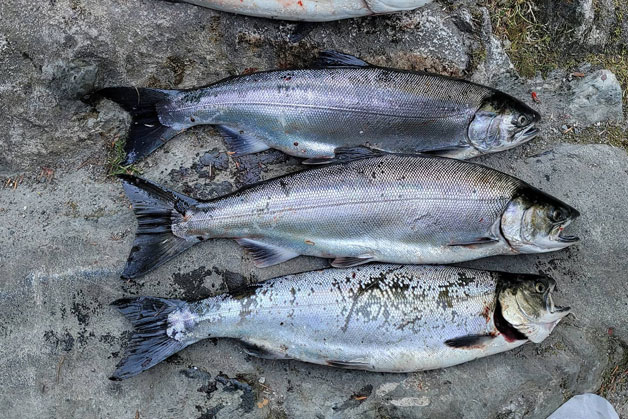 The attention is now shifting to cutthroat trout and mountain whitefish in the Stave River, which are feeding on salmon fry. If you enjoy float fishing, try using a small float and fish with bait such as single eggs, dew worm or krill close to the bottom for whitefish. Fly fishing with minnow patterns or casting small spoons like a 1/16oz Gibbs Croc can be very effective for cutthroat trout. As the weather gets warmer, you should also notice northern pikeminnow emerging in this system. These species are in fact great for kids if you have a little one at home who wants to do some river fishing.
Please note that BC Hydro is currently upgrading the dam so the day use area is closed and parking is limited in the area.
Tidal Fraser River
You can target winter bull trout throughout the Tidal Fraser River right now. Casting and retrieving spoons and spinners is quite effective and can be very exciting on an ultralight setup. It is an excellent time to be doing this if water clarity is good. You only need perhaps a foot of visibility for fish to bite your lure because these are aggressive, hungry fish. Look for rises close to shore and watch for fish which may follow your lure. Please remember that all wild trout and char have to be released with care. Check out this blog post from a few years ago in late February.
Sturgeon fishing has been good lately. Anglers are reporting up to a dozen fish being landed per outing when fishing from their boats. Eulachon is now the choice of bait, lamprey can also be excellent.
If you are fishing around Steveston, you may also want to try fishing for Pacific herring at Imperial Landing and Garry Point Park.
To fish the Tidal Fraser River (downstream from the railway bridge in Mission), you are required to have a valid saltwater fishing licence.
For more information on this fishery and the latest updates on saltwater fishing around Steveston and the Tidal Fraser River, stop by the Berry's Bait & Tackle in Richmond.
Non-tidal Fraser River
River level is staying pretty low but water is somewhat murky, possibly due to the warm weather which we are experiencing. Cutthroat trout fishing is happening. Look for slow backwaters where fish have a tendency to be trapped. If you are fly fishing, you should be using patterns which imitate salmon fry right now, but don't ignore hatches which can happen right now during those mild afternoons.
Sturgeon fishing has been good. Some guides are still reporting catches up to 8 feet long. Eulachon and lamprey are working well as expected. We recommend the following guiding companies for your sturgeon fishing trips.
For more detailed reports on sturgeon fishing in the Fraser Valley, check out either Vic Carrao's report or Dean Werk's report.
Lower Mainland Lakes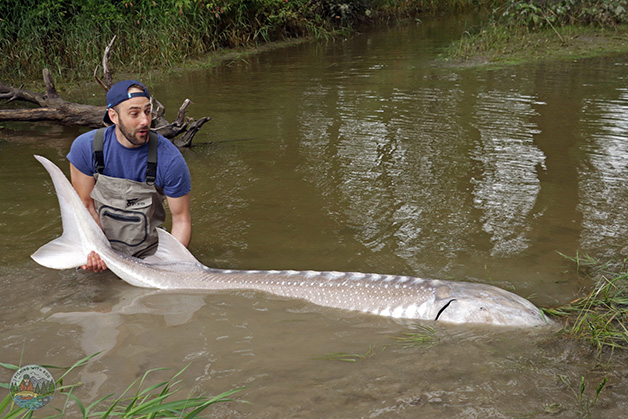 The Region 2's trout stocking database is usually updated once rainbow trout are stocked by the Fraser Valley Trout Hatchery. Stocking began on March 11th. Lafarge, Como, Green Timbers, Rice and Hastings Lakes were stocked first.
Kawkawa Lake opens on March 1st for kokanee fishing. Fishing has been challenging, good on some days and very slow on others. Look for fish close to the bottom in 40ft+ depth if it is sunny. Krill, shrimp, single eggs are the best bait to use. On cloudy days, fish will feed close to the surface and you can fly fish for them in that situation.
Jones Lake's water level rose a bit and shore fishing is not really ideal anymore. A boat is needed. Fishing can be good for cutthroat trout fishing during this time of the year. The road condition is reasonably good, remainly fairly dry but plenty of pot holes, so a 4WD is needed. Fish close to creek mouths where fish are more active.
Cultus Lake can be quite good for cutthroat trout and bull trout during this time of the year, especially around creek mouths. Look for surface activities. It is still quite cold so the fishery is just starting up.
Hicks Lake has been very productive for rainbow trout, cutthroat trout, kokanee. If you are looking for a lake which offers a variety of species, you might want to try this one.
Squamish area lakes are also good options as stocked rainbow trout should still be abundant in them. Browning, Alice, Edith, Brohm are just some of the lakes you should try out.
Please note that the daily quota of trout has been changed since 2013 for most Fishing in the City lakes, please check the regulations to see if it has changed for the lake where you plan to visit.
These articles may assist you:
Please remember that for lake fishing, if you are fishing from shore, you are only allowed to use ONE rod. If you are fishing alone in a boat, then you are permited to use two rods. Only one single hook is allowed on your rod. Please note that barbless hooks are required to be used at some lakes. You should note the daily quota of trout for the lake where you are fishing. Catch and release is required in some lakes, please check regulations).
If you witness violations, please contact the nearest conservation office or phone 1-877-952-RAPP (7277). Conservation officers can not attend all calls, but they do their best to catch those who do not choose to play by the rules.
Before heading out, please read the freshwater regulations in Region 2 first. For more regular updates, make sure you follow our Facebook page.
Good luck and please conserve your catches!
Rodney Hsu
Webmaster, Fishing with Rod Production