Vancouver BC Fishing Report
By Rodney Hsu, Fishing with Rod | Last updated: February 27th, 2014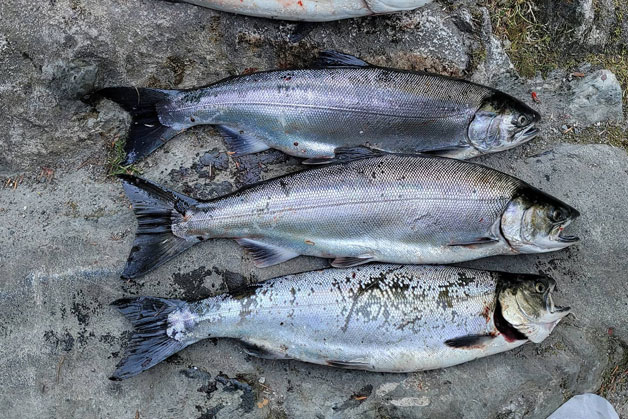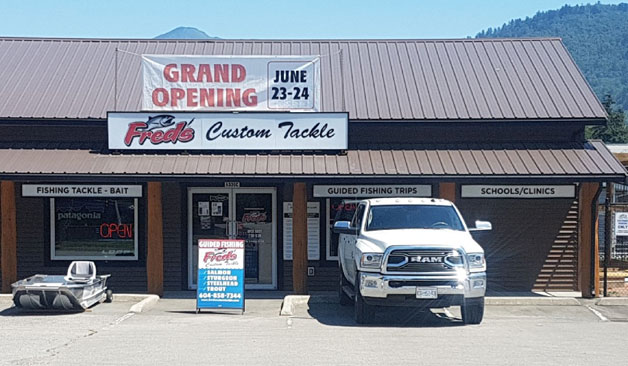 After the few days of February snow, daytime temperature is bouncing back to the usual mild level once again. Salmon fry are now rearing in most streams and soon they will begin their downstream migration into the Lower Fraser River. This is exciting for ultralight tackle anglers, who should be able to find very productive coastal cutthroat trout and bull trout fishing at times. These predators will be feeding on salmon fry, so small lures and flies which resemble minnows will work well. Winter steelhead fishing in the Lower Mainland has been poor this year unfortunately. While some anglers have been reports catches of rather big fish in the high teens, most anglers have not been able to connect with these rare bullets. Lower Mainland urban catchable rainbow trout stockings will begin in a few weeks from now. If temperature cooperates, the hatchery will once again aim to have most urban lakes stocked before the school spring break. Herring fishing in Steveston has been spotty. Crabbing in Burrard Inlet has been excellent.
If you are coming to the BC Boat & Sportsmen's Show in Abbotsford on March 7th to 9th, I will be at GoFishBC's booth on Saturday so please stop by to have a chat!
Please make sure you go to our Facebook page and click on "like". I am constantly adding updates such as latest fishing reports, new videos, articles and contests on it.
Upcoming Events and Promotional News
Here are some of the latest news and upcoming events in the Lower Mainland and Fraser Valley!
For Sale!
I have several personal fishing items for sale.
Dragonfly vest backpack/chest pack. Brand new. $100.
Trophy XL 10'6" 4 piece baitcasting rod with trigger reel seat, rated 10 to 20lb. Good travelling rod or for packing in smaller vehicles, ideal for all salmon species and steelhead. Brand new, comes in a case. $100.
Gold Islander LX3.6, spooled with 8wt Rio Versitip line. Pretty much brand new with no wear and tear, it has been taken out for one casting session. $650.00.
If you are interested, please email me. Pick-up from Richmond only.
Capilano River
Capilano River is low and clear. Between now and April, anglers can look forward to connect with the odd winter steelhead, but overall fishing is slow. Please note that ALL steelhead (both hatchery marked and wild) have to be released with care in the Capilano River. Be sure to identify your fish correctly in the water. This is a vulnerable stock and your action will decide its future.
Chilliwack River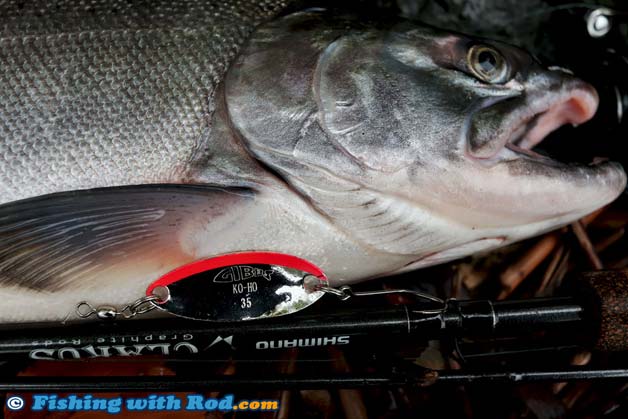 Chilliwack River winter steelhead fishery has been poor. The river condition has been quite good most of the time, but most anglers are not reporting any catches. Some lucky anglers have been able to pull out the odd big fish between 15 and 18lb, but overall this fishery has been tough. If you are unfamiliar with the winter steelhead fishery, please read this article.
If catching big steelhead does not fancy you, then perhaps you want to try targeting mountain whitefish with a light setup. Small stonefly presentations are these whitefish's favourites. Have the fly drifting close to the bottom will yield good results.
Fred's Custom Tackle is your go-to store for the Chilliwack River fishery. Currently there are two locations, the original one by the Vedder Crossing in Chilliwack while a second new store in Abbotsford. Be sure to sign up for their annual winter steelhead fishing derby.
If you need accommodation or guide suggestions around Chilliwack, please take a look at the listing on Tourism Chilliwack's website.
Stave River
Stave River produces anadromous cutthroat trout and mountain whitefish during this time of the year. Fishing is spotty. It's generally a very peaceful river to try out, which is quite a contrast to the fall salmon fishing season. Please note that shore access by foot is still very difficult due to limited parking in the area during the dam upgrade. This construction upgrade is expected to take place for another six years. Your best option to access this river is by a boat from the Fraser River.
For information on salmon and trout fishing in the Stave River and tributaries on the north side of the Fraser River (Kanaka Creek, Nicomen Slough, Norrish Creek, Harrison River), visit Hatch Match'r Fly and Tackle in Maple Ridge. Owner Randy Morgan is also an eager flyfishing instructor so don't hesitate to ask him questions.
Harrison River
Harrison River's anadromous cutthroat trout fishery is what you can look forward to in the next few months. Some salmon fry have already emerged from their redds so it is worth trying out a salmon fry or minnow pattern if you are fly fishing now. Casting and retrieving a tiny spoon such as a 1/8oz Croc with a light spinning setup is also effective.
Nicomen Slough
Nicomen Slough is quiet. You can also target cutthroat trout, which are now hunting for salmon fry. Foot access is readily available for the upper portion of the slough, while a small inflatable can be advantageous for the lower portion of the slough.
Squamish River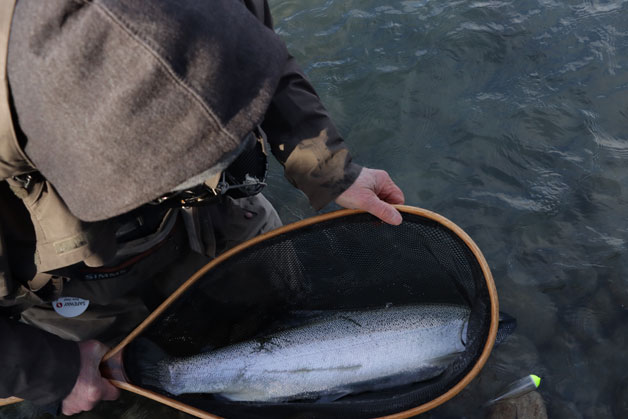 Squamish River condition is good, upper river valley is currently covered with fair amount of snow so be prepared if you decide to head up there. This time of the year, you can target bull trout and rainbow trout, which should be switching their feed to small salmon fry now. Please remember that a bait ban is in effect year round and you must release all fish carefully. Cheakamus River, a large tributary of the Squamish River, also produces bull trout as well as winter steelhead. There's plenty of wildlife to see in the valley, including elk, mountain goat and the odd predators. Keep your eyes open especially near dawn and dusk.
Tidal Fraser River
Water clarity of the Tidal Fraser River is good, but fishing remains slow. This is usually the time of the year when bull trout begins to improve. As more salmon fry start making their way into this large system, you should be able to spot some risers in the shallow water close to shore.
Pacific herring can be caught in Steveston right now. Two locations are popular among local herring anglers - Imperial Landing and Garry Point Park. These can be caught by using herring jigs. Best time appears to be the outgoing tide just after the tide peaks. Fishing has been spotty.
To fish the Tidal Fraser River (downstream from the railway bridge in Mission), you are required to have a valid saltwater fishing licence.
For more information on this fishery and the latest updates on saltwater fishing around Steveston and the Tidal Fraser River, stop by the following stores in Richmond.
Non-tidal Fraser River
You can now target cutthroat trout in some parts of the Fraser River around Chilliwack. White sturgeon fishing is available and doing quite well if you have a boat. Most guiding companies prefer to take a break in the winter months so these fish have a chance to rest.
Book your guided white sturgeon fishing trip for next summer. We recommend the following companies in the Fraser Valley.
Lower Mainland Lakes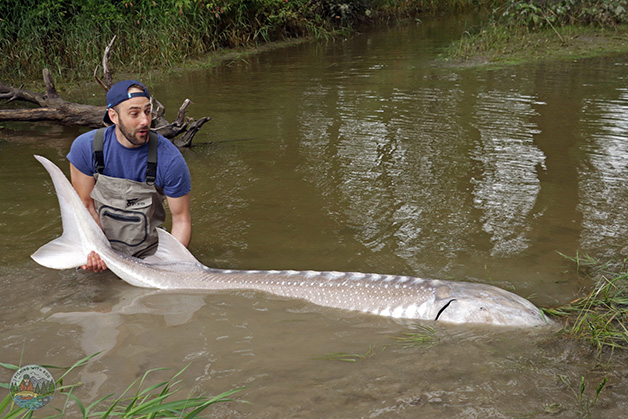 The Region 2's trout stocking database is usually updated once rainbow trout are stocked by the Fraser Valley Trout Hatchery. 2014's stocking will start in a few weeks from now. Stockings usually begin right before the school's spring break so students have a chance to catch fish during their holiday. With that said, it will depend on the water temperature. Stockings will only take place if temperature reaches acceptable level.
Squamish and Whistler lakes are mostly frozen.
Kawkawa Lake in Hope reopens for kokanee fishing on March 1st, but the lake is still 90% frozen.
Please note that the daily quota of trout has been changed this year for most Fishing in the City lakes, please check the regulations to see if it has changed for the lake where you plan to visit.
These articles may assist you:
Please remember that for lake fishing, if you are fishing from shore, you are only allowed to use ONE rod. If you are fishing alone in a boat, then you are permited to use two rods. Only one single hook is allowed on your rod. Please note that barbless hooks are required to be used at some lakes. You should note the daily quota of trout for the lake where you are fishing. Catch and release is required in some lakes, please check regulations).
If you witness violations, please contact the nearest conservation office or phone 1-877-952-RAPP (7277). Conservation officers can not attend all calls, but they do their best to catch those who do not choose to play by the rules.
Before heading out, please read the freshwater regulations in Region 2 first. For more regular updates, make sure you follow our Facebook page.
Good luck and please conserve your catches!
Rodney Hsu
Webmaster, Fishing with Rod Production