Vancouver BC Fishing Report
By Rodney Hsu, Fishing with Rod | Last updated: June 24th, 2019
Our latest episode featured a trip back in May to Ucluelet, targeting inshore chinook salmon around Barkley Sound with Hot Pursuit Charters!
Lake fishing in the Thompson-Nicola Region is still going strong. The weather overall has been cooler than normal so that's extending the season slightly. Take a look at Jordan's Kamloops region fishing report for more details.
Locally, in the Metro Vancouver and Fraser Valley areas, lake fishing is also still good. Fraser Valley Trout Hatchery has wrapped up its spring trout stockings. Urban lakes should remain productive as long as it does not get too hot. Travelling a little further out, to Squamish, Whistler, Chilliwack and Hope, you can find better lake fisheries from Alta Lake's cutthroat trout to Chilliwack Lake's bull trout.
Most rivers are still closed to fishing until the end of June. Chilliwack/Vedder River reopens on July 1st for its chinook salmon fishery. Because of the fishing closures in the saltwater, it is possibly that we will see a better return this year. Chehalis River can be good for chinook salmon and summer run steelhead, while Stave River produces coastal cutthroat trout consistently. Capilano River is seeing the odd coho salmon.
Fraser River remains fairly dirty. Sturgeon fishing is happening and guides are encountering fish up to 6 feet and bigger. Plenty of coarse fish can also be found in the Fraser River, which are excellent options for kids.
For daily updates, please follow us on Facebook and Instagram.
Capilano River
Capilano River typically has an early coho salmon run in June and we are starting to see some fish in the system as well as the fishway by the hatchery. River level has been low. We are not getting enough rain to raise the level unfortunately so fresh schools of fish are not pushing up in the system. The odd fish have been caught but overall it is quite slow. Your better bet is to head down to the river mouth and look for staging fish.
You might also encounter steelhead during this time of the year. ALL steelhead (hatchery and wild) have to be released with care. Please report individuals who choose to do otherwise.
Stave River
Stave River is pretty quiet during this time of the year but you can still find a good abundance of coastal cutthroat trout, northern pikeminnow, mountain whitefish and peamouth chub. All of these species are in the 1lb range and can be very fun for kids to catch. If you head to the river with some worm and rig it under the float, it's very likely you will get some bites regardless what time of the day is.
Hatch Match'r Fly and Tackle in Maple Ridge is your best one-stop shop on the North side of Fraser Valley. New owner Nick and his staff are always happy to help you, whether you are a beginner or a seasoned angler. They are open seven days a week.
Squamish River
Squamish River is undergoing freshet. Bait ban is in effect. There is a pink salmon run that usually starts showing up around mid to late July.
Chilliwack River
Chilliwack Rive is closed to fishing throughout the month of June. The river reopens on July 1st for its summer chinook salmon fishery. It's difficult to say how the fishing will be, but due to the closures of saltwater fisheries in all sectors, there is a good chance that we will see better fishing this year in July.
Sumas River
Sumas River, or more like a slough, runs from Abbotsford to Chilliwack, can be a lot of fun. The system has a good abundance of carp which are active right now. They can be caught by float fishing, or bottom fishing. As long as your bait is kept on the bottom, you should be able to find some bites. Bait like corn, dough balls, bread can all work pretty well. There are many other species in this system as well, including northern pikeminnow, peamouth chub, sunfish, largemouth bass, cutthroat trout and even a sturgeon or two.
Tidal Fraser River
Tidal Fraser River remains dirty as expected. Bull trout fishing is winding down as they usually start disappearing around this time of the year. The river also has a good abundance of coarse fish species including northern pikeminnow, peamouth chub and largescale suckers. These can be caught by bottom fishing with small pieces of bait on a size 8 hook. Good bait to use include dew worm, shrimp, single salmon eggs, dough balls. The two hours before and after peak tide are usually best for catching these fish.
Shore fishing for sturgeon is also doable. Head into Berry's Bait and Tackle to find out what setup you need to catch these fish. Eulachon, northern pikeminnow, dew worm, lamprey are all very good bait for sturgeon in the Tidal Fraser River. This is a catch and release fishery.
If you need more information on this fishery, please see the following articles:
We are not expecting any salmon openings in 2019 for the Tidal Fraser River. The only possible opening is the pink salmon opening in late August and early September for about two weeks, but that will be decided based on the estimated run size as we get closer to the season. Fishery notices will be posted on this website as they come in.
Please note that in spring 2016, Fisheries and Oceans Canada has issued a night time fishing closure for all finfish species in the Tidal Fraser River. To fish the Tidal Fraser River (downstream from the railway bridge in Mission), you are required to have a valid saltwater fishing licence.
If you would like more information on fishing in the Tidal Fraser River, please stop by Berry's Bait and Tackle in Richmond. Mike, Len and Michele have a team of knowledgable staff who regularly fish this area and they can help you out.
Non-tidal Fraser River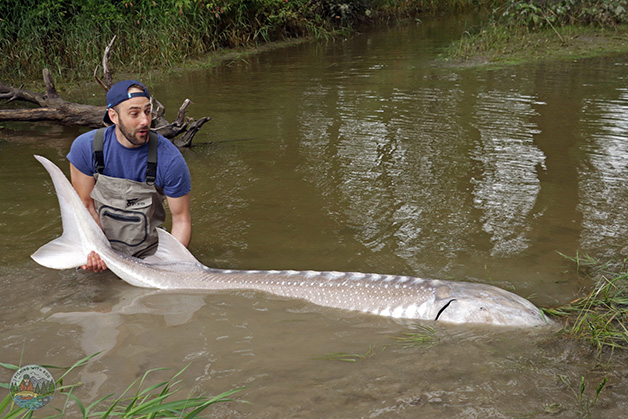 White sturgeon fishing can be very good this time of the year. Eulachons are making their way into the system to spawn so these fish are feeding on them. Salmon roe in sacs can also work very well. Fish in the 3 to 6 feet are common, but there is also a good chance to get into fish in the 8 feet range. If you have never tried this fishery before, your best bet is to hire a guide. We recommend the following guides.
All salmon fishing remains closed until August 23rd. There is a small possibility of retention openings for pink salmon between late August and early September. Salmon fishing is not expected to open in the fall due to the run timing of endangered Interior Fraser steelhead.
Lower Mainland Lakes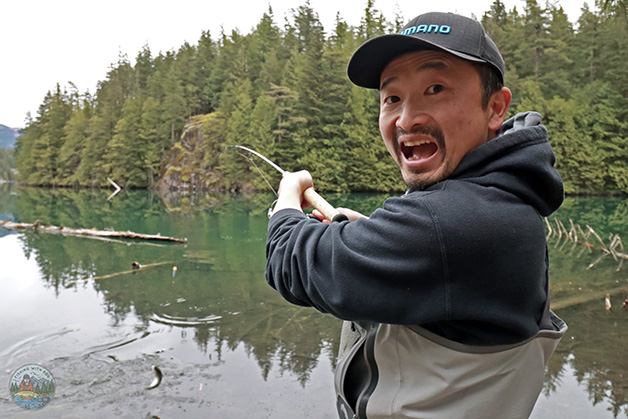 Lake fishing is still quite productive for now. As long as the weather stays cool, it should continue to produce. Fraser Valley Trout Hatchery has finished its spring trout stockings. All urban lakes should have lots of fish. Lakes which I recommend can be found on this page.
Kawkawa Lake's kokanee fishing is picking up again. Fish are feeding close to the bottom at 40ft of water. Krill, deli shrimp and single eggs can all work for these fish. An ultralight spinning setup is best as most of the fish are going to be between 12 and 16 inches long.
Hicks Lake and Deer Lake at Sasquatch Provincial Park are excellent due to the high abundance of fish. Hicks Lake produces rainbow trout, cutthroat trout and kokanee. They can be caught by float fishing in the shallow parts of the lake with bait such as single eggs, deli shrimp and dew worm. Deer Lake produces plenty of fish but they are mostly small, especially cutthroat trout found in this lake. Once the weather and water starts to warm up, fish will move into deeper parts of the lake.
Jones Lake is productive. You can encounter both rainbow trout and cutthroat trout by trolling or fishing near creek mouths. The road to the lake is not in the best shape so 4X4 is a must, and you have to be prepared for breakdowns. Casting spoons, float fishing with bait, trolling with a fly all work well.
Alta Lake in Whistler is a fantastic catch and release fishery for both rainbow trout and cutthroat trout throughout the month of June.
Cultus Lake is getting warmer and the shallow portions of the lake are getting active. The presence of smallmouth bass is more visible now as the population becomes more abundant. You will find them hanging around the docks or structured waters right now. Northern pikeminnow, cutthroat trout and largescale suckers can also be caught. Bull trout are found near creek mouths if that's your target species.
Browning Lake, Alice Lake, Edith Lake and Brohm Lake around Squamish can all be good for trout fishing too. While the fish are not too big, the scenic setting around these lakes makes up for it.
These articles may assist you:
Please remember that for lake fishing, if you are fishing from shore, you are only allowed to use ONE rod. If you are fishing alone in a boat, then you are permited to use two rods. Only one hook is allowed on your rod. Please note that single barbless hooks are required to be used at some lakes. You should note the daily quota of trout for the lake where you are fishing. Catch and release is required in some lakes, please check regulations.
Before heading out, please read the freshwater regulations in Region 2 first. For more regular updates, make sure you follow our Facebook page. If you witness violations, please contact the nearest conservation office or phone 1-877-952-RAPP (7277). Conservation officers can not attend all calls, but they do their best to catch those who do not choose to play by the rules.
Good luck and please conserve your catches!
Rodney Hsu
Webmaster, Fishing with Rod Production