Vancouver BC Fishing Report
By Rodney Hsu, Fishing with Rod | Last updated: July 26th, 2016
Recently we visited Murphy Sportfishing in Kyuquot Sound and were once again treated with pretty awesome salmon, halibut and lingcod fishing. Above is a short video from the trip, of me catching the biggest halibut I have hooked to date.
We are finally getting some hot summer weather which we typically see in July. As this trend continues, most coastal rivers will start dropping, which means low and clear conditions will make fishing tougher. Chilliwack River is seeing some chinook salmon action, but slower than expected. Sockeye salmon are plentiful in this system but catch and release applies to them. Fraser River currently remains closed for salmon fishing but an announcement for opening details in August is expected soon. We will have updates available here and on our Facebook page. Capilano River is slow for coho salmon due to the low river level. The river mouth is not really producing either, indicating a later start for this season or not many fish are just not showing up for this run. Guides are pulling out some pretty big sturgeon in the Fraser River up to 10 feet lately! Lake fishing for trout is also slower due to the warm weather. Skagit River is a good option right now for those who wish to catch and release some rainbow trout and bull trout.
Upcoming Events and Promotional News
Here are some of the latest news and upcoming events in the Lower Mainland and Fraser Valley!
Capilano River
Capilano River's early coho salmon fishery is definitely slowing down now as the dam is no longer releasing high amount of water to bring the river level up. This is the trend you will see throughout the rest of this summer unless we get another big dump of rainfall. As a result, no fresh coho salmon will making their way into the system. You will still find some fish in the system, but because they've already spent quite some time in the river, most will be quite spooked and hard to entice. Please keep in mind that bait ban will be in effect starting on August 1st. ALL steelhead (both wild and hatchery clipped fish) have to be released with care.
The other option right now is to fish the river mouth and nearby Ambleside Beach. This is usually where coho salmon stage if the river is too low to enter. So far this season fishing has been poor. The amount of fish being hooked is very low in comparison to the amount of angling pressure. Early morning is usually the best time for targeting these fish. If a low tide coincides with first light, it is even better.
Stave River
Stave River is very quiet during this time of the year because there are no salmon returning to it until October. For now, anglers have opportunities to target coastal cutthroat trout, northern pikeminnow, mountain whitefish in the system. These can be caught by either fly fishing with a small nymph or float fishing with bait such as single eggs, dew worms.
Chilliwack River
Chilliwack River has been seeing lots of anglers because the Fraser River is currently closed for salmon fishing. Chinook salmon fishing has not been very productive, which is somewhat expected because this run is usually very small to begin with. Because river level is reasonably high, most of these fish will head upstream pretty fast so you will find fish by covering as much water as possible. Fish found in one area will be gone within a day or even hours as they move up. Freshly cured roe is your best bait for these fish. Early morning or late afternoon are the best time for targeting them in this heat.
There is also a pretty high abundance of sockeye salmon in the river. These sockeye salmon are heading up to Chilliwack Lake to spawn. Unlike Cultus Lake sockeye salmon, the Chilliwack Lake sockeye salmon run is fairly healthy therefore catching and releasing them is permitted. If you intend to do this, please be sure to release these fish with care and as quickly as possible. Sockeye salmon can be caught by float fishing with krill or deli shrimp. Most of the fish we've observed so far this year have been in the 3 to 4lb range.
If you are unfamiliar with the summer fishery, please check out this overview. For hands-on information, be sure to visit Fred's Custom Tackle in Abbotsford where you can also pick up a map of the Chilliwack/Vedder River.
Chehalis River
Chehalis River is another option in the summer for those who want to do river fishing. Chinook salmon and summer steelhead are two species which can be found in this system, but low river condition due to the dry weather will make fishing very difficult. Early in the morning or late in the afternoon when lighting is low can be your best chances. Fishing has not been that productive.
Tidal Fraser River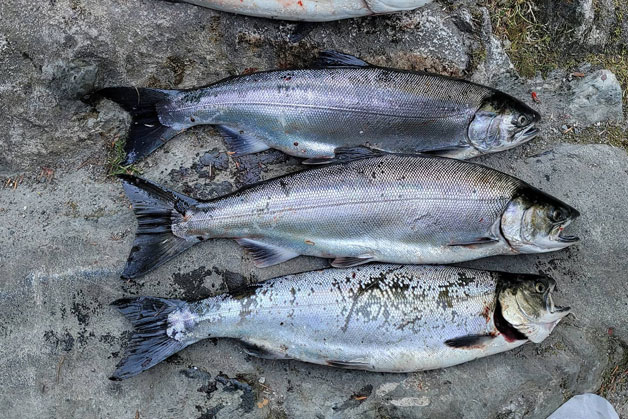 Tidal Fraser River is still muddy from the freshet.
Northern pikeminnow, peamouth chub and other related minnow species are active right now in the Tidal Fraser River. These can be caught by using dough balls or dew worms close to shore.
To fish the Tidal Fraser River (downstream from the railway bridge in Mission), you are required to have a valid saltwater fishing licence.
Fisheries and Oceans Canada has issued a night time fishing closure for all finfish species in the Tidal Fraser River.
Salmon fishing is closed until July 31st. Opening information for August 1st will be available soon.
Non-tidal Fraser River
The non-tidal portion of the Fraser River very coloured as expected. Sturgeon fishing is available and guides are getting into fish regularly. Bait used during this time of the year include lamprey and eulachon. When anchoring your boat during this time of the year, pay close attention to large debris like trees floating down the river.
Salmon fishing is closed until July 31st. Opening information for August 1st will be available later.
Lower Mainland Lakes
Ross Lake in Skagit Valley Provincial Park is a good place to check out if you are thinking about doing overnight camping/fishing trips. The lake offers good bull trout and rainbow trout fishing as the cold water drains from the Skagit River keeps the lake cool. These bull trout feed on redside shiner in the lake. Check out the video above for more information.
Urban lake fisheries in the Lower Mainland are not so productive now that stockings are completed. Most of the fish are found in the deepest part of the lakes. Your better option right now is to venture out to lakes one or two hours outside of Metro Vancouver. As the weather warms up, you have a bigger chance catching introduced species such as bass and carp than trout.
Hicks Lake should still be very productive. Beside the catchable rainbow trout which were stocked a few weeks ago in the lake, anglers can also expect to get into bigger rainbow trout, cutthroat trout and some kokanee. Fishing from shore is possible but a boat can get you to lots of productive spots.
Weaver Lake is producing well. Most of the rainbows are not big but they are plentiful so this is an easy lake to fish for kids. The road up to the lake can be rough so a 4WD drive is best.
Cultus Lake in Chilliwack is often overlooked but the fishing can be pretty good. Right now you can catch cutthroat trout even from shore by casting and retrieving a lure. Largescale suckers are now found in the shallows and can be caught by fishing with bait such as dew worm. Northern pikeminnow are still not really in the shallow water yet but as water temperature rises, they will be.
Jones Lake's water level is back to normal height. Most of the rainbow trout and cutthroat trout caught in the lake have been skinny early in the season, most likely due to the lack of food in the lake. Casting small spoons, float fishing with bait such as krill, shrimp, single eggs have been working very well. The road up to the lake is in pretty good shape now that it is quite dry.
Chilliwack Lake can be very good during this time of the year, especially in the evening hours, for bull trout and rainbow trout. A boat is usually needed, or you can fish at creek mouths where fish are more likely to congregate.
Alta Lake in Whistler has a healthy abundance of rainbow trout and also produces large cutthroat trout. There is a bait ban in effect for this lake, so casting lures or fly fishing are the best methods for targeting these fish. This is a catch and release lake.
Another lake which we always highly recommend, if you are looking for a family vacation which involves multiple days, is Tunkwa Lake. Tunkwa Lake is excellent during this time of the year due to the heavy "bomber" large chironomid hatches. Rainbow trout which you will encounter are between 1 and 4lb large.
These articles may assist you:
Please remember that for lake fishing, if you are fishing from shore, you are only allowed to use ONE rod. If you are fishing alone in a boat, then you are permited to use two rods. Only one hook is allowed on your rod. Please note that single barbless hooks are required to be used at some lakes. You should note the daily quota of trout for the lake where you are fishing. Catch and release is required in some lakes, please check regulations.
Before heading out, please read the freshwater regulations in Region 2 first. For more regular updates, make sure you follow our Facebook page. If you witness violations, please contact the nearest conservation office or phone 1-877-952-RAPP (7277). Conservation officers can not attend all calls, but they do their best to catch those who do not choose to play by the rules.
Good luck and please conserve your catches!
Rodney Hsu
Webmaster, Fishing with Rod Production