Vancouver BC Fishing Report
By Rodney Hsu, Fishing with Rod | Last updated: September 19th, 2016
Check out the above video! Gibbs Delta TV is a new series of webisodes which we are producing for Gibbs Delta Tackle. Episode one features targeting bull trout with 1/8oz and 3/16oz Croc spoons.
Fraser River has reopened for salmon fishing! Please see the following fishery notices for complete details, including which species are open for retention and specific dates for coho salmon regulation changes:
Both chinook and coho salmon can be found throughout the Chilliwack/Vedder River system right now despite of the low water level. It looks like Capilano River is picking up too judging by the amount of reports coming in around the mouth of the river. A bit more rain shoul d drive most of these fish into the system. Fraser River's sturgeon fishing is good as expected, while
Last Saturday we hosted our first ever YouTube livestream show and it was a lot of fun! In case you've missed it, you can still watch the replay by clicking here.
Upcoming Events and Promotional News
Here are some of the latest news and upcoming events in the Lower Mainland and Fraser Valley!
Capilano River
Capilano River is still quiet, but with the amount of rainfall we are expecting this week, don't be surprised to see the water level bumps up. If this occurs, we will see hundreds of chinook and coho salmon moving into the system. While the abundance of fish maybe higher, these fish are usually pretty hard to entice throughout September and October because of the bait ban. You cannot use natural bait or scented artificials until the end of October. Spoons and spinners give you the best chance when targeting these fish in higher water. Please remember that ALL steelhead in this system (both hatchery and wild) have to be released.
Stave River
Stave River will be good in a couple of weeks from now when we see the first wave of chum salmon showing up.
Chilliwack River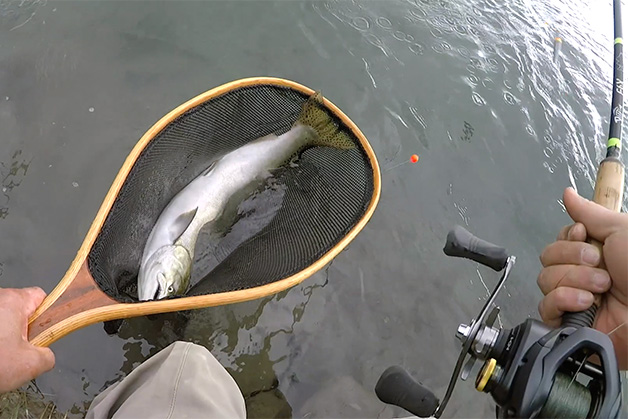 Chilliwack River rose by a couple of feet on the weekend and water clarity briefly degraded. This bump of water is seeing lots of fish moving through the system, as expected. Both chinook and coho salmon can be found throughout the system now. Float fishing with roe works well, lure casting can also be very effective. My favourite has always been the 1/4oz Gibbs Croc spoon. So far the average size of coho salmon has been much bigger than last year, which is great to see. Fish in the 8lb mark are pretty common.
The lower river also has several newly dug gravel pits where coho salmon are likely to sit in when they come into the system. When accessing these pits, please be careful as they are quite deep and gravel at the edge can be very loose.
I've started an update page for this fall fishery as usual, check it out!
For hands-on information, be sure to visit Fred's Custom Tackle where you can also pick up a map of the Chilliwack/Vedder River. Fred has reopened a NEW Chilliwack location at 45150 Luckakuck Way.
Pitt River
Fisheries and Oceans Canada has issued a closure for all salmon fishing. Anglers who venture up to the Upper Pitt River can still enjoy the fantastic bull trout fishing available during this time of the year.
Skagit River
Skagit River is a great option for anglers who enjoy targeting rainbow trout and bull trout. These can either be caught by fly fishing or spincasting. The Lower Skagit River is known to have rather dense populations of mosquitos, so be prepared if you intend to fish this area. Check out the video above to get a sneak peek on what the fishing is like in the Skagit. Bull trout in this system are between 2 and 4lb. Rainbow trout are usually around 12 to 14 inches, with the odd ones up to 18 inches long. Anglers are reporting nicer rainbow trout being caught this year than previous years. This is a catch and release fishery, and a bait ban is in effect.
Tidal Fraser River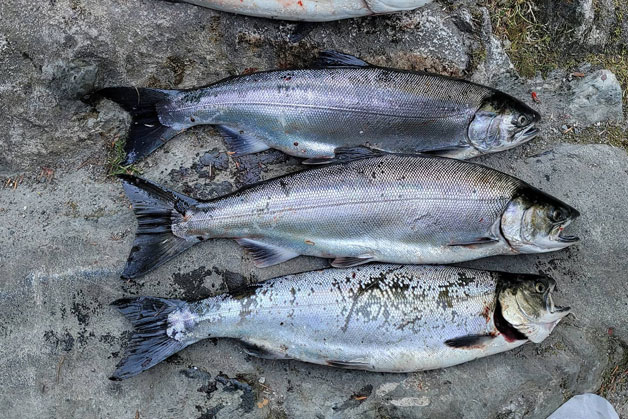 Tidal Fraser River is clear enough for spincasting lures. This time of the year, you can catch northern pikeminnow and cutthroat trout by casting and retrieving a small spoon such as a 1/8oz Gibbs Croc. In a few weeks from now, bull trout will also be making their appearance as the weather gets colder. Here is an article that explains how to catch these three predatory species with an artificial lure.
Tidal Fraser River reopens for salmon fishing on September 19th. Please pay attention to the specific coho salmon opening times and regulations by reading this fishery notice.
Please note that in spring 2016, Fisheries and Oceans Canada has issued a night time fishing closure for all finfish species in the Tidal Fraser River. To fish the Tidal Fraser River (downstream from the railway bridge in Mission), you are required to have a valid saltwater fishing licence.
If you would like more information on fishing in the Tidal Fraser River, please stop by Berry's Bait and Tackle in Richmond. Mike, Len and Michele have a team of knowledgable staffs who regularly fish this area and they can help you out.
Non-tidal Fraser River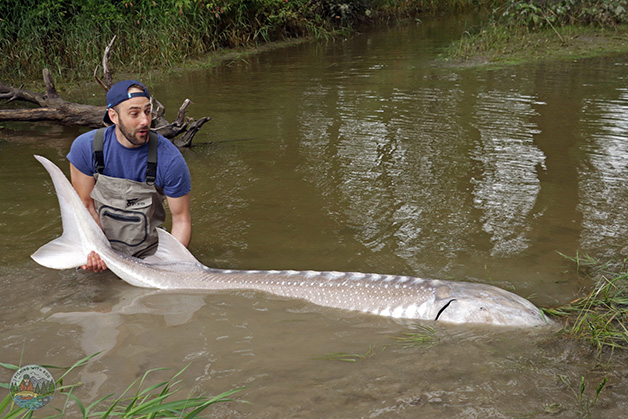 Sturgeon fishing has been excellent as expected. Salmon parts are the go-to bait for most fishing guides right now. The above photo is an amazing 11'1" sturgeon caught by Lang's Fishing Adventures in mid August!
Non-tidal portion of the Fraser River reopens for salmon fishing on September 19th. There are specific coho salmon opening times for each section so please read this fishery notice carefully for complete details.
Lower Mainland Lakes
Fraser Valley Trout Hatchery is scheduled to do the first fall catchable rainbow trout releases at Lower Mainland urban lakes on September 29th. We will have updates available as soon as these stockings start.
Hicks Lake is still a very good lake to try out, especially now that cooler weather seems to be the trend. This is a multi-species lake, where you can catch rainbow trout, cutthroat trout and kokanee. As water temperature drops again, we will see fish moving from the deeper spots into shallower spots soon.
Weaver Lake is producing well. Most of the rainbows are not big but they are plentiful so this is an easy lake to fish for kids. The road up to the lake can be rough so a 4WD drive is best.
Cultus Lake in Chilliwack is often overlooked but the fishing can be pretty good. cooler weather is keeping swimmers away, so it is worth trying out now. Northern pikeminnow are plentiful and can be caught by casting lures or bait fishing. Suckers can be seen grazing on the bottom in shallow waters. Occasionally, you will find the odd cutthroat trout.
Jones Lake's water level is back to normal height. Most of the rainbow trout and cutthroat trout caught in the lake have been skinny early in the season, most likely due to the lack of food in the lake. Casting small spoons, float fishing with bait such as krill, shrimp, single eggs have been working very well. The road up to the lake is in pretty good shape now that it is quite dry.
Chilliwack Lake can be very good during this time of the year, especially in the evening hours, for bull trout and rainbow trout. A boat with a gas motor is usually needed, or you can fish at creek mouths where fish are more likely to congregate. Big schools of sockeye salmon can be seen swimming along the shallow parts of the lake right now. This is quite a sight for those who have never seen it before.
These articles may assist you:
Please remember that for lake fishing, if you are fishing from shore, you are only allowed to use ONE rod. If you are fishing alone in a boat, then you are permited to use two rods. Only one hook is allowed on your rod. Please note that single barbless hooks are required to be used at some lakes. You should note the daily quota of trout for the lake where you are fishing. Catch and release is required in some lakes, please check regulations.
Before heading out, please read the freshwater regulations in Region 2 first. For more regular updates, make sure you follow our Facebook page. If you witness violations, please contact the nearest conservation office or phone 1-877-952-RAPP (7277). Conservation officers can not attend all calls, but they do their best to catch those who do not choose to play by the rules.
Good luck and please conserve your catches!
Rodney Hsu
Webmaster, Fishing with Rod Production