Vancouver BC Fishing Report
By Rodney Hsu, Fishing with Rod | Last updated: May 19th, 2015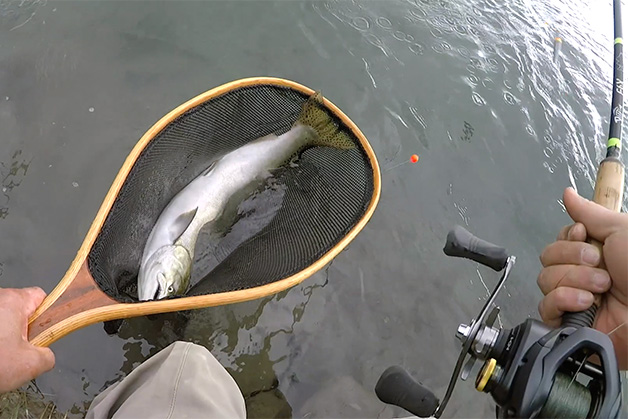 Lower Mainland anglers are now enjoying some summer-like weather when out fishing. Lake fishing remains very good and you should take advantage of it before it gets too hot in a few weeks from now. Most rivers are closed for fishing right now to protect both spawning steelhead and juvenile salmon. Fraser River sturgeon fishing is consistently productive as expected for this time of the year. Coarse fishing is also heating up for the younger anglers who enjoy constant bites. If freshwater fishing does not interest you right now, you also have the option of fishing for a variety of bottomfish in Burrard Inlet. Crabbing should also be good for a few more weeks until commercial opening begins.
Please make sure you go to our Facebook page and click on "like". I am constantly adding updates such as latest fishing reports, new videos, articles and contests on it.
Upcoming Events and Promotional News
Here are some of the latest news and upcoming events in the Lower Mainland and Fraser Valley!
Fishing Gear For Sale!
I have several rods and reels for sale. If interested, please email info@fishingwithrod.com.
Fenwick HMXS 85XL-2, 8'6" long, rated 4 - 10lb, lure weight 3/16 - 1/2oz. Used but in good condition. Selling for $50.
Trophy XL TCS5105MLC 10'6" rated 8-17lb. A good startup centerpin/mooching rod. Brand new. Selling for $80.
Islander silver LX 3.2 fly fishing reel. Used, in good working condition. Selling for $300.
Islander slate LX 3.2 fly fishing reel. Brand new. Selling for $500.
Two Islander MR3 mooching reels (colour slate and blue). Slightly used, spooled with 25lb test Maxima Ultragreen, ready for the season. Selling for $500 each or $900 for both.
Islander gold LX 3.6 fly fishing reel, spooled with 8wt Rio Versitip line. Pretty much brand new with no wear and tear, it has been taken out for one casting session. Together with the line retail price is $700+. Selling for $650.
10' lake fishing boat, see post.
Capilano River
Capilano River is still quiet, but expect the odd early coho salmon to show up in the system very soon. This river has an early run of coho salmon which usually peaks around the end of June, depending on how much rain the Lower Mainland receives because it dictates the river height. A good rainfall can bring in plenty of fresh fish which are holding at the river mouth. Float fishing with freshly cured roe at first light generally gives you the best chance to catch these fish. Casting and retrieving a Gibbs Croc spoon (size 1/8 - 3/8oz) also works.
Please note that ALL steelhead (both hatchery marked and wild) have to be released with care in the Capilano River. Be sure to identify your fish correctly in the water. This is a vulnerable stock and your action will decide its future.
Seymour River
No Fishing regulations have been issued for parts of the Seymour. Please see this fishery notice.
Chilliwack River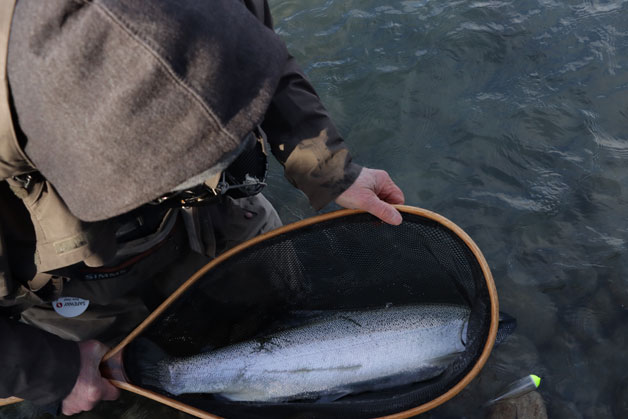 Chilliwack River condition is still excellent due to the low snow pack and lack of rain. You should note that between May 1st and 31st, fishing is closed upstream from the Vedder Crossing and only fly fishing is permitted downstream from the Vedder Crossing. The entire river is closed for the month of June. For those who would like to fly fish the lower river right now, you can still get into the odd late winter steelhead but be prepared to encounter quite a few kelts as fish seem to have spawned earlier this year. You can also target mountain whitefish and trout with a light fly rod as these fish are very abundant and can be caught by nymphing.
With the lack of snow, the river should be very fishable when it opens for chinook salmon fishing on July 1st. This should be a very exciting summer.
Fred's Custom Tackle is your go-to store for the Chilliwack River fishery. If you need accommodation or guide suggestions around Chilliwack, please take a look at the listing on Tourism Chilliwack's website.
Stave River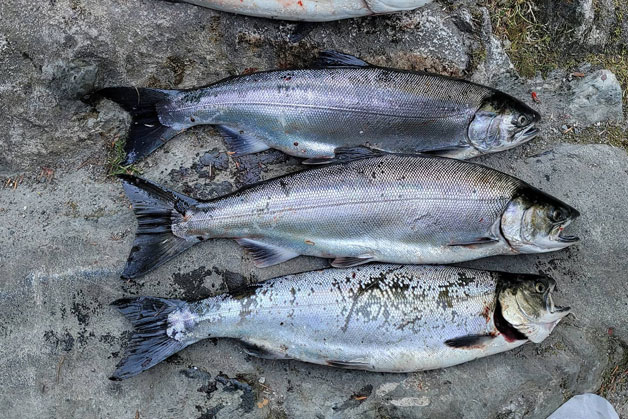 Stave River can be a very pleasant river to fish at during this time of the year. It's often quiet because fishing in general is not as productive as other systems so people tend to avoid it. You can target mountain whitefish, cutthroat trout and steelhead right now. Northern pikeminnow should also be very active right now. Float fishing with bait is an excellent way to target these fish. This river is fishable throughout spring and summer.
Please note that BC Hydro is currently upgrading the dam so the day use area is closed and parking is limited in the area.
Tidal Fraser River
Bull trout fishing can be good in the Tidal Fraser River right now. Water clarity is very poor so your best option is to bottom fish with roe. You should note this is a catch and release fishery, so please handle these fish with care. Outgoing tide just after peak is generally the best time to catch these fish.
Northern pikeminnow and peamouth chub are also active in the river. This fishery is ideal for families because there are plenty of fish, which means plenty of bites to keep the kids occupied. Small pieces of bait such as dough balls, worm, shrimp kept close to the bottom will produce good results.
Sturgeon fishing is good as usual. Anglers are reporting up to a dozen fish being landed per outing when fishing from their boats. Eulachon is now the choice of bait, lamprey can also be excellent.
To fish the Tidal Fraser River (downstream from the railway bridge in Mission), you are required to have a valid saltwater fishing licence.
For more information on this fishery and the latest updates on saltwater fishing around Steveston and the Tidal Fraser River, stop by the Berry's Bait & Tackle in Richmond.
Non-tidal Fraser River
River has been dirty. Freshet is underway until mid July but we most likely will not see a big one due to the smaller snow pack. Sturgeon fishing has been good. Eulachon and lamprey are working well as expected. You should note that night time fishing is now not permitted as stated in the regulation changes. We recommend the following guiding companies for your sturgeon fishing trips.
For more detailed reports on sturgeon fishing in the Fraser Valley, check out either Vic Carrao's report or Dean Werk's report.
Lower Mainland Lakes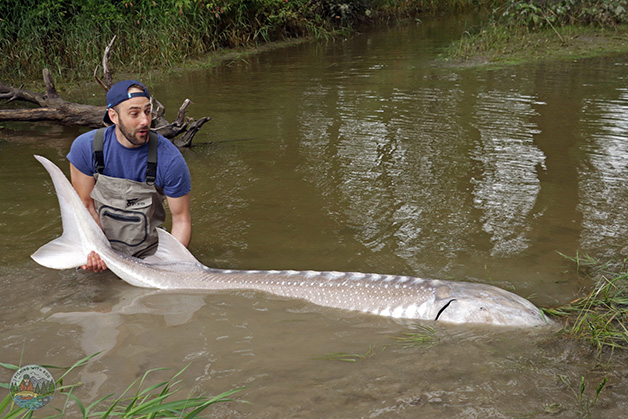 The Region 2's trout stocking database is usually updated once rainbow trout are stocked by the Fraser Valley Trout Hatchery. Stocking began on March 11th. Most urban lakes have all been stocked at least once. Squamish area lakes have not been stocked but should be done shortly. The hatchery has been busy with interior lake stockings and spawner collections so urban trout stockings have been paused for awhile. This should resume shortly. Please note that the daily quota of trout has been changed since 2013 for most Fishing in the City lakes, please check the regulations to see if it has changed for the lake where you plan to visit.
Kawkawa Lake is producing kokanee. Trollers are catching them in all depth right now, morning seems to be working well. Fish are starting to school up in 40 to 45ft of water. You can also target them by anchoring at these depths and bottom fish with bait such as krill, deli shrimp and single eggs. Look for big schools of fish on the sounder. Shallower water has been producing cutthroat trout. A boat is needed for this fishery. Here is our latest trip report from May 21st.
Jones Lake's rainbow and cutthroat trout are very active now that weather is warming up. The road to the lake is rough but drivable with a 4WD. Trolling from a boat can be very productive, but there are some spots where fishing can be done from shore with good results.
With the weather warming up, northern pikeminnow and largescale sucker are now very active in the shallow parts of Cultus Lake. Try float or bottom fishing with bait such as single eggs, dew worms, meal worms, shrimp, dough balls. If you have a boat, trolling for cutthroat and bull trout can still be good. Try using a 3/16 or 1/8oz Gibbs Croc spoon. Suckers can be seen milling about the dock at Main Beach, evening time is generally best when swimmers are absent.
The video below shows a recent trip fishing at a lake near creek mouths for cutthroat trout.
At Sasquatch Park near Harrison Hot Springs, Hicks Lake and Deer Lake are still very productive, especially in the evening once the sun goes down a bit. Rainbow trout and cutthroat trout are the main target species. Try float fishing with single eggs in 5 to 15 feet of water either from shore or from a boat.
Squamish area lakes are also good options as stocked rainbow trout should still be abundant in them even though they have not been stocked this year yet. Browning, Alice, Edith, Brohm are just some of the lakes you should try out. Fish can now be seen being active on the surface. Browning seems to produce bigger fish consistently even though it is located right beside the Sea to Sky Highway. Brohm Lake usually only has small cutthroat trout in it. Alice Lake has both rainbow and cutthroat trout in a variety of sizes.
Whistler area lakes should be very productive right now. Alta Lake is a good catch and release fishery for rainbow trout and big cutthroat trout. This is prime time for catching them by either casting spoons or fly fishing. Check out this video from a trip a few years ago when I targeted these fish with small Gibbs Croc spoons.
These articles may assist you:
Please remember that for lake fishing, if you are fishing from shore, you are only allowed to use ONE rod. If you are fishing alone in a boat, then you are permited to use two rods. Only one hook is allowed on your rod. Please note that single barbless hooks are required to be used at some lakes. You should note the daily quota of trout for the lake where you are fishing. Catch and release is required in some lakes, please check regulations.
Sturgeon Slough and Sumas River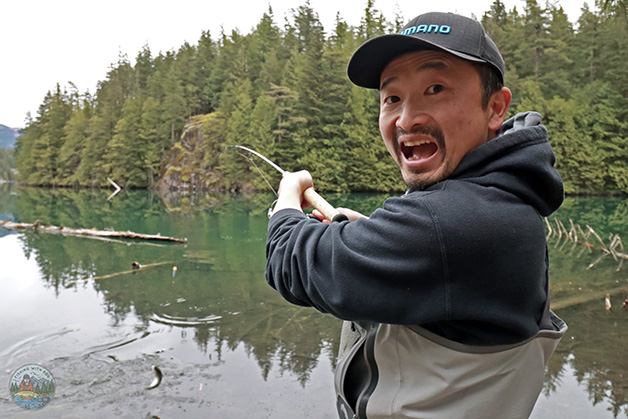 Carp fishing has started at Sturgeon Slough in Maple Ridge and Sumas River in Chilliwack. Bottom fishing with dough balls or corn will usually work. If you are float fishing, be sure that your float depth is long enough so your bait is sitting on the bottom. You will also encounter a variety of native minnow species such as largescale sucker and redside shiner.
Before heading out, please read the freshwater regulations in Region 2 first. For more regular updates, make sure you follow our Facebook page. If you witness violations, please contact the nearest conservation office or phone 1-877-952-RAPP (7277). Conservation officers can not attend all calls, but they do their best to catch those who do not choose to play by the rules.
Good luck and please conserve your catches!
Rodney Hsu
Webmaster, Fishing with Rod Production