Vancouver BC Fishing Report
By Rodney Hsu, Fishing with Rod | Last updated: November 28th, 2016
The above video is the trailer of an upcoming episode we are releasing on December 8th. "Wild River, Untamed Coho" features fishing for large wild coho salmon in a stream on the West Coast of Vancouver Island. Be sure to subscribe to our YouTube channel so you can be notified when it becomes available.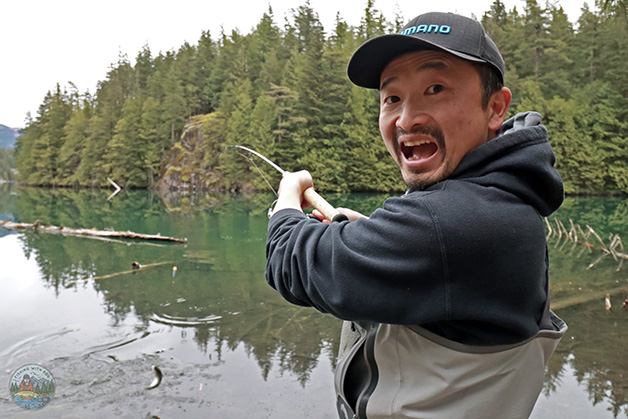 Snow is in the forecast and daytime air temperature is hovering around freezing this week so fishing will be tough. The more dedicated anglers will be out looking for the early winter steelhead but overall fishing is slow during this time of the year. The good news is that fishing pressure is always lower right now so you can easily find solitude. Overall, salmon fishing season is over and it has been a great one. The target species now are trout, char and steelhead. Both trout and char can be caught by using a trout bead which imitate the salmon eggs they are feeding on.
Upcoming Events and Promotional News
Here are some of the latest news and upcoming events in the Lower Mainland and Fraser Valley!
You can now register for Wally Hall Junior Memorial Steelhead Fishing Derby at both Fred's Custom Tackle's locations.
Have you seen the new Freshwater Fishes of British Columbia guidebooks which our friends at UBC Zoology have produced? You can now order a copy!
Capilano River
Above is our last video tutorial, featuring Gill Steele from Highwater Tackle in North Vancouver talking about the Capilano River salmon fishery and the basic setups which you need for it.
Capilano River has been high due to the amount of rain which we have been getting. This time of the year, fishing is slow. The fall salmon fishing season is now over. Between now and April, you will find the odd winter steelhead in the system, and trout. ALL steelhead, both hatchery marked and wild, have to be released with care.
Stave River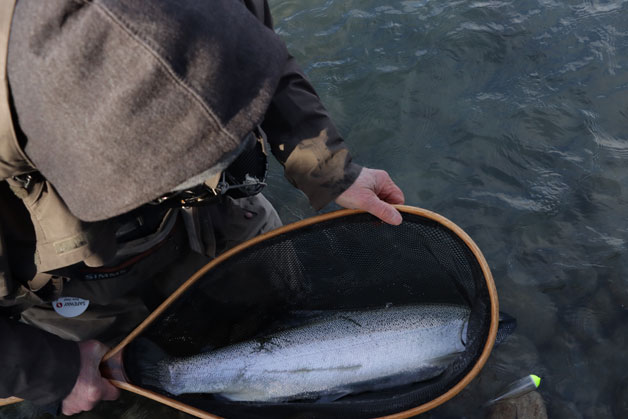 Stave River has completely slowed down. The odd chum salmon are still swimming about but they are now in spawning mode. Coastal cutthroat trout are now showing up to feed on salmon eggs. These can be caught on a light float fishing setup. A trout bead, a small gooey bob or a small egg imitation fly under a small float will do the trick if they fish are feeding aggressively. Look for spawning salmon and carcasses, cutthroat trout often gather just downstream from them.
Squamish River
The Lower Squamish River is still producing the odd fresh chum salmon. The upper section and tributaries are producing some coho salmon but they are mostly coloured, as well as trout and char that are feeding on eggs. River level is reasonable now that the snow level is down. The small channels where chum salmon are spawning are where you will find schools of bull trout and rainbow trout gathering and feeding on eggs. Be aware of your surroundings as both black and grizzly bears frequently feed in this watershed. The upper section of the river can be remote especially during this time of the year so it is always wise to be prepared and venture up with other anglers.
Bait ban is in effect throughout the year. Some retention opportunities for chum salmon and hatchery coho salmon are available, so be sure to check the regulations for details.
Harrison River
Harrison River's salmon fishing season is done for the year. Some chum salmon can still be caught but most are now old and ready to spawn. Cutthroat trout fishing should be getting better as the weather gets colder and river level drops. They will be feeding on eggs as well as carcasses of spawned out salmon.
Retention of chinook salmon is closed for Harrison River due to low return. See fishery notice
Chilliwack River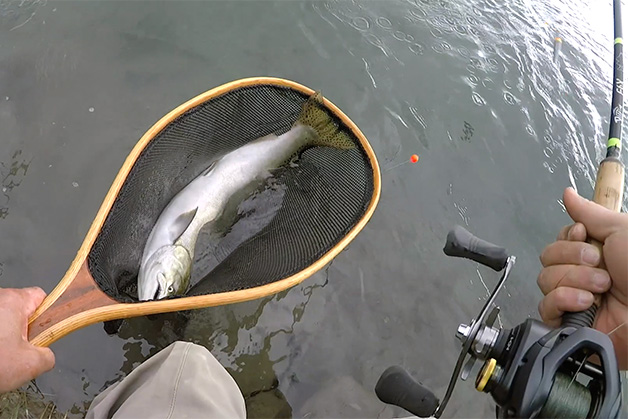 Chilliwack River is very fishable especially with the cold weather right now. The odd rumours of steelhead being caught have been floating around but that's not unusual for this time of the year. Winter steelhead fishing on the Chilliwack/Vedder River typically starts picking up in the third week of December, but good fishing doesn't really start until mid January. Salmon fishing is over now. You might still find the odd nice coho or chum salmon but overall just about all the fish are spawning or spawned out.
Another good opportunity which has become more popular in recent years is targeting trout and char with a trout bead. A trout bead imitate salmon eggs which these predatory species are feeding on right now. Most of this fishing is done in the upper portion of the river. You may also encounter mountain whitefish while using this method too. Trout beads can be fished under a float if you are using a conventional drift fishing setup, or they can be fished under an indicator with a fly rod.
For hands-on information, be sure to visit Fred's Custom Tackle where you can also pick up a map of the Chilliwack/Vedder River. Fred has reopened a NEW Chilliwack location at 45150 Luckakuck Way. Fred is having a fall sales event from November 15th to December 1st.
Tidal Fraser River
Tidal Fraser River's fall salmon fishery is over. The only opportunities right now are bull trout and cutthroat trout fishing by casting and retrieving a lure. You can also try fishing for herring in Steveston.
Please note that in spring 2016, Fisheries and Oceans Canada has issued a night time fishing closure for all finfish species in the Tidal Fraser River. To fish the Tidal Fraser River (downstream from the railway bridge in Mission), you are required to have a valid saltwater fishing licence.
If you would like more information on fishing in the Tidal Fraser River, please stop by Berry's Bait and Tackle in Richmond. Mike, Len and Michele have a team of knowledgable staffs who regularly fish this area and they can help you out.
Non-tidal Fraser River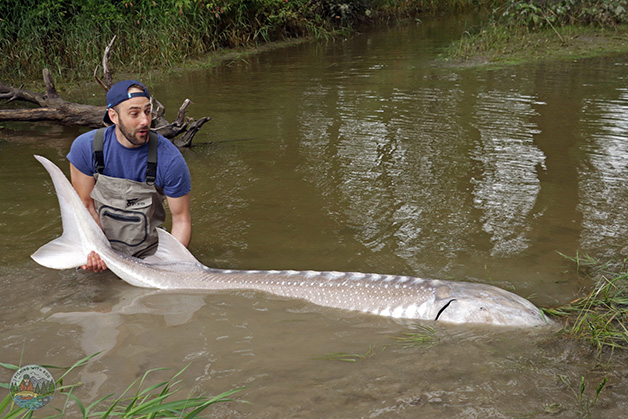 Water clarity is not great in the Fraser River so trout fishing is best done in small tributaries that feed into it. Once clarity improves as the weather gets colder, then cutthroat trout fishing will be better in some backwaters. Sturgeon fishing has been excellent due to the abundance of food in the river. These fish are now feeding on salmon roe and spawned out carcasses.
Check out the above video which features GoFishBC's Jessica Yarwood talking about proper sturgeon catch and release. This fishery currently has a guideline which requires anglers to handle these fish with care.
Lower Mainland Lakes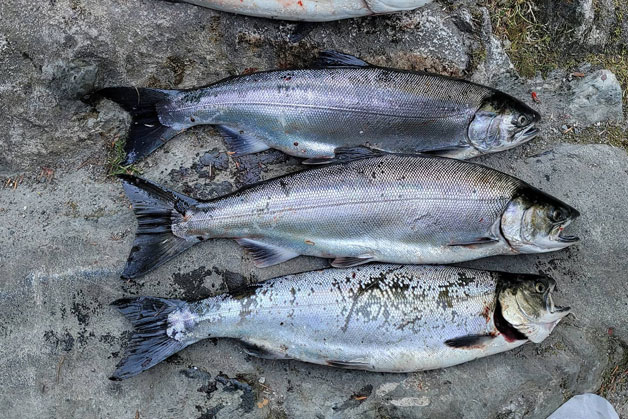 Fraser Valley Trout Hatchery is done with urban lake trout stockings for the year. Fishing should still be good as long as you don't mind the cold weather. Because the water temperature is lower now, fish will not be as active so bait being suspended just above the lake bed is the most productive way to go. You should be able to catch fish throughout the winter months, just don't expect the bites to be as frequent as spring or summer. The good news is that fish that you catch right now should be bigger than the ones in the summer.
These articles may assist you:
Please remember that for lake fishing, if you are fishing from shore, you are only allowed to use ONE rod. If you are fishing alone in a boat, then you are permited to use two rods. Only one hook is allowed on your rod. Please note that single barbless hooks are required to be used at some lakes. You should note the daily quota of trout for the lake where you are fishing. Catch and release is required in some lakes, please check regulations.
Before heading out, please read the freshwater regulations in Region 2 first. For more regular updates, make sure you follow our Facebook page. If you witness violations, please contact the nearest conservation office or phone 1-877-952-RAPP (7277). Conservation officers can not attend all calls, but they do their best to catch those who do not choose to play by the rules.
Good luck and please conserve your catches!
Rodney Hsu
Webmaster, Fishing with Rod Production