Metro Vancouver & Fraser Valley BC Fishing Report
By Rodney Hsu, Fishing with Rod | Last updated: September 12th, 2021
It is pink salmon fishing season in the Lower Mainland! The Tidal Fraser River is currently open to pink salmon fishing until September 18th. Chilliwack/Vedder, Harrison and Stave River are open to pink salmon fishing until September 30th. The non-tidal portion of Fraser River is open to pink salmon fishing until September 21st. Above is a new video overview on fishing tackle you need for pink salmon fishing in the Tidal Fraser River. The in-season estimate of this year's return is 6.5 million fish.
Below is also an episode from opening day in the Tidal Fraser River.
Some chinook and coho salmon have entered the Chilliwack/Vedder River system, but overall it is still a little early for some consistent fishing. Squamish River is still open to catch and release of pink salmon in the lower section of the river but it is slowing down. Capilano River has also been slow for coho salmon fishing due to low river level but this cool weather and some rain may change things soon. Sturgeon fishing is excellent right now in the Fraser River due to the abundance of pink salmon. Lake fishing should be picking up soon with the cool weather. Fraser Valley Trout Hatchery will resume rainbow trout stockings in our urban lakes around late September.
For daily updates, please follow us on Facebook and Instagram.
Capilano River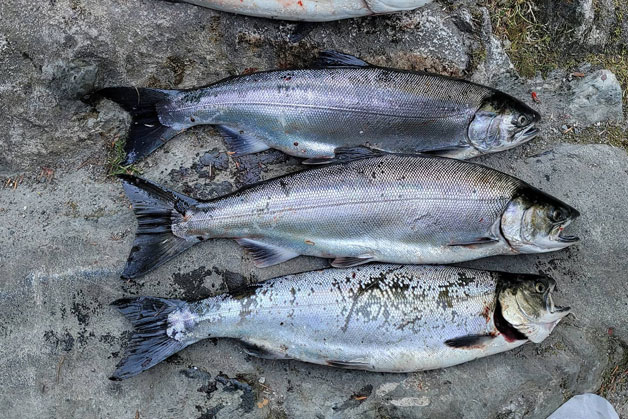 Capilano River has been quiet due to the low river level. Some coho salmon are present in the system but they have been there for awhile now. There is a bait ban in effect, so please only use artificial lures and flies when targeting these fish. Try early in the morning when fish have not been spooked throughout the day. Once the water level rises again due to rain, fishing should improve immediately with fresh fish entering the system.
Please remember that ALL steelhead, both wild and hatchery fish, have to be released in this river system. There are very few steelhead returning to the Capilano River so please release these fish with great care. You may encounter summer steelhead during this time of the year.
Ambleside Beach
This is the place to focus on if you live in Downtown Vancouver or surrounding areas. Most of the coho salmon which are heading up to the Capilano River are holding in the ocean in front of Ambleside Beach and the Capilano River mouth at the moment. These fish are still feeding, but they are also fairly "stale" after being in the area for awhile now. You can find many anglers casting for these fish early in the morning, with the odd ones caught at times. Low tide is generally the best time, which allows anglers to walk out to the deeper spots. Spin casting spoons and salmon jigs works well. Spinners also work at times. If you are fly fishing, shrimp patterns can be excellent as these fish tend to feed on crustaceans rather than small baitfish.
Stave River
Stave River is still quiet. It is now open to pink salmon fishing and retention daily quota is two per day. Stave River generally doesn't get a big pink salmon return, so success is low. Its chum salmon run usually starts in early October.
Squamish River
Squamish River is open to pink salmon catch and release fishing, but the run is tapering off now as we are near the end of it. There is a bait ban in effect and please release all fish with care.
For more information on the Squamish River and other fisheries in the Sea-to-Sky corridor, visit Pacific Angler in Vancouver.
Chilliwack River
Chilliwack River fishing will only get better in the next two months. Good amount of pink salmon are making their way into the river right now and it is open to fishing with daily quota of two fish per day. Float fishing by suspending a jig above schools of fish can be very productive without foul hooking fish by accident.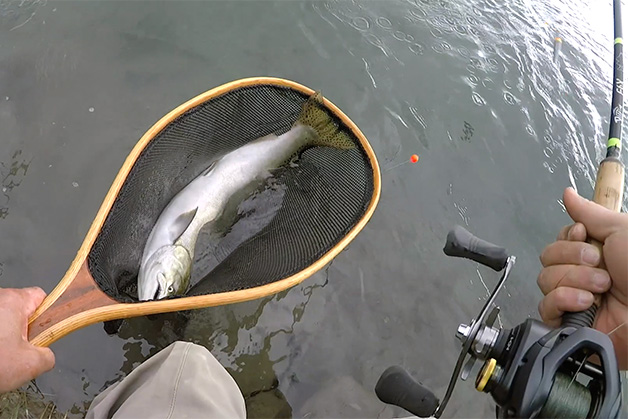 Some chinook salmon and coho salmon have also started moving into the system, but it is still a bit early. The river is very low at the moment, but that doesn't mean fish can't move through the entire system. Most of the movement takes place at night, and early morning is usually the most productive time. Some good amount of rain is in the forecast, so that may change things up quickly here.
For more information on the Chilliwack/Vedder River system, be sure to stop by Fred's Custom Tackle in either Chilliwack or Abbotsford.
Tidal Fraser River
Tidal Fraser River is open to pink salmon fishing until September 18th. The daily quota is 4 fish per day. Water clarity has been poor and fishing has not been great. This isn't due to the lack of fish as over a million pink salmon have been estimated to have passed through Mission over the September long weekend. Casting and retrieving a spoon, spinner, or twitching pink jigs can all produce. Put in the time, and you will produce fish.
Check out Berry's Bait and Tackle in Richmond for all your Lower Fraser River fishing needs!
Skagit River
Skagit River offers a catch and release fishery for rainbow trout and bull trout. Most of the rainbow trout encountered are between 12 and 16 inches in length. A light fly or spinning rod is ideal for this fishery. Bull trout in this river system can get up to 4 to 6lb, these can be caught by either fly fishing with a big streamer or swinging a spoon with a spinning rod. Please note that mosquitoes can be quite active in this watershed so be very prepared by bringing bug spray.
Non-tidal Fraser River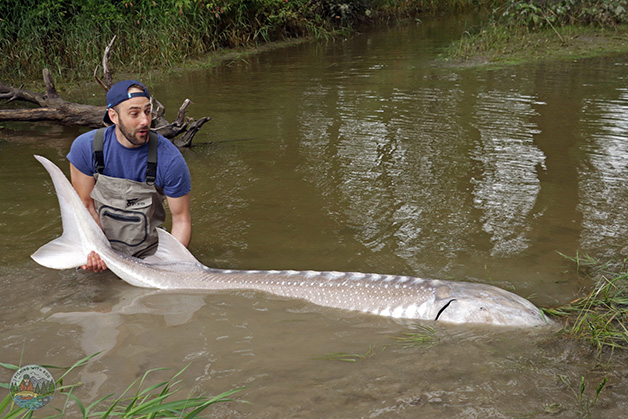 The non-tidal portion of the Fraser River is open to pink salmon fishing until September 21st. This opening is for downstream from the Hwy 1 bridge in Hope. Please make sure all other salmon species and steelhead are released with care. With 6.5 million pink salmon expected to return this year, fishing should be quite good. Try spin casting spoons and spinners in back waters, or float fishing a jig close to the banks on the mainstem. The daily quota is two fish per day.
White sturgeon fishing is excellent at the moment due to the amount of food in the river (pink salmon). It's best to head out with a licenced sturgeon fishing guide if you have never tried this before. We recommend Lang's Fishing Adventures. Fish are feeding on the abundance of pink salmon in the river at the moment.
Sumas River
Sumas River between Abbotsford and Chilliwack can be very good for carp fishing at the moment. There are also many other species found in this area, including largemouth bass, sunfish, pikeminnow, chub, shiner and sculpin. This multi-species fishery is an excellent place for family with young kids. Try bottom fishing with dew worm, dough balls, corn, salmon eggs. It is very hot at the moment, so this is an ideal location for evening outings. Salmon also make their way into this system, but there are no fishing opportunities for these fish.
Lower Mainland Lakes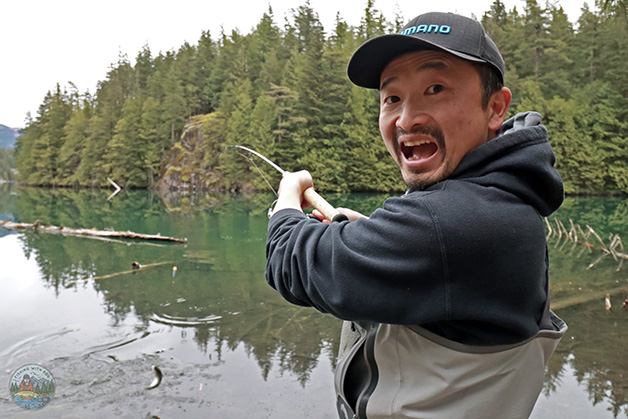 With the cooler weather, trout fishing in our local lakes should be improving now. Lakes which are stocked with catchable rainbow trout by the Fraser Valley Trout Hatchery will be restocked in late September.
These articles may assist you:
Kawkawa Lake's kokanee fishery is now ended.
Cultus Lake offers a diverse fishery. Largescale suckers can be seen feeding in the shallows, and it's easy to catch northern pikeminnow now. In recent years, smallmouth bass have been discovered at this lake and anglers are now targeting them. Majority of these fish are in the 1 to 2lb range but fish up to 4 or 5lb have been reported. They can be caught from shore. Jigging with a dropshot rig, dragging a tubebait, or retrieving a crankbait are the go-to methods for these smallmouth bass. For boat anglers, most of the fish have been caught in the 20 feet depth range lately.
Jones Lake access is closed until the end of September due to the construction of a new retaining wall by the road on the way up.
Alta Lake in Whistler is also stocked with cutthroat trout and fishing can be excellent in the fall again. These cutthroat trout
Ross Lake offers good fishing for both bull trout and rainbow trout. There is a bait ban in effect, so casting lures and flies are your best options.
Squamish area also offers some good lake fishing opportunities. Check out Browning Lake, which has been stocked with catchable rainbow trout as well. Alice Lake and Brohm Lake both have smaller trout in them.
Please remember that for lake fishing, if you are fishing from shore, you are only allowed to use ONE rod. If you are fishing alone in a boat, then you are permited to use two rods. Only one hook is allowed on your rod. Please note that single barbless hooks are required to be used at some lakes. You should note the daily quota of trout for the lake where you are fishing. Catch and release is required in some lakes, please check regulations.
Before heading out, please read the freshwater regulations in Region 2 first. For more regular updates, make sure you follow our Facebook page. If you witness violations, please contact the nearest conservation office or phone 1-877-952-RAPP (7277). Conservation officers can not attend all calls, but they do their best to catch those who do not choose to play by the rules.
Good luck and please conserve your catches!
Rodney Hsu
Webmaster, Fishing with Rod Production