South Vancouver Island BC Saltwater Fishing Report
By Tom Vaida, Island Outfitters Sportfishing Centre | Last updated: July 21st, 2014
Please make sure you go to our Facebook page and click on "like". We are constantly adding updates such as new videos, articles and contests on it. This report is usually updated weekly, so any last minute updates on river conditions, regulation changes etc usually go on our Facebook page right away.
We recommend the following saltwater fishing charters on Vancouver Island.
Saltwater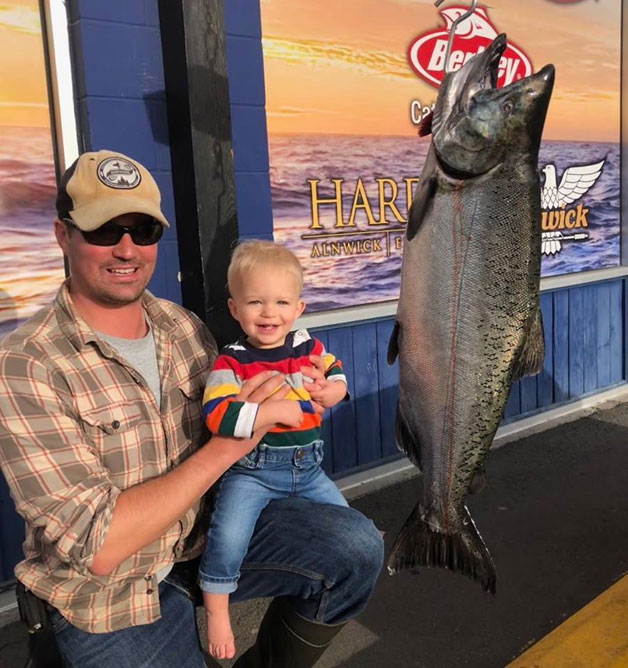 OVERVIEW – Salmon fishing was FAIR overall. Because of the good fishing weather on the weekend, there were LOTS of anglers in most areas and most reported FAIR success. Halibut fishing was SLOW in most areas. Currents were decent this past weekend for Halibut but with high numbers of dogfish still made for tough fishing.

SOOKE – Salmon fishing was FAIR this past week. This was again the best area to be fishing, both for size and quantity. The better spots were Sheringham Point and Otter Point. There was a decent amount of fish in the teens and mid 20's weighed as well as reports of lots of smaller Coho starting to show up, which eats up a lot of your bait. Choice of lures has stayed very similar to last week; Anchovies are working well with Blue Green Chrome and Bloody Nose teaser heads being good colors choices. G-Force spoons in Irish Cream and No Bananas have been catching their fair number of fish. The most popular flashers recently have been the Gibbs Madi, The Outfitter and Oki's Super Betsey. Halibut anglers are having best success out west towards Jordan River and Sombrio Point.
BECHER BAY – Salmon fishing has been FAIR in East Sooke. A few springs have been caught and some big ones, but mostly its springs in the teens and 20's. The best salmon fishing was near Beechey Head and the Trap Shack. Were most anglers were finding their success in early mornings on the flood current. Anglers have been catching salmon between depths of 40 to 90 feet on the downrigger. Most anglers are having their best results fishing anchovies. The most productive teaser heads for anchovies were the Blue Green Chrome and Bloody Nose. For flashers the Madi and the Purple Onion have been very good lately. Spoons such as G-Force in the smaller sizes have been working as well.
PEDDER BAY – Salmon fishing was FAIR, both in the Pedder Bay and in Whirl Bay. Lots of small Springs and small Coho have started to show up in the area, which has made it tough to keep your bait down to catch that big one. The springs are mostly between 8 to 14 lbs in size. Many of the springs are being caught between 60-80 feet on the downrigger. Anchovies were productive with Chrome Joanne, UV Green and Purple Haze teaser heads being good choices in teaser heads. Anglers are still getting some fish while trolling 3.5" spoons. Coho Killers and G-force spoons with both glow and green have been working the best. Squirts are working too with UV colors like the Jellyfish, Purple Haze and Electric Chair the best patterns. The best flashers have been the Silver Betsey, Green/Silver Hot Spot and Purple Haze.
Halibut – Halibut fishing was SLOW on the weekend. Currents were decent over the weekend, with the large numbers of dogfish made for tougher fishing. If you could find a spot with less dogfish, anglers were reporting success. Anglers that were fishing were using extra large herring, salmon bellies and/or octopus for bait. Berkley Gulp and Powerbait soft plastics also work very well. You can also use a large spoon fished off a spreader bar, Mudraker or Lucky Jigs or other large Jigs if you want to stay away from the dogfish.
VICTORIA – Fishing has been FAIR off Victoria. Constance bank this week has seen a large amount of shakers and some Coho showing up. Anglers were finding a few decent fish in the 9-15lb range. The better springs that were getting caught were close to the bottom and biting more frequently on the flood tide. Closer in, the salmon fishing remains FAIR. A few springs into the 20 lbs were caught between Brotchie ledge and Clover Point. The fish were out a bit from shore and between 60 to 80 feet on the downrigger. With not a lot of bait holding, they seem to be passing through and not stopping to feed for a few days. Most anglers fishing Constance are using artificial lures, usually with Coho Killer (yellowtail or green/glow). G-Force spoons in Outfitters or No Bananas colors. Good choices in plastic baits are the Electric Chair, Purple Haze and the Glo Blow. Gibbs Coho Killer, Kingfisher and Coyote spoons in all colours have been very effective. Closer in, anchovies are the best choice with green, Purple Haze or Bloody Nose popular choices. Good flashers have been the Bon Chovi and Chartreuse Glow.
Halibut – Halibut fishing was SLOW this past week, although the currents were decent, dogfish caused the fishing to be tougher. Angler's that were going out were using extra large herring, salmon bellies and/or octopus for bait with octopus being the most productive bait this past weekend. Berkley Gulp and Powerbait soft plastics also work very well. You can also use a large spoon fished off a spreader bar, Mudraker or Lucky Jigs or other large Jigs if you want to stay away from the dogfish.
OAK BAY – Salmon fishing was SLOW for those trolling out on the Flats and in the Gap. The fish that are being caught have been in the 8-12 lb range. Most the anglers were trolling this past week with a few boats jigging but both reporting slow fishing. Anglers were using squirts, spoons, or tiny strip. The fish that were being caught trolling were caught on Coho Killer spoons and 3" to 4" G-Force & Gypsy spoons. Good squirts were the Electric Chair, Pickle Green, J-79 and Jellyfish. Good flashers have been the Purple Onion, Green/silver or Green Jellyfish.
Halibut – Halibut fishing was SLOW this past week. Berkley Gulp and Powerbait soft plastics also work very well. You can also use a large spoon fished off a spreader bar, Mudraker or Lucky Jigs or other large Jigs if you want to stay away from the dogfish.
SIDNEY- Salmon fishing was FAIR off Sidney this past week. Fish seem to be a little more scattered but with reports from all the popular spots having a few fish. Many anglers have been fishing for springs using anchovies in UV Green teaser heads. Squirts have been out producing hootchies recently and the hot patterns for springs now are Purple Haze, Glow Below and Electric Chair. Coho Killer spoons have also been working well, especially in double glow and 50/50 colors.
Notable Catches – Nicole Burkmar caught a 24lb spring in Port Renfrew this past weekend fishing with her Brother Dan, they ended up with 4 nice fish by 11am all on caught on the beach.
Freshwater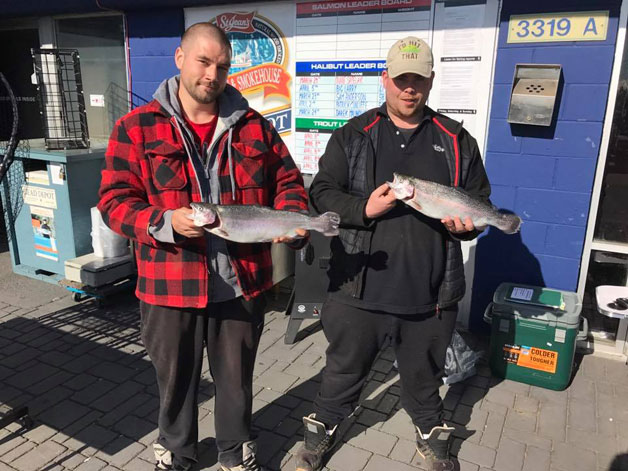 Vancouver Island catchable rainbow trout stocking updates
OVERVIEW – Fishing is GOOD on most lakes in the South Island area. Remember that ALL wild trout must be released on all streams in region 1.
COWICHAN RIVER – Trout fishing remains very similar to last week's report, Water levels on the river are low. The trout fishing in the mid and upper river is good to excellent. There are rainbows as well as resident brown and cutthroat trout that are active in the top end right now. Bead head nymphs are the top producer there and our favorites are the Prince Nymphs, Gold Ribbed Hare's Ears and Pheasant tails. There are lots of insect hatches during the day now and the dry fly fishing can be excellent if you match the hatch.
TROUT – Trout fishing was GOOD on most lakes in the South Island area this past week. The total Island trout release this spring is 57,305 Fraser Valley strain rainbow trout.
Bank anglers are catching trout on Powerbait, Gulp Eggs, or worms while fishing from shore and right on the bottom. Yellow and Bubblegum have been good colours recently for Powerbait. Fly anglers are fishing Pumpkinheads, Wooly Buggers, Leeches and Micro Leech patterns on full sink fly lines. Trollers have been doing well with a variety of lures. The Rhys Davis Baitrix Trout lures and UV Mini Strip Teasers work well for larger fish too. Other good trolling lures are the Apex Trout Killers with the police car one of the best and the black with silver glitter spots taking second place. Flatfish and/or Kwikfish have also been effective in sizes 5 to 7 in Frog, Black with Silver Flake or Rainbow Pattern. Smaller Rapalas in Rainbow Trout or Brown Trout patterns also work well; the jointed Rapalas have also been great for larger fish. Larger Willow Leaf Lake trolls with a size 6 hook tipped with a small 1-2″ piece of worm always produce fish. The biggest trout usually come from Langford Lake and Elk Lake. Wild rainbows and cutthroats over 50 cm must be released in Cowichan Lake.
BASS – Bass fishing is GOOD. At this time of year the bass are shallow in the mornings and evenings.. There have been good reports of early morning fishing with spinner baits in Chartreuse, White and Black. During the day, soft plastics rigged Carolina style work well and crank baits can work well too. Crank baits have been effective too when fished with a fast retrieve. Soft plastics rigged "Carolina Style "is also a good choice when fishing drop offs and docks, most productive in 4" Yum bait colors Smoke or Pumpkinseed. Surface lures have been producing well in the evenings and mornings. Langford Lake, Shawnigan Lake, Prospect Lake and Elk and Beaver Lakes are the best local bass lakes. St. Mary's Lake on Salt Spring Island is also a great lake for bass fishing.
CARP – Carp fishing is GOOD at Elk Lake. Corn and carp Boilies have been the best bait recently.
Fish Tip of the Week
A long Salmon fishing rod gives the advantage to the angler. Short rods can be used for convenience on small boats but give up a lot of advantage. Nine foot rods should be your absolute minimum but a 10'6" rod gives the fisherman that much more advantage.