Ucluelet BC Saltwater Fishing Report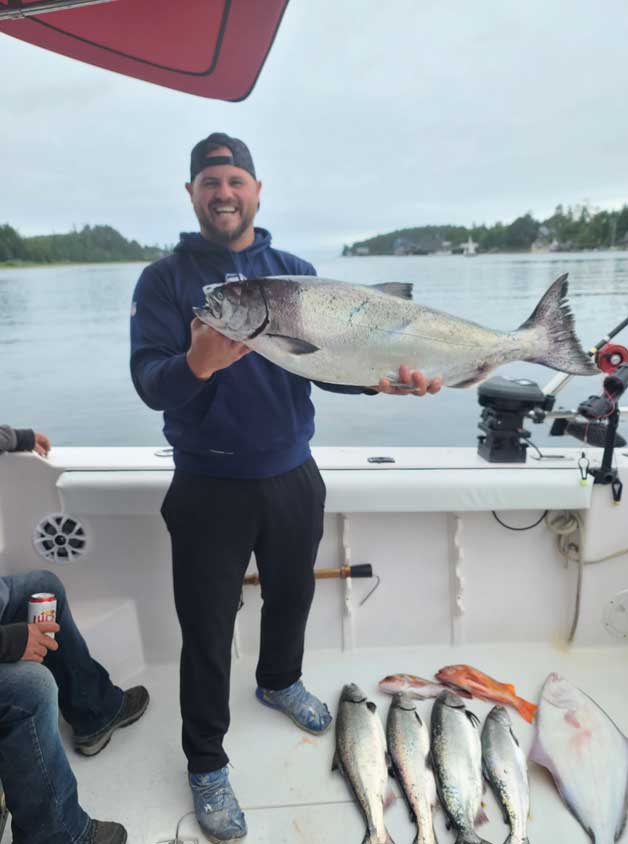 With a beautiful weekend of weather behind us and the return of rain, Big Bear Salmon Charters sloshed through and had a couple of really decent days of angling. I had the pleasure of hosting Rodney Hsu from Fishing with Rod and his crew for two days of fishing in Barkley Sound for early season chinook salmon.
Day 1 found us fishing the outer edge of the sound. Starting at Meares Bluff, we were quickly into a decent hit and miss. Circling back through and we were into another decent fish that was played like a champ by Kitty. It would end up being a fish of 14 lbs and the largest of the day. We worked the tide hard and were rewarded with another quality fish of 10 lbs. We decided to make a move and stop at Great Bear for a final pass and were rewarded with another decent fish in the same weight class. We called it a day and made our way home with high anticipation of fishing for halibut on day 2.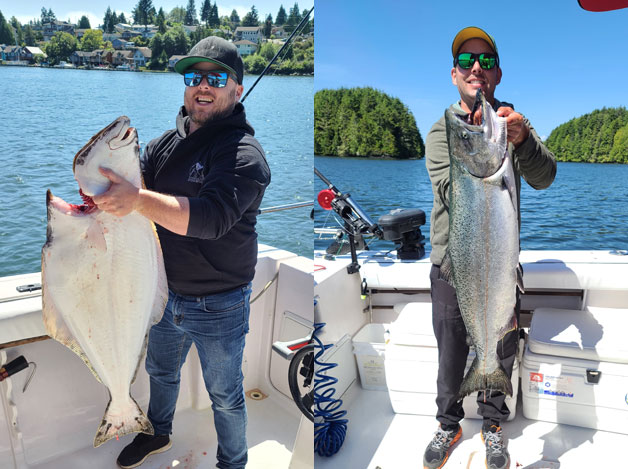 Day 2 found us heading towards Long Beach to try our luck for early season halibut. The forecast wasn't looking the best but we made the attempt. To no avail we decided to turn the boat around and head back to the sound for chinook salmon. With the S.E. blowing 15-25 knts we headed in to fish the back side of Swale Rock and Sechart Channel. What a great decision that was as we were into fish right away. Over the next 3 hrs we managed six hook-ups and 3 nice fish in the box. Rod's guest Iwan from Great Britain took top honours with a quality chinook salmon that went 16-17 lbs. Wow did that fish scrap!!
The fish seemed to be feeding during mid-flood over the last couple of days. We are still fishing with the needle fish hootchy, the purple haze and green chartreuse hot spot was the top producer. Army truck with the red glo hot spot took two of our larger fish. These fish are holding deep so depths of 150-190 ft on the riggers and keep the gear near the bottom. Look to see the fishing get even better as we near May. The sound is always a good bet in the early season especially if the weather keeps you away from the offshore.
We still have availability for May so give us a call and get in on this great start to an amazing season!!
Book Your Summer Trip Now!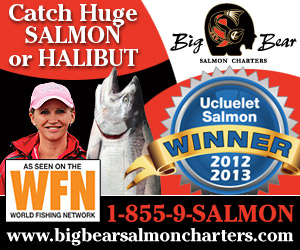 It is already the middle of march and go time is right around the corner! We are up and running here at Big Bear Salmon Charters with the 30ft custom Weldcraft fuelled and ready to go for another great season of fishing in Ucluelet.
With early season estimates putting the 2014 season as probably one of the best ever on the West Coast of Vancouver Island, it's time to get your fishing trip of a lifetime booked. We still have selected dates available for July & August with space filling quickly.
We have extended our early booking special of $997.00 for the summer package until the end of March. This includes 8 hours of guided fishing in one of our 282 Grady White Sailfish. Maximum 4 persons with everything you will need to make your trip the best one ever.
If you would like to upgrade to the 30ft. custom Weldcraft, which can accommodate up to 6 guests, we are offering early booking for $1197.00 until the end of March!
Halibut Regulation Changes
DFO has also increased the size limit on halibut starting on April 1st. This Year (2014) Trip Limits (effective April 1, 2014 until further notice):
The maximum length for halibut is 133cm.
The daily limit for halibut is one (1).
The possession limit for halibut is two (2), only one of which may be greater than 90cm in length.
There will be an annual limit of six (6) halibut (per licence holder) as authorized under the 2014/2015 Tidal Waters Sport Fishing Licence.
All halibut retained by the licence holder shall be immediately recorded in ink on the 2014-2015 Tidal Waters Sport Fishing Licence. The area from which each halibut is caught and its length shall immediately be recorded on license.
Prior to April 1st for the balance of February and March in 2014 last year's regulations still apply.
There are exceptions to these openings which are specific to Swiftsure Bank on Southern Vancouver Island and US vessels fishing in Canadian waters.
For the detailed regulations please consult the DFO regulations on the DFO website.
Columbia River Fall Chinook Salmon Preseason Forecasts
Columbia River fall chinook salmon forecast for 2014 is now available. These are the fish which we will be targeting in the summer as they make their way through the West Coast of Vancouver Island. The following table shows the forecast and actual return numbers in 2013, as well as the forecasted numbers in 2014.
2013
2014
Stock Group
February Forecasts
Actual Returns
February Forecasts
Lower River Hatchery - LRH
88,000
103,200
110,000
Lower River Wild - LRW
14,200
25,800
34,200
Bonneville Pool Hatchery - BPH
38,000
86,600
115,100
Upriver Bright - URB
432,500
784,100
973,300
Bonneville Upriver Bright - BUB
35,200
35,600
49,500
Pool Upriver Bright - PUB
70,000
207,800
310,600
Select Area Bright - SAB
9,000
23,300
10,200
Columbia River Total
686,900
1,266,400
1,602,900
Here are the notes to go with the chart:
LRH – Similar to the 5-year average (95,500) and 2013 actual return.
LRW – Largest return since 1989. More than double the 10-year average (13,600).
BPH – About 40% greater than the 10-year average (80,700).
URB – Nearly 1 million fish…..
BUB – About 35% greater than 10-year average (36,500).
PUB – Record high forecasted return. Highest actual return on record was 207,800 in 2013.
The total forecast of 1,602,900 Columbia River fall chinook salmon is the largest return on record since 1938 (The year 1938 is when fish counting began at newly completed Bonneville Dam)!
If you would like to get in on the fishing this summer I would book a trip quickly. We have three boats fishing daily with up to 4 guests per boat. August is almost fully booked and July has limited days available. Don't forget June either, fishing is usually excellent and there are very few boats out fishing. Give us a call at 250-475-4969 if you have any questions.
With forecasts like this who will want to miss out on Chinook fishing of a lifetime. Give us a call at 1-855-9SALMON or 1-250-726-7263 today to book.
We look forward to seeing you!
The Crew @ Big Bear Salmon Charters
1-855-9-SALMON