Ucluelet BC Saltwater Fishing Report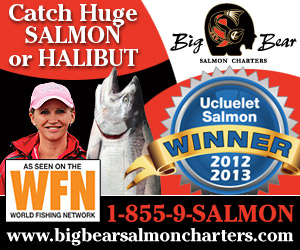 Big Bear Salmon Charters offers the best fleet to meet their customers' comfort. Their two Grady White 282 Sailfish vessels are 31 feet long, fitted with Espar heaters, clean washrooms, twin Yamaha 225 motors, the latest radar, GPS and fish finding equipment from Lowrance. Customers are also supplied with brand new mustang survival suits, gourmet lunches and top notch guides and the finest fishing equipment from Shimano and Islander Reels.
Big Bear is proud to announce that our newest addition to the fleet has arrived and is fishing hard. Our 30ft custom Weldcraft is online and ready to offer an incredible experience while enjoying the comfort and amenities that this beauty has to offer. We are offering this extreme fishing machine to groups of 4-6 people, making it great for corporate groups or larger families.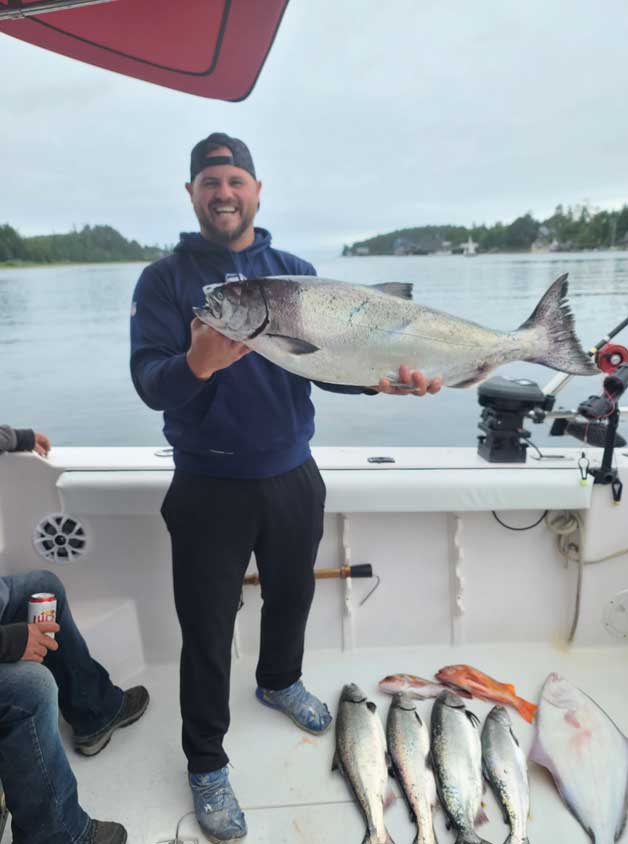 With our 2014 season right around the corner, the crew @ Big Bear are working hard to put the final touches on the fleet. This upcoming season sounds as if it might be some of the best fishing we have seen in over 30 years. Initial reports suggest that the Columbia basin will have their highest return ever of fall chinook. As well, higher than normal coho escapement will only better our fishery here on the West Coast.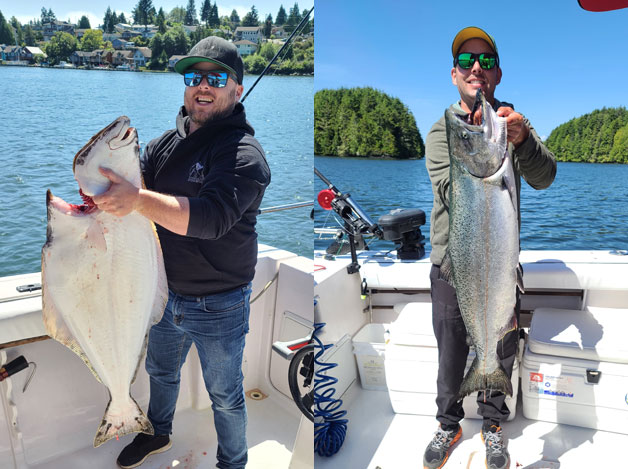 DFO has also increased the size limit on halibut. This Year (2014) Trip Limits (effective April 1, 2014 until further notice):
The maximum length for halibut is 133cm.
The daily limit for halibut is one (1).
The possession limit for halibut is two (2), only one of which may be greater than 90cm in length.
There will be an annual limit of six (6) halibut (per licence holder) as authorized under the 2014/2015 Tidal Waters Sport Fishing Licence.
All halibut retained by the licence holder shall be immediately recorded in ink on the 2014-2015 Tidal Waters Sport Fishing Licence. The area from which each halibut is caught and its length shall immediately be recorded on license.
Prior to April 1st for the balance of February and March in 2014 last year's regulations still apply.
There are exceptions to these openings which are specific to Swiftsure Bank on Southern Vancouver Island and US vessels fishing in Canadian waters.
For the detailed regulations please consult the DFO regulations on the DFO website.
We will be extending our early season booking special through March so give us a call to book your trip of a lifetime.
The Crew @ Big Bear Salmon Charters
1-855-9-SALMON