Ucluelet BC Saltwater Fishing Report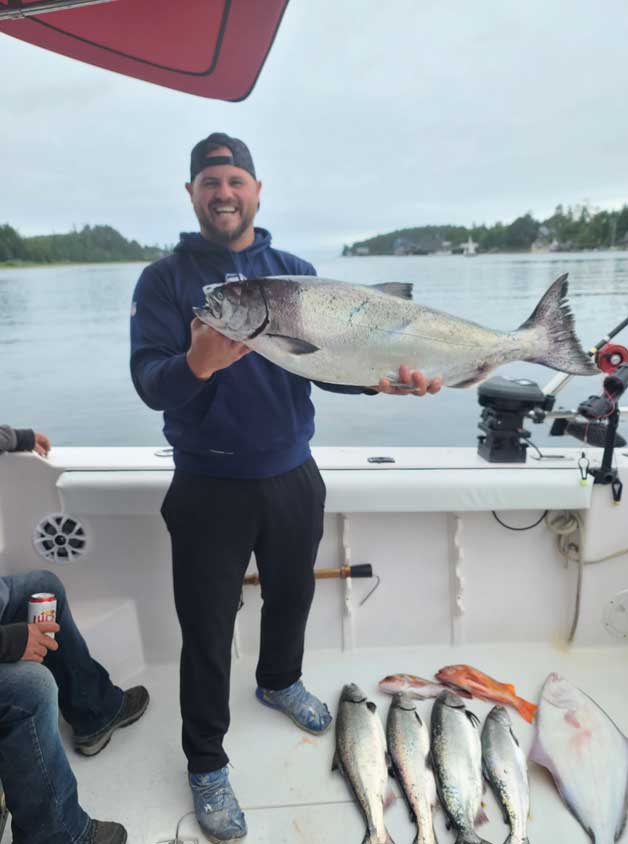 Fishing remains very strong here in Ucluelet. Our guests are limiting out on chinook salmon and halibut daily when the weather allows us to travel offshore. Big Bank is on fire with chinook in the 8-15lb range with the odd one topping out at over 20lbs. Depths are ranging from 100-200 ft. The White glo Turd, splatter back hootchy and coyote spoons are all producing fish. Halibut to 50lbs as well have been hitting the dock regularly. Try trolling them with 7" tomic spoons dead slow right on the bottom. If you prefer to drift or anchor try tipping a 16 oz jighead with a Berkley power grub and a piece of belly or octopus.
Give us a call today to book your trip of a lifetime with Big Bear Salmon Charters. We look forward to seeing you!
The Crew @ Big Bear Salmon Charters
1-855-9-SALMON
Halibut Regulation Changes
DFO has also increased the size limit on halibut starting on April 1st. This Year (2014) Trip Limits (effective April 1, 2014 until further notice):
The maximum length for halibut is 133cm.
The daily limit for halibut is one (1).
The possession limit for halibut is two (2), only one of which may be greater than 90cm in length.
There will be an annual limit of six (6) halibut (per licence holder) as authorized under the 2014/2015 Tidal Waters Sport Fishing Licence.
All halibut retained by the licence holder shall be immediately recorded in ink on the 2014-2015 Tidal Waters Sport Fishing Licence. The area from which each halibut is caught and its length shall immediately be recorded on license.
Prior to April 1st for the balance of February and March in 2014 last year's regulations still apply.
There are exceptions to these openings which are specific to Swiftsure Bank on Southern Vancouver Island and US vessels fishing in Canadian waters.
For the detailed regulations please consult the DFO regulations on the DFO website.
Columbia River Fall Chinook Salmon Preseason Forecasts
Columbia River fall chinook salmon forecast for 2014 is now available. These are the fish which we will be targeting in the summer as they make their way through the West Coast of Vancouver Island. The following table shows the forecast and actual return numbers in 2013, as well as the forecasted numbers in 2014.
2013
2014
Stock Group
February Forecasts
Actual Returns
February Forecasts
Lower River Hatchery - LRH
88,000
103,200
110,000
Lower River Wild - LRW
14,200
25,800
34,200
Bonneville Pool Hatchery - BPH
38,000
86,600
115,100
Upriver Bright - URB
432,500
784,100
973,300
Bonneville Upriver Bright - BUB
35,200
35,600
49,500
Pool Upriver Bright - PUB
70,000
207,800
310,600
Select Area Bright - SAB
9,000
23,300
10,200
Columbia River Total
686,900
1,266,400
1,602,900
Here are the notes to go with the chart:
LRH – Similar to the 5-year average (95,500) and 2013 actual return.
LRW – Largest return since 1989. More than double the 10-year average (13,600).
BPH – About 40% greater than the 10-year average (80,700).
URB – Nearly 1 million fish…..
BUB – About 35% greater than 10-year average (36,500).
PUB – Record high forecasted return. Highest actual return on record was 207,800 in 2013.
The total forecast of 1,602,900 Columbia River fall chinook salmon is the largest return on record since 1938 (The year 1938 is when fish counting began at newly completed Bonneville Dam)!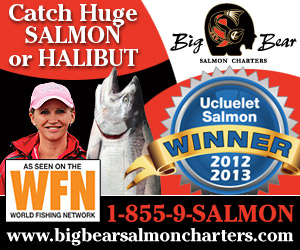 If you would like to get in on the fishing this summer I would book a trip quickly. We have three boats fishing daily with up to 4 guests per boat. August is almost fully booked and July has limited days available. Don't forget June either, fishing is usually excellent and there are very few boats out fishing. Give us a call at 250-475-4969 if you have any questions.
With forecasts like this who will want to miss out on Chinook fishing of a lifetime. Give us a call at 1-855-9SALMON or 1-250-726-7263 today to book.
We look forward to seeing you!
The Crew @ Big Bear Salmon Charters
1-855-9-SALMON