Ucluelet BC Saltwater Fishing Report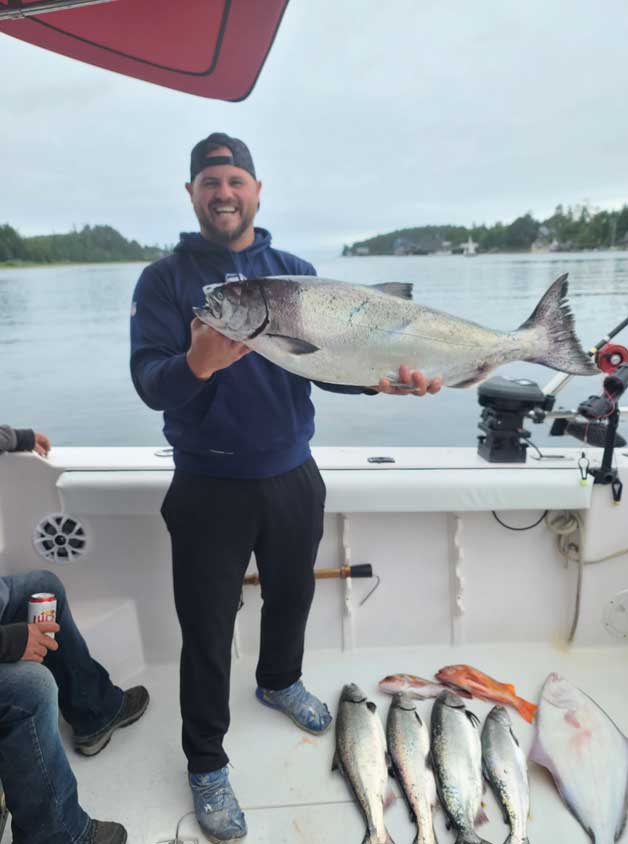 To say this winter was a rough one on the West Coast of Vancouver Island would be very untrue. Spring like days have been a normal occurrence here in Ucluelet since mid February and have continued right into march. Along with flat calm seas and sunny days comes the start of our chinook and halibut fishery.
Early season fishing has started off much like last year with chinook salmon averaging 8-12 lbs, with a few topping the scales at 20lbs+. Barkley Sound has been fishing well in all of the usual early season areas. Great Bear, Sail Rock, Meares Bluff, Sanford and Roberts pass to mention just a few have produced well for the 26th Annual Sprout Lake Loggers Derby. It was a huge success, with the top 3 fish all weighing over 20 pounds.
Anchovy in the UV, clear green and green glo teaser heads seem to be the go to gear right now. Combine those with a classic green hot spot flasher or the betsy silver or gold hot spot flashers and you should have success if the fish are there. Depths have ranged from 80 ft. to 160 ft.
Halibut fishing has also started off strong with a number of areas fishing well during the early spring months. 5 mile (inside south), 7 mile (outside south), Mara rock and Sail reef are all good bets. Choose your tides, bottom of the ebb being the best. Salmon belly, octopus or large herring on your favorite rig will definitely entice these tasty bottom dwellers. Choose depths ranging from 160 ft. to 300 ft. Also, have one rod rigged with a Norwegian Jig and pound it right off of the bottom. More times than not, if the fish are not on the feed they will take to one of these out of aggression.
Check out these blog entries of Fishing with Rod's early season trip for more information on this fishery:
If you want to get out and give the early season a try, please give us a call and check out our early season specials.
The Crew @ Big Bear Salmon Charters
1-855-9-SALMON (72-5666)