Squamish River, Squamish
By Rodney Hsu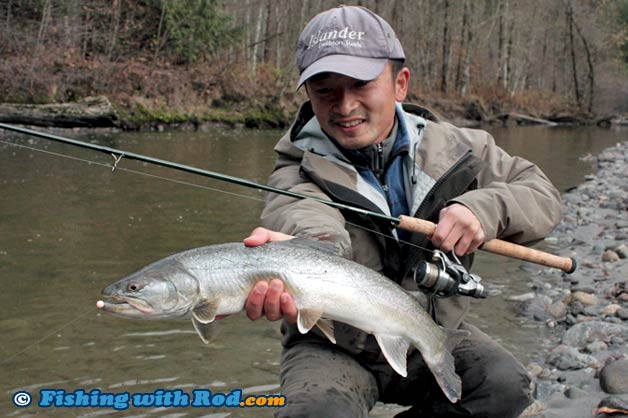 Wedged between high coastal peaks is a pristine river along the Sea to Sky corridor. The Squamish River is 80km in length, stretching from the Elaho Valley to the City of Squamish River before draining into Howe Sound. Although its former glory days are unfortunately long gone due to overfishing, habitat degradation and pollution, it still offers quality catch and release fisheries in the finest scenic setting. Anglers cannot possibly ask for more from a watershed that is only 1 to 1.5 hours drive from Vancouver.
How to Get There?
When heading north from Vancouver on Highway 99, turn off at the City of Squamish. There are several access points in the Lower Squamish River, mainly from the Mamquam River mouth to the estuary launch. Access to the Cheakamus River and Upper Squamish River can be done via Squamish Valley Road.
Fishing Season
The fishing season of Squamish River is limited compared to other river systems in Southwestern BC. Glacial discharge keeps the river high and dirty in spring and most of summer. Fishing for pink salmon becomes available in August and September. Chum salmon and coho salmon fisheries are available from early October to late December. Between January and April, anglers can enjoy targeting a variety of winter species, including bull trout, coastal cutthroat trout, rainbow trout and winter steelhead.
Fishing Techniques
For salmon and steelhead, float fishing and lure fishing are two popular techniques used by anglers on the Squamish River. Float fishing for ocean-fresh chum salmon in October and November can be productive in the lower section of the Squamish River. A simple wool tie on the hook can entice these aggressive biters. Keep the float depth shorter than the depth of the run to avoid foul hooking the river bed or fish. Because the Squamish River typically produces coho in the 10 to 20lb range, large spoons in the 3/8 and 3/4oz range are very effective.
Flyfishing for pink, coho and chum salmon produces well as long as water clarity is good. The lower section of the river offers the best venue for flyfishing due to its spacious river bank.
In the winter months, flyfishing is also a popular method when targeting trout and char. Single egg, minnow, sculpin, leech patterns all produce, just not at the same time. Match the pattern to the type of feed available in the river at the time to increase success.
Because this is mostly a catch and release fishery, please be sure to treat your catches with care. Always keep your fish in the water and use wet bare hands to handle them. A catch and release landing net can also be beneficial.
Important Notes
Before your first fishing trip to Squamish River, please make sure you know the following information:
You must have a valid British Columbia freshwater fishing license. If you intend to retain salmon, then you must also purchase the freshwater salmon conservation surcharge. If you intend to fish for steelhead, then you must also purchase the steelhead conservation surcharge.
Squamish River is located in Region 2 in the British Columbia freshwater fishing regulations. The regulations are often different from one season to another, so please check them before your trip.
Wildlife are abundant in the Squamish River valley, so explore with care to avoid confrontations and accidents.