Tofino BC Saltwater Fishing Report
Here is a compilation of video clips from our 2013 salmon and halibut fishing season in Tofino. We look forward to see you in 2014!
WCVI Tuna Fishing
August 29th, 2013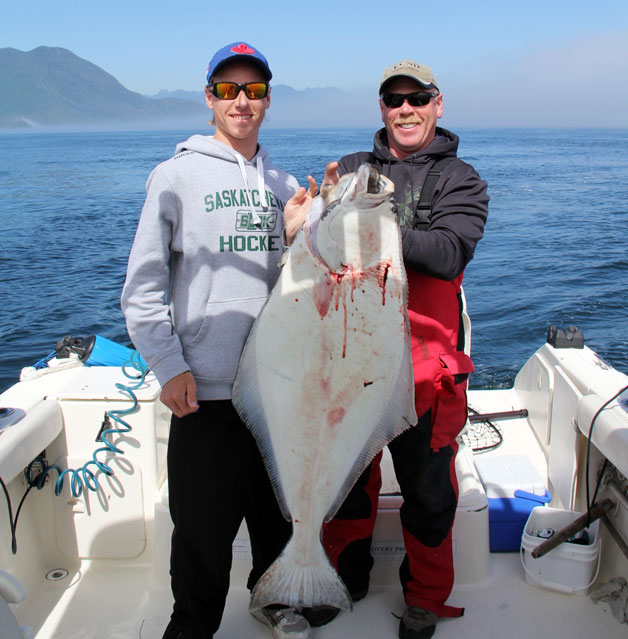 One of the best parts about fishing in Tofino is having the opportunities to target a variety of different target species. One that I look forward to during the summer months is the chance at albacore tuna. I recently went out with a couple of buddies to the Clayoquot Canyon, a 25 mile excursion offshore in search of the illusive tuna. Armed with splashers and tuna skirts on halibut rods and hand lines from the cleats, we proceded to troll at 6 knots towards what is known as the "ammo dump."
I have done this trip half a dozen times on my boat and have had marginal luck at best getting 1 or 2, sometimes 3 so when I saw guys bringing 35 back at a time I was excited. 20 minutes into the trip we hook up with a triple header, losing 1 but getting the other 2, giving us hope for a full box of these tasty critters. At 6 knots the fight on the halibut rod is impressive and takes some time to reel in and the hand lines are very easy to manage.
We covered over 15 miles and moved around to where other boats were calling in coordinates of where they were hooking up. The green tuna skirts were very productive, giving up 4 tuna in the 15 - 20lb range and the lime zukers produced 2 in the 20 - 25lb range. Although the weather was not optimal (winds were a steady 15 knots all day), we managed a new boat record of 6 tuna.
Some of the wild life we observed include albatross, Pacific white sided dolphins and sun fish. It was a great day off the coast of Tofino!
May Long Weekend Report
May 25th, 2013
During May Long Weekend's saltwater fishing in the Long Beach area of Tofino, we had 21 hook-ups with 8 fish in the boat for our first day.
Charter captain Jeff Hale of www.fishingtofino.ca, started with targeting halibut on the morning slack tide. Halibut's favourite was a white nine inch grub with a double hook set up and 16 oz. weight on a spreader bar. After slack tide, we continued hooking halibut using the white grub, but moved our weight into the 20 oz. area, to keep the lines straight up in order to properly set the hooks. The boat had 6 hook-ups for 4 halibut in the boat for the morning.
Tip: The more you jig, the higher the probability of a hook up.
Halibut have a white underbelly; we noticed that the ones caught on the weekend were red on the underbelly. They were not Tofino resident halibut, but migrating fish from the deep waters off shore and coming to spawn in the sands off Long Beach Tofino. They tend to come in close to Tofino, so the trip out on the boat can be as short as a 30 minute ride and you're into the fight.
After catching our daily limit of halibut we decided to move to a reef and nailed a couple of yellow eye snapper with the largest in the fourteen pound range. Such good eating, we are looking forward to it.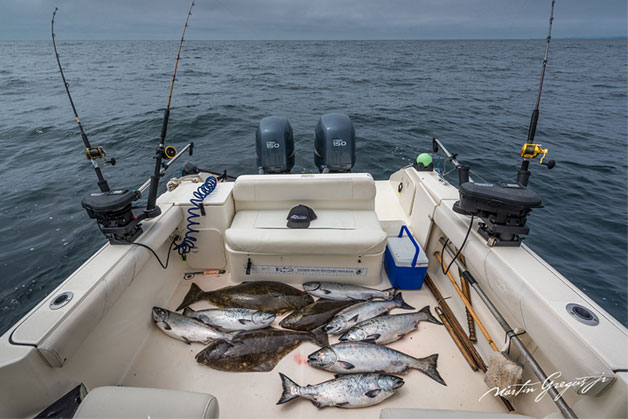 We continued to catch a lot of lingcod, but were just under the minimum size so we threw them back. We marked the GPS spot on the screen and plan to come back next year when they are a little bigger.
Check out Rod's latest blog entry about his fishing trip with us!
On our last day, we focused primarily on bottom fishing for halibut, yellow eye snapper and lingcod. However we decided to head over to Portland Point, just a short distance away from the halibut hole where Jeff of www.fishingtofino.ca takes his customers too. Then in less than five minutes we were into chinook salmon, hooking three and landing one into the boat for the day.
The forecast for 2013 is expected to be as good as or better than the outstanding 2012. We still have some dates available in July and August, so please phone us soon to secure your trip.
Keep your lines tight and have a great day on the water.
Jeff Hale
Fishing Tofino with Braedy Mack Charters
1-888-732-3077