Published on Tuesday, October 8th, 2013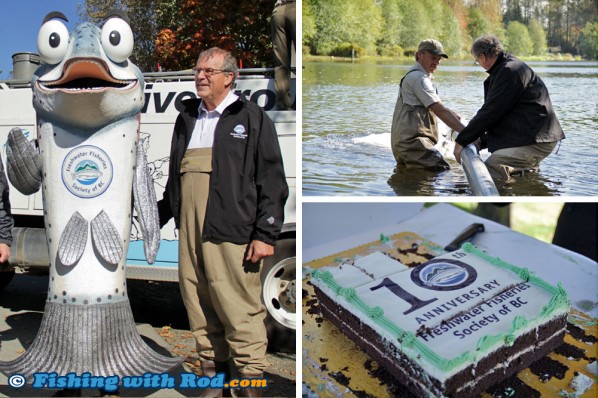 This year marks the tenth anniversary since the Freshwater Fisheries Society of BC was formed by the Government of British Columbia. More commonly known as GoFishBC by recreational fishermen, Freshwater Fisheries Society of BC is responsible for all lake stockings in British Columbia, as well as river steelhead and coastal cutthroat trout productions, and additional conservation work such as the white sturgeon recovery program.
To celebrate this milestone, we were invited to attend the release of the 95 millionth fish at Lafarge Lake in Coquitlam. In the past ten years, a total of 90 million+ fish have been released into hundreds of lakes across this province for anglers to enjoy. In return, revenue generated from anglers' freshwater licences is used to fund the production and stocking of these fish.
The Honourable Steve Thomson, Minister of Forest, Lands and Natural Resource Operations, was present to assist with the release with students from Maple Creek Middle School. Also present were City of Coquitlam, BC Federation of Drift Fishers, Sportfishing Institute of BC, Family Fishing Society of BC, BC Wildlife Federation and other key partners of the society.
Below is a video of speeches from GoFishBC's president Don Peterson and Minister Thomson, ended with some footage of the rainbow trout release.