Published on June 10th, 2008 by Rodney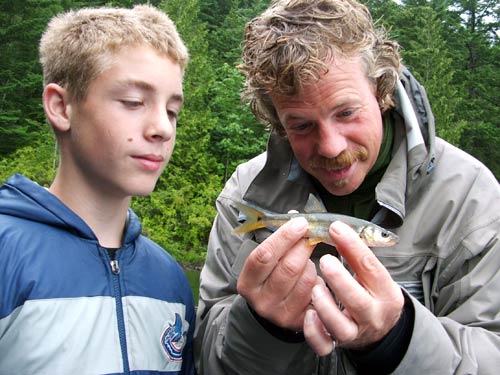 Over twenty five years ago, my father regularly brought me along to his fishing trips. Although I was not heavily involved in the actual fishing at these trips, new adventures could always be had. Gobies and shrimps could be netted and observed in creeks, mussels and weeds were collected on rocks by the ocean. This constant connection with nature eventually grew to a strong fascination with fish. I was often looking for new species to catch, cutting out fish photos for my own record. This fascination has also become a life-long career, a treasured hobby and a strong willingness to protect the precious resource that we often take for granted.
A child's life can be significantly altered when fishing is introduced into it. It isn't so much about just catching fish, but lessons that cannot be taught elsewhere are found through this hobby. Fish can only be cared if they are seen or touched. This connection is difficult to bridge by a textbook.
The BC Family Fishing Weekend, which takes place annually on the Fathers Day Weekend, was initially designed to introduce more participants into this community. Some may disagree with the approach by reasoning that less anglers is in fact better for the resource, but the reality is that this resource, community and industry cannot survive unless there is a steady recruitment of participants. More users in a fishery does not only translate into more money, but it also creates more stewards who would guard what is enjoyable to them.
On June 14th and 15th, take a child fishing. The freshwater fishing licenses are free on those two days, for those who wish to give fishing a go. Community events will take place across the province, where newcomers can receive guidance on how to get started in this hobby.
On June 14th, I will be at the Fraser Valley Trout Hatchery for its family fishing day. Ongoing hatchery tours and trout fishing will be available from 8am to noon. On June 15th, I will be at Rice Lake in North Vancouver, where trout fishing will also be available as well as various educational activities. I look forward to see everyone!
Rodney Hsu
Webmaster, Fishing with Rod Production