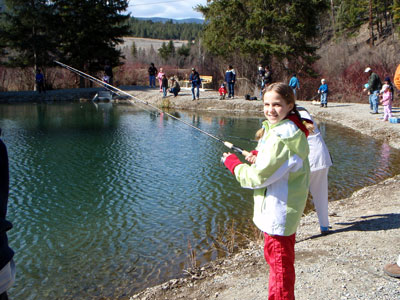 Good trout fishing at the fishing ponds at the Fraser Valley Trout Hatchery will be available on June 14th (Photo: Natalie West)..
The Fraser Valley Trout Hatchery in Abbotsford will be hosting its annual family fishing day on Saturday June 14th. This is an opportunity for you to fine-tune your trout fishing skills as well as learn about the facility that produces them.
Trout fishing will be available from 8am to noon. There are two permanent fishing ponds as well as a smaller inflatable pool reserved for kids under the age of seven to guarantee success.
Door prizes as well as random prizes such as first fish of the day and hidden weights will be given at 12:30pm, so be sure to stick around until the end. There will be a concession stand with Hot dogs, burgers and drinks making sure no anglers will go home hungry.
Besides trout fishing, there will be many other activities for visitors. Ongoing hatchery tours will be available. The aquariums at the visitor centre will be available for viewing, where guppy races will also be held. Be sure to stop by all mini Learn to Fish stations for fishing tips. The hatchery theatre will also be showing movies throughout the event.
The Fraser Valley Trout Hatchery is located at 34345 Vye Road, Abbotsford. Click here to see a map to the hatchery. You can also download a poster of the event by clicking here.
Contact Information
Organization
Freshwater Fisheries Society of BC
Name
Natalie West
Phone
604-504-4709