Vancouver Island River Fishing Report
By Ian Barker, The Rambling Fisherman | Last updated: April 10th, 2012
Ian Barker of The Rambling Fisherman is a seasoned angler on several Vancouver Island Rivers. He offers guided fishing trips on his drift draft for salmon and steelhead. Currently guided drift fishing trip for steelhead on the Cowichan, Stamp and several other rivers are available at $175/person! Please click here for more information...
Cowichan River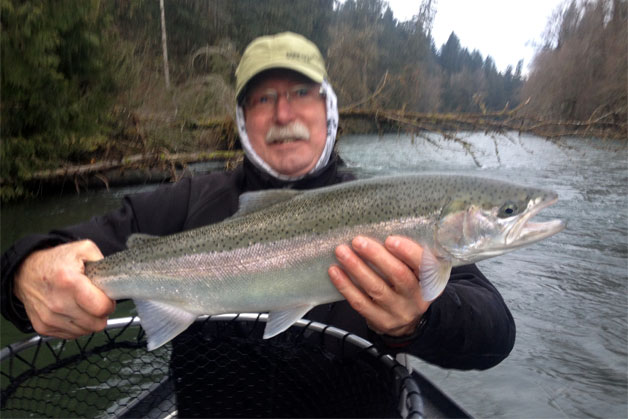 The weather lately has been amazing. The mornings have been icy cold, the anchor line on my boat has been frozen solid and the eyes on our fishing rods ice up with every cast. By mid morning the sun starts to hit the water and by noon the temperatures have gotten up to 15′C. The bugs are coming to life which is great news for the trout fly fisherman, time to start tying up those fly's. There's a big may fly hatch that you need to watch for in April through May.
Stamp River
There was a tremendous amount of rain over the last 24 hours, bringing the river up and putting a lot of colour into it. There are still quite a few Steelhead in the river for this late in the season, however there are also plenty of kelts as well. The falls pool has been deserted most days, but there are still reports of plenty of Steelhead being caught. The Upper river has had some great days as well. There will still be Steelhead in the river until the end of April. However, if you would like a chance at getting into them, the next couple of weeks would be the best time to go before the season is over.
A Typical Day with The Rambling Fisherman
A guide day starts at 7:30am when we meet at the top of the river and discuss the plan for the day. We then launch our drift boats and drift down to the first fishing hole and work all the sweet spots until we are satisfied that there are no more taking fish. We then glide down the river and work it methodically catching steel until we stop for lunch at a nice little beach. We make sure we take lots of pictures of your day of fishing and send them to you when the day is done. Sometimes we light a fire to warm up, but lately the weather has been warming up and it hasn't been really necessary. After some lunch we start heading downstream, fishing all the corners and slicks until we get to the pull out at around 5pm. We clean and bag your hatchery steelhead and drop you off at your vehicle or your accommodation. To book a trip with The Rambling Fisherman, please phone 1-250-218-1087 or visit the website.
Ian Barker
The Rambling Fisherman