Published on May 1st, 2010 by Rodney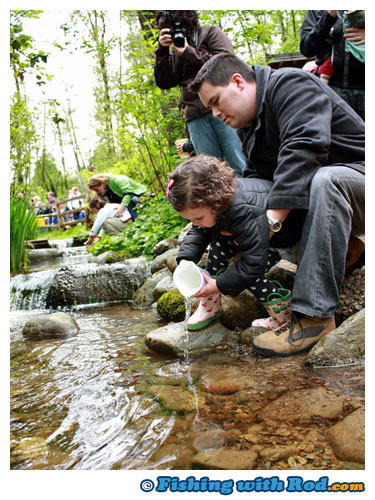 Excitement built as we approached Noons Creek this morning, which one would always expect if we were going fishing. This was just as good, we were spending the day to enrich new stewards of our salmon. It was the annual Fingerling Festival, one of many community salmonid related events that take place every May.
Several months ago, organizer Dave Bennie phoned me up as usual, asking if I would like to be part of this year's festival. Without hesitation, I said yes. Fishing trips lead to my absent in the last several years, the last time I participated was back in 2006, so I was quite eager to see what changes have taken place.
Among all community events in the Lower Mainland, the Fingerling Festival by far has the largest line-up of exhibitors. Over 50 nature groups, community hatcheries, streamkeepers and government agencies gathered under one roof today. It was as grand as a trade show, except the sales were awareness of ecosystems that are becoming increasingly vulnerable due to our everyday activities.
The Freshwater Fisheries Society of BC and my website teamed up again at this event. Mike Gass, who is responsible for community outreach at the Fraser Valley Trout Hatchery, brought an aquarium that was filled with rainbow trout, kokanee and brook char. I brought along a flatscreen TV that broadcasted video of work done to improve recreational fisheries in British Columbia. Throwing in a dozen different fish species identification cards and a table full of colouring papers, we were open for business.
At 11:00am, hundreds of parents with kids and strollers in hand began streaming into the arena. For four hours, we were surrounded by kids who were mesmerized by the aquarium and parents who were surprised by the vast availability of freshwater fishing in the Lower Mainland.
Outside the arena, there was a long line-up outside Noons Creek Hatchery where little white buckets were handed out. Each bucket, where anxious chum fry circled, was carried down to the edge of the creek by both little hands. With one tilt, these fingerlings were pour into the creek, marking the start of a long journey. This process repeated thousands of times throughout the day. Everytime a bucket was poured, a new steward was born. The Fingerling Festival is not just a fish playing game. Under all the fun, there is an important message that every participant takes home – Small creeks among residential areas are not storm drains, but important habitat for salmon and other aquatic living beings.
At the end of the festival, I asked Dave how the turnout was. He estimated it to be around 4,000. This event has grown incredibly since I last participated. What impressed me was this community's volunteerism. Individuals at different ages, from all cultural backgrounds, came together for the day so this tiny creek will live on.
You can see more photographs from today's Fingerling Festival on this page. If you missed today's event, you have another chance! Next Saturday is the Great Salmon Send-off in Burnaby where you have the opportunity to release salmon fry into Stoney Creek, where salmon were absent until twenty years ago.