Published on October 1st, 2009 by Rodney
This September has seen one of the bigger pink salmon return to the Fraser River and I was glad that my friend Iwan, my wife Nina and my dad were able to experience it. All three are from parts of the world (Iwan from UK, Nina from Denmark and Dad from Taiwan) where they simply cannot see biomass anywhere as large as this! It is another reason that Lower Mainlanders should feel lucky and appreciate this so called "low grade" salmon species.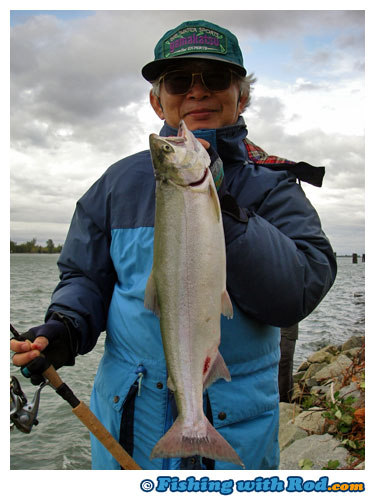 Dad with a Tidal Fraser River pink salmon.
While I was glad to show this fishery to all three in September and watch everyone around me catching numerous fish, I probably had the most frustrating pink salmon season. Both Nina and I managed to land five fish each, but the similarity ends there. In total, she was able to hook into 17 fish while I only connected with 10 fish. After releasing my last fish on September 8th, I said the famous last words, "There will be more to come." In the past three weeks, I have tried my best daily, only to end up watching Nina hooking multiple fish. I was quite hopeful until one week ago, when fish stopped showing up during the incoming tide. That is just the way it goes I guess, time to accept defeat and focus on coho, bull trout and cutthroat trout!
Yesterday I wandered around Garry Point Park to see if I could entice a bull trout on the fly. This is typically the time of the year when they emerge. Signs of fall surrounded me. The cool moist air sent shivers down the spine at times. The first flock of snow geese flew over me, heading into ladner. It seemed like just yesterday when I took photos of last year's snow geese when they fed on the field by my house.
The fishing was rather slow, I guess these bull trout are not in yet. Near the end of my outing, I fished an area where there is a little bay behind me. In the bay, I noticed a great blue heron patiently hunting. There seems to be one hunting in that bay everytime I am fishing, perhaps it is the same one. Although fully aware of my presence, it did not seem worried at all so both fishers went on their business. At the end of a strip, I was ready to cast my fly out so I flicked the rod back. By doing so, a little trout just happened to grab onto the fly and was sent out of the water to the bay behind me. It landed not far from the rocks, but soon disappeared as it fell off the hook. I was hopeful that it would survive and swim away from the traumatic episode. A few casts later, I watched the heron stealthly shifted its position and pierced its beak into the water with precision. The same poor trout was lifted out of the water and swallowed by the feathery hunter. It took a few gulps before it was fully swallowed. Looking content, the heron stood in the bay and digest quietly while I continued my search for the first bull trout. It was a rather unusual, yet comical experience. Two hunters, one lost while the other gained, and a poor prey was caught in between the battle.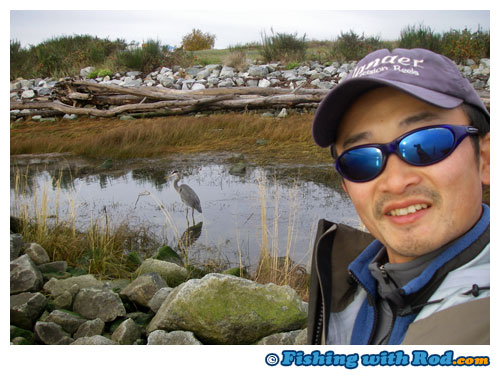 I took this photo last November at the same spot as where this heron caught the fish.
This morning, I woke up in darkness so I could be on the Chilliwack River before dawn. The start of October also indicates the approach of the peak of coho salmon season in the Chilliwack River. I enjoy lure fishing, flyfishing very much, but float fishing for coho salmon at dawn probably excite me more than any other fisheries. It is so addicting that the burial of the float emerges in my dreams like a blinking orange light in the dark.
I arrived at 6:30am with plenty of time to spare before my first cast. A short walk through the bush lead me to a stretch of river where no other anglers could be found. Despite of what many choose to believe, solitude is not impossible on the Chilliwack River if one invests the time and energy on exploring.
The water looked fantastic. It was clear but recent rain had stirred up some colour, making it ideal for fishing. I casted my float into a slot where I believed coho salmon maybe sitting. The float dove below the surface a few drifts later and I was connected with the first fish. The deep headshake suggested a jack chinook salmon. A few tugs later, its head surfaced and it was indeed a jack chinook salmon already in its spawning phase. I unhooked what looked like a giant olive and quickly released it without touching it too much. This ensured that it remained injury-free but also kept my hands free from the strong scent that fall chinook salmon tend to emit.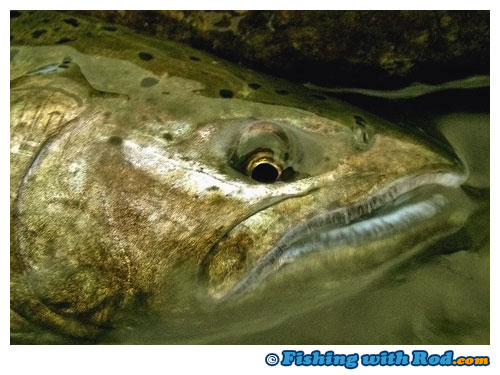 Ready to spawn.
The first coho salmon attempt on the Chilliwack River did not yield any result beside a couple of jack chinook salmon that were hungry for roe. Nevertheless, it was very enjoyable to be fishing on one of my favorite rivers in the Lower Mainland again, especially when I had the opportunity to watch thousands of pink salmon spawning and an osprey patrolling the valley.
Fall has arrived, it is the best fishing time on the Southern coast. Let the fun begins!