Published on August 12th, 2009 by Rodney
Although river fishing for fall salmon is still a few weeks away, August can still be an exciting period for Vancouver anglers. Chinook, coho and pink salmon congregate in bays and estuaries as they emerge from the Pacific Ocean. While waiting for rivers to rise so they can enter them, they binge on bait fish and crustaceans, fueling up to ensure that they can endure the rest of their journey to the spawning ground.
Around Vancouver, Howe Sound, Burrard Inlet, Indian Arm are these salmon's prime feeding ground. Known as Area 28 under Fisheries and Oceans Canada's management, it offers plenty of salmon fishing opportunities from both boats and shore.
After receiving recent news of good fishing around this area, Mark and I decided to pay Ambleside Beach a visit yesterday morning. Fishing at first light has been good to me in the past. Perhaps it was the anticipation or miscalculation of the time of first light, I arrived in the parking lot at 4:30am! I ended up sitting in the parking lot for 30 more minutes before Mark and other anglers arrived. Some early birds can be really stupid I guess.
Well, the fishing was not what we had hoped for. Beside seeing a couple of pink salmon swimming by, we came home for breakfast empty handed. Well, that is not entirely true. We witnessed one jack coho being caught, a rather large flounder being caught and of course Mark's prized starfish catch.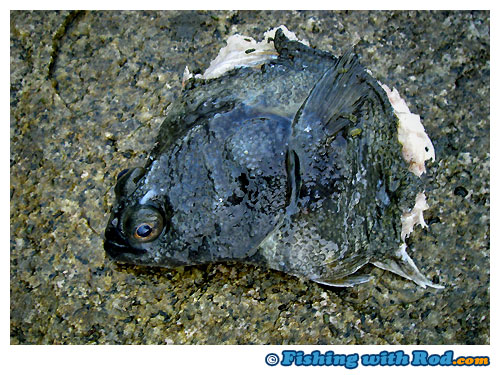 This unlucky flounder was probably half eaten by a seal.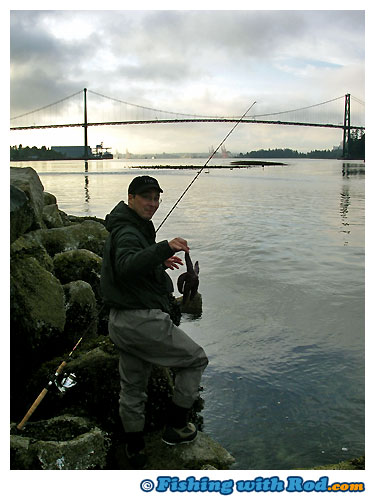 Not what we had expected to catch.