Published on August 25th, 2012 by Shane
Ucluelet, West Coast Vancouver Island, Gravol, images of large chrome springs, barn door sized halibut and 6 feet high swells had been on my mind for nearly a month as I eagerly waited for the much anticipated day to come.  Fishing from a boat on the ocean for me was something that I had very little experience in.
After catching the afternoon ferry from Horseshoe Bay to Nanaimo, we drove the scenic and windy road to Ucluelet and arrived at our destination, the beautiful Black Rock Oceanfront Resort where Rod was waiting for Dion and I.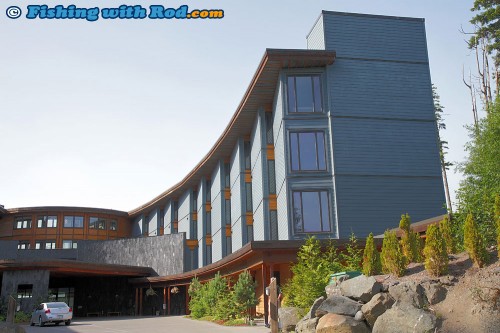 Upon our arrival, we proceeded to oooh and ahhh at the lodgings as the setup was gorgeous! Everything from the in-suite kitchen to the beautiful bathrooms made us feel very welcome.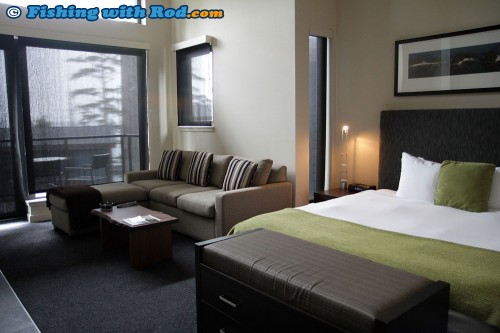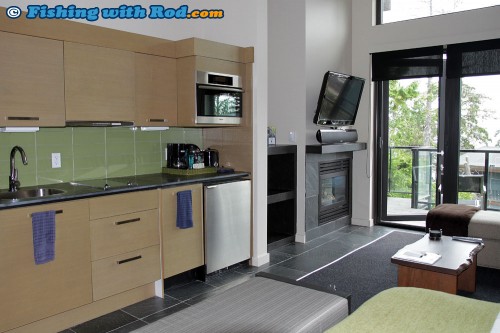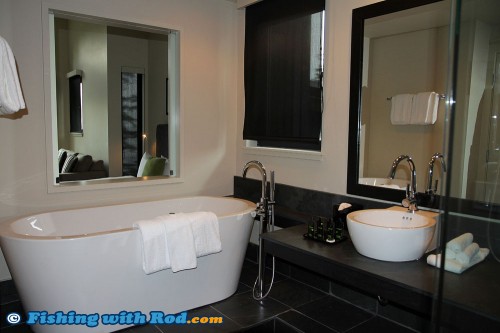 Situated close to the ocean's edge, the view from our suite was breathtaking. Apparently, during the winter storms, the ocean waters can come up to within inches of our patio!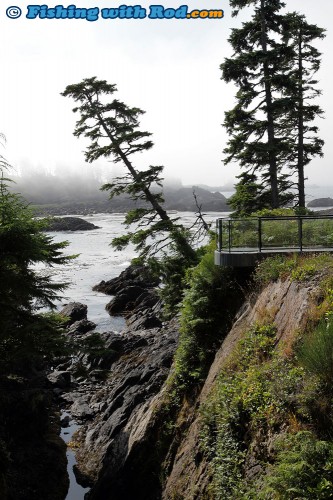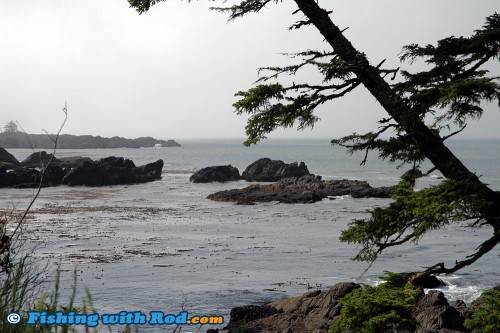 The full service resort consists of several complexes, some are built on the black rock cliffs above the water (hence the name!) while others are set off of the beach with all offering spectacular views. Various packages ranging from sea kayaking to more relaxing spa packages are available for the non-fishermen, making this a resort suitable for everyone! If you are looking for a sit-on-top kayak, click here. We conversed and relaxed for a bit to find out what the plan was for the following morning and then headed to bed fairly early, as we were to be on the dock bright and early at 6:00am to meet up with the guide from Big Bear Salmon Charters. Possibly due to excitement and anticipation, sleep did not come easily and the 5:00am alarm came all to quickly. A quick breakfast of coffee and a Gravol, and we were off to the docks to be greeted by our guide Brett and one of Big Bear's 31ft Grady Whites outfitted with two 225 Yamaha outboards.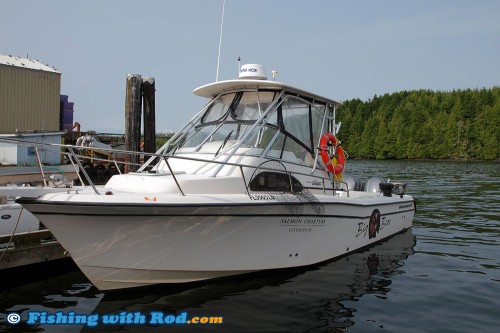 As we made our way out to open water, we were greeted by a breathtaking sunrise as the sun slowly rose up from the east, showing itself through the light marine fog. It was determined that we would be fishing inshore as there were 30 knot winds forecasted for the late morning offshore which would make the sea rough and dangerous.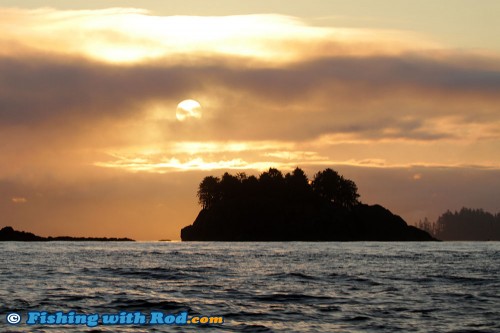 Our boat started the day off in search of chinook salmon as we trolled both hootchies and spoons at various depths. Brett gave us a brief tutorial on the 2 different kind of "hits" that were expected off the trolling rods and how to set the hook accordingly.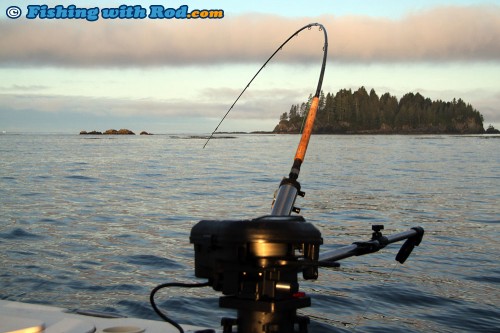 As there were four of us on the boat, Dion would get the first fish, myself the second and Brian and Rodney would take the third and fourth. Soon after dropping our gear, we got the first hit and the line was released from the clip on impact but unfortunately for Dion, the fish was not there. On the next hit, Dion was able to set the hook and landed a chrome spring of about 16lbs.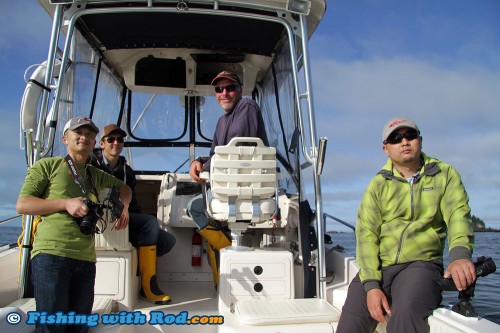 I was up next and as we trolled around, I couldn't help but think that I should have gone to the washroom while Dion was waiting for his fish. I decided to relieve myself, when sure enough, as I was in the head, fish number 3 hit! Because everybody was being polite and wondering where I was, we were late to grab the rod and set the hook. By the time we grabbed it the fish was long gone! Need to be quick!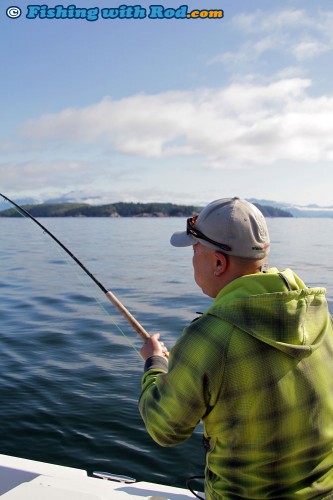 Fortunately for me, we didn't have to wait long for the next opportunity and I was ready! With the rod bouncing up and down, I reeled in and set the hook hard. After a spirited battle with multiple runs, dives and head shakes, a chrome spring of about 18lbs was expertly netted by Brett. It was my first ocean caught spring and I still have a grin on my face as I type this.
Actions seemed to slow down after that and we ended up with four hits and two springs landed. Fishing this year was not as good as in previous years because the fish were either late or just not there, but we seemed to do better than most, if not all of the other boats in the area where we were fishing.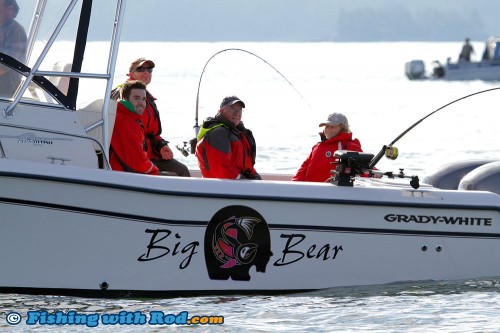 The second half of the day was spent looking for halibut. Backtrolling with two bait rods and jigging with another, we went to the grounds where our guide, Brett, had landed a 140 pounder just two days prior to our trip. Despite of Brett's best efforts, we were unable to hook up with any halibut but we did find enough lingcod and rockfish to keep us entertained.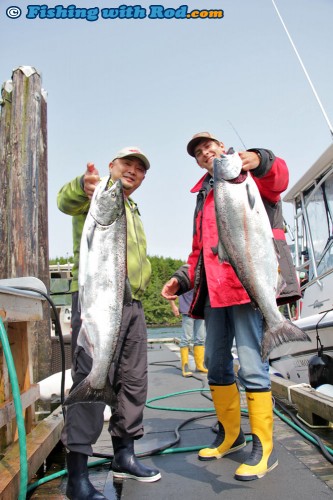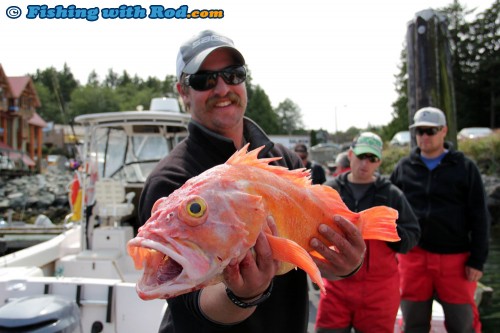 After our day was over and the fish were cleaned, we returned to the resort for some rest before grabbing our light gear to fish for the plentiful mackerel that were hanging around the dock.
Fishing from a big boat, whether in fresh or saltwater, is something that for whatever reason makes me feel like a little kid again. The excitement of speeding through the waves and the ocean spray make fishing almost seems like a bonus.
Click here to watch the 30 minute video feature of this trip!
A big thank you to Black Rock Oceanfront Resort, which offers beautiful lodgings set in an equally breathtaking location with lots to do even for the non-fisherman in us. Another big thank you to Big Bear Salmon Charters, which worked hard to get us into fish even though the fishing in general has been challenging this year. If you are interested in a memorable fishing trip to the West Coast of Vancouver Island, definitely consider asking for a special fishing/accommodation package from Big Bear Salmon Charters and Black Rock Oceanfront Resort!