Published on October 3rd, 2011 by Rodney
We had a good day, or bad day, depending on who you ask.
This morning we decided to do our first Vedder coho trip of 2011. It of course started with a rather sleepless night filled with excitement. The alarm went off at 4:00am and we were on the road by 4:45am. Because the water is so low and hearing success from our friends recently, we decided to bite the bullet and fish one of the more popular spots in the lower section. We arrived by the river at 6:30am with not many people in sight, which was wonderful. The rain may have something to do with it. For the first 30 minutes or so, we were almost alone so the water was not spooked, which is ideal for coho salmon.
Nina started out with the spoon casting outfit as it's pretty common for undisturbed coho salmon to chase down a piece of moving metal. Sure enough, she was into one fish after a few casts, but it quickly wiggled itself off like what a coho salmon would do.
Once there was enough light to see the float, I sent a piece of freshly cured pink salmon roe out. The water where we were fishing was perhaps 4 or 5ft deep, so I had the float depth adjusted to about 3ft, which should avoid all the aging pink salmon and submerged twigs. The float actually did not dive in the first 15 minutes or so, which was not necessarily strange. During most of our morning outings in the past, fish don't usually come on the bite at first light, but a period of time after. Is it possible that fish are simply moving from the shallower part of the water where they rest at night into the deeper part as day breaks?
Just when I was about to question how effective my roe was, the float finally took a dive. The first couple were missed as always by my sleepy eyes and arms, then there was a solid hook-up. The fish leaped several times further downstream so I couldn't see what exactly it was until I brought it closer. It was a rather bright chum salmon, which I released.
Once I rebaited my hook and started fishing again, there was a series of poor hook-sets. At one point, the float dove in three consecutive drifts, but each hook-set only sent the float combo flying back in the air with an empty hook. Sensing that the bite was on, I told Nina to switch to her float setup right away.
While I kept concentrating on fishing further out in the middle, Nina drifted her roe closer to where we were standing as she couldn't cast further out. That turned out to be a good problem because she had a take-down after a few casts. The hook-set was spot on. After holding out breaths for a couple of minutes, she beached her first hatchery-marked coho salmon of the day. Actually, it was her first coho salmon ever from the Chilliwack River.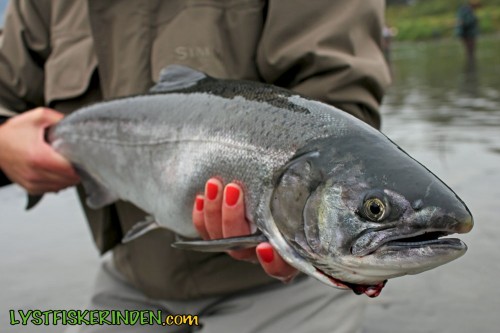 Knowing that there was a school of active fish right in front of us, we quickly rebaited and sent our floats back into the water. Just when we were expecting to have one of the better days on the flow, more bodies started showing up and lined up just above us. Don't get me wrong, I in fact enjoy having company fishing around us as some of you have noticed that during the Tidal Fraser River pink salmon season. What really determines how the fishing day turns out is the type of crowd you are fishing with. As expected, long leaders and constant thrashing of the rig in the water turned the bite completely off unfortunately. It was like a switch between night and day. I told Nina that they didn't stop biting for no reasons.
After a long period of inactivity, there finally was a sign of life. Nina hooked into another good fish. The constant silver flashes in the water and surface splashing suggested another coho salmon, which was similar in size to the first one she landed. She played it nicely into the shallow but the hook popped out right before it was to be tailed.
We then experienced a few good take-downs. At one point, Nina's float dipped quickly but not fully so she failed to set the hook. I made the following cast to do the same drift and said, "I haven't had a bite for long time." Just as I finished the sentence, the float disappeared completely. Of course, the lack of focus sent the empty hook flying back into my face once again! Slightly frustrated, I decided to switch to the spoon setup. Within a few casts, I had a solid hit and hooked into a lively fish, which also unconnected itself in less than a minute!
As the morning progressed, more people appeared behind us and were not afraid to take over the little space there was. I consider myself very easy going when it comes to being surrounded by anglers and try not to judge how anyone fishes, but certain common courtesy should be expected, such as vocally expressing your interest in fishing near me. One individual, who did not have waders, did just that and I was glad to have him fishing not too far downstream from me. We timed our drifts to avoid tangles and it worked out just fine. Another late arriver dressed head to toe in Focus Fishing gear, did the complete opposite. While I walked ten feet away from my spot to take out more roe from the bag, he proceeded to act as my replacement. I kindly informed him that I am still interested in fishing next to my wife. He didn't seem to understand so I repeated myself one more time until he moved. The same individual also didn't quite understand that if my rod tip can touch your nose, you maybe causing inconvenience. Finally, his shifty feet performed some cat-like moves. Everytime I moved slightly upstream to help Nina, he moved onto where I was standing. Apparently I was standing on the sweet spot. In the end, as more people showed up, we decided to move much further downstream to the tailout of the run and he of course helped himself to our spot before we even made our way down. This wasn't a big deal of course, one should choose to take it with humour. As I've pointed out in the past, if you choose to stand by a toilet, don't complain about the smell and flies.
While fishing the shallow tailout, I spotted some coho salmon moving into the run. I decided to shorten up the float depth and focused more on where they were rolling. As expected, the float took another dive and this time my hook-set was pretty precise. The way this fish fought suggested that it was definitely a coho salmon. The silver body, roughly around the same size as Nina's fish, made its way to me pretty fast. I carefully guided it into the shallow water, but it took one more dash into the deep and I felt the dreadful pop once again!
The rain became heavy at 10:30am, but this did not stop more people from showing up. We finally felt a little uncomfortable and decided to leave the spot. Before we packed it up for the day, I suggested that we should check out another spot where no one was fishing. The high bank made it difficult, but the slot seemed to be untouched and looked very fishy. It didn't take many drifts of a big piece of roe to confirm my curiosity. The float was taken down hard and a rather heavy fish shook its head repeatedly without surfacing. It was not a coho salmon, but a small chinook salmon. I walked the fish downstream until we found a suitable spot to land it. Nina climbed down and grabbed onto its tail perfectly. The fish was around 8 to 10lb. We decided to release her as one fresh fish in our cooler was already enough for tonight's fine dinner.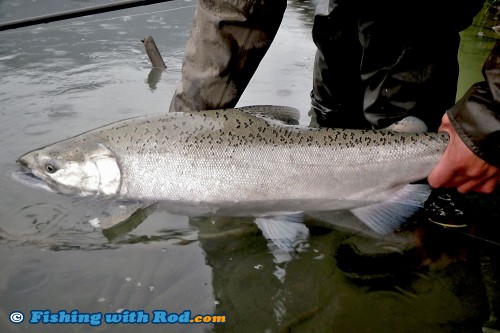 Overall, I'd say it was a pretty good outing, excluding a few episodes. The hooking wasn't too bad, now we just need to improve on the landing. While the spot maybe productive, the atmosphere indeed plays a big role on the quality of our trip, so I'll have to rethink whether we will put ourselves in that situation again anytime soon. As others have pointed out, it is a long river and quiet spots are not uncommon. Once the river rises, fish should spread out quickly and better fishing experience will come shortly.
The change in water level indicated in today's hydrograph wasn't noticeable to us while we were fishing, but we noticed a slight change in water clarity as the day went on. Visibility remains pretty good by the time we left but it definitely was not as clear as when we first arrived this morning.