Published on August 12th, 2010 by Rodney
We started our last fishing day a bit earlier, one hour earlier to be more precise. We arrived at the river bank at 10am and decided to try a spot where Carlo and Shane had some success on the first day while we were having our shore lunch. Today Nina wanted to fish, so we bought her a classified II licence. $20 per day it was, since she is not a permanent resident yet. It's a lot more than what it costs for the rest of us, but still a bargain considering how good the fishing is and how much more expensive it is when fishing in Europe.
We first tried a run just upstream from the supposed hot spot. I rigged up a nymphing setup for her to begin with because it's pretty easy to use. With a strike indicator, it is simply float fishing. She just had to flip and drift until the indicator dove. It only took a few drifts before the indicator took the first dive. The fish was briefly hooked. The second fish came soon after and she landed with ease. The third and fourth fish did not hesitate to bite either after the second was released, but they also quickly came off the hook.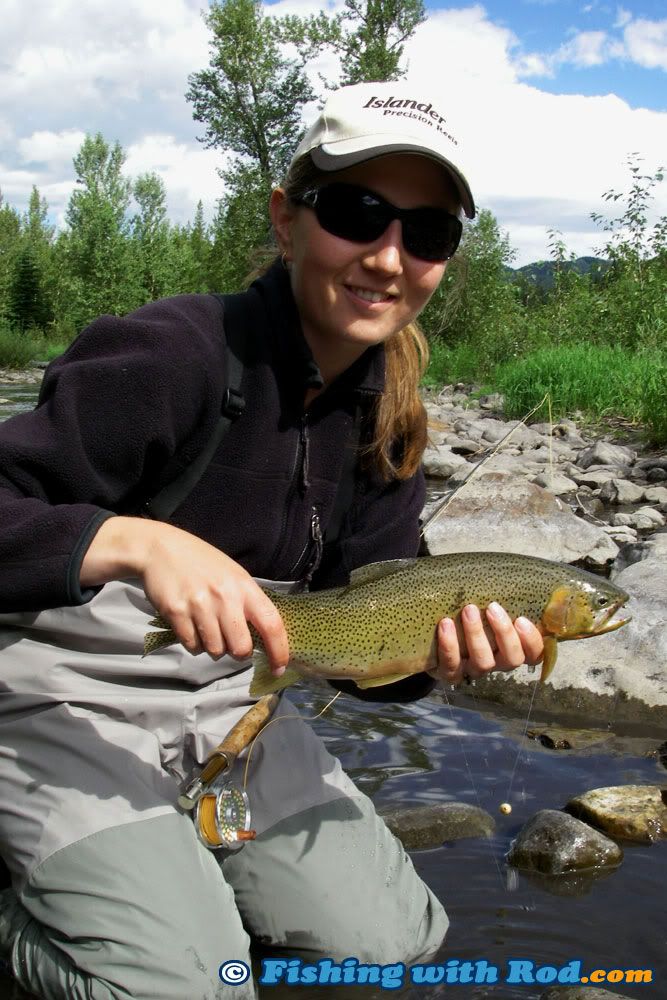 Once she fished through the run thoroughly, we moved down to the run where we wanted to fish. White water rushed down to its head, crashing against the log jam on the high bank, forming a deep slot where it looked extremely fishy. Nina sent the nymph out, letting the white water carry it down into the deep. As it brushed against the edge of the log jam, the indicator was quickly pulled down. This repeated several times and each time a large cutthroat trout came to the river bank. After a few fish, we started seeing some rising to feed and noticed a big hatch happening around us.
I suggested that we put on a dry fly because it was likely to work. After retying, she casted the fly out and it took no time for a trout to slurp it down. Another one took it after we released the fish, followed by another one. By the end, we easily had a couple dozen takes on the surface. At one point, we couldn't figure out why there were so many misses. After a closer inspection of the fly, I discovered the tip of the hook was gone.
While Nina was fighting one of the cutthroat trout, a large bull trout suddenly darted out from the log jam and chased the smaller prey like a crocodile. The sighting was pretty wild. Carlo and Shane arrived in early afternoon and I told them what happened so Carlo came down with his bull trout setup. After a couple of casts and fast stripping, he fooled the large bull trout easily.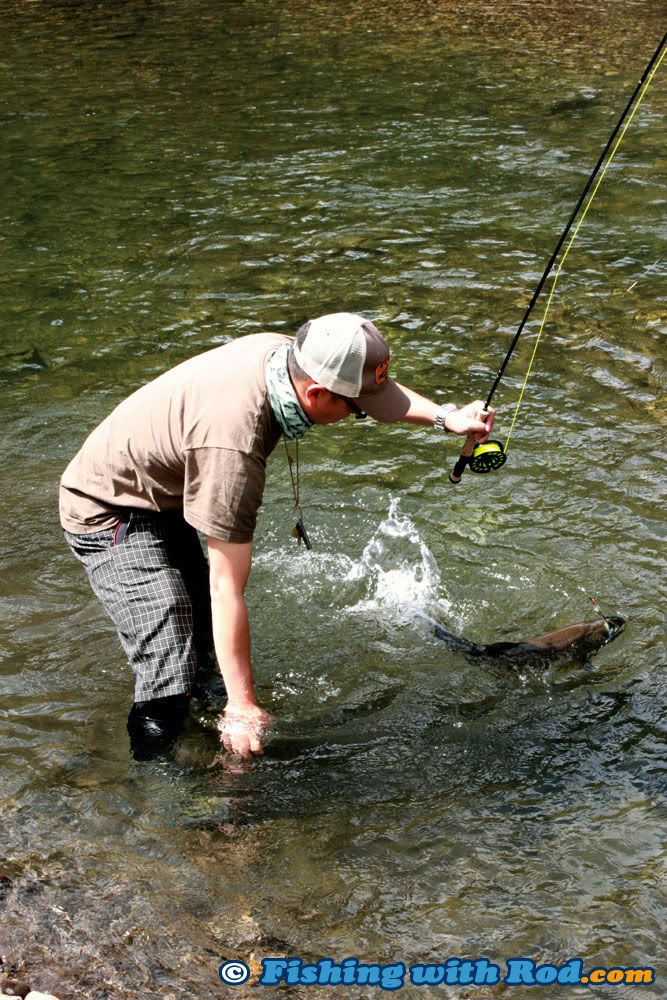 We ended our outing at 3pm because this evening we decided to do something that was actually not fishing. Not sure why girls are so obsessed with horseback riding. We took an one-hour trail ride along the Elk River in Hosmer with Alpine Enthusiasts. It was nice to tour the watershed from a different point of view without a fishing rod. You can tell how confident I was by my facial expression.