Published on March 5th, 2010 by Rodney
There is always a good reason to be excited in the Lower Mainland at the beginning of March. Birds sing, flowers bloom and fish bite! With unseasonably warm weather, we loaded up the boat this week for a trip to Kawkawa Lake in Hope. Although the fish that we are after barely reach 12 inches in length, this is one annual trip that I always look forward to. Catching countless fish among friends after spending many months away from the boat is surely a great way to celebrate the arrival of spring.
After a rather sleepless night, we left Vancouver with the loaded car at 8:00am. With clear sky above us, we were confident that it was going to be a fun day of fishing while basking under the sunshine. Could we be more wrong than that! Misty weather greeted us when we passed through Chilliwack. By the time we arrived in Hope, rain was coming down in buckets! We made it this far, it only made sense for these fair weather fishermen to brave it and catch some fish.The first two hours were rather uneventful. Beside catching the odd landlocked coho salmon, the bite was not on at all. As time passed, the boat slowly turned into a bathtub. Nina had enough and decided that it was time for her to head back into the car.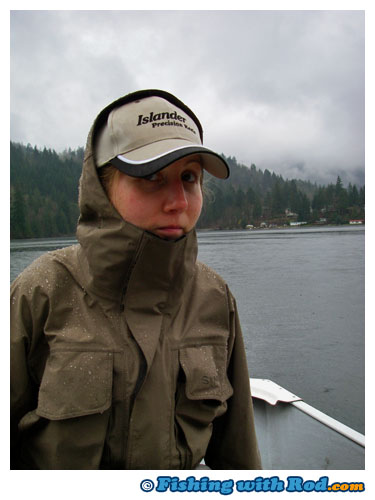 The look after being pounded by rain in a bathtub for a few hours.
After dropping her off at the boat launch, I proceeded to head back out and join Nick, Marco and few optimistic others. Funny enough, the fishing turned from night to day as soon as I anchored. Perhaps it was my tiny sensitive float, perhaps it was my well rested arms, I was hooking fish one after another. Within minutes, I had kept my daily quota of kokanee as well as releasing a couple of coho salmon and cutthroat trout.Nick explained that these kokanee, which are mostly three year old, typically measure 10 inches in length around this time of the year. Because the lake lacked ice this year, the feeding period is lengthened, therefore the fish that we encountered were at least 1 inch longer than average.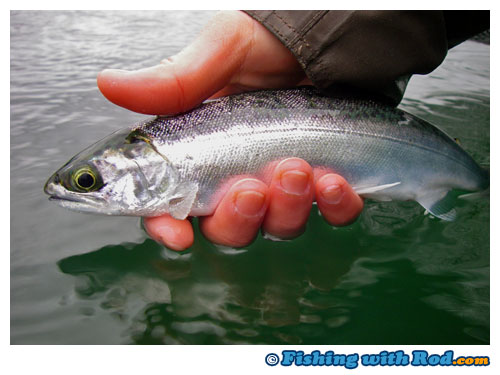 Landlocked coho salmon.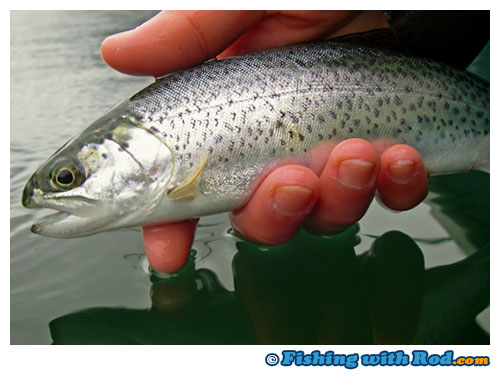 Spotty cutthroat trout.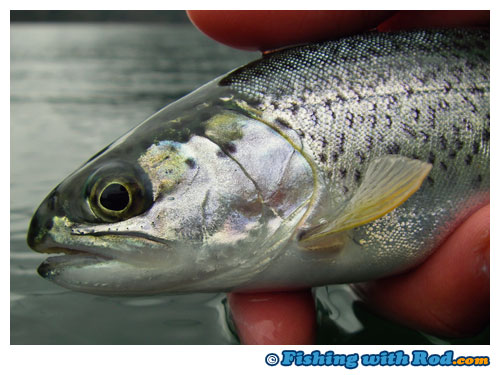 Head shot.
I phoned Nina to report my instant success and lure her out of the car. It was time to cruise back to the launch and pick her up. We returned to the spot in no time and luckily the surface feeding frenzy did not fade away. In fact, it was becoming more intense. For the next several hours, we hooked, lost, kept, released many fish until the groomy weather was once again too much to put up with. We packed up at 4:00pm, only to see sunshine approaching in the horizon as we drove out of Hope!A 8 minute video diary of this particular trip is now available for subscribers.