Published on November 1st, 2009 by Rodney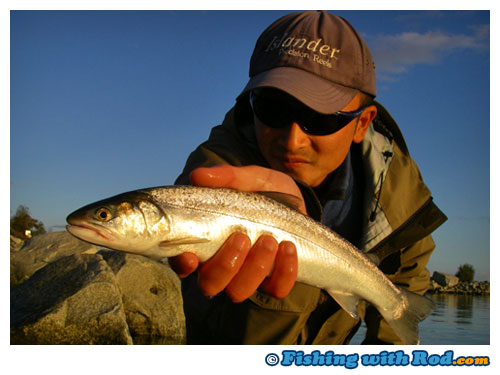 Bull trout such as this maybe small, they are still very enjoyable to catch on light gear.
For over a week now, I have been haunted by a seasonal cold that just does not want to unleech itself. This kept me indoor and away from the tributaries where coho salmon fishing has been at its peak. The constant rain has not helped either. To kill the fishing bug, I decided that the best thing to do was to drop by the local beaches in the Fraser River estuaries for an hour or two each day. The main target species is not salmon, but trout and char, on light tackle. After half a dozen outings with both fly and spinning gear, I seem to have noticed an interesting trend.
In the past, my success has always occurred just after the tide peaks. Last week's high tides occurred around early afternoon, but somehow, rain or shine, I was unable to locate some fish, yet the same spots where I had just fished would produce in the last hour of the day. Bull trout could be seen following my spinner or fly closely behind and either attack or turn away when they ran out of water to swim in.
Normally fishing in the Fraser River estuaries is more tidal dependent than light dependent because the poor water clarity already provides enough cover for fish during the day. Perhaps when lighting becomes low, these bull trout are more willing to hunt in the shallow water.
This weekend, I decided to put that theory to the test. Yesterday I began fishing at 1:00pm but did not manage to hook a fish until 5:00pm. The bites were furious. Another fish was fooled once the first was released. This was followed by three more chances, including the sighting of a rather large fish following behind my spinner.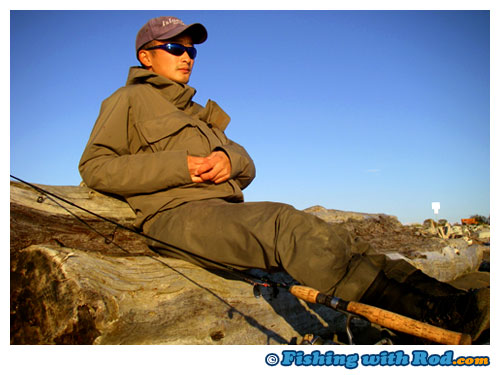 Taking in the November sun while waiting for the bites to come on.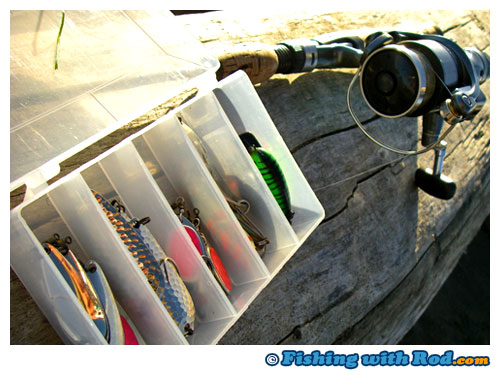 A collection of small spoons, spinners and crankbaits is your ticket to plenty of bull trout action.
I returned today to the same spot with great anticipation that I would connect with just as many fish. I began at 2:00pm, three hours before sundown. The first two hours were again fishless. With one hour of sunlight to go, I reached yesterday's hot spot and casted the 1/8oz green spinner that has always done well for me. It took only two turns on the reel handle before I felt a solid tug, but the slow reaction never resulted in a hook-up. I was quite confident that it may come back as it only felt the hook briefly. A few casts later, I felt a light tug as the lure approached me. I continued retrieving and felt a stronger tug. Once again, the slow reaction never resulted in a hook-up. At this point, a big cargo ship cruised by so I decided to take a break while the big waves pounded the shoreline.
Once the water calmed down again, I sent the spinner out again and was prepared for another take. As if it was rehearsed, another fish (or the same fish) went for the spinner again when it rached the shallow water. This time I was quick on the hook-set and the rod shake confirmed the hook-up, but it was short lived. This fish spit the hook and sent the spinner flying back toward me after staying on for a few seconds.
Deflated, I decided to walk to another spot then come back just before dusk so these fish could settle down a bit. I returned 30 minutes later and an unsuspecting bull trout immediately attacked the lure. This fish took a few strong runs but was unable to escape. It measured just under 17 inches long, the best one so far this season.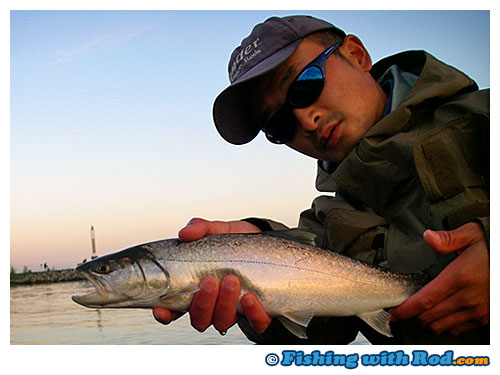 Excited, but I was also aware that my time was running out because the sun had already set. I made a few more casts into the same spot without much result. I decided to work the beach systematically by moving several feet after each cast. When I was about 50 feet away from the spot where I hooked the first fish, another fish attacked the lure in the shallow. The strength of this fish suggested that it was a larger specimen. It also put the small spinning reel to work for a couple of minutes before I was able to guide it into the net. This fish measured just under 19 inches long!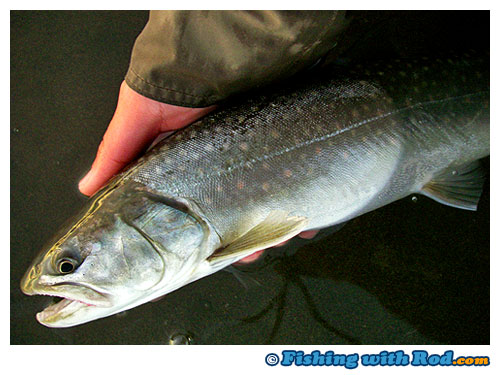 With two fish brought to the net within ten minutes, I was already quite satisfied. I dried myself up and kept working along the beach, hoping that there were more than two fish in the area. Five more minutes went by and to my surprise, another fish decided to grab the lure in the shallow water. This fish was a juvenile compared to the other two, only around 14 inches in length.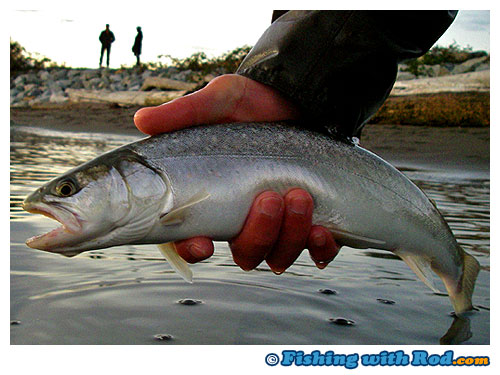 While the fall salmon season is gradually tapering off, fishing for trout and char in the Fraser River and tributaries will only improve. Fishing in Southwestern BC indeed takes place year-round. The bull trout fishery in the Fraser estuaries is close enough to the city that one could easily take advantage of it by doing these short outings. For more information, please read this article.