Published on February 20th, 2009 by Rodney
After experiencing some phenomenal winter estuary fishing yesterday, there was no question that I had to return today. Would these fish be at the same spot again? They might, they might not. The unknown can keep drawing me back day after day, the tug is definitely a drug. Today I returned with the fly rod and brought Marco along. The tide was right, the sun was still shining, it was going to be a good day regardless if there were fish or not.
Our first stop was obviously to where I found some fish yesterday. Both of us flung our flies out. I chose to use a big chartreuse bunny strip out, just something that I had tied up roughly (well, I can only tie up flies roughly…). Marco tried some of his minnow patterns. Big vs small, whose fly was going to tempt those hungry wolves in the bay?
Garry Point Park was packed with kids today, probably because the weather was so nice. Who could expect almost T-shirt weather in February? The wading jacket came off today, it was very enjoyable to fish without so much weight on the back.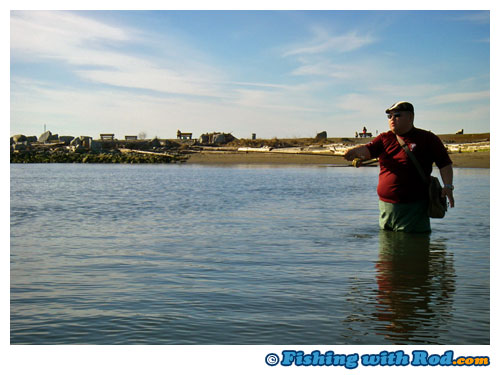 Fifteen minutes went by, we looked like two colourful clowns flinging whips around for no apparent reason to other park goers. Finally there was a sign. I felt and missed a quick tug in the shallow while chatting away. It was definitely a fish, the stripping speed was fast enough to keep the fly off the weed bed. Now I was excited, connecting with a fish on the fly would be a first in the Tidal Fraser for me. I kept sending the fly back to the same spot, hoping to find another tug, which came not long after. This time the fish was not so quick. A swift hookset brought out some flashes directly in front of me. "Fish! Fish!", I made sure Marco was aware of what was happening as if he was a mile away, but he was actually just standing next to me.
It was not a big bull trout, the smallest one I've seen this year actually. I slid it into my hands after a short fight. Size does not really matter when it is a first on a new technique.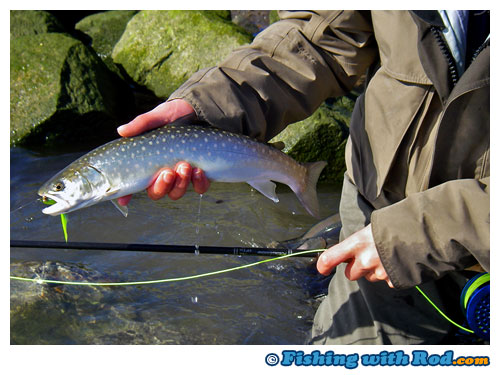 I sat back on the log to dry myself off while Marco, who seemed to be in disbelief but glad to see a fish, returned to fishing right away. By now we had the attention from people in the surrounding area. We were no longer the colourful clowns who flung whips around pointlessly. "Is that a salmon?" "Why did you let it go?" If the answers get people out fishing, then we'd gladly answer them.
Once I was not so saturated with water, I went back to my lucky spot. I chose to cast more closely to the rocks, thinking that there maybe fish in shallower water. To my disbelief, I left another tug at the beginning of my strip. The hook was never set, I simply wasn't prepared for it. After a dozen or so more casts, another fish attacked the fly. The strike this time was hard enough that it was hooked solidly from a light hookset. It swam toward me quickly while I stripped in my line madly. Once I caught up to what appeared to be a bigger fish, it swam straight out, peeling a good length of line from my Islander reel. I was getting spoiled at this point. Five hook-ups in two days at a spot that is five minutes from my house is more than what one can ask for. In the meantime, Marco took over the camera and captured some shots until the fish was landed.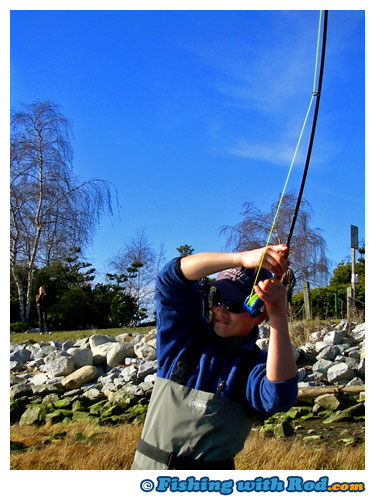 It was definitely much bigger than the first fish, in both length and weight.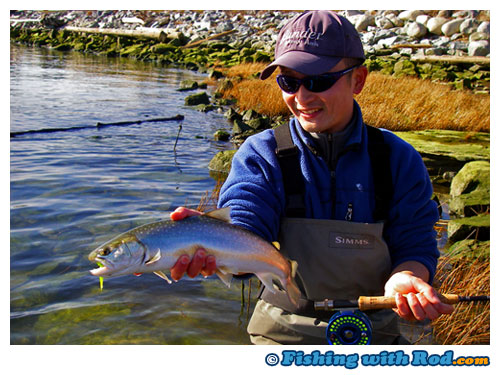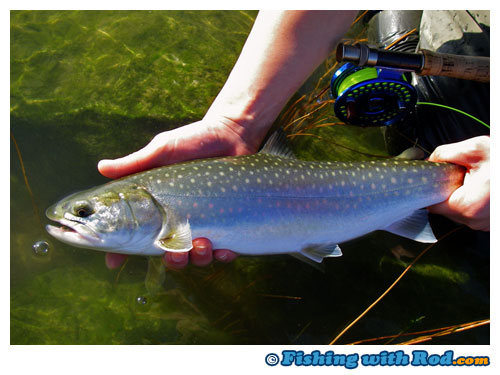 Beside spotting a rise in a different bay, these were the only two fish of the day. It wraps up a week of winter bull trout hunt in the Estuary Fraser River nicely. Good luck to all who plan to venture out this weekend. Take advantage of these perfect fishing conditions while they last.