Published on Sunday, October 5th, 2008
Although management measures for protection of Interior coho salmon in the tidal portion of the Fraser River ended on Friday October 3rd, Fisheries and Oceans Canada has not issued a new fishery notice for the salmon fishery starting on October 4th. While bait ban for salmon fishing is no longer in effect, officially retention of hatchery coho salmon is not permitted. I have been trying to track people down to get the appropriate notice issued so we could actually start targeting coho salmon in the Tidal Fraser River this weekend, but that has failed miserably. To add fuel on fire, we had some drama this morning while attempting to purchase a tidal sportfishing license on DFO's website, which resulted in a few unnecessary transactions on my credit card (more on this in another blog entry soon). After some scrambling, we ended up purchasing the license at Berry's Bait and Tackle, then spent a few hours in the afternoon fishing in Richmond.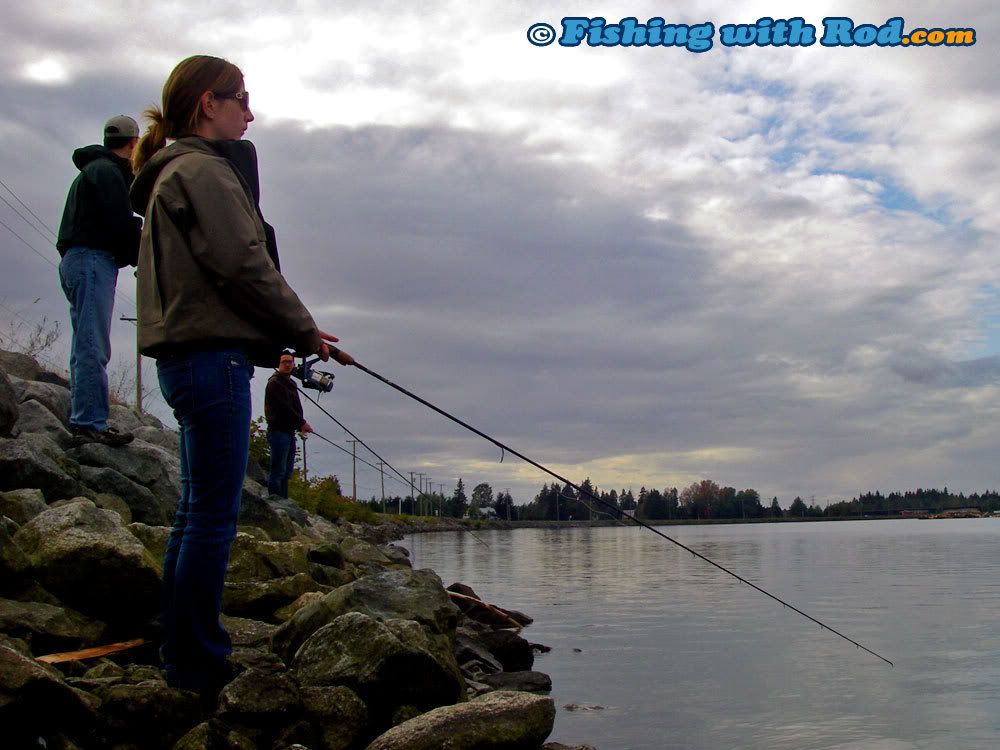 The objective today was to simply catch and release whatever we may encounter. This time of the year in the Tidal Fraser River can be quite pleasant. While most anglers prefer to focus on Fraser Valley tributaries due to higher catch rates, angling pressure in the Tidal Fraser River is significantly less and success can be had with good timing and persistence. At any given flood tide, species that one might encounter include chinook salmon, coho salmon, chum salmon, bull trout and cutthroat trout. It is a hit and miss fishery. Some days multiple hook-ups are common, while other days are dull due to a lack of fish bypassing. The key is to fish it during the window of opportunities, which is generally between two hours before and after flood tide. This is also a social game. Since no moving is required, friends can fish together as a group and socialize at the same time.
The gear used is fairly simplistic. Although the usage of roe is allowed, we prefer to cast and retrieve spoons and spinners. There are two reasons behind this preference – 1) Prevention, fish caught on roe have a tendency to swallow bait, which counters the goal of catch and release. 2) Convenience, spincasting requires minimal amount of preparation. A spinning rod, reel and a box of your favorite hardware are adequate enough for our outings. The absence of roe also means a pair of clean hands at the end of each outing.
Judging by the jump of chum salmon catches at the Albion test fishery, I was expecting to see schools of chum salmon rolling by today. Unfortunately because we had a late start, we missed the incoming tide, which was when these dogs tend to pass by. Usually when the tide peaks and water stops moving, fishing has a tendency to slow down. This was quite evident today, as we had no hits for over an hour.
Once the water started moving out, we had some brief success. Mark ended the skunky streak with a small bull trout, which was being greedy by grabbing a rather large Gibbs Croc spoon. The fight was not spectacular on the fast action spinning rod, but any rod dance on a slow day should not be complained.
A few minutes after that excitement, I felt a light tug when I was halfway through the retrieve of my spoon. A quick hookset sent a very bright fish out of the water instantly. It made a second leap soon after and I assumed that it was a jack coho salmon. When it approached me, I was delighted to discover that I had just connected with my biggest coastal cutthroat trout in the Tidal Fraser. This bright yet spotty fish was estimated to be around 16 inches long. It was probably chasing a school of juvenile fish that we saw earlier, but spotted something much bigger and couldn't resist the temptation.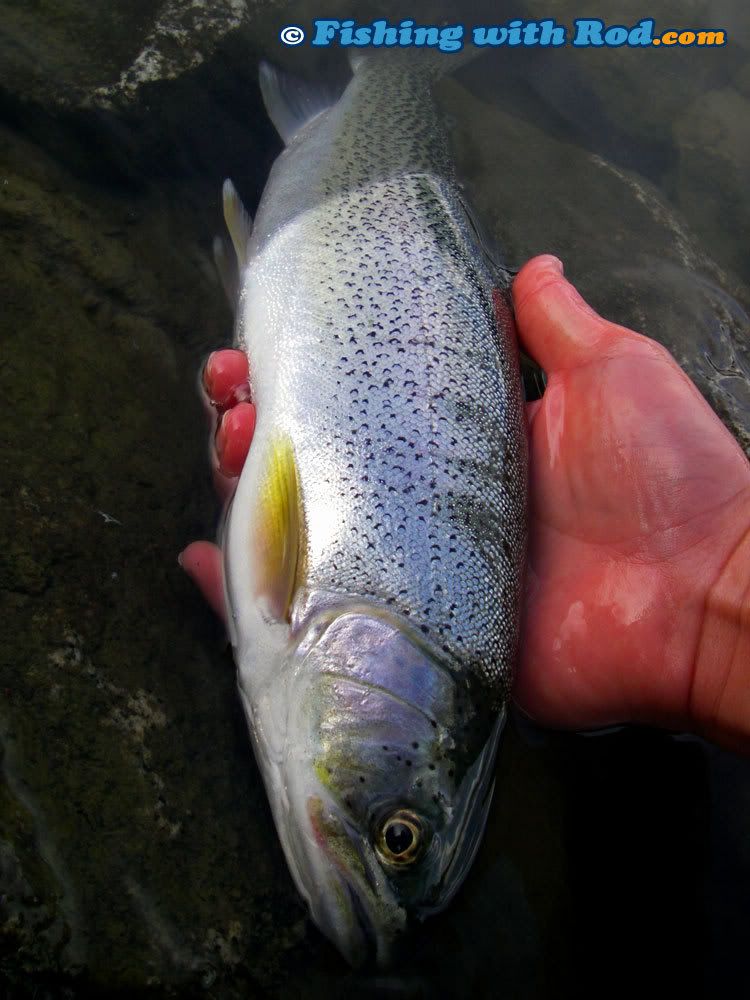 Seeing that two fish were caught within such a short span of time, everyone was pretty motivated. Even Nina, who was already bored from earlier, got out of the car and began casting her spoon again. This must have been Mark's day, because he soon found another fish at the end of his line. Unlike the first one, this fish actually put quite a bend on his rod. It took several fast runs. We guessed that it could either be a coho or a bull trout. Whatever it was, it seemed to hold a fair amount of weight. The fish rolled several times on the surface and showed itself. It was a bull trout and a rather heavy one.
We ended this typical fall Tidal Fraser River outing at 3:30pm, two hours after flood tide. There were no expectations on what we would catch today, so we were satisfied with three non-salmon specimen. Current water clarity is fantastic. If this continues, we shall see some very good spincasting days in the Tidal Fraser River in one or two weeks from now. Good luck.