Published on Saturday, December 13th, 2008
Since my arrival in Denmark just under three weeks ago, I have put in around 30 hours of fishing and all I can say is that the result has been disappointing beside the few sea trout that I connected at a slough over a week ago.
Miles of coastline have been covered and they have not yielded a single bite. The sub-zero wind chill hasn't made the experience that enjoyable either. Fingers were constantly numb and the breathable waders have been too breathable. The scenery has been pretty nice. Crowding is definitely not a concern. I can fish for miles without seeing a single person. Perhaps everyone else is just smarter and staying indoor and getting drunk during these dark days.
While walking in anckle-deep water along the beach yesterday, I startled a sea trout that was easily in the 5 or 6lb class with my foot. It was resting in the shallow thick algae bed just several feet from shore. That pretty much ruled out the "no fish" theory.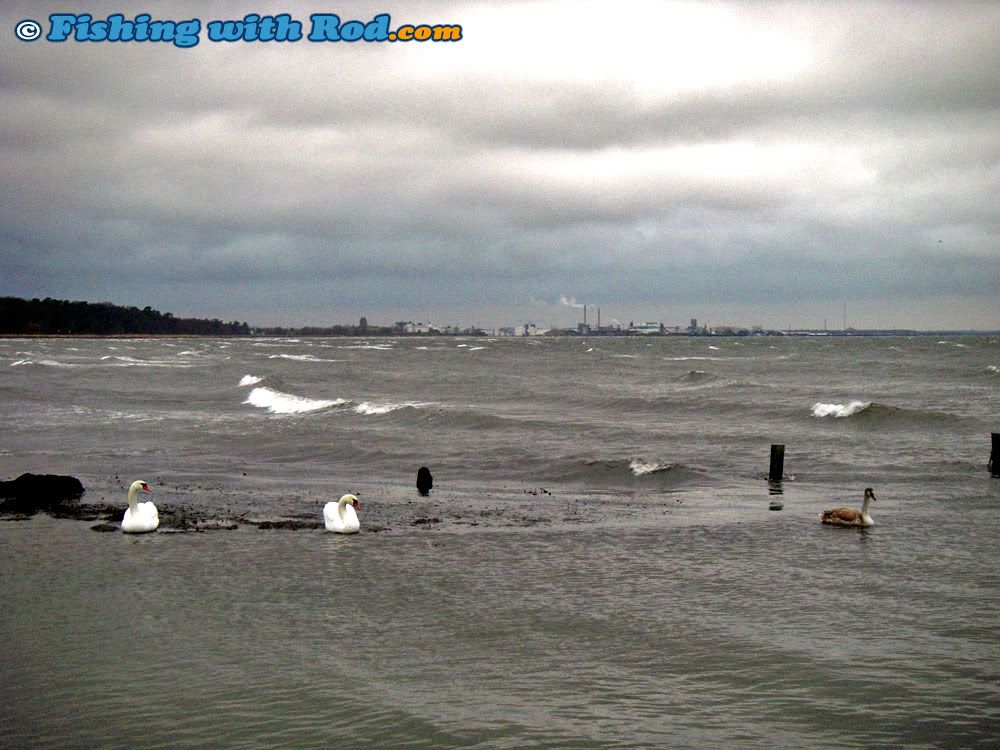 Wind is the biggest nemesis for beach fishermen. Luckily, being on an island, we have the option of choosing the side of the island where it is not facing the wind. Occasionally the wind turns and strengthens in the last minute, which spoils the entire day's of fishing, like today. The above photo was taken from the south end of Køge Bay, with Copenhagen in the far background. Køge Bay can be clearly seen when you fly into Copenhagen. The fishing is supposed to be pretty productive, at least from the photos of sea trout that I have seen. These sea trout have much larger girth than fish produced in other parts of the country, probably because their diet is mostly herring than shrimps.
I became so bored from the beach fishing, I started taking underwater photographs of snails.
The weather has constantly been overcast, which is not that unusual in Northern Europe. The poor lighting makes the short winter days even shorter. From first light to last light, I have about six hours of opportunities to find a fish. A few days ago, the sun finally showed itself for the first time since I arrived. I took a shot of the sunset from a beach near our apartment.
Although the days have been fishless, the food has been very good as usual.