Published on Thursday, September 1st, 2011
Over the course of this most Wonderful Season, I had many occasions to witness members of my Crew weigh in qualifying fish for the Ukee Ladder Derby. Being a guide, I of course had not given any thought towards doing the same for myself…
A week ago, my Father wandered up from Idaho, and we had two Fantastic days out on the Big Pond together. Been nearly two years since we had such an opportunity, as our schedules have been incredibly hectic. So it was extremely satisfying to me to get out with my Mentor, share some wonderful stories while catching up, and of course to revel in the Bounty the Mistress Pacific so willingly provided for our entertainment. I thought nothing could top that Very Special Time being with this Special Man I so much admire!
Halfway through the first morning, one of the rods went off with a vengeance! Line ripping off the Islander at a rate that was more than a little concerning! Pa asks How many fish have YOU played this season? None, was my honest reply. I'm in the business of providing FUN for my Crews, and of course that means they work all the fish. Not this time sez he, as he points at the wildly bucking rod – Get Eem! Yeehaw!
As I yanked the rod from the holder, I stared in disbelief at the spool. Mere feet of mono left, meaning that Monster was out there OVER 300 YARDS! EEK! Pa instantly cleared the other side, and turned the big rig for me so I could possibly manage to gain some of that back! Every time I did manage to gain a few yards, this Beast would run again, stripping dangerously close to the backing over and over! Then, a Savage leap far into the sky, and we instantly realized this was no common fish! "Huge!", mumbled Pa. "Holy ****" was my reply!
Back and forth the battle raged, and my arms were starting to tremble when the Monster sounded directly under the boat! 45 plus minutes of sheer abandon, the fish doing his absolute best to wrench the offending hook from his maw! Then, a mistake on his part, out from under the boat at speed, the start of another great run. Only this time Pa was blocking his escape route with the net, and with a swoop the beast came onto the deck! Rebel Yells across the water, and Father & Son doing a Wild Dance Of Joy!!
Back to the weigh-in station, where the Beast topped the scales at a mere ounce shy of that magical 40 pound mark! Not the biggest to my rig this year, but certainly big enough to secure my spot on the impending Derby Fish Off!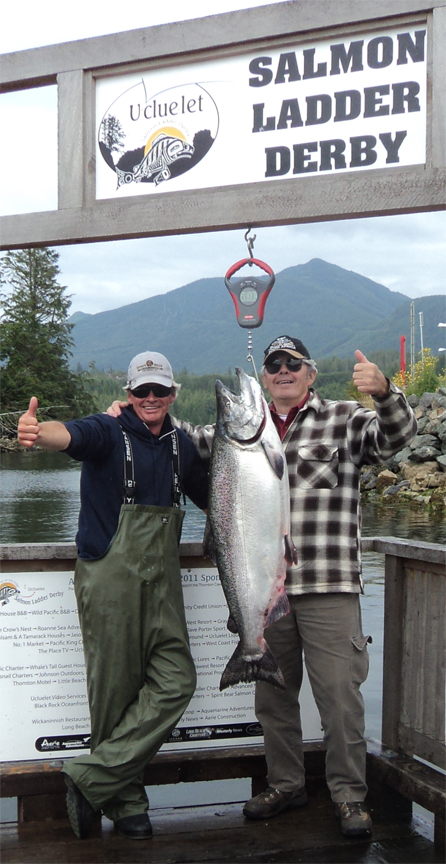 And of course it happened with my Finest Friend aboard! I am so thankful that He and I are still able to get out and Enjoy Life in the way we always have, and damn pleased he was along when this happened! Doesn't get any better in my books!
Matt Stabler, Spirit Bear Fishing Charters
Matt Stabler of Spirit Bear Fishing Charters is an experienced saltwater angling guide on the West Coast of Vancouver Island. Spirit Bear Fishing Charters is located in Ucluelet. For a comfortable guided fishing trip on a Grady White Sailfish for salmon and halibut, please phone them at 1-855-9-SALMON or email info@spiritbearsalmoncharters.com.