Nicomen Slough, Deroche to Dewdney
By Rodney Hsu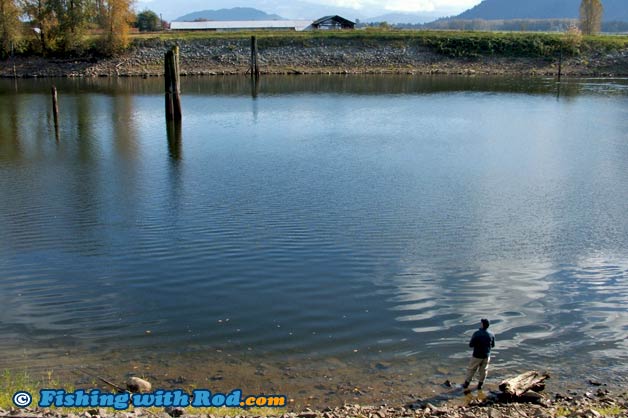 Nicomen Slough is a waterway that connects Inch Creek and Suicide Creek with the Fraser River. Between September and December, fall salmon pass through this slough to reach their spawning ground. In the winter and spring months, coastal cutthroat trout use this as a feeding ground while the odd winter steelhead may appear at times. It's an ideal fishery for those who enjoy spincasting and fly fishing for salmon and trout.
How to Get There?
From Vancouver, you can reach Nicomen Slough on Lougheed Highway (Highway 7) at Dewdney. Shore access can be found along the dykes on either side of the slough from the Highway 7 bridge. A boat launch is available near the mouth of the slough. You can reach this boat launch by driving along River Road on the west side of the slough from Lougheed Highway. Access to the slough upstream from the highway bridge can be done through small roads and the dykes.
Fishing Season
Fishing in Nicomen Slough can be done throughout the year. In the summer months, parents can brings kids to the slough to catch a variety of minnow species such as northern pikeminnow and peamouth chub.
From September to December, coho and chum salmon make their way into the slough so they can reach Inch Creek and Suicide Creek to spawn.
Coastal cutthroat trout can be found in the slough at times between September and April. Their presence is usually determined by food availability.
The odd winter steelhead are also found in the system during the winter and spring months.
Fishing Techniques
Very little current is found in Nicomen Slough, especially in the lower reach. There is a tidal influence, so fishing is in fact determined by the tide during the salmon fishing season. As the tide pushes in, fresh salmon will arrive. As the tide retreats, salmon will in fact swim downstream at times because the upper sections of the slough become too shallow for them to hold securely. Time your outings correctly and you will be rewarded.
In the upper sections of the slough where runs are formed, float fishing with roe and other bait is possible. This is an ideal system for fly fishing due to the wide open valley and weak current. A floating line or a clear sink tip is fine for reaching the fish that you are targeting. For salmon, try egg sucking leeches and other typical salmon streamer patterns. For cutthroat trout, small nymphs and minnow patterns are often the tickets to success.
Casting and retrieving spoons and spinners is also another productive technique when fishing for salmon and trout at Nicomen Slough. Some wading maybe required to reach the deeper spots. Running a boat up the slough from the boat launch can be very advantageous if you want to fish the deeper spots comfortably.
Important Notes
Before your first fishing trip to Nicomen Slough, please make sure you know the following information:
You must have a valid British Columbia freshwater fishing license. If you intend to retain salmon, then you must also purchase the freshwater salmon conservation surcharge. If you intend to fish for steelhead, then you must also purchase the steelhead conservation surcharge.
Nicomen Slough is located in Region 2 in the British Columbia freshwater fishing regulations.
Respect other anglers' space! If a spot is already taken, find a different spot instead of crowding the same area. You can make everyone's fishing experience enjoyable by spreading out.
Please do not litter. Pick up your own garbage as well as others' on the river bank so we can still enjoy this fantastic fishing stream in the future.
Respect private properties by not trespassing. Keep your noise down early in the morning when walking by private properties.