Harrison River, Agassiz
By Rodney Hsu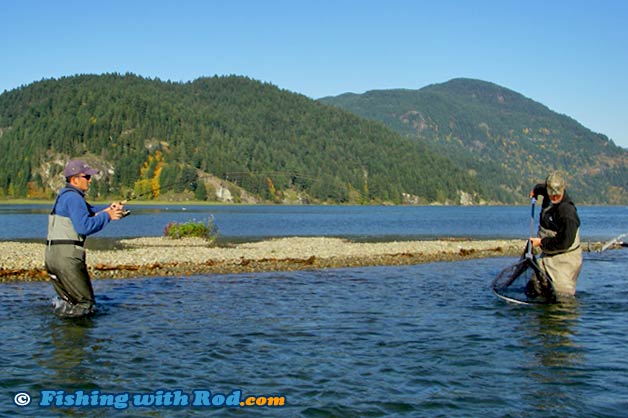 Harrison River in Agassiz is approximately 100km east of Vancouver. Because of its healthy abundance of all salmon species, it is one of the more popular salmon fishing spots between August and December for Vancouver residents and visitors. Beside fall salmon fishing opportunities, it also has good trout and char fishing throughout the winter and spring months.
How to Get There?
From Vancouver, there are two travelling options to Harrison River. One way is via Lougheed Highway on the north side of Fraser River, or via Highway One on the south side. Total driving time from Vancouver is approximately 1.5 hours. Shore access is minimal, most sections of the river can only be reached by a boat.
When travelling via Lougheed Highway from Vancouver, turn right onto School Road after crossing Harrison River, followed by another right turn onto Kilby Road. Kilby Province Park can be found at the end of Kilby Road, where you are able to fish from shore or launch your boat.
When travelling via Highway One, take the Rosedale-Agassiz Bridge exit and cross the bridge. Once crossing the bridge, travel east on Lougheed Highway and turn left onto School Road just before the Harrison River bridge.
If you are accessing the river by boat, another alternative is to launch at Island 22 in Chilliwack and travel upstream on the Fraser River where Harrison River confluence can be found. Navigation in this stretch of river should be done cautiously.
Fishing Season
Fishing can be done year-round on Harrison River, but the most productive months are between August and April. In August, occasionally sockeye salmon fishing opportunities are available. Because of the clear water condition, these fish are always willing to take your bait under the float. During odd years, September is an excellent month for pink salmon fishing. From late September to early December, three salmon species dominate the river. They are chinook, coho and chum salmon.
During the fall salmon season, white sturgeon are also commonly caught as they travel upstream to feed on salmon eggs and carcasses.
From December to April, coastal cutthroat trout and bull trout can be targeted as their diet evolves from salmon eggs to fry.
While this river's fishing is not as productive in the summer, large numbers of coarse fish such as northern pikeminnow make it a fantastic family fishery.
Fishing Techniques
Harrison River has is one large channel with some braided sections. Typical fishing methods are float fishing, spincasting with lures and fly fishing. Float fishing can be done close to shore where the current is moderate. Roe is commonly used as bait for chinook, coho and chum salmon while krill is effective for sockeye salmon. In recent years, float fishing with jigs has become very popular. This style of fishing is very effective for chum and pink salmon.
Spincasting with lures such as spoons and spinners is deadly for coho salmon at times. This method of fishing is mostly done in side channels where water is more sluggish. Watch for coho salmon that have a tendency to follow your lure as you retrieve, only to turn away in the last minute. With some persistence, they will often start biting after tempting them repeatedly.
Fly fishing is also popular at sections where spincasting is done. 6 to 8wt rods are used for fall salmon species, while 4/5wt are more suitable for trout and char.
When fishing for cutthroat trout and bull trout in winter, look for sections where salmon may have spawned. Your visual cues become easier in spring when surface feeding activities are more frequent. Small minnow and nymph patterns almost never fail if you are fly fishing, while tiny spoons and spinners around 1/8oz or less are a safe bet.
Important Notes
Before your first fishing trip to Harrison River, please make sure you know the following information:
You must have a valid British Columbia freshwater fishing license. If you intend to retain salmon, then you must also purchase the freshwater salmon conservation surcharge. If you intend to fish for steelhead, then you must also purchase the steelhead conservation surcharge.
Harrison River is located in Region 2 in the British Columbia freshwater fishing regulations.
Intentionally snagging fish is illegal! If you keep your float depth too long and allow fish to snag themselves when retrieving your line, then you are snagging fish. If fishery officers observe you continuously catching fish by snagging, you will be fined.
If you are releasing a fish, please make sure the fish remain in the water at all times. Do not drag your fish onto the river bank and kick it back after unhooking it.
Identify your fish before you decide to kill it. Wild coho, steelhead and trout have to be released. If you cannot identify it, please release it.
If you decide to keep a fish, please kill it immediately. Keeping fish alive in a pool of water or tying it onto a rope and letting it swim in the river is illegal.
Respect other anglers' space! If a spot is already taken, find a different spot instead of crowding the same area. You can make everyone's fishing experience enjoyable by spreading out.
Please do not litter. Pick up your own garbage as well as others' on the river bank so we can still enjoy this fantastic fishing stream in the future.
Respect private properties by not trespassing. Keep your noise down early in the morning when walking by private properties.