Edith Lake, Squamish
By Rodney Hsu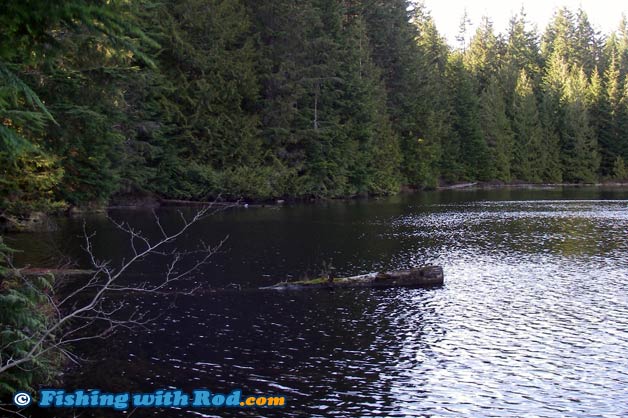 Beside Alice Lake, Edith Lake is another small lake that is worth trying at Alice Lake Provincial Park. Because getting to the lake requires a short hike, it is often lightly fished. This secluded piece of water is ideal for those who want a quiet spot to fish without driving too fast from Vancouver.
How to Get There?
Edith Lake is located in Alice Lake Provincial Park. When heading north on Highway 99, turn right onto Alice Lake Road just minutes after City of Squamish. Continue on Alice Lake Road and follow the signs to the parking lot turn-off. Drive to the last parking lot, which is located at the southeastern corner of Alice Lake. This is the starting point of the trail to Edith Lake. The hike to Edith Lake is roughly 20 minutes long. While it is mostly incline to the lake, carrying a float tube is possible as the trail is mostly wide and smooth. Shore access is limited to spin fishermen, because there simply isn't enough backcasting space for flyfishing.
Fishing Season
Edith Lake is typically stocked with rainbow trout during April and May, so fishing is obviously best during these months. Summer fishing can be fair. Fall fishing can be good once again after recreational usage lightens, but there are usually better fishing destinations during that time of the year.
Fishing Techniques
Because Edith Lake is a small lake, shore fishing can be done quite easily if you are fishing with a spinning outfit. Deep water can be found very close to shore. There are also lots of wooden debris in the water, which means trout can be found rather close to shore.
When spincasting, small spoons and spinners will often produce. A small rubber grub rigged onto a small hook, which is casted and retrieved with the aid of a few split shots can be just as deadly as a trolled fly. Effective bait used for stocked rainbow trout include dew worm, deli shrimp and single eggs. These are best fished under a small float to avoid snagging up on the bottom. Because these stocked rainbow trout are less than 1lb, it is best to increase your hookups by using light tackle.
A float tube is best used at Edith Lake if you choose to go offshore. A craft is advantageous if an angler chooses to flyfish. Slowly trolling a fly by drifting in a small craft is a relaxing way of fishing. Be sure to hold onto the rod, as hits often happen suddenly and can take your rod away. If a school of fish is located, it is best to anchor and focus on one spot for consistent result.
Important Notes
Before your first fishing trip to Edith Lake, please make sure you know the following information: