Ambleside Park, West Vancouver
By Rodney Hsu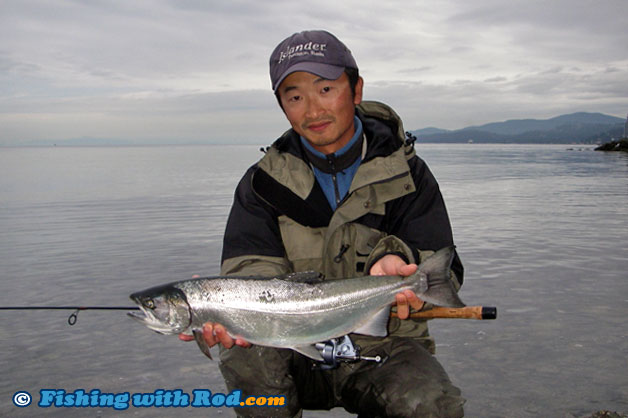 If you live in Vancouver and enjoy beach fishing for salmon, then Ambleside Park may just be the fishing spot for you. Located right next to the mouth of Capilano River, this area can be productive for chinook, coho and pink salmon from early summer to mid fall. This urban gem gives city anglers the opportunity to catch quality, fresh gamefish without having to drive very far.
How to Get There?
From Downtown Vancouver, it only takes 15 minutes by car to Ambleside Park. Head north on Lions Gate Bridge and exit onto Marine Drive West. Turn left onto 13th Street and left again onto Argyle Avenue. Parking is available along the edge of Ambleside Park. From the parking lot, walk straight out to the beaches in front of the park. Fishing can be done all along these beaches to the mouth of Capilano River.
Fishing Season
The salmon fishing season at beaches of Ambleside Park generally runs from early summer to mid fall. The length of this season varies slightly due to the Capilano River water level. Majority of these salmon return to the Capilano River. If river level is high, then these fish will head into the river immediately. If it is low, fish will hold and feed in waters in front of these beaches. Coho salmon is the dominant species found throughout the system. Occasionally a lucky angler will bump into a chinook salmon. During odd years, pink salmon are also commonly caught.
You can also catch groundfish species such as greenling, flounder, sole and tomcod throughout the year.
Fishing Techniques
The most common fishing technique at beaches of Ambleside Park is lure casting. You need to have at least a medium classed baitcasting or spinning setup to tackle these salmon on the beaches. The rod should be at least 9 feet long, rated between 8 to 12lb test. A reel that is designed for saltwater fishing is needed to present rusting. Your reel should be spooled with at least 10lb test.
Typical lures used for this fishery include small spinners and buzz bombs. A small spinner is usually fished by adding additional weights 2 or 3 feet above it for better casting. This is fished by slowly retrieved. Buzz bombs are heavy so no additional weights are needed. They are fished by casting and retrieving with occasional jerks.
Fly fishing can also be a productive alternative if lures are not working. Coho salmon are often feeding heavily on crab larvae so tiny crustacean patterns can be quite deadly when retrieved slowly.
During the summer months when the water level of Capilano River is low, schools of salmon can be seen splashing constantly in front of these beaches. Don't get too excited, as it is in fact very difficult to entice these active fish. Your best chance to find a fish at the end of your line is at first light. From sunrise to 8:00am seems to be when the bites are on. Fishing result is usually better if this period coincides with a low tide.
Important Notes
Before your first fishing trip to the beaches at Ambleside Park, please make sure you know the following information:
You must have a valid British Columbia tidal fishing licence and a valid salmon stamp if you decide to keep salmon.
Ambleside Park is located in Fisheries and Oceans Canada's Area 28. Please read the general tidal fishing regulations and Area 28's regulations.
Ambleside Park is used regularly by local residents and other visitors, so please respect other users by watching your casts and not leaving garbage behind.
Please watch the tide and waves very carefully. Do not stay out at exposed sand bars once the tide starts coming in.