St Mary Lake, Salt Spring Island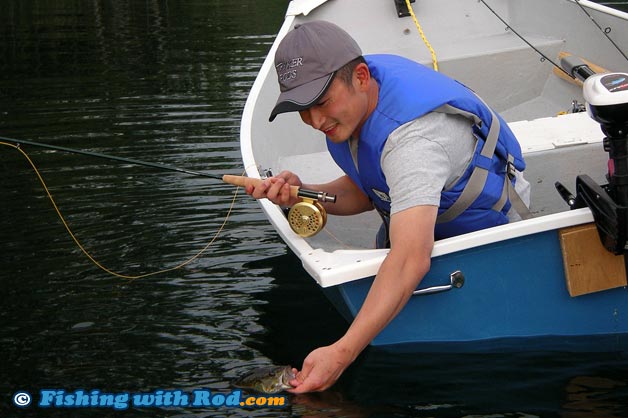 Salt Spring Island is well known for its healthy living and art studios. In recent years, holiday goers have transformed the island into a top recreational destination in British Columbia. Nested among many Gulf Islands, Salt Spring Island is not known for its freshwater fishing. Most holiday goers seek their down times by sightseeing, sea kayaking, cycling and seasonal saltwater charter fishing. While these attractions are what this island is marketed for, quality freshwater fishing is also readily available.
St Mary Lake, located near the northern end of Salt Spring Island, provides excellent fishing between April and October for lake fishing enthusiasts. Combined with other non-fishing activities nearby, it is an excellent option for the entire family when planning a holiday.
How to Get There?
To get to Salt Spring Island, you can take a ferry from Tsawwassen, Victoria, or Nanaimo. From Tsawwassen, it takes approximately three hours to arrive. Once arriving on Salt Spring Island, head to the northern section of the island. The lake can be seen along North End Road. There is a public boat launch just south of Lakeside Gardens Resort. The west side of the lake can also be accessed along Tripp Road. While some shore fishing is available, the best way to access this lake is by a boat.
Fishing Season
There are several fish species that are available in St Mary Lake. The most abundant species is smallmouth bass, which is an introduced species that has existed in this lake for many decades. Large smallmouth bass spend their spring months in the shallow parts of the lake and carry out their annual spawning routine. They are aggressive and will strike on most floating objects near the surface. From late spring until early fall, they migrate into the depth of the lake when water becomes too warm in the shallows.
Another introduced species in this lake is the yellow perch. Yellow perch are generally between 6 to 10 inches length and can be found around reeds, floating docks and any submerged structures. These fish are easy to catch on bait, lures and flies so they are often children's favorite fish in this lake.
St Mary's Lake has both rainbow and cutthroat trout. Trout fishing is known to be good in spring and fall when the water is cooler, but catching them by trolling in deeper water is not unheard of during the summer months.
Fishing Techniques
There are only limited spots that can be accessed from shore because most of the shorelines are private, therefore fishing from a boat is best. A small 8 to 12 foot boat, powered by a electric motor, is ideal when targeting smallmouth bass.
When fishing for smallmouth bass, a surface lure is a must during spring. Anchor your boat within casting distance from shore. Cast your surface lure into or near the reeds. Retrieve rapidly once awhile to create splashing on the surface. If the fish are present, most of the time you will be surprised. When fishing for smallmouth bass in deeper water, plastic baits such as tube baits or grubs are essential. Allow your bait to sink to the bottom, then twitch, drag, reel it once awhile and anticipate for that big pull.
Yellow perch can easily be caught on bait such as worms and deli shrimp. Simply bait it onto a small hook that is rigged up below a small float. The fishing pace is fast if a school of perch is nearby. Catching them by flyfishing is also possible. A micro-leech tied onto a thin leader and floating line is deadly when stripped in the shallows.
Trout in St Mary Lake are known to be aggressive. There have been occasions when anglers witnessed a trout chasing and swallowing a big bass bait. To be successful, flyfishing with popular lake flies such as leeches and chironomids is your best option.
Important Notes
Before your first fishing trip to St Mary Lake, please make sure you know the following information:
You must have a valid British Columbia freshwater fishing license.
St Mary Lake is located in Region 1 in the British Columbia freshwater fishing regulations.
Accommodation next to the lake can make your fishing much more convenient, our recommendation is Lakeside Gardens Resort, which caters families between April and October.
When traveling to St Mary Lake from Vancouver, it is best to check your ferry schedule in advance. Reservations are not needed, but they certainly make the trip more relaxing.
Please respect residents and wildlife around the lake by keeping the noise level down and picking up your own garbage.