Gearing Up For BC Bassin'
By Jesse Martin | Published in June 2012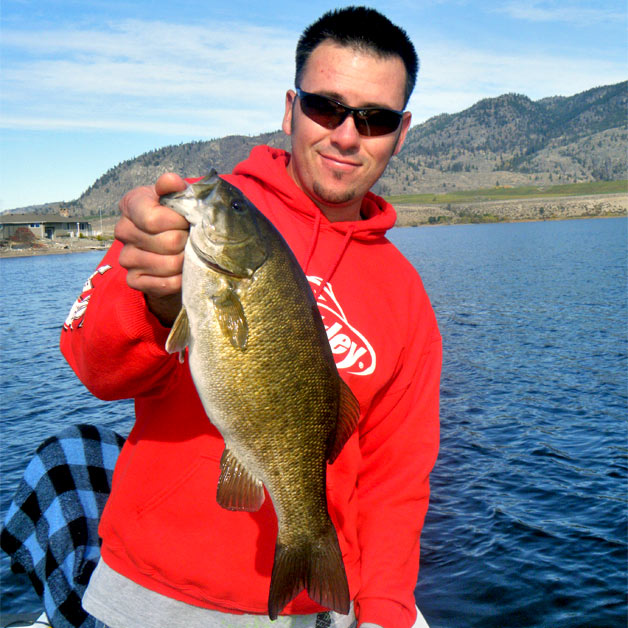 Jesse Martin is the only bass-exclusive guide in Western Canada. Guiding out of Penticton BC, he takes clients to Skaha, Christina and Osoyoos Lakes in pursuit of some of the biggest largemouth and smallmouth bass in the country. To book a trip this season, you can email him or call 250-689-0115.
People often ask me, what is the best way to get into bass fishing in British Columbia? Many make the mistake of buying a bunch of gear they don't know how to use. There's a better way. My best advice for you is to start simple. Buy one or two types of lures and learn how to use them properly. Start with a 6'6" medium action spinning rod loaded with 8 to 12 pound test line and pick a type of lure you can fish quickly and another you can fish slowly.
Here's a list of both categories to help you break it down:
SLOW LURES
Rubber worms
Tube baits
Jigs
Lizards
Stickbaits
FAST LURES
Spinnerbaits
Crankbaits
Buzzbaits
Frogs
Swimbaits
By choosing one from each category, you'll have them covered whether they are feeding aggressively or being picky. I like to always start with a fast-moving lure and switch to a slow one if I'm not having any success. While each type of bait has its own unique characteristics, by choosing to master one from each category you will become a better angler than someone who darts from one type to another.
Remember that bass fishing is best in the warmer months (May to October), so don't be discouraged if you're having a tough time getting them to bite in March. Bass don't feed much until the water temperature hits the 50F (10℃+). But once it does, hang on! The spring can make for some of the most exciting bass fishing of the entire year.
For anglers who have already caught a few bass and are looking to take the next step, I recommend getting familiar with a baitcasting reel. There are many advantages to fishing for bass with a baitcaster including: faster retrieve speed, stronger drag system, greater rod strength, and most importantly, increased casting control. A baitcasting reel allows you to stop the lure at any time during the cast with a touch of the thumb which allows for pin-point casts and perfect, splash-less landings.
If you decide to pick up a baitcasting combo, either a 6'6" or 7' medium-heavy action is a good place to start. Spool it with either 15 pound mono or 50 pound braid. Use braid if you'll be fishing mostly around weeds. Trust me, 50 pound braid isn't overdoing it.
Fly Fishing
Fly fishing is another popular way to target both species of bass. Use no less than a 7 weight rod, an 8 weight is ideal. The extra backbone is necessary both to muscle fish away from heavy cover and to launch heavy bass flies. Choosing a fly line with a heavy forward taper is important as it will help to cast large flies.
Anglers targeting smallmouth can fish them in the same way they would for trout around shoals. Smallmouth congregate around rocky humps and drop-offs and can be taken with nymph patterns and leeches. Targeting largemouth is a completely different story. Short leaders and surface poppers are standard bigmouth fare; but mouse, frog, and Zonker patterns will produce. While my leader material is usually 8 pound line for smallmouth, I have used up to 50 pound braided line for shallow water largemouth. Braid is important, as it has the ability to slice through underwater weeds which can make the difference between landing and losing a wily bass.
Rigging
Rigging your lures is very important and is one of the things beginning bass anglers struggle with the most. My best advice for you is to go on YouTube and search for videos on how to rig your chosen bait. For example, if you've picked tube baits for fishing slow, you may want to type in "rigging a tube bait" to see how it's done. The important thing is that your bait looks natural in the water, and this means eliminating any kinks or bends in the rigged bait and making sure it swims in a straight line.
Take the time to learn how to properly Texas rig a worm, tube, or any other plastic bait, and you will be rewarded on the water.
One More Thing...
A final bit of advice I have for those looking to join the BC bass fishing scene is to join a bass fishing club. My knowledge of bass fishing grew by leaps and bounds after I joined my first club and spent some time on the water with guys who knew their stuff. While there aren't a lot of options here in BC, bass fishing forums and clubs do exist. Here is a short list of what's out there: