Mystery Fish Contest #8 Result
Answer: Tench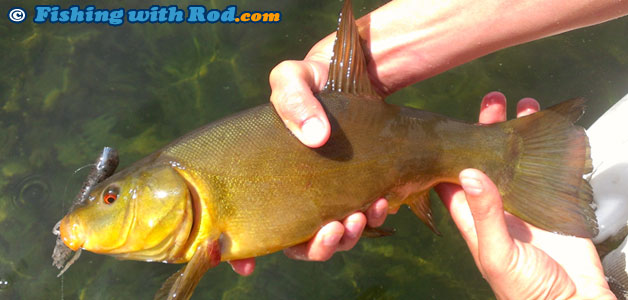 The mystery fish species in our eighth mystery fish species contest is a tench, or Tinca tinca.
Tench is a freshwater species in the cyprinid family (minnows) and it is closely related to carp. They are mainly found in both Asia and Europe. In Europe, this species is targeted by coarse and match fishermen. Their main characteristics are the yellow/brown body colour, large square-like tail, round fins and small scales.
This species was exceptionally more difficult to identify for British Columbian anglers because they are not native in this province. Tench have been introduced into parts of North America, but they have been absent in British Columbia, until recent years. The specimen in this photograph was caught at Christina Lake in the Kootenay Region. Many thanks to Dion Lauriente for providing the photograph.
Out of 108 entries, only 26 participants could identify this species correctly. Out of the 82 incorrect answers, the most common answer was carp.
The winner of this contest is Samuel Park, who will receive a $20.00 gift certificate from First Light Fishing & Tackle in Burnaby!

First Light Fishing & Tackle is a brand new fishing tackle store in Burnaby. Owner Steven Su has close to 20 years of fishing experience in Vancouver. The store provides products for both saltwater and freshwater fishing. It is also the only store where you can find Asian style carp and coarse fishing products such as fishing poles, sensitive floats, powder bait, and rod holders.
The store is located at located at #3-5901 Broadway in Burnaby. For more information, please call 604-558-3474 or visit the store's Facebook page. The store is conveniently located near both Deer Lake, perfect for you carp and trout enthusiasts!