Sturgeon Slough, Pitt Meadows
By Rodney Hsu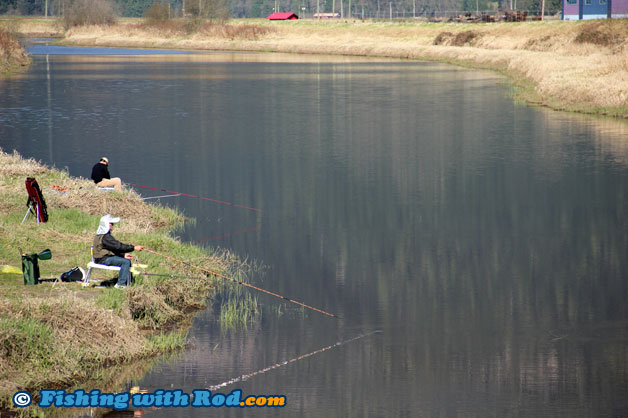 Sturgeon Slough in Pitt Meadows is a short waterway that drains into the Lower Pitt River. Ditches around this agricultural land drain into this slough, so water can be quite muddy throughout the year. Although the ditch-like canal is not too appertizing for anglers, it can in fact be very productive if you are interested in catching a variety of species at one location. This is one of few spots in the Fraser Valley where carp fishing is available between spring and fall. Trout and salmon occasionally make their way into this slough from Pitt River. Give it a shot if you want to get into coarse fishing.
How to Get There?
The main access point to Sturgeon Slough is from Rannie Road, which crosses the lower part of the slough. Park at the north end of the bridge and access the slough along the dykes on the north side. The rest of the slough is bordered by private lands, so permission is needed from the owners if you wish to access it.
Fishing Season
Coastal cutthroat trout can be found occasionally in spring and fall at the lower end of the slough. The odd salmon also make appearance in the slough at times during fall. Common carp fishing can be excellent between April and October. You will also find largemouth bass during summer months. Other species that you may encounter in the summer include northern pikeminnow, peamouth chub, redside shiner, brown bullhead and common sculpin.
Fishing Techniques
Although the water at Sturgeon Slough seems muddy, a spinner that creates vibration in the water can certainly entice salmonids in fall months and bass in summer months. Try using a light spinning outfit (2 - 6lb test) for cutthroat trout and largemouth bass, and a heavier setup if salmon are around. You can also float fish with dew worm or salmon roe if water is indeed very dirty.
For carp fishing, either float fishing or bottom fishing with bait such as corn and dough balls will work. Try keeping your bait close to the bottom, where carp are usually found. The current in this slough is moderate to none, so very little amount of weight is needed to anchor your bait on the bottom.
Be sure to bring a pair of boots as the shoreline can be very soft and muddy. A rod holder can also be very handy if you are bottom fishing for coarse fish.
Important Notes
Before your first fishing trip to Sturgeon Slough, please make sure you know the following information:
You must have a valid British Columbia freshwater fishing license.
Sturgeon Slough is located in Region 2 in the British Columbia freshwater fishing regulations.
Respect other anglers' space! If a spot is already taken, find a different spot instead of crowding the same area. You can make everyone's fishing experience enjoyable by spreading out.
Please do not litter. Pick up your own garbage as well as others' on the river bank so we can still enjoy this fantastic fishing stream in the future.
Respect private properties by not trespassing. Keep your noise down early in the morning when walking by private properties.