Belcarra Regional Park, Port Moody
By Rodney Hsu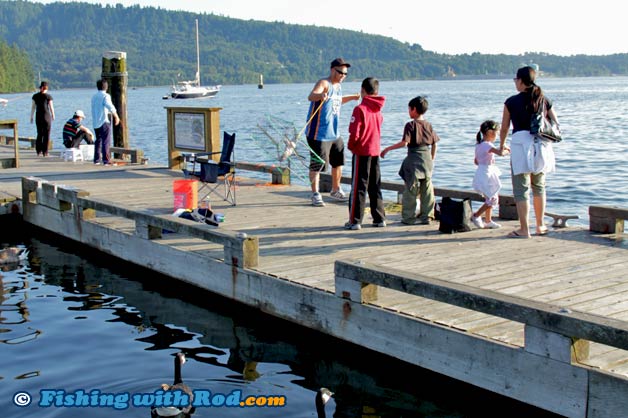 Only within a short drive from Vancouver, Belcarra Regional Park is truly a hidden gem where families can combine fishing, crabbing, picnic, BBQ, hiking and other similar outdoor activities at one location. While this area lacks the presence of salmon as it is not part of their direct migrating route, there is a diverse abundance of fish species that anglers can encounter. These include perch, herring, sole, flounder, greenling and tomcod. It can be done either from the pier or nearby beaches. Beside fishing, crabbing is also quite popular. If you only have time for a short saltwater day trip, then consider Belcarra Regional Park.
How to Get There?
To get to Belcarra Regional Park, follow Ioco Road in Port Moody to 1st Avenue. Continue on 1st Avenue and turn onto Bedwell Bay Road. Once past Sasamat Lake, Continue straight after the 3-way stop onto Tum Tumay Whueton Drive, which leads you to the parking lot of the park. From the parking lot, the pier is just a short walk away and there are hiking trails that take you to other access points along the shoreline of Belcarra Regional Park.
Fishing Season
You can fish at Belcarra Regional Park year round, but the best fishing time is between spring and fall, when water is warmer. In the summer, fish move closer to shore and can be caught during incoming tides. Crabbing is also best in spring and summer, but harvest pressure is often high on weekends, especially if the weather is good. While fishing maybe slow in the winter, you can still entice the odd flounder or other bottom fish by patiently waiting for those bites.
Fishing Techniques
Sole and flounder can be caught by fishing with a bottom rig. It is important to anchor your bait on the bottom, where these flatfish inhabit. Common bait used for these fish include prawn, shrimp, fish pieces and worm. Flatfish species can either be caught from the pier or the beaches. While bottom fishing, you also might encounter greenling.
On the pier, you can also target shiner perch and possibly other perch species by bait fishing close to structures around the pier. Shiner perch are very abundant in the summer month and can be caught by a baited small hook. While a light rod is perfect for these fish, you can also use a hand line. Shiner perch are found closer to the surface while larger perch species such as striped perch are in deeper water.
Pacific herring and sardine can also be caught during certain times of the year by using a herring jig. Simply cast and retrieve slowly, but don't jerk when bites are detected.
Crabbing can be done from the pier. Please pay attention to the size limit and daily quota, which is clearly indicated on the pier. You can also take an inflatable raft or boat out to drop your crab traps.
Important Notes
Before your first fishing trip to Belcarra Regional Park, please make sure you know the following information:
You must have a valid British Columbia tidal fishing licence and a valid salmon stamp if you decide to keep salmon.
Belcarra Regional Park is located in Fisheries and Oceans Canada's Area 28. Please read the general tidal fishing regulations and Area 28's regulations.
This area is used regularly by local residents and day park users, so please respect other users by watching your casts and not leaving garbage behind.
Please watch the tide and waves very carefully. Waves are especially big on weekends when boat traffic is heavy.