Alta Lake, Whistler
By Rodney Hsu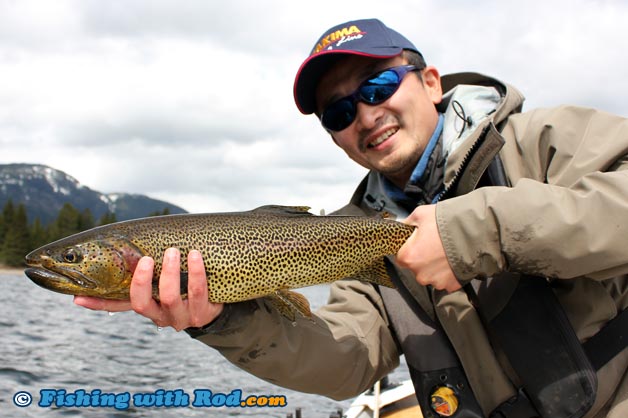 Located right beside Whistler Village, there is a quality lake that offers an exciting trout fishery between April and October. Like this world class ski resort, some may also consider the quality of Alta Lake's fishery just as highly rated. Both rainbow and cutthroat trout in this lake can make day trips from Vancouver very rewarding.
How to Get There?
Alta Lake can either be accessed from Highway 99 or Alta Lake Road. There are two parks located beside the lake - Rainbow Park and Lakeside Park. To get to Rainbow Park, turn off at Alta Lake Road from Highway 99. Continue for 2km until Rainbow Park. To reach Lakeside Park, turn off at Alta Vista from Highway 99 when arriving in Whistler. While boats can be unloaded from Lakeside Park, a boat launch is also located around 200 meters north of the park.
Fishing Season
Alta Lake is frozen during the winter months, which is usually between November and April. Once the lake is ice-free, fishing can be quite excellent until mid summer. Two sport fish species are found in Alta Lake - Coastal cutthroat trout and rainbow trout. Because this is strictly a catch and release lake, both quality and quantity of fish are well managed. Cutthroat trout, often varied greatly in colouration, ranging between 14 and 24 inches in length. Rainbow trout in Alta Lake typically measure between 10 and 14 inches in length. Although much smaller, they always make it up by displaying acrobatic fights and lightning-speed runs.
Fishing Techniques
Fishing at Alta Lake is best done on a boat, but fishing from shore is possible. There is a long pier at Lakeside Park. The water depth at the end of the pier is sufficient enough to provide some fishing success if timing is right. When fishing from a boat, you will be most successful by anchoring close to shore and fishing close to structures or slowly trolling the drop-offs.
Because there is a year-round bait ban in place, anglers can only either flyfish or use artificial lures. When flyfishing, anchor your boat near weed patches, floating docks, creek mouths and other structures that may hold fish. Dark coloured leeches in sizes 8 to 12 are productive patterns that are either fished naked on a sink tip or suspended under a strike indicator. 3 to 5 wt class flyfishing rods are sufficient enough for Alta Lake.
When fishing with a spinning rod, make sure proper gear are being used for the size of your target fish. Light spinning rods rated between 2 and 6lb is adequate enough for both rainbow trout and cutthroat trout. A small spinning reel spooled with 4 or 6lb test line is best. Small spinners that weigh 1/8oz or light can be quite effective. Cast toward structures and retrieve close to the bottom will trigger a strike if fish are in the area.
Other alternatives include jigging with plastic bait (unscented of course) or trolling with small plugs in deeper water. Don't be afraid to adjust the size of your presentation. Large cutthroat trout are aggressive predators and can often be tempted by larger lures.
Important Notes
Before your first fishing trip to Alta Lake, please make sure you know the following information:
You must have a valid British Columbia freshwater fishing license.
Alta Lake is located in Region 2 in the British Columbia freshwater fishing regulations.
Because this is a catch and release lake, it is best to carry a catch and release net to ensure that all fish are released as safely as possible.
A large percentage of the shoreline is privately owned so please respect residents and wildlife around the lake by keeping the noise level down and picking up your own garbage.