Lookout Lake, Colwood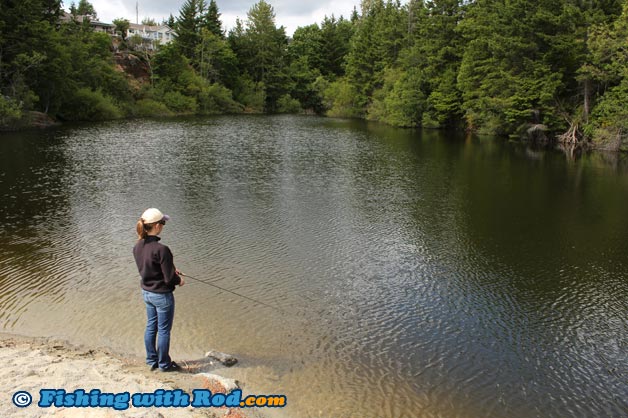 Lookout Lake in Colwood is an hidden urban gem just outside Victoria on Vancouver Island. Part of Freshwater Fisheries Society of BC's "Fishing in the City" program, it is regularly stocked with rainbow trout in spring and fall. Although surrounded by residential areas, Lookout Lake Park is in fact a very quiet spot where families can spend an afternoon winding down while catching the odd fish.
How to Get There?
Lookout Lake is located at Lookout Lake Park in Colwood. To get there from Victoria, take Highway One and turn off at Highway 14. Head south on Highway 14 until Sooke Road, where you make a left turn. Turn left at Fulton Road and right at Sunheights Drive, which leads you to the entrance of Lookout Lake Park. Shore access is available. The south end of the lake is wide open while the rest of the shoreline has trees along it. You can also carry a float tube or pontoon boat in quite easily.
Fishing Season
The dominant species in this lake is rainbow trout, which are stocked by the Freshwater Fisheries Society of BC several times per year. These are Fraser Valley rainbow trout, released at catchable size, around 250 to 300g. Trout fishing can be good from early spring until it becomes too warm in the summer. Fishing usually improves near the end of summer or when temperature lowers again. Winter fishing can be done, but it is generally not as productive as spring and fall.
Reports of smallmouth bass and other spiny-ray species have also been reported in this lake. These non-native species are generally found in the summer when water temperature is higher.
Fishing Techniques
You can access almost the entire lake from shore. The southern end of the lake is wide open, so fly fishing is possible but you have to watch out for walkers and bikers who may pass by at times. The lake becomes pretty deep not too far from shore so you do not have to cast too far to catch fish.
If you are using a spinning rod and reel, choose a light setup as these trout are generally not very big. A 6' or shorter rod is adequate enough. A short rod allows you to fish in the wooded area without tangling up with branches. Spool your spinning reel with 4lb test line. You should use small spinners and spoons, size 3/8oz or smaller are best. If you find casting small lures challenging, you can add additional weights such as a split shot 1 or 2 feet above the lure so you can cast further.
It can also be quite productive if you let your fly or lure sink longer as most fish are found near the bottom, especially if it is warm. Slow your retrieves down so your presentation is not pulled up to the shallower part of the lake right away.
Bait fishing can be done by simply casting your bait out and allowing it to rest on the bottom. The bottom of this lake is not very snaggy, so it is unlikely that you will hang up onto snags. Keep your line tight so you can detect all the bites. Small pieces of shrimp, dew worm, krill are all very effective.
Important Notes
Before your first fishing trip to Lookout Lake, please make sure you know the following information: