Diver Lake, Nanaimo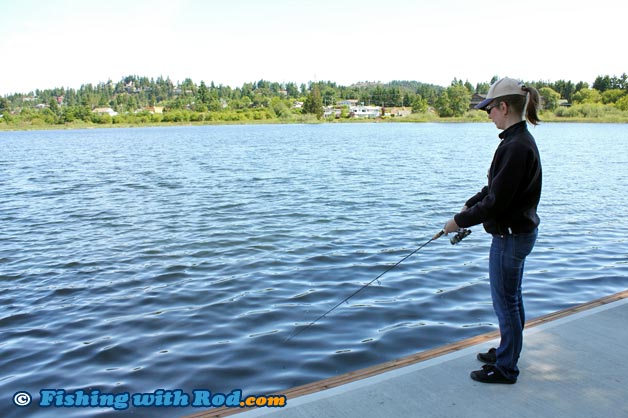 Diver Lake just outside of Downtown Nanaimo on Vancouver Island is a small urban lake that offers trout fishing opportunities. Freshwater Fisheries Society of BC stocks this lake with rainbow trout at catchable size several times per year so local residents as well as Vancouver Island visitors can conveniently enjoy some good trout fishing without travelling very far.
How to Get There?
This lake is located at Diver Lake Park, which is just south of Island Highway near Nanaimo. To get there, exit at Jingle Pot Road from Island Highway and turn onto Labieux Road. From Labieux Road, turn onto Black Frank Drive, where a boat launch is located at the end. Parking is available by the boat launch. To fish from shore, follow the trail from the parking lot until you reach the fishing pier.
Fishing Season
The dominant species in this lake is rainbow trout, which are stocked by the Freshwater Fisheries Society of BC several times per year. These are Fraser Valley rainbow trout, released at catchable size, around 250 to 300g. Trout fishing can be good from early spring until it becomes too warm in the summer. Fishing usually improves near the end of summer or when temperature lowers again. Winter fishing can be done, but it is generally not as productive as spring and fall.
Fishing Techniques
There is a fishing pier where you can easily fish from. The shallow portions of the lake can get quite weedy at times, so float fishing from shore is your best alternative. Cast your float out away from the weeded area to avoid snagging up. Adjust your float depth to around 4 to 6 feet. Deli shrimp, dew worm, krill, corn can all be very good bait for these rainbow trout.
Fishing from a boat is a better alternative if you have one, because you have the advantage of accessing parts of the lake that cannot be fished from shore. From a boat, you can slowly troll a fly or lure, sit back and simply wait for the fish to bite. Another great alternative is to anchor at one spot, where you cast and retrieve until you find some feeding fish.
Important Notes
Before your first fishing trip to Diver Lake, please make sure you know the following information: