DeBoville Slough, Coquitlam
By Rodney Hsu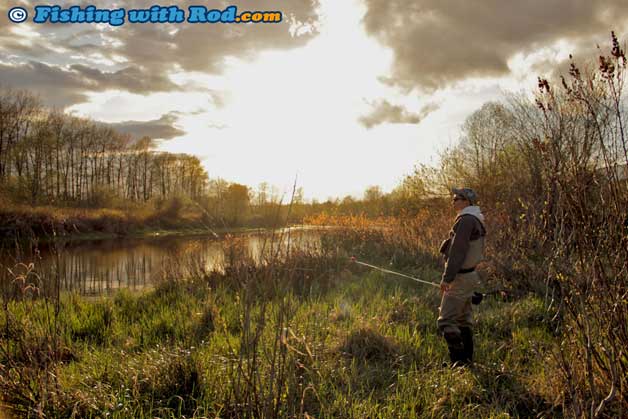 DeBoville Slough is a slow waterway that feeds into the Lower Pitt River in Coquitlam. One of its tributaries, Hyde Creek, now has a relatively healthy population of coho and chum salmon due to hard work of dedicated volunteers. As a result, fishing at DeBoville Slough can be incredibly rewarding at times. It is an urban fishery which holds many surprises, including bull trout and cutthroat trout which feed on juvenile salmon in spring and summer.
How to Get There?
The head of DeBoville Slough is located at the corner of Victoria Drive and Cedar Drive on Burke Mountain. A gravel parking lot is available where you can park your vehicle. Gravel trails run along both sides of the slough. The North side of the slough provides more access spots by foot, including the slough mouth where it meets the Lower Pitt River. By foot, the walk from the parking lot to the slough mouth is approximately 25 minutes. By bike, you can reach the same distance in 10 minutes. Spots along the Lower Pitt River north of the slough can also be accessed from this trail.
Fishing Season
In spring, juvenile salmon migrate downstream from Hyde Creek into the slough. Between March and May, it is possible to find excellent fishing for both coastal cutthroat trout and bull trout at the lower end of the slough.
During the summer months, coarse fish including the odd common carp can be found in the slough. Other native species which may inhabit the slough include peamouth chub, northern pikeminnow and largescale sucker. Largemouth bass will also travel into the slough at times from the Lower Pitt River.
Coho and chum salmon stage at the mouth of the slough in September and part of October before the rain storms. You can catch these during the incoming tides.
Fishing Techniques
With the exception of the spots near the Lower Pitt River, DeBoville Slough is quite shallow. When fishing for trout and char, a ultralight spinning outfit is all you need. Because these fish are feeding on juvenile salmon, try casting and retrieving small spoons such as a 1/8oz or 1/16oz Gibbs Croc spoon. If fly fishing is preferred, use a 3 or 4 wt setup. A floating line is sufficient enough to reach the fish. Intermediate or sinking lines will lead to snags on the bottom. Small minnow patterns, nymphs are excellent patterns in spring.
In the summer months, bottom fishing or float fishing with bait such as dough balls will produce consistent coarse fish action. This is an excellent activity for parents to participate with kids.
When fishing for fall salmon at DeBoville Slough, try timing your outing with the incoming tides. Early morning and late evening are the best time to target these fish as they can be quite spooked after holding at the slough mouth during the dry period. 1/4oz spoons and spinners will usually do the job. You can also try bottom fishing with freshly cured roe.
Important Notes
Before your first fishing trip to DeBoville Slough, please make sure you know the following information:
You must have a valid British Columbia freshwater fishing license.
DeBoville Slough is located in Region 2 in the British Columbia freshwater fishing regulations. Beside hatchery-marked trout and char, no retention is allowed for other species.
Please do not litter. Pick up your own garbage as well as others' on the river bank so we can still enjoy this fantastic fishing stream in the future. Respect other users. The slough trails are heavily used by dog walkers, bird watchers, cyclists.